— -- Trump's first 100 days with ABC's RICK KLEIN and SHUSHANNAH WALSHE
Day No. 36
The big story: The Russia affair gets a new twist with the revelation that White House chief of staff Reince Priebus asked a top FBI official to dispute reports that Trump campaign officials were in frequent contact with Russian intelligence agents prior to the election. There are questions of propriety here: The FBI is supposed to be able to conduct its investigations independently, without any White House involvement. And the bureau isn't supposed to play politics by commenting on active investigations, as Clinton campaign vets remember too well. There is also irony: Priebus was asking the FBI to comment without names attached, while decrying as "fake news" stories that rely on such sourcing. What's more, the willingness to employ the FBI for political battle demonstrates when Trump advisers cast the media as the "opposition party," it's more than words. "Every day, it's going to be a fight," White House chief strategist Steve Bannon said Thursday at CPAC. Added Priebus, sitting slightly uncomfortably to Bannon's left: "If the party and the conservative movement are together, similar to Steve and I, it can't be stopped." It appears that in this battle, there's no resource of the federal government that the White House considers off-limits.
The sleeper story: The best thing to happen to Obamacare might have been Donald Trump. A new Kaiser tracking poll has the approval rating for the Affordable Care Act up to 48 percent – the highest it's been in some 60 such polls. Lawmakers, of course, are hearing about that newfound popularity firsthand at raucous town halls that are developing into mirror-image opposites of the famous Tea Party events that hurt the bill's popularity back in 2009 and 2010. With President Trump's address to Congress coming on the eve of the month slated for repeal/replace, it may be that Republicans have lost critical momentum around what they all once agreed would be their top priority. Former House Speaker John Boehner's statements on the difficulty the GOP will have in undoing Obamacare is a clue to the anxiety Republicans are feeling right now about their promise of repeal.
The shiny story: Jared and Ivanka strike again! According to The Wall Street Journal, Jared Kushner and Ivanka Trump prevailed on the president to remove language critical of the Paris climate accord from an impending executive order on environmental issues. This is the second time we've learned of the couple's private, moderating influence. They also succeeded in blocking an effort to rescind protections for LGBTQ employees. (Though they were notably absent from stories about the school-bathroom regulation that was rescinded this week.) Per the Journal: "One White House official said both Mr. Kushner and Ms. Trump have been considered a moderating influence on the White House's position on climate change and environmental issues." That's an interesting detail for a White House official to confirm. But might it be a little too cute to tag the couple as the "moderating" – read, liberal-leaning – influence inside a White House (plus a Cabinet) stuffed with strong conservatives? As The New York Times' Jonathan Martin tweeted, "Funny how all the leaks about Jared/Ivanka seem aimed at reassuring liberal NYC friends *we're trying*."
TLDR: White House chief of staff Reince Priebus asked the FBI deputy director to dispute reports that Trump campaign advisers were in regular touch with Russian intelligence agents during the campaign. Priebus may have come out strongly against the media using background sourcing with no names attached but that's exactly what he was asking the FBI to do.
Photo of the day: The marquee CPAC speakers Thursday were Trump's chief of staff Reince Priebus plus his chief strategist Steve Bannon, who rarely speaks on camera. It's an understatement to call the two an odd couple with Priebus as the former head of the RNC and Bannon spending years at war with the establishment, but they trotted out their best-buddy act yesterday, even calling each other "dear friends." Here's an image of the two embracing: (Credit: Susan Walsh/AP Photo)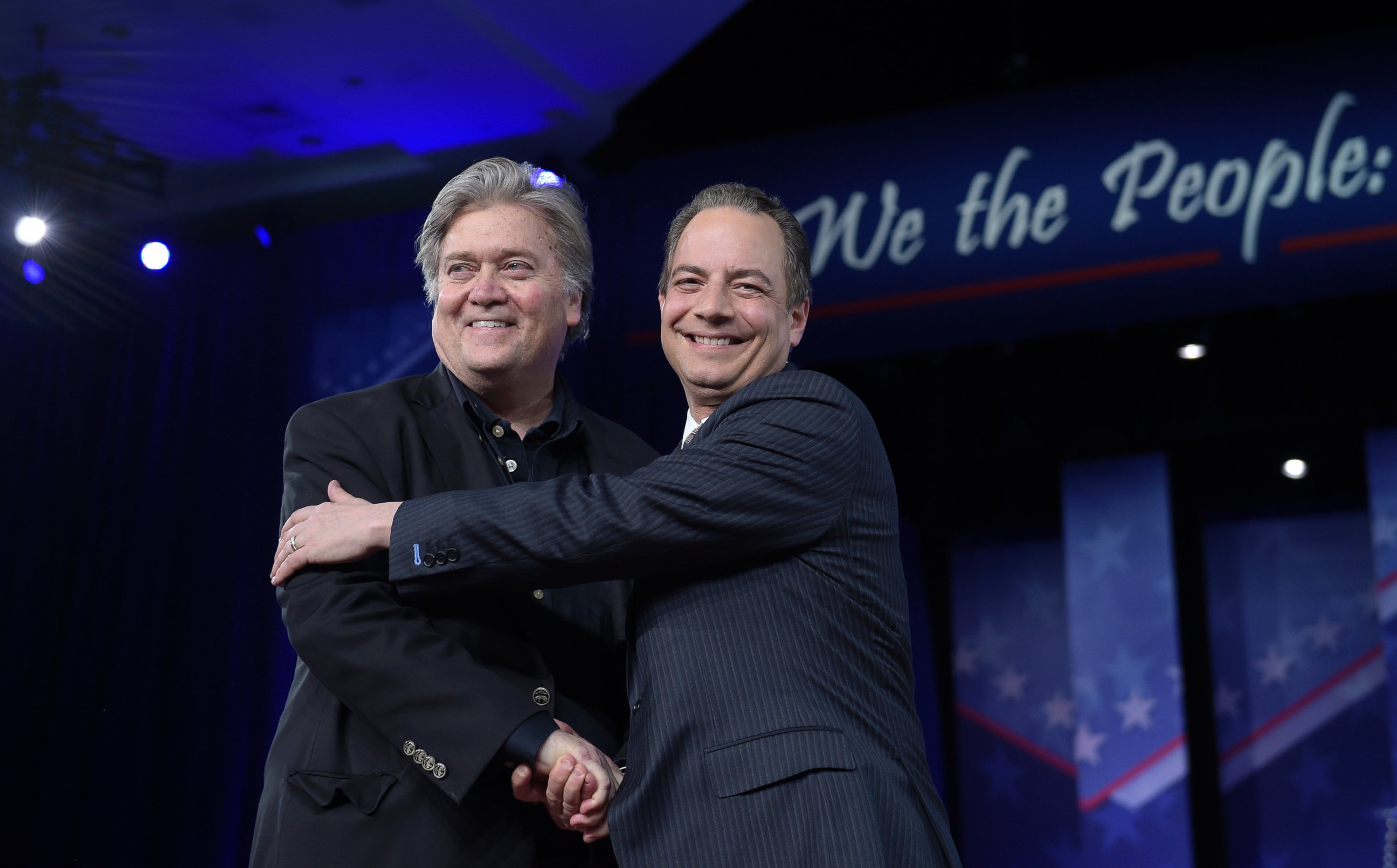 Notables
--WH chief of staff urged the FBI to dispute Trump Russia report: White House chief of staff Reince Priebus made a personal appeal to a top FBI official to dispute reports that multiple senior members of President Trump's campaign had communicated with Russian agents during the 2016 election, a senior White House official confirmed to ABC News on Friday. Priebus had reached out to FBI Deputy Director Andrew McCabe in an effort to knock down reports of talks between campaign officials and Russia following a New York Times report on the matter last week, the official said. Priebus only made the request after the FBI had told the White House there were accuracy issues with the Times' report, the official said. More from ABC's ALEXANDER MALLIN: http://abcnews.go.com/Politics/white-house-chief-staff-reached-fbi-dispute-trump/story?id=45708935
--Happening today - President Trump to address conservatives at CPAC: President Donald Trump is scheduled to speak at the Conservative Political Action Conference Friday at 10:20 a.m., his fifth time addressing the gathering of right-wing organizers and activists. Trump's appearance Friday marks the fourth visit by a sitting president, notes ABC's ADAM KELSEY. http://abcnews.go.com/Politics/president-trump-address-conservatives-cpac/story?id=45685520
--This week on 'This Week': George Stephanopoulos goes one-on-one with House Democratic Leader Nancy Pelosi, D-Calif., exclusively on "This Week" Sunday. And the Powerhouse Roundtable debates the week in politics, with Republican strategist Alex Castellanos, Democratic strategist Stephanie Cutter, Rasmussen Reports political analyst Amy Holmes, former Clinton Labor Secretary and UC Berkeley professor Robert Reich, and New Yorker editor David Remnick.
--Happening this weekend -- DNC reaching end of tight leadership race as party seeks to unite. Democratic party officials will vote Saturday for a new chair of the Democratic National Committee, but heading into the weekend, the race is still neck-and-neck and hotly contested, according to ABC's MARYALICE PARKS. Democrats may be united against President Donald Trump, but they remain deeply divided about who is best to lead and represent them. http://abcnews.go.com/Politics/dnc-reaching-end-tight-leadership-race-party-seeks/story?id=45698424
CPAC roundup
Pence downplays town hall backlash, rallies conservatives at CPAC. In his primetime speech to conservatives at the Conservative Political Action Conference Thursday night, Vice President Mike Pence spoke out against the backlash Republicans are seeing in districts across the country, dismissing the "best efforts of liberal activists," while promising an orderly transition from Obamacare to a GOP replacement. "Despite the best efforts of liberal activists around the country, the American people know better," Pence told CPAC attendees at the Gaylord National Resort & Convention Center in Oxon Hill, Maryland, ABC's BENJAMIN SIEGEL and ERIN DOOLEY report. http://abcnews.go.com/Politics/pence-downplays-town-hall-backash-rallies-conservatives-cpac/story?id=45700563
Steve Bannon says media 'always wrong' about Trump, president 'maniacally focused' on agenda. Donald Trump's chief strategist, Steve Bannon, pounced on the media during the Conservative Political Action Conference Thursday, repeating his attack that the press is the "opposition party" that is "always wrong" about the administration, note ABC's ADAM KELSEY and ALI ROGIN. "I think if you look at, you know, the opposition party," said Bannon, referring to the media, during his appearance at the conference with White House chief of staff Reince Priebus. "How they portrayed the campaign, how they portrayed the transition and how they're portraying the administration -- it's always wrong." http://abcnews.go.com/Politics/steve-bannon-media-wrong-trump/story?id=45691100
Education secretary Betsy Devos slams Obama's transgender bathroom rule as 'overreach.' Education Secretary Betsy DeVos said she supports President Trump's rollback of Obama administration guidelines on transgender students' choice of bathrooms in schools. During a Q&A at the annual Conservative Political Action Conference (CPAC) on Thursday, DeVos said the previous president's guidance issued last year to public schools was a "very huge example of the Obama administration's overreach," writes ABC's ALI ROGIN. She added, however, "It's our job to protect students" and "to protect personal freedoms." http://abcnews.go.com/Politics/education-secretary-betsy-devos-slams-obamas-transgender-bathroom/story?id=45690307
Speed read with ABC's Adam Kelsey
President Trump reiterates call for US nuclear supremacy. President Donald Trump on Thursday renewed his call on Thursday to expand the country's nuclear weapons cache so that the U.S. is the "top of the pack," according to an interview with Reuters. Trump's comments echoed statements he offered in December when he tweeted about "expand[ing]" the nation's "nuclear capability" and told MSNBC that he was willing to engage in an "arms race." Trump told Reuters that he wants the country's cache of weapons to be "top of the pack," a notion expanded upon by White House Press Secretary Sean Spicer at his daily press briefing, write ABC's ADAM KELSEY and KATHERINE FAULDERS. http://abcnews.go.com/Politics/president-trump-reiterates-call-us-nuclear-supremacy/story?id=45695753
Justice Department reverses Obama guidance on reducing private prisons. Attorney General Jeff Sessions has rescinded an Obama-era memo aimed at reducing and ultimately ending the Justice Department's use of private prisons, reports ABC's ERIN DOOLEY. The memo, penned in August 2016 by former Deputy Attorney General Sally Yates -- who was fired by President Donald Trump last month after she refused to defend his immigration order -- suggested that private correctional facilities "compare poorly" to federal facilities, and instructed officials to begin "the process of reducing, and ultimately ending, our use of privately operated prisons." http://abcnews.go.com/Politics/justice-department-reverses-obama-guidance-reducing-private-prisons/story?id=45696324
White House: expect 'greater enforcement' of marijuana laws. The White House indicated Thursday that the enforcement of federal laws on recreational marijuana will increase during President Donald Trump's tenure in office. Press secretary Sean Spicer, responding to a question at Thursday's press briefing about the Department of Justice's role when federal marijuana laws conflict with state statutes, said he believes there is a wide difference between recreational and medicinal marijuana use, note ABC's KATHERINE FAULDERS, JORDYN PHELPS and ADAM KELSEY. "I do believe you will see greater enforcement of [federal restrictions on recreational use]," said Spicer. http://abcnews.go.com/Politics/white-house-expect-greater-enforcement-marijuana-laws/story?id=45697227
Obamacare favorability nears record propelled by independents: poll. A new poll gauging the public's feelings on the ongoing battle over healthcare finds continued displeasure with the current policy direction, but near record positive impressions of the Affordable Care Act. The tracking poll, conducted by the Henry J. Kaiser Family Foundation, finds 48 percent of its respondents had a very or somewhat favorable view of the legislation, commonly known as Obamacare, the highest level since September 2010, when 49 percent of those viewed it favorably. ABC's ADAM KELSEY has more. http://abcnews.go.com/Politics/obamacare-favorability-nears-record-propelled-independents-poll/story?id=45700856
Ivanka trump hosted lawmakers at white house last week for meeting on childcare tax proposal, paid leave. Ivanka Trump hosted Republican members of Congress at the White House last week to discuss some of her personal legislative priorities -- a childcare tax proposal and paid maternity leave, according to a White House official and a Senate GOP aide. It is unusual for the child of a president -- with no formal role in her father's administration -- to host a policy meeting with lawmakers inside the West Wing. The White House official noted that Ivanka has been long been passionate about the issue and that it remains a priority. ABC's BENJAMIN SIEGEL and JORDYN PHELPS have more: http://abcnews.go.com/Politics/ivanka-trump-hosted-lawmakers-white-house-week-meeting/story?id=45698865
Who's tweeting?
@realDonaldTrump: The FBI is totally unable to stop the national security "leakers" that have permeated our government for a long time. They can't even......
@realDonaldTrump: find the leakers within the FBI itself. Classified information is being given to media that could have a devastating effect on U.S. FIND NOW
@rickklein: .@jonkarl asks if Cruz thinks Trump is true conservative: "I think he is president... implementing conservative policies." (not a yes) @gma
@MikeDelMoro: "If you were upset about Bill Clinton meeting with the AG, then you ought to be upset about [Priebus] meeting with the FBI" -@matthewjdowd
@craigzadan: NY TIMES TV COMMERCIAL FOR OSCARS: The truth is hard. Check out the new TV commercial from The New York Times. https://www.youtube.com/watch?v=gY0Fdz350GE&feature=youtu.be
@Elizabeth_McLau: Admiral Harward weighs in on #Pentagon review of #ISIS strategy due to #WhiteHouse early next weekhttp://abcnews.go.com/International/pentagon-review-isis-strategy-lay-options-accelerate-fight/story?id=45692629