— -- Trump's first 100 days with ABC's RICK KLEIN and SHUSHANNAH WALSHE
Day No. 39
The big story: Of all the bubbling questions and potential scandals of the early Trump administration, the one that now appears likely to hold is about Trump campaign contacts with Russians. There are sufficient questions surrounding these communications to merit a serious investigation, many in Washington believe. There are also questions about whether such an investigation can be done independently inside the Justice Department considering White House attempts to influence reporting on the matter. Now, with GOP Rep. Darrell Issa's endorsement of appointing a special prosecutor, there's enough political momentum to keep these questions swirling for a good long while. Issa's opinion is big, since it opens the door for the question to be posed to any other Republican. "This is the best time to show leadership," Issa told Politico. Of course, he has a political motivation to show that leadership. But he is not likely to be alone in that realm.
The sleeper story: Budget outlines are particularly useless affairs, more so than the actual presidential budgets that promptly get torn apart by Congress – which may or may not actually pass a budget into law. But the White House appears poised to offer an opening bid with stark priorities that include a massive increase to defense spending, no major changes to Social Security or Medicare and deep cuts virtually everywhere else, according to The New York Times. This is critically important stuff for this next phase of the Trump presidency, where congressional buy-in will no longer be optional. Starting with Tuesday's speech before Congress, the president needs to put legislative meat on his rhetorical bones. That's when senators and House members get to consider if they want to be on board this train that's leaving the station.
The shiny story: Diversity made its Oscars comeback, and politics did, too – from host Jimmy Kimmel to Meryl Streep, right through Viola Davis and a pointed boycott by an Iranian winner. Somehow, the president resisted the urge to tweet, even when the mother of all screw-ups gave him an opening for high snark. Hollywood has made its collective views known. But it's not like Hollywood was subtle about those views during the election. Tinseltown's fancy awards season was not and never was going to be about representing the people who put their hopes and expectations into a vote for Trump – millions of whom go to movies without being influenced by stars' politics. For a night, America put a different face forward to the world. But that isn't an effective gauge of movement or moderation in the country. Trump will surely find a way to weigh in – in a feud that will be as meaningless as that between Kimmel and Matt Damon.
TLDR: Now that Rep. Darrell Issa has backed the need for a special prosecutor to investigate Russian meddling into the election and possible contacts between the Trump campaign and Russian officials, it opens the door for other Republicans to also call for an independent investigation. The question is, "Will they?"
Photo of the day: There was plenty of politics and no shortage of presidential jokes during Hollywood's biggest night, but this photo isn't about that, although it surely is the photo of the day. Here's the moment when Warren Beatty shows the envelope with the actual correct winner for best picture last night. Of course that winner was "Moonlight," not "La La Land" as originally announced. (Credit: Chris Pizzello/Invision/AP)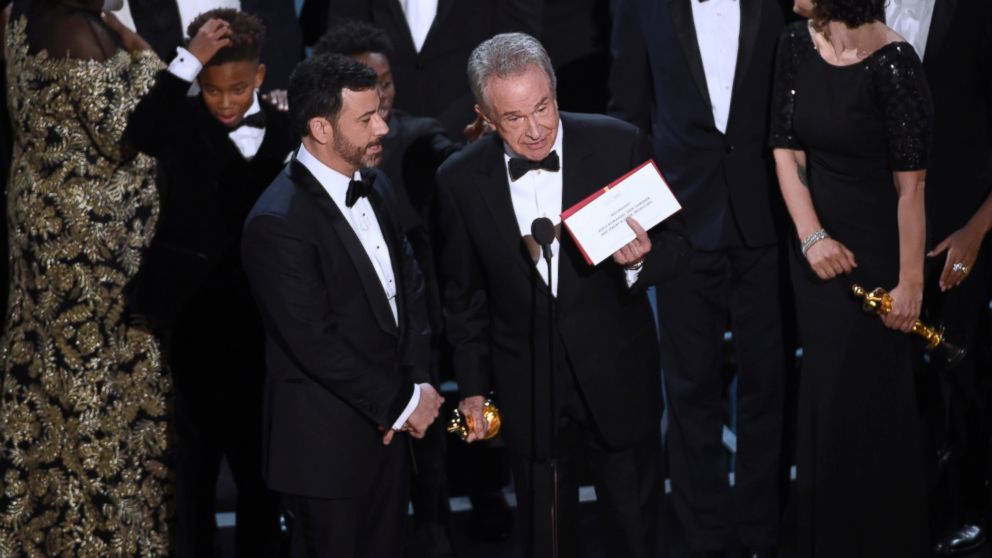 Notables
--White House spokesperson on call for special prosecutor in Russia probe: A White House spokesperson pushed back on calls for a special prosecutor to investigate Russia's alleged interference in the presidential election, suggesting such talk is premature, according to ABC's NICKI ROSSOLL. "I don't think we're there yet," said Sarah Huckabee Sanders, the White House's deputy principal press secretary, said on "This Week" Sunday. "Typically, you go through a congressional oversight review. We're doing that. Let's not go to the very end of the extreme. Let's let this play out the way it should. http://abcnews.go.com/Politics/white-house-spokesperson-call-special-prosecutor-russia-probe/story?id=45736118
--GOP congressman says special prosecutor needed to investigate Russia election meddling: California Republican Rep. Darrell Issa said a special prosecutor is needed to investigate Russia's alleged meddling in the 2016 presidential election. Bill Maher asked Issa during an interview on his show "Real Time" about reports that members of President Trump's campaign had contact with Russian officials. Maher presented the GOP representative with a hypothetical scenario -- if Russians had hacked the campaign of Mitt Romney in 2012 and if there had also been contacts between the Obama administration and the Russians. "You're going to let that slide?" Maher asked Issa. "No," Issa said. When Maher then pushed Issa on the need for an independent investigation, Issa agreed that a special prosecutor is necessary, notes ABC's JORDYN PHELPS. http://abcnews.go.com/Politics/gop-congressman-special-prosecutor-needed-investigate-russia-election/story?id=45733670
--Former Labor Secretary Tom Perez elected DNC chair: Former Secretary of Labor Tom Perez was elected Saturday the new chair of the Democratic National Committee, grabbing the reins of the the party and emerging as a key figure in channeling Democrats' opposition to President Donald Trump's agenda, ABC's RYAN STRUYK and MARYALICE PARKS report. More than 400 party insiders gathered in Atlanta to cast their ballots after four months of debate. Perez, who fell one ballot shy of victory in the first round of voting, immediately appointed Ellison deputy chair of the DNC after it was announced that he had clinched it on the second round of voting. http://abcnews.go.com/Politics/top-democrats-poised-choose-party-chair/story?id=45728911 What you need to know about new DNC chair Tom Perez. Here's everything you need to know: http://abcnews.go.com/Politics/dnc-chair-tom-perez/story?id=45734565
--Progressives fear Democrats' choice of Perez means the party hasn't learned its lesson: When the announcement came that party officials had elected Tom Perez chair of the DNC over Keith Ellison, chants and protests broke out in the back of the room. "Party of the people, not big money! Party of the people, not big money!" a small, but loud group yelled, standing with their fists in the air. During an interview with ABC News, Perez said he and Ellison had "identical values." "We have been friends for a long time. We are united ... We want to make sure everyone has a fair shake," he said on "This Week." But is that enough? And how many people at home do those still-reeling, angry and chanting protesters represent? ABC's MARYALICE PARKS has more. http://abcnews.go.com/Politics/progressives-fear-democrats-choice-perez-means-party-learned/story?id=45749165
Speed Read
President Trump, first lady host ball at White House. While Hollywood rolled out the red carpet for the Oscars last night, the president and first lady hosted a night of glamour of their own. But instead of movie stars, the guests at the White House were the nation's governors. It's an annual tradition for the president to invite the nation's governors to the White House for a dinner, notes ABC's JORDYN PHELPS. Last night's Governor's Ball was a first for President Trump and first lady Melania Trump in acting as host and hostess of the White House for a gala-style event. http://abcnews.go.com/Politics/president-trump-lady-host-governors-dinner-white-house/story?id=45753442
GOP congressman says no room for compromise in repealing Obamacare. The founder of the conservative House Freedom Caucus said the Republican Party cannot compromise on its promise to fully repeal and replace the Affordable Care Act known as Obamacare, ABC's NICKI ROSSOLL writes. "We didn't tell the American people we're going to repeal it -- except we're going to keep the Medicaid expansion," Ohio Rep. Jim Jordan said on "This Week" Sunday. http://abcnews.go.com/Politics/gop-congressman-room-compromise-repealing-obamacare/story?id=45736187
Democrats' new chair on electoral mistakes. The new chair of the Democratic National Committee acknowledged the party made mistakes in its past election strategy and has work ahead to win more seats at all levels of government. "We didn't invest enough in our state party infrastructure," newly-elected DNC Chair Tom Perez told ABC News chief anchor George Stephanopoulos on "This Week" Sunday. "We didn't invest enough in grassroots organizing. We ignored rural swaths of America." ABC's HAYLEY WALKER has more. http://abcnews.go.com/Politics/democrats-chair-electoral-mistakes-rural-swaths-america/story?id=45738510
Pelosi: President Trump 'has nothing to show' for 1st month in office except 'fear.' House Democratic Leader Nancy Pelosi said that President Trump will have no positive achievements to point to when he gives his first address to a joint session of Congress Tuesday night, notes ABC's ALI DUKAKIS. "He has nothing to show for it but fear in every way," Pelosi said Sunday on "This Week." "To people who are sick -- fear, to people who are immigrants -- fear, to people who are concerned about the greed on Wall Street -- taking us back to where we were." http://abcnews.go.com/Politics/pelosi-president-trump-show-1st-month-office-fear/story?id=45735916
In case you missed it
Trump says he won't attend White House Correspondents Dinner. President Trump will not attend this year's White House Correspondents' Dinner, he announced on Twitter Saturday. "Please wish everyone well and have a great evening!" the commander-in-chief added, according to ABC's ERIN DOOLEY and JORDYN PHELPS. The WHCA responded that the group "takes note" that Trump won't attend the dinner, scheduled for April 29, and said the dinner "has been and will continue to be a celebration of the First Amendment and the important role played by an independent news media in a healthy republic." http://abcnews.go.com/Politics/trump-attend-white-house-correspondents-dinner/story?id=45738228
Who's tweeting??@rickklein: more surprising - Oscars screw-up, or Trump's Tweet silence despite it?
@jimrutenberg: For press and Trump, it's War of The Roses, @MaureenDowd weighs in on our crazy presidential media saga https://www.nytimes.com/2017/02/25/opinion/sunday/trump-vs-press-crazy-stupid-love.html?smid=tw-share
@anniekarni: Sean Spicer does phone checks on staff to crack down on leaks: http://www.politico.com/story/2017/02/sean-spicer-targets-own-staff-in-leak-crackdown-235413
@abbydphillip: More from @axios on the WH & Sean Spicer's efforts to push back on Russia reports via lawmakers and Intel officials https://www.axios.com/exclusive-spicer-arranged-sat-in-on-cia-gop-intelligence-push-back-2288082248.html
@jpaceDC: New target date for Trump's revamped refugee and immigration EO looks to be Wednesday, after the address to Congress