— -- More than a thousand bodegas and delis across New York City are expected to be closed today in protest of President Trump's temporary immigration ban.
The strike was organized by Yemeni shop owners as a show of solidarity and defiance against last week's executive order. The directive -- which has been decried by critics as a "Muslim ban" -- indefinitely blocks immigration from Syria and temporarily halts travel for many from six other Muslim-majority countries, including Yemen.
"This shutdown of grocery stores and bodegas will be a public show of the vital role these grocers and their families play in New York's economic and social fabric and, during this period, grocery store owners will spend time with their families and loved ones to support each other," protest organizers said in a statement.
Many of the grocers who are participating say they have been personally affected by the ban.
"United States is a great country, that's why we are here," Abdulmalek Yahya, a Yemeni-American and Bronx deli employee told ABC station WABC in New York. "So what Donald Trump is doing affects us. Our people, like other people, they are stuck in the airport."
The strike was scheduled to take place between noon and 8 p.m. today -- a time set intentionally later in the day in consideration of the morning breakfast rush.
"Originally, we considered starting the shutdown at 8 a.m., but the grocers, they made it clear they wouldn't be willing to close if that meant their regulars wouldn't get their morning coffee," Debbie Almontaser, board member of the Muslim Community Network and one of the organizers, said in a statement. "Even when their lives have been turned upside down, they refused to disrupt the lives of the very people they serve daily."
A number of organizations, including the Association for Neighborhood and Housing Development and Amnesty International, have voiced their support for the strike.
"President Trump's Muslim ban has sent a chilling message to millions of American Muslims who are part of the fabric of this country. Today, we're standing with the bodega owners and workers who are refusing to be intimidated and silenced by this cruel and unlawful Muslim ban, and we're demanding that Congress step in and block it," Margaret Huang, USA executive director of Amnesty International, said in a statement.
The Trump administration has rejected characterizations of the executive order as a "Muslim ban," noting more than 40 countries that are majority-Muslim are not on the banned list.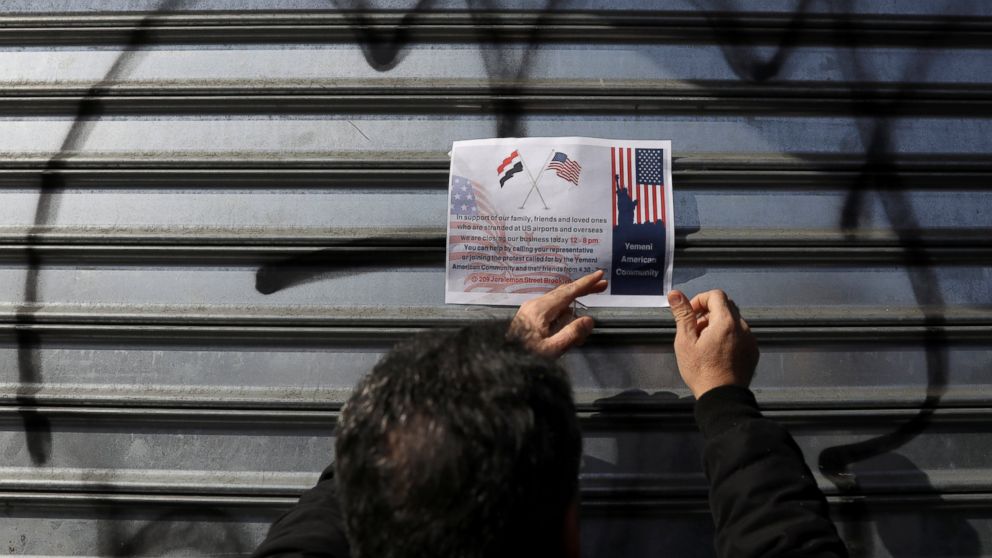 Hundreds gathered in Brooklyn ahead of a scheduled Muslim prayer service and rally. There were chants of "USA" and "No ban, no hate, and America will be great!" New York City Council Speaker Melissa Mark-Viverito, Manhattan Borough President Gale Brewer and Brooklyn Borough President Eric Adams are expected to speak.
New York City Mayor Bill de Blasio has condemned the president's immigration executive order and has pledged that the city will continue to protect refugees and immigrants.
"As an American and the grandson of immigrants I am profoundly saddened by the President's Executive Order on immigration," he said in a statement. "In this great city of immigrants we will remain true to our values and always welcome all who yearn to breathe free."
He tweeted his support for the strike this afternoon.
ABC's Aaron Katersky contributed reporting to this report.