Obama hits campaign trail ahead of gubernatorial elections in Virginia, New Jersey
"I want you to get fired up inside and then go vote," he said in Virginia.
With just over a week to go until the last day of voting in Virginia and New Jersey, former President Barack Obama joined each state's Democratic nominee for governor on the campaign trail Saturday, hoping to motivate the party's base to turn out in their state's off-year general elections.
"I want you to get fired up inside and then go vote. ... We ain't got time to be tired!" Obama said at a rally for Virginia's Democratic ticket in Richmond.
Always held the year after a presidential election, the statewide and legislative races in both states, on Nov. 2 this year, are seen as bellwethers for the nation's political landscape going into the midterms. A strong showing by Democrats could assuage party fears about 2022, but if Republicans make gains, it will serve as a warning shot for Democrats as they try to connect with voters in the post-Trump era.
In Virginia, the race between former Gov. Terry McAuliffe, who's seeking a second term in Virginia, and Republican Glenn Youngkin, a former private equity executive, is neck and neck. A poll from Monmouth University published Wednesday showed the candidates tied among registered voters.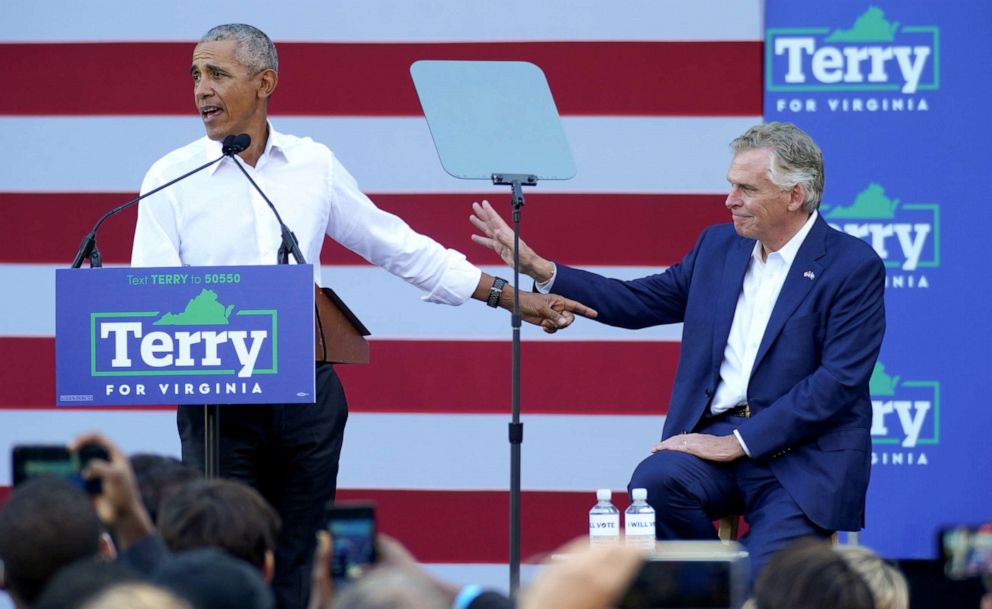 At the rally in Richmond, both Obama and McAuliffe underscored the national implications of this election.
"Don't sit this one out," Obama urged Democrats. "Go out there and fight and work because you're gonna decide this election and the direction of Virginia, and the direction of this country for generations to come."
"This election is about the next chapter of Virginia, and our country," McAuliffe said. "It's about leading us out of this pandemic, keeping our economy strong, protecting voter rights, protecting abortion rights and so much more. We cannot afford to return to the division, the culture wars and the conspiracy theories. We've come too far to go back."
Making the case for McAuliffe, who he dubbed "the Energizer Bunny," Obama said he "could not be happier that Terry's back on the ticket ... because I know he will make you proud as governor, because he's already done it!"
"He walked the walk, didn't just talk the talk," the former president said. "That kind of experience matters because the work we need to do is too important to just leave to chance."
While the race between New Jersey Gov. Phil Murphy and Republican Jack Ciattarelli, a former assemblyman, appears to be headed to a Democratic victory, according to recent polls, Obama still made the trip to Newark on the first day of in-person early voting ever in the state to stump for the incumbent.
"So Phil's been busy. He's been busy. He's done the work, and you know what? That track record matters," Obama said. "If you elect him, Phil's gonna work to make health care and housing more affordable. He's going to invest in clean energy. He's going to do what it takes to keep people safe and help New Jersey come out of the pandemic stronger than before. And when he says this is what I'm gonna do, you know he's gonna do it because he wasn't about empty promises this first term."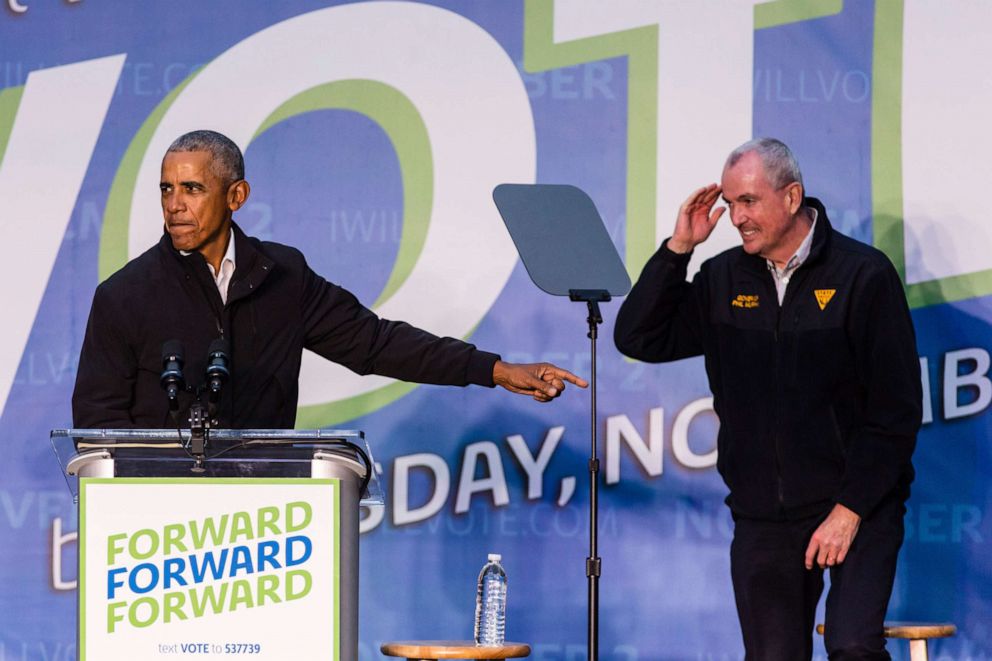 In remarks before Obama, Murphy said turnout was key to a Democratic victory in 10 days.
"Listen, the math is simple. Our team is bigger than their team. Our team shows up, we win. Our team doesn't show up, this thing is a coin toss. We can't let that happen," he said.
At both events, Obama revived a line he delivered at the 2016 Democratic National Convention when attendees booed at a mention of then-candidate Donald Trump: "Don't boo, vote!"
"Booing might make you feel better but it's not gonna get Terry elected -- vote!" he said in Richmond.
The former president isn't the first top surrogate to hit the trail with Murphy and McAuliffe, who is hoping to secure Virginia's top executive post for a second time after leaving office in 2018. First lady Jill Biden stumped with both Democrats last week, and Georgia's Stacey Abrams and Vice President Kamala Harris campaigned with McAuliffe Sunday and Thursday, respectively.
"Let's be clear about who this man is. He has the life experience, the professional experience, the experience in this state. ... He walks his talk, he is a fighter," Harris said of McAuliffe. "When you elect somebody or governor, you want to make sure you really know who they are. Well, we know who Terry is."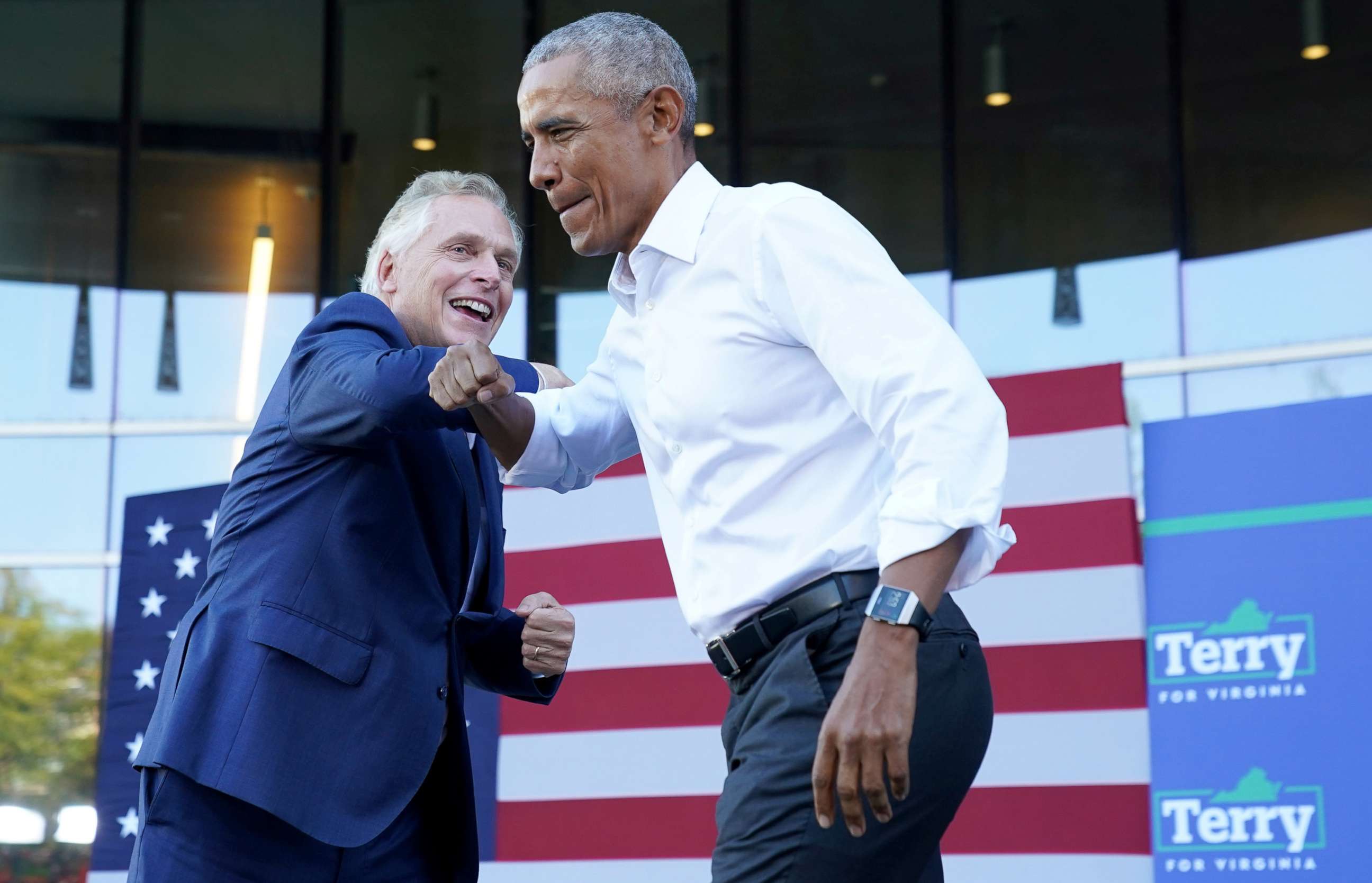 Acknowledging how close the race is between McAuliffe and Youngkin, she added, "We got to make it clear that we're not taking anything for granted. You know, four years ago, there was a lot of folks who said, 'Oh, if I don't vote, everything will be all right. It wasn't all right."
McAuliffe also has an event planned with President Joe Biden in deep blue Arlington on Tuesday. While Biden and McAuliffe have been friends for over 40 years, the president hasn't stumped with him since late July. Earlier this month, McAuliffe acknowledged Biden's approval rating has taken a hit since then.
"We are facing a lot of headwinds from Washington, as you know. The president is unpopular today unfortunately here in Virginia, so we have got to plow through," he said at a virtual rally.
But when asked by ABC News chief Washington correspondent Jonathan Karl Friday if Biden's problems are "a drag" on him in Virginia, McAuliffe said he's "excited to have him come back."
"Listen, we're happy here. Biden, through his efforts with the American Rescue Plan -- I got $14 billion. I am very confident we're going to get an infrastructure bill passed, which is going to bring billions into the state, so listen, he's coming in on Tuesday. We're excited to have him come back. He's already been here for me ... all hands on deck. Man this is exciting," he said in an interview for ABC's "This Week."
Early voting in Virginia has been underway since mid-September and ends Oct. 30. According to the Virginia Public Access Project, more than 600,000 people have already voted. In-person early voting in New Jersey continues through Oct. 31.