Obama portraits unveiled, break with tradition
The artists were the first African American artists ever selected.
February 12, 2018, 4:56 PM
— -- The official portraits of former President Barack Obama and first lady Michelle Obama, unveiled at the National Portrait Gallery Monday, break with tradition just as the Obama presidency did.
The artists, both in their 40s, are the first African Americans to paint official portraits for the museum and both have dedicated their careers to showcasing people of color in unique ways.
Amy Sherald, an artist from Baltimore, painted Michelle Obama's portrait. She's known for painting skin tones in grayscale — a way to "subversively" comment on race, she says — and incorporates color in clothing and backgrounds. In her portrait, Obama wears a dress with patterns similar to quilts made by women in Gee's Bend, a remote, black community in Alabama.
Michelle Obama said she knew she was going to select Sherald just a few sentences into their first conversation.
Michelle Obama through the years
Lady Gaga, Jada Pinkett Smith, Alicia Keys, Michelle Obama and Jennifer Lopez speak onstage during the 61st Annual Grammy Awards at Staples Center, Feb. 10, 2019, in Los Angeles. <br><br> Michelle Obama speaks to the audience during a surprise appearance at the 2019 Grammy Awards.
Kevin Winter/Getty Images
"She came in and she looked at Barack and she said, 'Mr. President, I'm really excited to meet you and I know I'm being considered for both portraits'," Obama recounted. But then Sherald turned to face her, saying,"'I'm really hoping that you and I can work together'."
As they continued talking, "Barack kind of faded into the woodwork," Obama joked.
And in the end, the former president had nothing but praise for Sherald and her work.
"Amy, I want to thank you for so spectacularly capturing the grace, beauty, intelligence, charm and hotness of the woman I love," he said to laughter from the crowd.
Kehinde Wiley, an artist from South Central Los Angeles, was selected to paint the former president's portrait. He's famous for his depictions of African American men replacing famous figures in scenes out of Western art, such as Napoleon crossing the Alps on horseback, to point out how people of color have been missing in historical portraiture.
"We had an immediate connection with the two artists who are sitting here today," the former president said.
And the message, from the artist to the presidential subjects, was clear: Among the 1,600 presidential portraits in the museum, these portraits would emphasize that there's a place for people of color.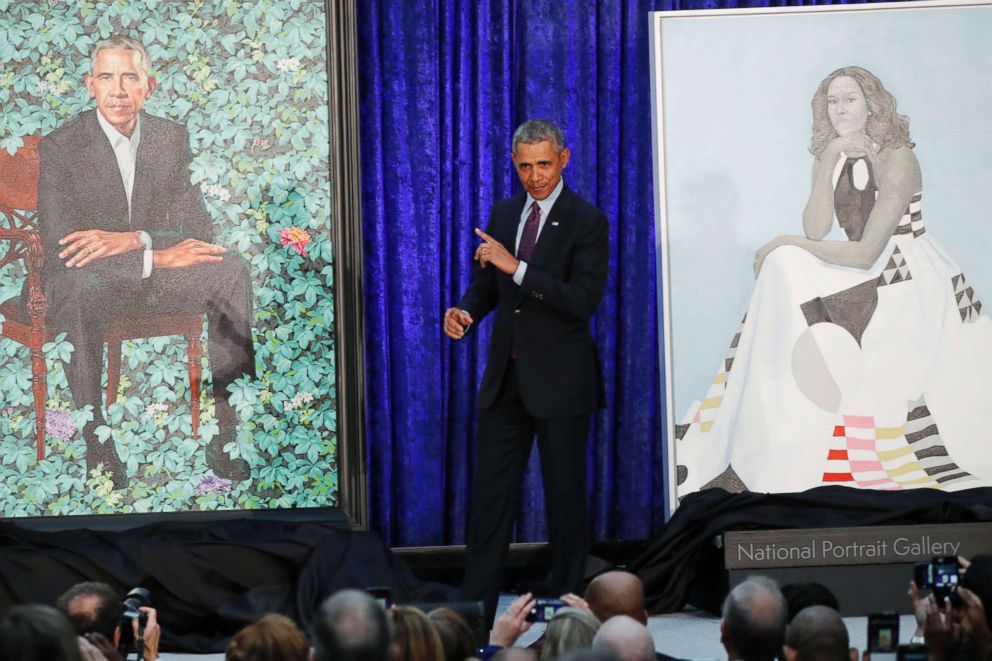 "What I was always struck by whenever I saw [Wiley's] portraits was the degree to which they challenge our conventional views of power and privilege … recognizing the beauty and the grace and the dignity of people who are so often invisible in our lives," Barack Obama said.
"Kehinde lifted them up and gave them a platform and said they belong in the center of American life and that was something that moved me deeply," Obama said. "In my small way, that's part of what I believe politics should be about — not simply celebrating the high and the mighty, expecting that the country unfolds from the top down - but rather it comes from the bottom up."
Wiley's portrait of Obama is different from his other works, however. It doesn't elevate the subject, mount him on horseback or compare him to Napoleon. The subject, the first African American president, made history on his own.
Obama sits in a chair, the backdrop covered in flowers. There are chrysanthemums, the official flower of Chicago; jasmine, a flower of Hawaii — where Obama grew up; and African blue lilies for the president's father's roots in Kenya.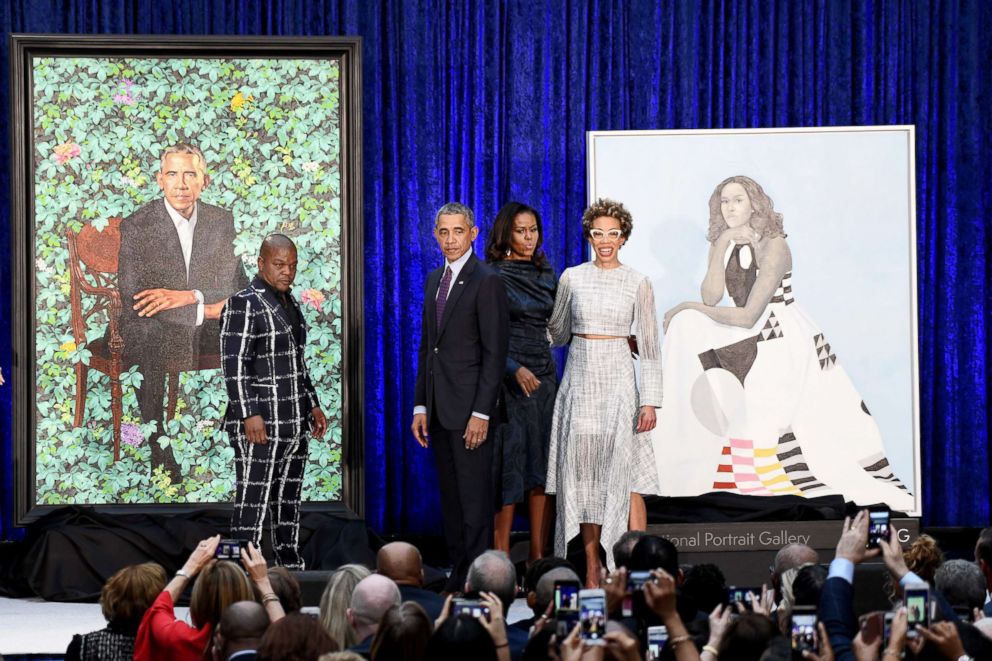 Though Wiley's portraits are typically set against a bright, detailed background as in Obama's portrait, the president joked that he persuaded Wiley to otherwise tone it down.
"His initial impulse in the work may have been to elevate me and put me in these settings with partridges, scepters ... mounting me on horses. I had to explain that I've got enough political problems without you making me look like the Pope," Obama joked. "We've got to bring it down just a touch. And that's what he did."
There were some vanity-related requests, however, that went unanswered.
"I tried to negotiate less gray hair," Obama said. "Kehinde's artistic integrity would not allow him to do what I asked. I tried to negotiate smaller ears — struck out on that as well."
The artist immediately countered the former president.
"So how do you explain that a lot of that is simply not true?" Wiley said to laughter, describing strong admiration for his subject.
"The ability to be the first African American to paint the first African American president of the United States is absolutely overwhelming. It doesn't get any better than that," he said.
Wiley, like the president, was raised by a single mom. He also had an absent African father. His upbringing shaped his work, much as the president's journey to connect with his own roots shaped his.
"Growing up as a kid in South Central Los Angeles, going to museums in L.A., there weren't too many people who happened to look like me in those museums, on those walls. So as the years go on and as I try to create my own type of work, it had to do with correcting for some of that, trying to find places where people who happened to look like me do feel accepted," Wiley said.
The former first lady also spoke of the impression these historic portraits might make on children — especially young girls who will walk the museum, as Wiley did, and look for someone who looks like them.
"I know the kind of impact that will have on their lives because I was one of those girls. And when I think about those future generations and generations past, I think 'Wow, what an incredible journey we are on together in this country'," she said.