Ohio Sen. Sherrod Brown on Sunday touted the need for new bipartisan rail safety legislation weeks after the toxic train derailment in East Palestine sparked an uproar over existing regulations and precautions for rail companies.
"It shouldn't take a rail disaster to get us working together like that. And that's what we're going to be doing," Brown told ABC "This Week" anchor George Stephanopoulos.
The Democratic lawmaker said he believed his proposal, backed by him and Ohio's Republican senator, J.D. Vance, among others, could pass their chamber even if its prospects in the House were less clear. President Joe Biden endorsed the legislation Thursday and encouraged Congress to act quickly on it.
The fallout from the train derailment has become a political debate, with Republicans like former President Donald Trump accusing the Biden administration of ignoring East Palestine while the White House has pushed back.
"They want this fixed. They don't care about partisan politics there," Brown said on "This Week," referencing the residents of East Palestine. "They care that this corporation continues to weaken safety rules and continues to be immensely profitable while undermining public health, public safety for their workers and for the communities that they that they drive through."
Last month's derailment, which saw noxious chemicals spilling into the waterways and soil in East Palestine, a small Ohio village near the Pennsylvania border, led to bipartisan calls in Congress for a legislative solution.
Norfolk Southern, which operated the train, said Wednesday that the company is "committed" to working on ways to prevent another incident like what took place in East Palestine. But on Saturday, another Norfolk Southern train derailed in Ohio, this time in Springfield. The company said that unlike in East Palestine, this train was not carrying hazardous materials.
Brown told Stephanopoulos that while other officials he has spoken to were "pretty satisfied with Norfolk Southern's response" to the latest derailment, he wants to know more, like if there any "contaminants" leftover in that train's cars that could impact the surrounding area.
"The railroad's got a lot of questions they've got to answer and they really haven't done it very well yet," Brown said.
Norfolk Southern's CEO, Alan Shaw, will appear Thursday before the Senate's Environment and Public Works Committee. On "This Week," Brown blamed the self-interest of the company's executives for recent incidents.
"Ohio's now had four derailments. As of yesterday, four derailments in the last five months. East Palestine was the most serious, but we still have questions ... about these other derailments too," Brown said.
He and Vance teamed up with four other senators of both parties to introduce the Railway Safety Act of 2023, which seeks to address the causes and fallout of the crash.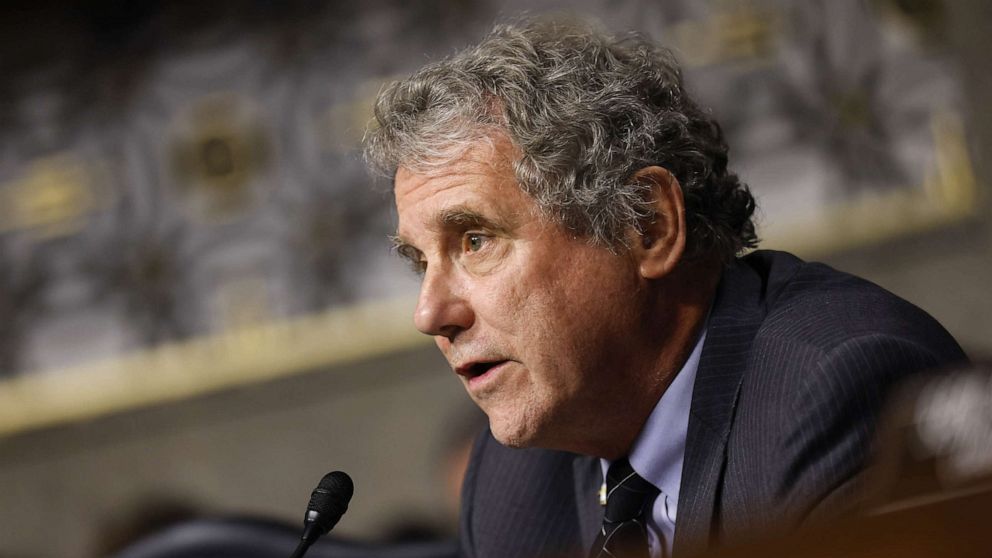 Among other things, their bill would mandate that rail companies inform emergency response commissions what hazardous materials are traveling through their states and when; require crews to consist of at least two people at a time when many companies are moving toward single-person crews; and increase fines and inspections.
"The fines for safety have averaged about $10,000 over the last few years to Norfolk Southern, on CSX, in the other big railroads. That's just pennies on the dollar, a cost of doing business, and it's no incentive to make it safer," Brown said.
The legislation would also institute new national requirements for monitoring wheel bearings, including to automatically detect any issues. An overheated wheel bearing, to which the crew was alerted too late, contributed to the crash in East Palestine, federal authorities have said.
However, Brown acknowledged uncertainty about whether his bill could pass the Republican-controlled House after some conservatives in the chamber cast the legislation as overly restrictive.
"I think our chances in the Senate are good. I make no predictions in the House," Brown said, pointing to the influence of lobbyists.
"I am very concerned about the power of the railroads to beat back safety regulations. But you'd think a disaster that happened in East Palestine would have gotten their attention," he said.
Stephanopoulos separately pressed the senator on whether he is concerned about running for reelection in a red state next year, likely on the same ballot as President Joe Biden, who would face stiff headwinds winning the erstwhile swing state.
"I don't think a lot about that," Brown insisted, referencing his extensive travel across Ohio.
Throughout the interview, Brown sounded off the same populist notes that are likely to underscore his next campaign in a state dominated by the kinds of blue-collar voters who defected from Democrats to back former President Donald Trump in 2016 and 2020.
"People are still concerned, based on my last few trips there [to East Palestine]. This company has done huge stock buybacks and they were trying to do an even bigger one this year; they've laid off a third of their workforce," Brown said of Norfolk Southern. "Their greed and incompetence always take precedent over their workers and safety."