Oil-rich Gulf nations spend millions on Trump insiders
Qatar, the UAE and Saudi Arabia appear to want stronger ties to the president.
Even before the 2016 election, Qatar, the United Arab Emirates and Saudi Arabia were ramping up their courtship of Trump insiders.
Records reviewed by ABC News show that over the past 18 months those oil-rich nations have poured millions into efforts to build ties to President Donald Trump's administration.
Now, the long-simmering conflict between the Middle Eastern Gulf powers has devolved into allegations of hacking, subterfuge and espionage, and it has burst into public view in Washington in recent weeks as the governments wrestle for an upper hand with the Trump White House.
"Tensions have been rising," said Jon Alterman, the director of the Middle East Program at the Center for Strategic & International Studies. "The Emirates and Saudis … have sought to teach the Qataris a lesson. And the Qataris have fought back."
Behind the quest for favor from the White House is an angry regional feud, primarily between Qatar and UAE. To the consternation of UAE and Saudi Arabia, Qatar has maintained diplomatic and trade relationships with their bitter enemy Iran. In June, with Saudi backing, UAE attempted to strangle Qatar economically with a blockade. As relations deteriorated, the U.S. stood on the sidelines, even though all three countries remain important strategic partners.
The bid for influence has turned Trump insiders into sought-after conduits of influence in Washington.
Earlier this month, a senior Qatari diplomat confirmed to ABC News he visited Trump Tower during the presidential transition, where he was spotted on videos with Trump personal attorney Michael Cohen.
Ahmed al-Rumaihi "was at Trump Tower on Dec. 12, 2016. He was there in his then role as head of Qatar Investments, an internal division of the Qatar Investment Authority, to accompany the Qatari delegation that was meeting with Trump transition officials on that date," according to a statement by al-Rumaihi's firm.
Recently reports surfaced of new efforts by Brookfield, a large real estate company with significant Qatar business ties, to purchase a Manhattan skyscraper owned by the family firm of Trump's son-in-law, Jared Kushner. His family's company debt on the property comes due in February, according to public filings and media reports.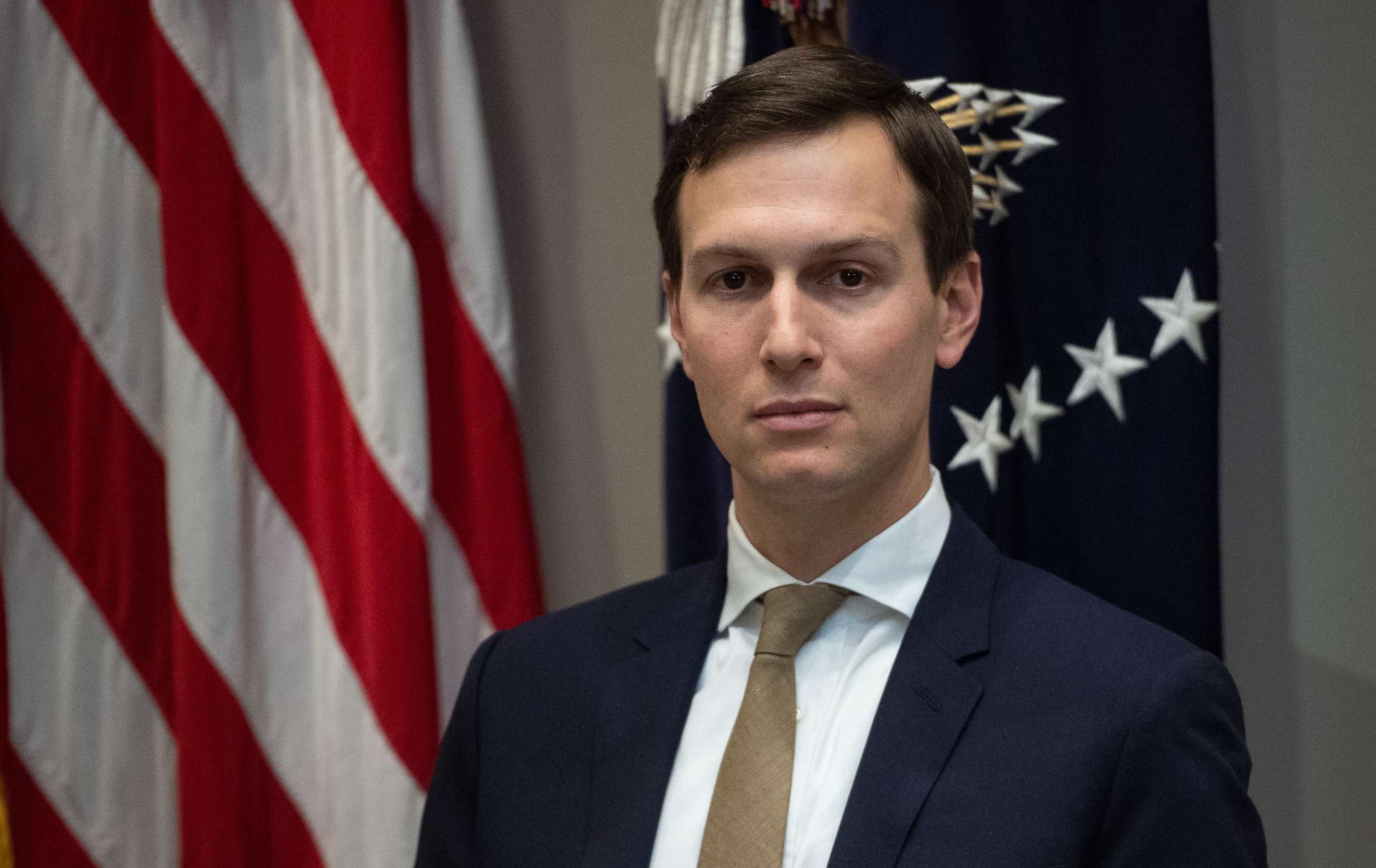 The Kushner company and Brookfield have disputed the reports of Qatari involvement in any deal. The New York Times first reported the Kushner firm was in talks with a company, Brookfield Asset Management, a firm whose real estate arm is part-owned by the Qatar Investment Authority, the Gulf country's sovereign wealth fund. Qatar is a major partner in Brookfield's massive Manhattan West real estate project. However, a Brookfield spokesperson said "no Qatar-linked entity has any involvement" in the Kushner property deal.
Other well-known Trump insiders with business ties to Qatar include Rudy Giuliani, whose company provided security advice to a state-run oil company. Last year, Qatar hired a firm that previously employed Corey Lewandowski, the former Trump campaign manager, as one of seven lobbyists in Washington to help influence the White House, according to federal filings. Tom Barrack, one of Trump's closest friends, has had several business deals over the years involving the Qatar Investment Authority.
Florida lobbyist Brian Ballard, a major Trump fundraiser, signed up Qatar as a client as well. Another longtime Trump friend, Ballard was a key Trump campaign fundraiser in Florida, where his firm Ballard Partners is based.
In late March, Ballard inked a new contract with The Embassy of Qatar – specifically on behalf of their diplomat in charge of finance – to lobby on their behalf "in connection with [Qatar's] business with the executive agencies in Florida governmental, private entities located within the state of Florida and the United States government," according to the contract included in a federal foreign agent registration filing.
For the services, Ballard will earn $175,000 a month plus. Ballard declined to comment citing his policy of client confidentiality.
At the same time, UAE forged a relationship with Elliott Broidy, a Hollywood-based businessman and GOP fundraiser who served as the finance chairman of the Republican National Committee for several years under President George W. Bush. Under Trump, Broidy served as one of the RNC's national deputy finance chairmen. He held the role for a year before resigning in April amidst negative publicity about a personal indiscretion with a Playboy model. Broidy retained Cohen, Trump's personal lawyer, to negotiate a settlement with the model.
"I have proudly pursued business initiatives that have aimed to strengthen the national security of the United States, in a manner designed to decrease the loss of American blood and treasure, including by working closely where appropriate with America's friends and partners in the Arab world," Broidy told ABC News in a statement.
Broidy also has past business dealings with several Trump insiders. He worked closely – though he says with no direct financial tie -- with well-connected Lebanese-American businessman George Nader, who has worked with UAE.
Earlier this year, ABC News confirmed reports identifying Nader as a cooperative witness in special counsel Robert Mueller's probe into possible collusion between the Trump campaign and Russian meddling in the 2016 U.S. presidential campaign.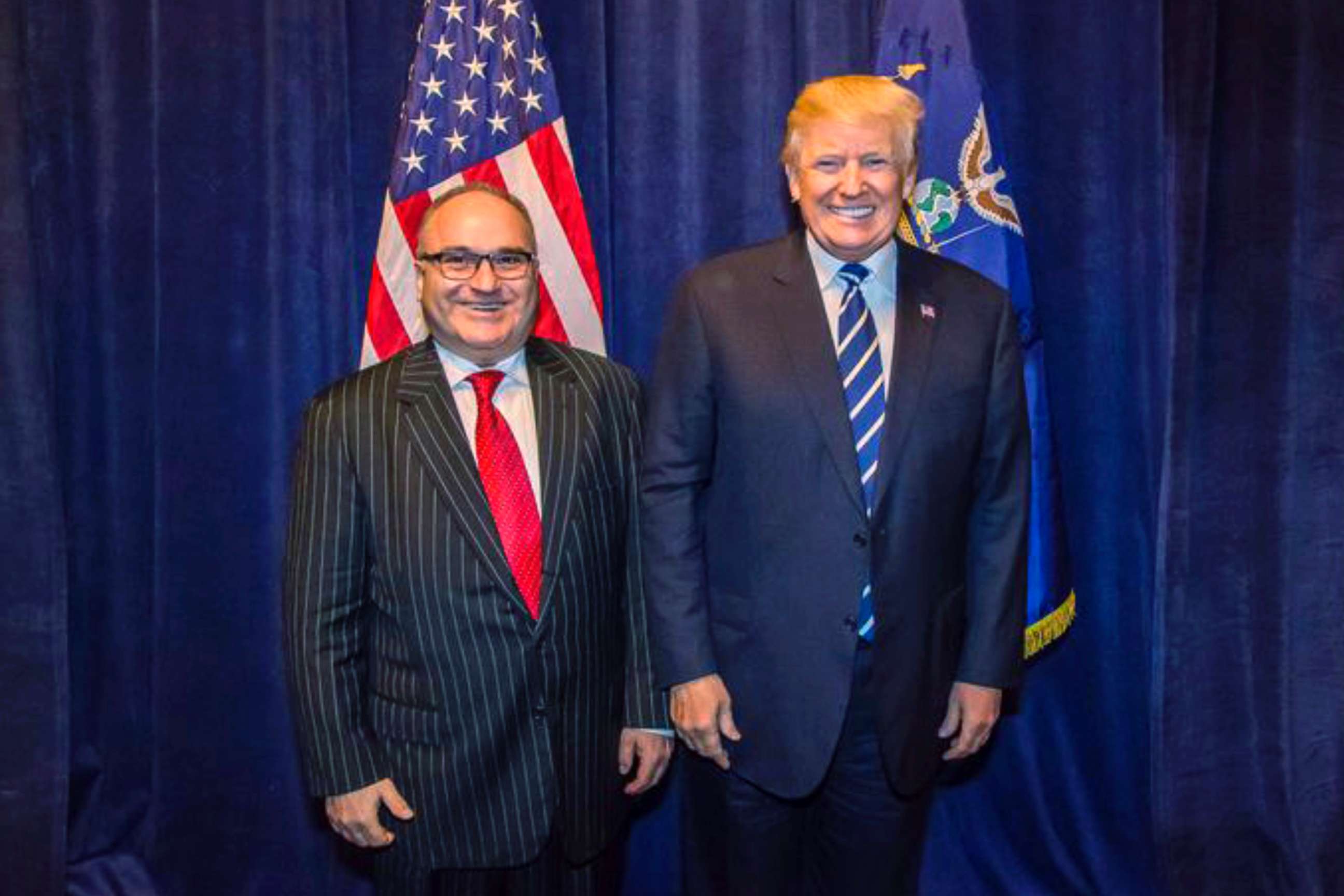 Nader is alleged to have organized and attended a controversial meeting in the Seychelles in January of 2017 – days before Trump's inauguration. At the gathering were Blackwater founder Erik Prince, Kirill Dmitriev, a Putin-tied Russian oligarch who heads Russia's sovereign wealth fund, and UAE Crown Prince Mohammed Bin Zayed Al-Nahyan, the defacto ruler of his country who is also known by the nickname "MBZ."
Nader declined to comment to ABC News through a spokesperson.
A Broidy-owned security contracting company called Cirnicus, which he acquired in 2015, signed a $200 million contract with the UAE government for defense contracting services, according to a source familiar with the arrangement who spoke with ABC News on the condition of anonymity because of sensitivities surrounding the agreement.
"Circinus is involved with efforts around the world that will enhance our national security and that of our allies and foreign military partners," Broidy told ABC News in response to questions about the arrangement.
Broidy has never registered as a lobbyist for a foreign government and has accused Qatar of mounting a misinformation campaign about him that, his attorneys have argued, included hacking and altering his private communications.
UAE has also hired Geoff Verhoff of Akin Gump Strauss Hauer & Feld. A donor to Trump's campaign presidential transition team, the RNC named Verhoff as a regional vice chairman in April 2017. Verhoff was one of eight individuals named to the RNC's finance leadership team with Broidy – a group that also included Cohen.
Beginning in late October 2016, Trump campaign donor Richard Hohlt, through his firm Hohlt Group Global, began serving as a consultant to Saudi Arabia on legislative matters and public affairs strategies, according to federal filings. Between January and April of 2017, the Saudi Ministry of Foreign Affairs paid Hohlt $431,254 in consulting fees. Hohlt was appointed by Trump to recommend candidates to be fellows at the White House and government agencies as a member of the Commission on White House Fellowships.
In 2017, the UAE and Saudi Arabia began an aggressive campaign to isolate Qatar, their then-fellow member of the Gulf Cooperation Council, commonly known as the GCC, a cooperative alliance for the Arab States and the Gulf made up of a handful of countries in the region.
In June of 2017, Saudi Arabia, the UAE, Bahrain, Egypt and Mauritania abruptly severed diplomatic relations with Qatar, in what many have called the climax to a long-brewing Qatar-Saudi Arabia proxy war, with Saudi leading the charge that Qatar was a state sponsor of terrorism. They argued that for this reason, Qatar was in violation of a 2014 agreement between the member countries in the GCC – arguing for a Qatar blockade.
A key point of tension between the two countries: Qatar's relationship with Iran. The two countries had a soft diplomatic relationship, with each maintaining an embassy in the other's country. In August of 2017, Qatar moved to re-establish full diplomatic relations with Iran.
Qatar's media attache in Washington, D.C., Jassim Bin Mansour Al-Thani, told ABC News in a written statement that his country's lobbying push has been focused on "promoting our enduring bilateral relationship – the core tenants of which are strong military, economic, and cultural ties."
"Without provocation, the blockaders have spent millions in the United States to tarnish the reputation of Qatar. The goal of their smear campaign and lobbying is to drive a wedge between Qatar and the United States – they have failed," Al-Thani added. The embassies of UAE and Saudi Arabia did not respond to messages from ABC News requesting comment.
Alterman, the DC-based Middle East foreign policy expert, said there is growing reason for concern about the shadow lobbying war playing out in Washington.
"What seems to be happening here is people are using very specific relationships to effect very discreet things on a very large scale, and making money," Alterman said. "And the system is designed to be a system that can't be bent for any individual and what we're increasingly seeing is it's being bent for a small number of individuals."
An earlier version of this story incorrectly described the involvement of Corey Lewandowski in a lobbying firm hired by Qatar. He did not run the firm and left before Qatar retained the firm.