With just three weeks until voters decide a surprisingly pivotal U.S. Senate race in the state of Texas, Republican Sen. Ted Cruz and Democratic Congressman Beto O'Rourke faced off in an at-times-testy debate in San Antonio Tuesday evening, as both men sought to paint their opponent as the wrong choice to represent the nation's second-largest state.
Both candidates lobbed attacks throughout, taking more aggressive stances as the race enters the final stretch and Democrats try to keep their fledgling hopes of re-taking the Senate alive despite a difficult host of races in many states President Donald Trump won handily in 2016.
Cruz consistently sought to portray O'Rourke as an "extremist" on issues ranging from health care to abortion to illegal immigration, saying the El Paso Democrat is running a campaign that appeals to "left-wing national activists," and not the state of Texas.
O'Rourke, whose energetic bid to unseat Cruz has garnered a crush of national media attention and historic fundraising numbers, pushed back against Cruz more aggressively than at any other point in the campaign, even reprising the nickname bestowed on the GOP candidate by Trump during the 2016 presidential campaign.
"Sen. Cruz is not going to be honest with you. He's going to make up positions and votes that I've never held or have ever taken," O'Rourke said, "He's dishonest, it's why the president called him 'Lyin' Ted,' and it's why the nickname stuck — because it's true."
Cruz, who recent polls show is maintaining a high single-digits lead in the race against O'Rourke, shot back at his Democratic challenger.
"Well it's clear Congressman O'Rourke's pollsters have told him to come out on the attack, so if he wants to insult me and call me a liar, that's fine," Cruz snapped.
O'Rourke also reprised his attack on Cruz for focusing on his presidential ambitions so soon after he was elected to the U.S. Senate, and criticized the tone of his Republican opponent's campaign.
"Look all you've heard from Sen. Cruz is what we should be afraid of. It's a campaign based on fear," O'Rourke said, "It's the same person who shut down the government of the United States of America for sixteen days, perhaps because he though too many people had too much healthcare."
The two also clashed over the issue of border security, and on whether or not building a wall on the U.S.-Mexico border is the best way to reduce illegal immigration.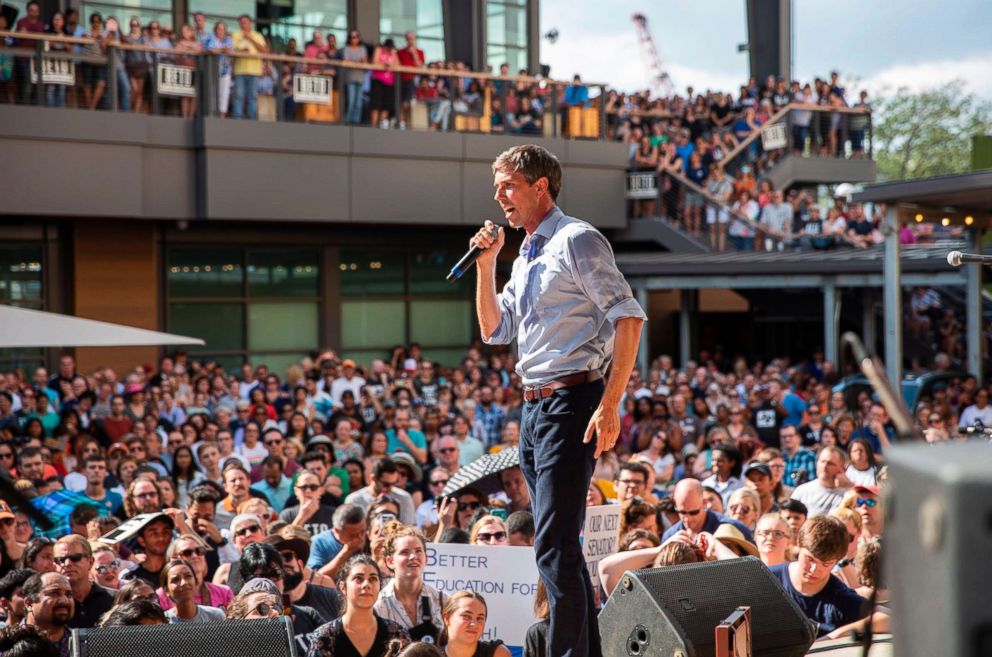 "Congressman O'Rourke doesn't want to build the wall," Cruz said, again calling his opponent's views on the issue "extreme."
O'Rourke said there needed to be a greater focus on screening methods for people entering the country, and hit Cruz for his vote against a permanent solution for Dreamers, recipients of the Deferred Action for Childhood Arrivals program.
The two also sparred over the issue of judicial appointments, and Cruz said he was "proud" to help confirm both of Trump's nominees to the Supreme Court -- Neil Gorsuch and Brett Kavanaugh.
The conservative firebrand who has made a career out of rankling member of both parties, bemoaned a lack of civility in today's politics, something he again blamed on the "anger" and "rage" from a far-left "mob," evoking rhetoric that has been used by the president recently on the campaign trail.
"There is a loss of civility, there is an anger, there is a rage on the far-left that is really frightening," Cruz said, "The images of a left-wing mob beating on the doors of the Supreme Court, that's not good for our country. We can disagree while treating each other with respect, while treating each other with civility."
In his attempts to paint O'Rourke as a figurehead of the liberal "resistance" movement, Cruz said the Democrat would not be able to work with Trump as a member of the Senate and would instead incite a "partisan circus," by supporting impeachment proceedings against him.
"Really interesting to hear you talk about a partisan circus after your last six years in the U.S. Senate," O'Rourke said to laughter in the audience. "Listen if you have this special relationship with President Trump, then where is the result of that? You were all talk and no action. The tariffs that the president has levied, the trade wars that he has led us into, is hurting no state more than it's hurting Texas."
Cruz cited his work helping to pass the Republican tax reform bill last year as an area where he has delivered for the state of Texas.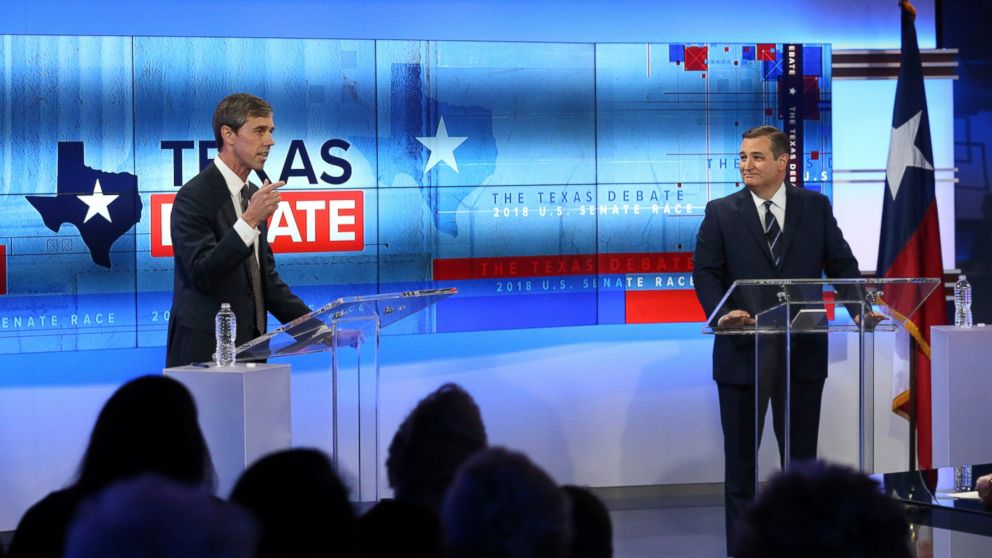 At the conclusion of the debate, O'Rourke offered a closing statement in the same vein of the soaring rhetoric that has earned him comparisons to former President Barack Obama and the late Robert Kennedy, comparisons his Republican detractors say are overblown.
"The bitterness, the partisanship, the pettiness, the dishonesty that defines so much of the national conversation: We are in desperate need right now of inspiration," he said. "But I'll tell you what, traveling the state of Texas, meeting people regardless of their walk of life, their background, their party affiliation, you have inspired me."
Cruz closed by again highlighting his policy differences with O'Rourke on immigration, health care and a host of issues, saying he is also offering a positive vision for the state of Texas.
"Elections are about who we are. Do we choose fear, or do we choose hope? I believe in hope," Cruz said.