— -- Devin Nunes, the California representative who saw his national profile rise rapidly as he led the House Intelligence Committee's investigation into Russian meddling -- and associated intelligence controversies -- announced Thursday he would step aside from the inquiry due to ethics complaints leveled against him.
Nunes, who called the complaints against him "baseless," was previously called upon by Democrats to recuse himself due to what they viewed as missteps in his leadership and close ties to the White House (he served on Trump's transition team).
Here's a look at Nunes' month heading the probe after President Donald Trump first tweeted about wiretapping:
March 5
Sean Spicer, the White House press secretary, releases a statement where a request is made that that congressional intelligence committees "determine whether executive branch investigative powers were abused in 2016" alongside their inquiry into Russia's interference in the U.S. election.
March 10
The House Intelligence Committee formally requests that the Justice Department turn over any documentary evidence, including applications, orders or warrants, by Monday, March 13.
March 15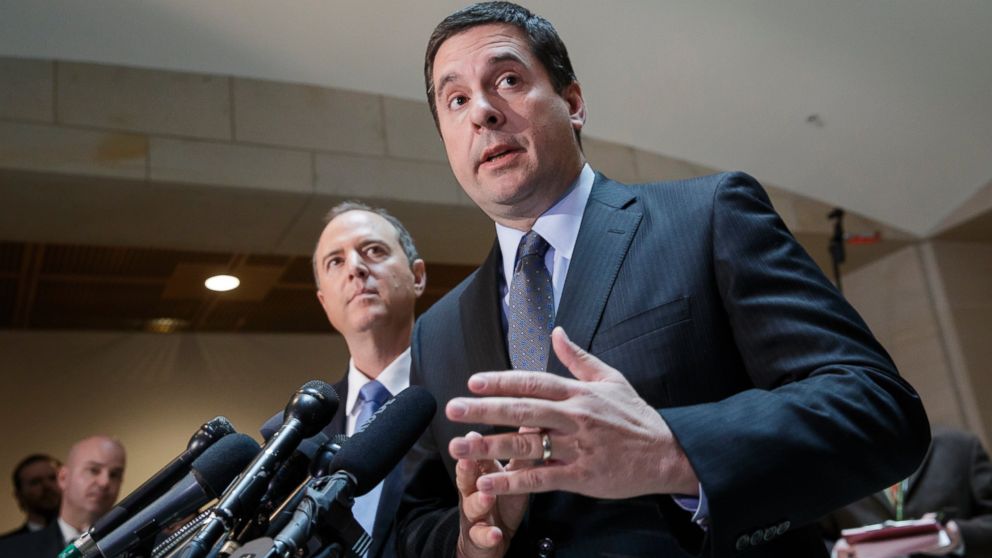 Both Nunes and his Democratic counterpart, House Intelligence Committee Ranking Member Rep. Adam Schiff, D-Calif., announce they have not found any evidence that Trump Tower was wiretapped by President Obama, as Trump suggested in an explosive tweet.
"We don't have any evidence that that took place ... I don't think there was an actual tap of Trump Tower," said Nunes at a Capitol Hill press conference, but explains that his response referred to a literal interpretation of Trump's tweets.
"I think the challenge here is that President Obama wouldn't physically go over and wiretap Trump Tower," says Nunes. "So now you have to decide... are you going to take the tweets literally? And if you are, then clearly the president was wrong."
He adds, "But if you're not going to take the tweets literally, and if there's a concern that the president has about other people, other surveillance activities looking at him or his associates, either appropriately or inappropriately, we want to find that out."
March 17
After the request on March 10, the Department of Justice says it is complying with the Intelligence and Justice Committees' call for additional information on government surveillance.
The DOJ does not provide detail as to what information is being passed along.
March 20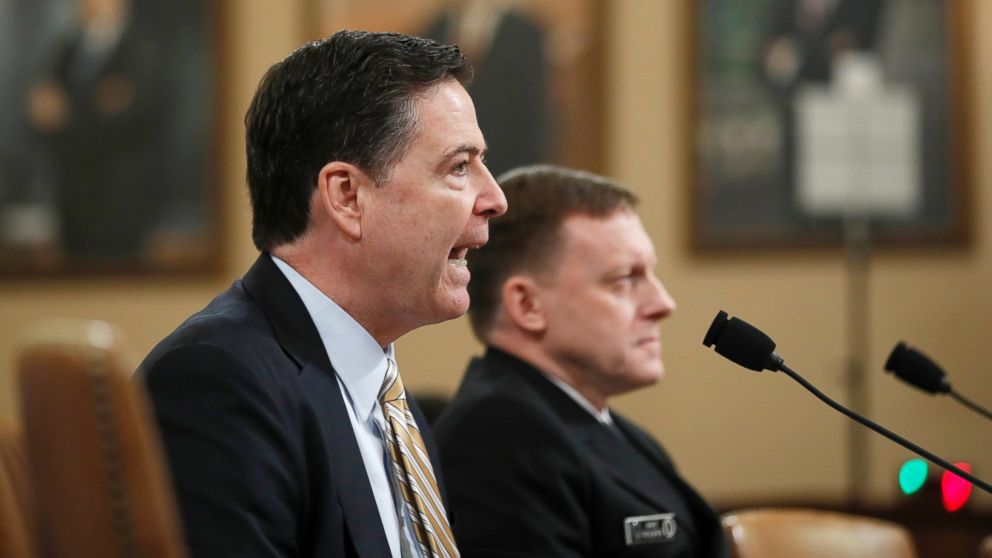 James Comey, the director of the FBI, tells the House Intelligence Committee that his not in the possession of "information that supports those tweets," referring to Trump's wiretap claims. Comey also notes that the Justice Department too cannot corroborate the president's accusation.
"I'm not going to try and characterize the tweets themselves," says Comey. "All I can tell you is we have no information that supports them."
March 21
In what would later become a controversial move, Nunes goes to the White House to meet a source to review information on the "incidental" surveillance of members of the Trump team.
"Chairman Nunes met with his source at the White House grounds in order to have proximity to a secure location where he could view the information provided by the source. The chairman is extremely concerned by the possible improper unmasking of names of U.S. citizens, and he began looking into this issue even before President Trump tweeted his assertion that Trump Tower had been wiretapped," Nunes' spokesperson Jack Langer later tells ABC News.
March 22
Nunes holds a press conference to announce that he received information -- later learned to be from his meeting a day earlier at the White House -- that the intelligence community "incidentally collected" the communications of some members of Trump's transition team, including, potentially the president himself. He adds that the information was "widely disseminated" throughout the intelligence community.
Nunes says that the surveillance was unrelated to Russia but notes it was legal due to a FISA (Foreign Intelligence Surveillance Act) warrant.
In holding the press conference, Nunes publicly reveals the surveillance without briefing Schiff or the members of his committee first. Later in the day, he would travel to the White House and brief Trump personally.
In a separate press conference, Schiff calls Nunes' describes Nunes' actions as "inappropriate."
"He will need to decide whether he is the chairman of an independent investigation into conduct which includes allegations of potential coordination between the Trump campaign and the Russians, or he is going to act as a surrogate of the White House, because he cannot do both," said Schiff.
Trump reports feeling "somewhat" vindicated by Nunes' briefing.
"I very much appreciated the fact that they found what they found," says Trump.
March 23
Nunes appears to backtrack on some of his claims from the previous day when a spokesman says that the chairman did not know "for sure" whether Trump and his aides were participants in the surveilled conversations.
"He said he'll have to get all the documents he requested from the [intelligence community] about this before he knows for sure," says the spokesman.
ABC News learns that Trump, and those with ties to him, may have simply been the topic of others' discussions, resulting in their inclusion in the reports. Normally, the identities of U.S. persons in surveillance reports are masked, or anonymized, if unrelated to the surveillance. Nunes previous showed displeasure with efforts to unmask Americans and reveal their names.
March 27
Nunes' White House trip to review information almost a week prior becomes public, leading to a number of Democrats to call for his recusal from the investigation.
Schiff and House Minority Leader Nancy Pelosi call for the chairman's recusal while Senate Minority Leader Chuck Schumer places the onus on House Speaker Paul Ryan to replace him in the investigation.
March 28
Nunes says he has "no idea" why Democrats want him to step down, questioning "what the purpose" of a recusal "would be."
April 6
Nunes reverses from his stance a week earlier, announcing in a statement that he will no longer lead the inquiry after several complaints were sent to the Office of Congressional Ethics. Rep. Mike Conaway, R-Texas, takes Nunes' place leading the probe.
It is revealed that the Ethics Committee is looking into whether the California representative made unauthorized disclosures of classified information or violated the Code of Official Conduct, according to a committee statement.
"Several left-wing activist groups have filed accusations against me with the Office of Congressional Ethics. The charges are entirely false and politically motivated," Nunes says in a statement. He notes that he has asked to meet with the committee to "expedite the dismissal of these false claims."