Pence-Haley-Ramaswamy fight intensifies race for second place, leaving Trump unscathed
"They're not losing to Ramaswamy, they're losing to Trump," one strategist said.
The intensifying fight among former Vice President Mike Pence, former South Carolina Gov. Nikki Haley and entrepreneur Vivek Ramaswamy is underscoring what strategists say is the prevailing theme of the GOP presidential primary: Everyone's running for second place.
The mushrooming brawl, sparked at the August Republican debate, laid bare Donald Trump's dominance in the primary and other candidates' aversion to drawing his ire or that of his diehard supporters, even though they're all going to have to leapfrog the former president if they hope to snag the GOP nomination.
But while some GOP operatives who spoke to ABC News said the candidates would have to take on Trump more directly and consistently, they saw a strategy behind the food fight among three low-polling candidates -- boosting their name recognition while trying to hang on long enough to take on Trump one-on-one down the road.
"They're not losing to Ramaswamy, they're losing to Trump," Alex Conant, a GOP strategist who worked on Sen. Marco Rubio's, R-Fla., 2016 presidential bid, told ABC News.
"I think tactically, they all have a lot to gain from engaging each other at this stage of the race. It's good to show their supporters that they can fight, it generates media attention, which is the lifeblood of any campaign, and there's no political cost to it," Conant said. "It makes tactical sense but does not achieve the strategic goal of beating Donald Trump."
Haley and Pence both tore into Ramaswamy's foreign policy and lack of government experience at the first GOP debate, with the entrepreneur returning fire by labeling his two foes members of the much maligned establishment.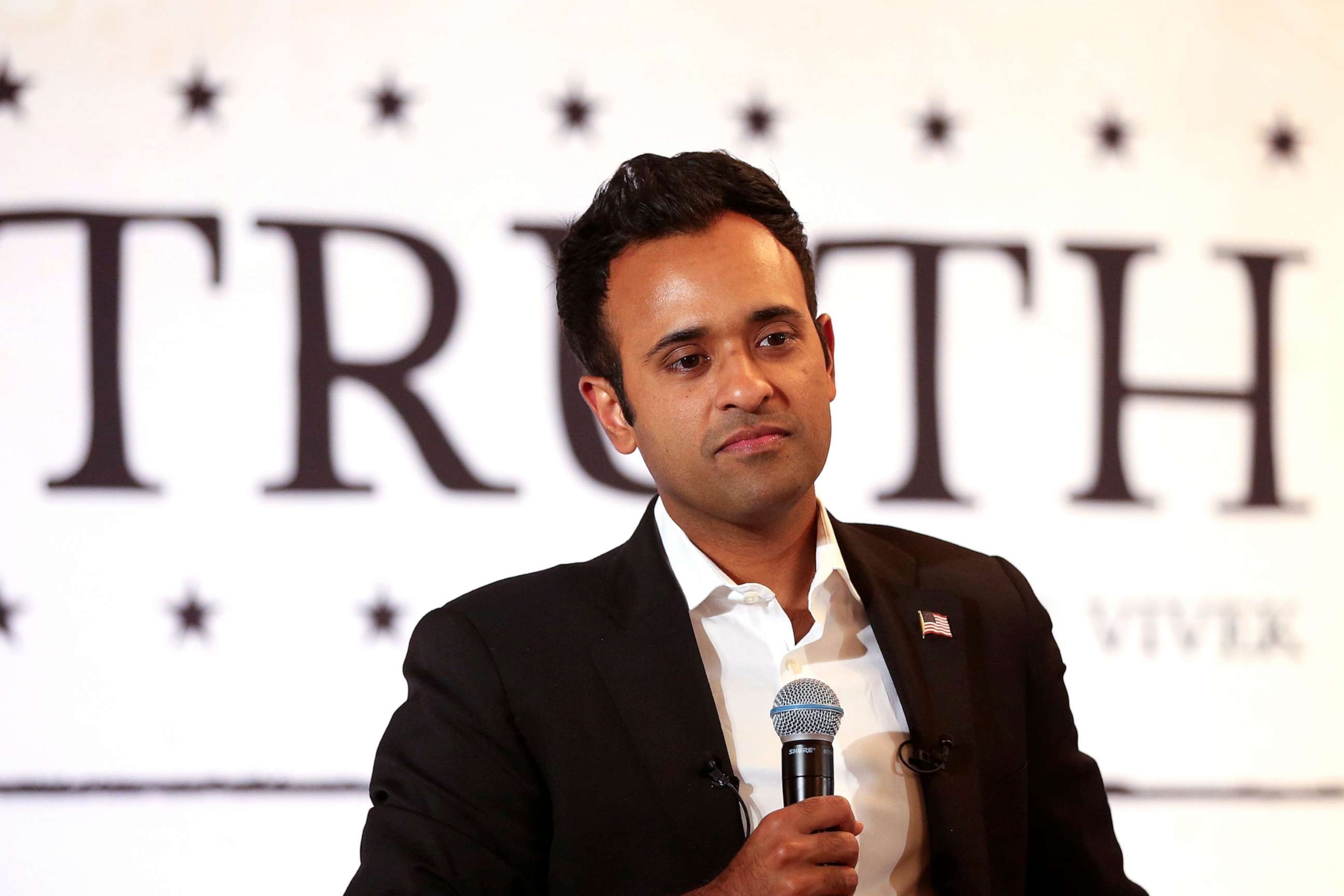 Fight strategy
All three dominated headlines in the days after the debate and continued feeding the new rivalry on the campaign trail, though not enough polling has been done to quantify of any has seen a substantive and consistent polling bump.
Still, some GOP strategists suggested they should instead knock Trump with the same verve given his yawning lead in polls that also show Pence, Haley and Ramaswamy in the single or low double digits.
"Listen, I don't think any of these candidates are close to becoming the next Republican nominee. Just because there's a lot of noise surrounding Pence going after Ramaswamy and Haley going after Ramaswamy and all of these inner workings, we can't lose the big picture thing here, which is that Donald Trump is leading in the Republican primary, and by a very significant amount," Republican Accountability PAC Political Director Gunner Ramer said.
'Nikki's coming'
To be sure, Haley and Pence have thrown some elbows at Trump.
Haley early on in her debate performance noted that the deficit rose under Trump's administration, and Pence Wednesday cited his former boss by name while railing against the populism that the former president made popular in his first run for president -- a campaign Pence later joined.
And, their campaigns insisted, more attacks are likely on the way.
"I think the vice president's willing to do that on the issues that matter and talk about the contrast between two," said one source familiar with Pence's campaign.
"That'll be in due time," added Katon Dawson, a Haley campaign surrogate and a former chair of the South Carolina GOP. "Nikki's coming."
But Republican strategists admitted that no candidate has gone after Trump with the consistency or ferocity of the latest brouhaha among Pence, Haley and Ramaswamy.
Trump decimated a packed 2016 primary field by responding to slights with visceral and personal attacks -- and he still wields that ability, this time with the backing of a party filled with voters who bristle at criticism of the party's former leader.
On top of that, most candidates -- besides the supportive Ramaswamy and top Trump critic Chris Christie, the former New Jersey governor -- have been loath to discuss Trump's mounting legal troubles, opting instead to discuss their own policies and leaving them at times dancing around questions about Trump.
"I'm not saying you have to go out and tear the skin off of Trump, but you need to make an argument for why you would be a better nominee," Conant said.
"I don't know what that balance really is," veteran GOP strategist David Kochel added of attacks on Trump. "I know this, Chris Christie has the highest negatives in the race."
That's leaving candidates fighting among themselves for a place on the podium -- a fight that some strategists said is enough for now, particularly with Florida Gov. Ron DeSantis, thought to be Trump's toughest GOP foe, dropping in polls.
"At the end of the day, we've got until February to define Donald Trump and convince the Republican electorate that we need to move in another direction and stop all this drama," Dawson said. Right now, "you just need to punch a ticket out of South Carolina…And once you punch that ticket, you can move on and live to fight another day."
To that end, Pence, Haley and Ramaswamy may all be doing what they need to do, strategists told ABC News.
Pence warns against 'siren song of populism'
Pence and Haley are boosting their conservative bona fides in targeting the 38-year-old populist, whose stances on foreign policy sharply buck GOP orthodoxy.
"Vivek is a good foil to help them define who they are and what they stand for and where they want to take the country," said GOP pollster Whit Ayres.
In a speech this past week at St. Anselm College in New Hampshire, Pence swiped at rivals Donald Trump and Vivek Ramaswamy by name, calling them "fellow travelers on the same road to ruin" for allegedly pursuing populism instead of conservatism.
Meanwhile, Ramaswamy is bolstering his own credentials, with spokesperson Tricia McLaughlin saying, "it very much is the establishment versus the new outsider."
"These candidates are trying to get attention, they're trying to raise money, they got a whole list of things they have to do right now, and Trump makes it really difficult because he sucks up all the oxygen. So, whatever works to help break through the noise, they should probably be doing. And if you're writing about Mike Pence and Nikki Haley right now, maybe that suggests that they're doing what they should be doing," said Kochel.
Kochel told ABC News having lower-polling candidates target each other could be beneficial for Republicans who don't want Trump to be the nominee, suggesting that exercise could help winnow the field to the one-on-one that never truly materialized in 2016.
"The strategy has to be for one of them to knock everybody out and be the alternative to Trump. If that's DeSantis, if that's Haley, if that's Pence, it doesn't matter," Dawson said. "The strategy has to be, 'I'm going to be the person to take Trump on one-on-one, because I can't do it if we're all sitting at 10%.' And I think all these people know that."
Once it gets down to that point, though, the gloves would have to come off against Trump, with Dawson calling the risk of doing so "worth taking."
"You're gonna have to you kind of have to square up with him," he said. "And right now, old Teflon Don has been hard to hit. But there's so much there, you got to pick what you want and what you think will stick with the electorate."
But, Dawson added, "right now, you gotta brush off some other people for you get to him."