Daniel Ellsberg, Pentagon Papers whistleblower, dead at 92
The former military analyst became famous for leaking government secrets.
Daniel Ellsberg, the military analyst who became infamous for leaking the Pentagon Papers to news outlets in 1971, has died, according to his family. He was 92 years old.
Ellsberg died Friday of pancreatic cancer, which he was diagnosed with in February, his family said.
Ellsberg worked as an analyst for the RAND Corporation in the late 1950s and early '60s, before working in the Pentagon and in the State Department, for which he traveled to South Vietnam for two years. He rejoined RAND in the late 1960s and worked on secret documents about the Vietnam War for the U.S. government. Those documents would come to be known as the Pentagon Papers.
The Harvard graduate and former Marine would eventually become sympathetic to the antiwar movement in the U.S. against involvement in Vietnam.
After attempting to call attention to the classified documents -- which showed the U.S. did not believe it could win the war in Vietnam despite claims to the contrary from the administration -- among politicians, Ellsberg eventually passed the documents to The New York Times, which published them on the front page in June 1971.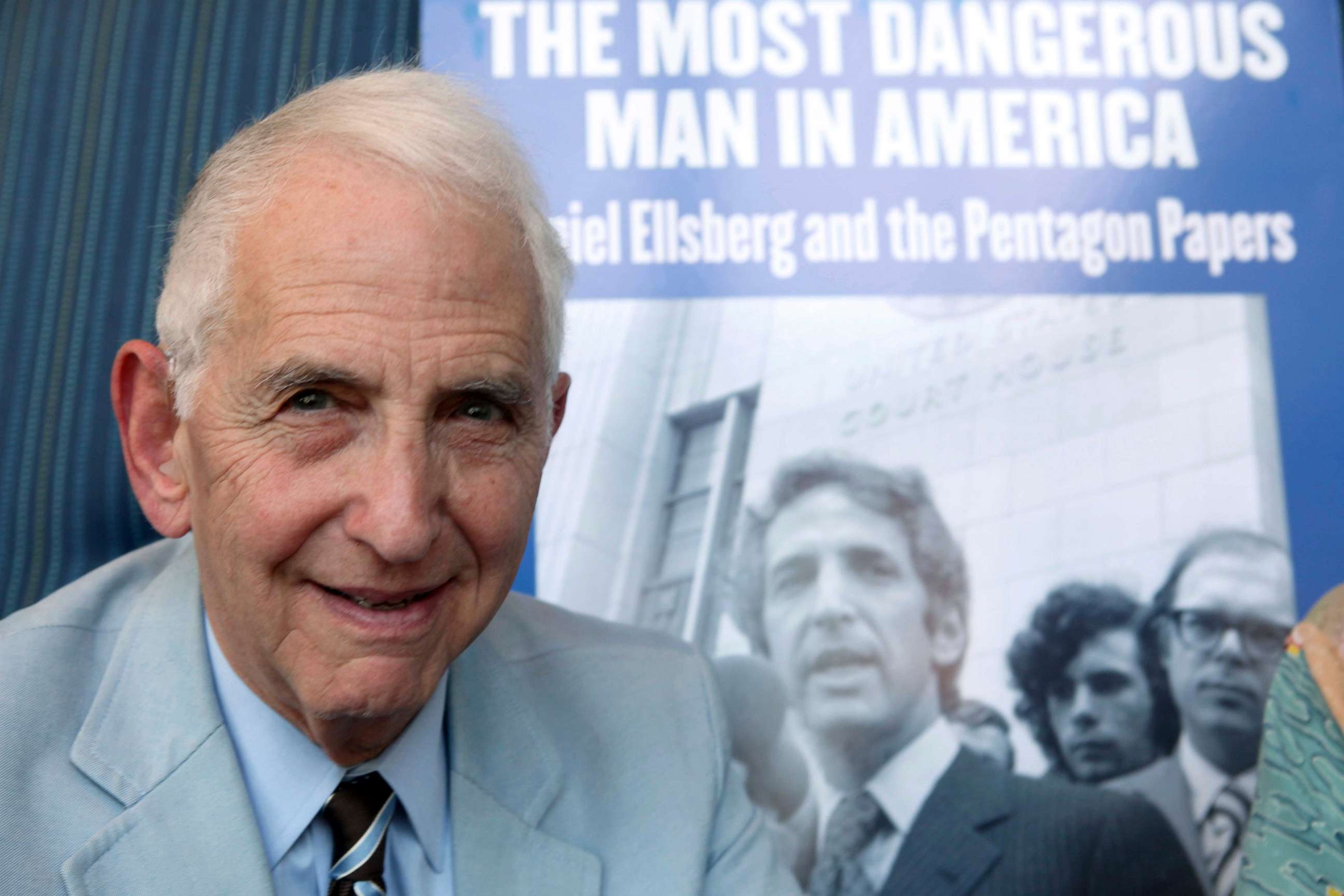 "Daniel was a seeker of truth and a patriotic truth-teller, an antiwar activist, a beloved husband, father, grandfather, and great-grandfather, a dear friend to many, and an inspiration to countless more," Ellsberg's wife, Patricia, and three children -- Mary, Robert and Michael -- said in a statement. "He will be dearly missed by all of us."
The government sued The New York Times to stop publishing of the Pentagon Papers, but the U.S. Supreme Court would eventually rule in favor of the Times and the publication would resume. Ellsberg would leak the documents to The Washington Post days before the Supreme Court ruling.
The leak by Ellsberg would eventually set in motion the downfall of President Richard Nixon. The leak was the impetus for the White House to set up the so-called "White House plumbers," who would try to discredit Ellsberg and eventually take part in the Watergate break-in.
The story was retold in the HBO miniseries "White House Plumbers," which aired just weeks before Ellsberg's death. The opening episode features stars Woody Harrelson, as E. Howard Hunt, and Justin Theroux, as G. Gordon Liddy, breaking into Ellsberg's psychiatrist's office -- as actually happened on Sept. 3, 1971.
Ellsberg was survived by his wife and three children as well as five grandchildren and one great-grandchild.