The U.S. military has proposed pre-positioning heavy weaponry like tanks and Bradley fighting vehicles in three Baltic countries to facilitate the ongoing regular training of U.S. military forces in eastern Europe.
Neither the Pentagon nor the White House has signed off on the proposal, which would also send a message to Russia about NATO's commitment to the region in the wake of Russian aggression in eastern Ukraine and Crimea.
"Over the last few years, the United States military has increased the pre-positioning of equipment for training and exercises with our NATO Allies and Partners," said Col. Steve Warren, a Pentagon spokesman.
"The U.S. military continues to review the best location to store these materials in consultation with our allies," Warren said. "At this time, we have made no decision about if or when to move to this equipment."
According to a U.S. official, the proposal from U.S. European Command would place enough tanks and other heavy infantry vehicles needed to equip an Army heavy brigade combat team, which typically consists of 4,000 soldiers.
The official said that under the proposal the equipment would be pre-positioned in Estonia, Latvia and Lithuania to enable a regular training rotation of U.S. military forces in the region.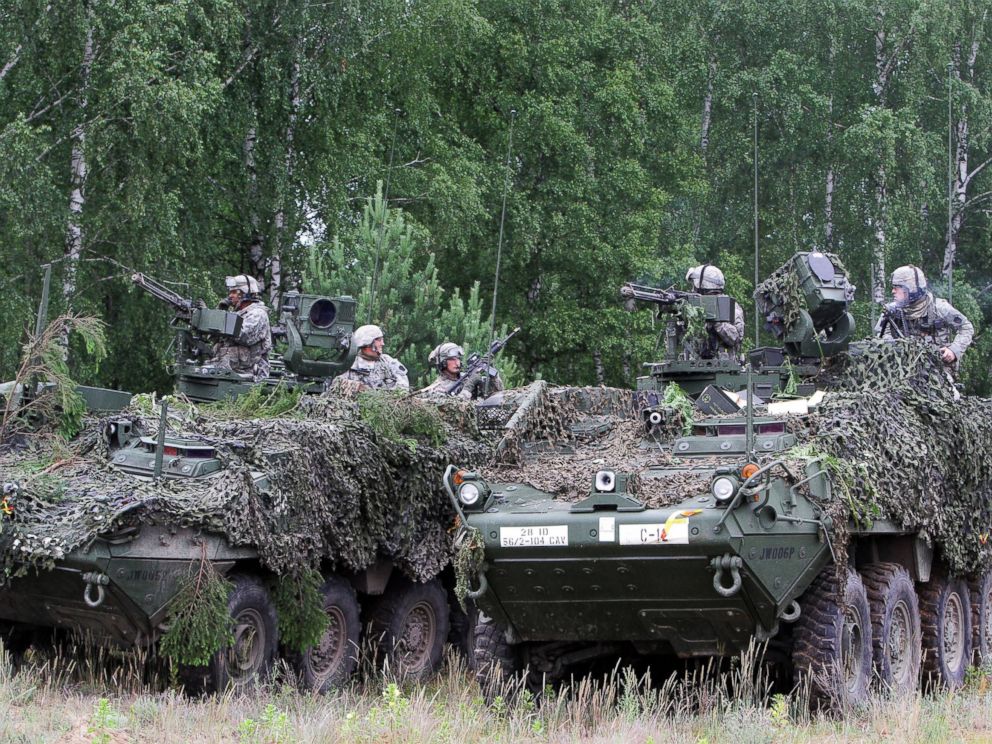 Army units from the United States would fall into the equipment as needed to maintain the "persistent presence" of U.S. forces needed for U.S. and NATO training and exercises.
If the proposal is agreed to, it would mark the first time that the United States has permanently placed such weapons in NATO countries in eastern Europe.
The U.S. and NATO have committed to continuing with regular military exercises in the Baltic region and eastern Europe under the umbrella of Operation Atlantic Resolve. The exercises are designed to reassure NATO members in eastern Europe about the alliance's commitments to the region.
Earlier this year hundreds of U.S. Army tanks and other armored fighting vehicles were shipped from the United States to the Baltics for one such exercise.
Pre-positioning the heavy weaponry in the Baltic countries would eliminate the need to ship heavy weapons from either the United States or pre-positioned stocks in Germany.
The proposal to pre-position the military equipment was first reported by the New York Times.