— -- President Obama has agreed, at Afghan President Ashraf Ghani's request, to slow the planned withdrawal of U.S. troops from Afghanistan, leaving 9,800 in place through 2015.
"This flexibility reflects our reinvigorated partnership with Afghanistan, which is aimed at making Afghanistan more secure and preventing it from being used to launch terrorist attacks," Obama said.
While the U.S. will now leave more troops in place over the next several months than was previously expected, Obama said the decision "has not changed" his goal to end the war by the end of 2016.
The pace of the drawdown in 2016 will be determined at a later date, Obama said, "to enable the U.S. troop consolidation to a Kabul-based embassy presence by the end of 2016."
Obama's announcement came after he and Ghani spent the morning meeting at the White House.
Obama has pledged to end the United States' longest war by the end of 2016, pulling out all but roughly 1,000 of the almost 10,000 U.S. troops now in the country.
The president also repeated his administration's intent to provide funding for an Afghan security force of 352,000 troops through 2017.
"America's combat mission in Afghanistan may be over but our commitment to the Afghan people, that will endure," Obama said.
While the U.S. had planned to withdraw roughly half of its troops by the end of this year, Ghani reportedly wanted all U.S. troops to remain in place through next year to support Afghan security forces.
Ghani's first trip to Washington as president is also an opportunity to publicly cement the strategic relationship between the new Afghan government and the U.S. after years of rocky relations under President Hamid Karzai.
Unlike his predecessor, who had a strained relationship with Obama and was often harshly critical of U.S. policies, Ghani is seen as "clearly more cooperative," Jeff Eggers, senior director for Afghanistan and Pakistan at the National Security Council, told reporters last week.
"There is a clearly positive vision now for Afghanistan that President Ghani holds," Eggers said. "And it's important, I think, that our leadership and the audience here in Washington sees that qualitatively different relationship and that more positive vision."
Ghani's five-day trip has been packed with high-level meetings. In addition to meeting with Obama in the Oval Office today, Ghani had a full day of discussions at Camp David Monday with Secretary of State John Kerry, Defense Secretary Ashton Carter and Treasury Secretary Jack Lew.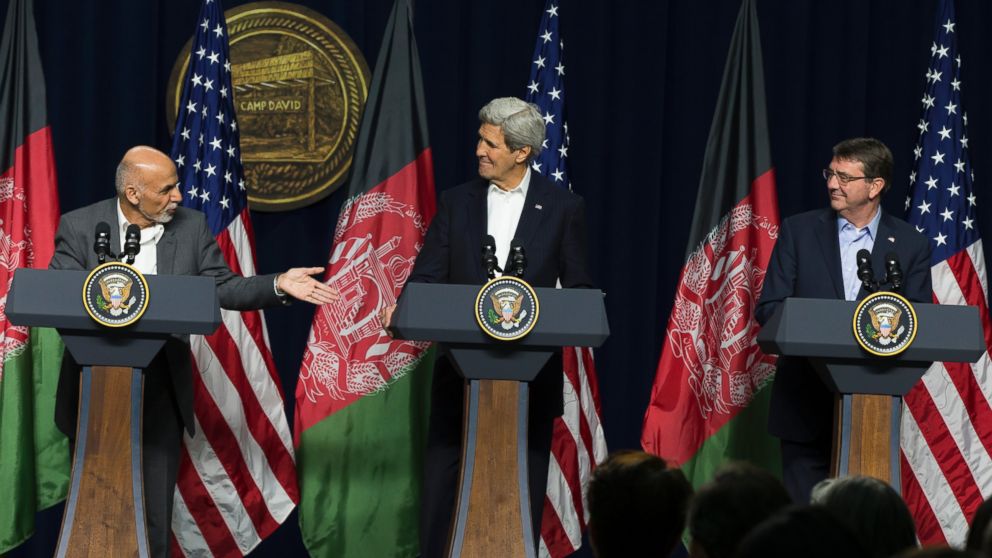 On Wednesday, Ghani will address a joint meeting on Congress and, on Thursday, he will meet with world leaders at the United Nations.