— -- When President Obama arrives in Cuba on Sunday, he will be the first sitting president in nearly 90 years to set foot on the island nation.
The last sitting president to visit the country was Calvin Coolidge, who arrived on a battleship in 1928. It's a stark contrast to President Obama, who will land in Cuba on Air Force One.
Here's everything you need to know about the president's history-making trip to Cuba.
Why is Obama traveling to Cuba now?
The president's trip comes 15 months after he announced the restoration of diplomatic ties between the U.S. and Cuba. At the time, President Obama told ABC News Anchor David Muir he would "see how things evolve" before deciding whether he would travel to the country.
Over the past year, U.S. officials have worked to reopen Cuba to America with historic agreements, including direct flight agreements and the first direct mail delivery to the country just this week, which included a letter for President Obama.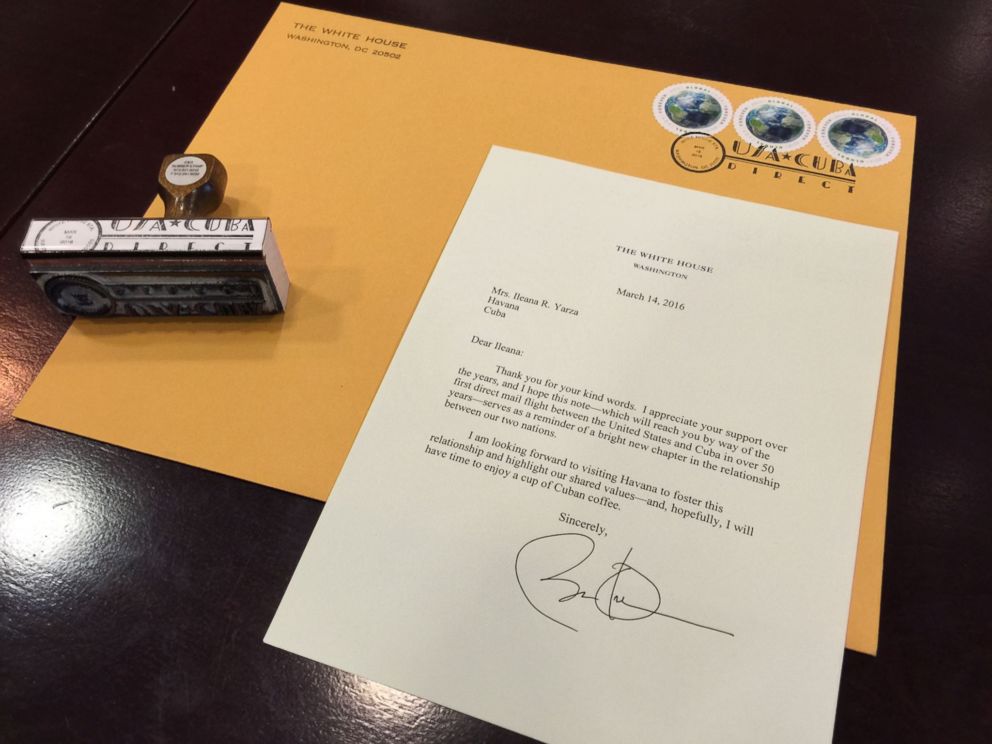 The White House originally said the president would travel to the island nation only after seeing substantive change, but President Obama decided to visit Cuba early to help accelerate that change in his final year in office.
What will he do in Cuba?
President Obama will spend two and half days in Cuba accompanied by First Lady Michelle Obama and their two daughters Malia and Sasha. On Monday, he will participate in an official state visit, including a bilateral meeting with President Raul Castro and a state dinner. He will also speak to entrepreneurs in the country.
The president plans to address the Cuban people directly in a historic speech on Tuesday. He is also expected to meet with dissidents, and the sports fanatic president will take in an exhibition game between the Tampa Bay Rays and the Cuban National team.
Obama will also have the chance to play tourist and take in the famous sites of old Havana. But the White House says there's one famous Cuban the president won't meet with -- Fidel Castro.
Don't some people oppose his trip to Cuba?
Yes. President Obama has come under fire from some lawmakers, including many Cuban-American Democrats and Republicans, for the normalization of relations between the two countries and for agreeing to a state visit while the Castro family is still in power.
The trip also comes as a decades-long trade embargo remains in place. Only Congress can lift the embargo, but so far, lawmakers have resisted President Obama's call to end it.
While the president's Cuba policy has met some resistance, the White House hopes the president's trip will help make it "irreversible," Deputy National Security Advisor Ben Rhodes said.
What happens next?
The embargo limits how much business American companies can do in Cuba, and President Obama has acknowledged the embargo likely won't be lifted by the end of his term.
The Obama administration has taken a few steps on its own to ease some restrictions in Cuba just this week, including making it easier for people to travel to Cuba -- for individuals to engage in "people to people" travel for educational purpose on their own instead of through tour groups; allowing American companies to hire Cuban nationals; and adjusting the banking system to process money from Cuba in the U.S.
And there are more changes in the works. Last month, the U.S. and Cuba agreed to authorize daily commercial flights between the two countries, and the government is currently considering applications from American airlines to operate these flights.