President Donald Trump issued a confident defense of his decision to impose tariffs on billions in foreign imports amid backlash from Republicans in Washington to his trade war in remarks to the Veterans of Foreign Wars national convention in Kansas City on Tuesday.
"Just be a little patient. They are all aiming for anybody who likes me," Trump told the crowd, speaking of foreign countries who have imposed retaliatory tariffs aimed at Trump's base.
The president, who received cheers as he attacked "fake news", urged the audience to reject completely any stories they see covered in the news media that might be negative towards him.
"Don't believe the crap you see from these people, the fake news," Trump said, as the audience mostly comprised of veterans and their families booed and heckled reporters in the press pen. "Just remember, what you're seeing and what you're reading is not what's happening."
Following the president's departure from Kansas City, the VFW issued a statement saying it was "disappointed" that audience members booed the reporters in the convention center.
"We were disappointed to hear some of our members boo the press," Randi Law, Manager of Communications and Public Affairs for VFW told ABC News. "The reporters onsite today were our invited guests and we rely on them to help spread the VFW's message."
Upon the president's arrival in Kansas City, Republican lawmakers slammed a planned announcement by the administration to provide billions in subsidies to American farmers hit hardest by the administration's tariffs.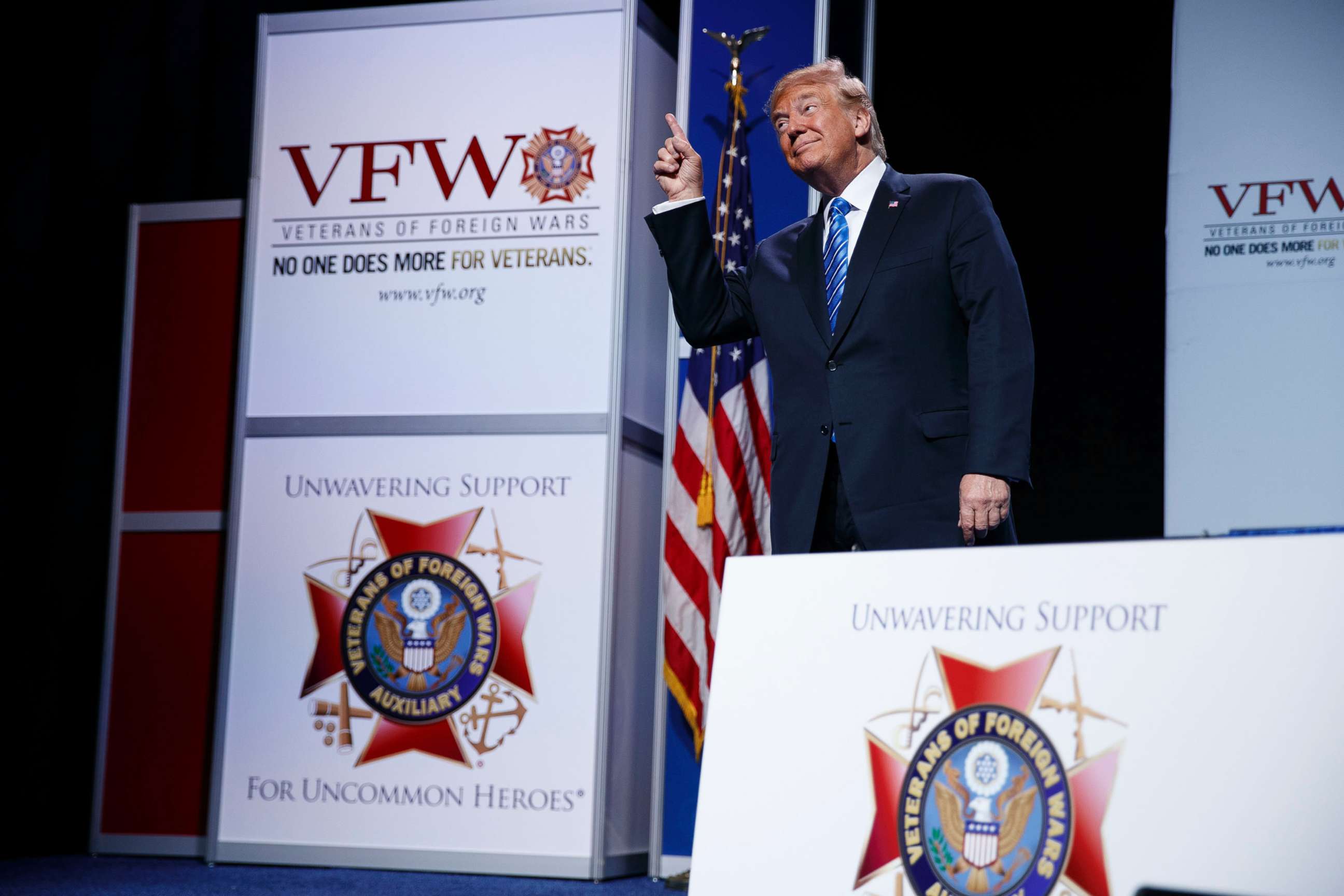 Earlier in the day, Trump defended his tariffs over Twitter as "the greatest."
While the president hit on a variety of veterans-related issues in his speech, including praising the Senate's Monday confirmation of new Veterans Affairs Secretary Robert Wilkie, Trump also took on a campaign-style tone in touting his administration's record on the economy and international affairs.
Two days after issuing a late night, all-caps tweet threatening Iran, the president seemed to dial down his rhetoric saying he hopes a new nuclear deal can be reached.
"Iran is not the same country anymore, that I can say," Trump said. "And we'll see what happens but we're ready to make a real deal. Not the deal that was done by the previous administration which was a real disaster."
The president also personally thanked North Korean dictator Kim Jong Un, for a new report that indicates the country may be dismantling a key missile site. Trump received loud cheers from the audience in praising progress with North Korea on the returns of missing American service members.
As he used the official event repeatedly to criticize Democrats, Trump also offered a full-throated endorsement of Missouri Attorney General Josh Hawley who is looking to unseat Sen. Claire McCaskill in November, briefly inviting him on stage.
Later in his speech, Trump went on a tirade over immigration, pleading with Democrats to continue their 'abolish ICE' rhetoric that he says would make November "fun" for Republicans, and described liberal politicians as "disciples" of Maxine Waters and Nancy Pelosi.
"Open the border and get rid of your crime fighters," Trump said. "You don't understand it, nobody understands it but we hope they keep it up. Because we are going to have a lot of fun in four months and we will have a lot of fun in 2020 running against that."
President Trump last appeared before the VFW national convention during his time as a candidate in 2016, in which he delivered a campaign-style speech attacking Hillary Clinton that drew 'lock her up' chants from the audience.
The VFW has previously issued statements criticizing some of the president's more controversial comments during his campaign, as well as stories regarding turmoil between officials inside the Department of Veterans' Affairs. But as the nation's largest veterans service organization, the group has also sought to partner with the White House on initiatives and legislation to shore up veterans' care programs around the country.