— -- President Trump again called for raising the minimum legal age to purchase all guns to age 21 during a meeting with lawmakers on guns and school safety Wednesday, while suggesting that those who are staying silent on the topic are "afraid" to come up against the NRA.
"I'm going to give it a lot of consideration," Trump said. "People aren't bringing it up because they're afraid to bring it up. You can't buy a handgun at 18, 19 or 20. You have to wait until you're 21. You could buy the weapon used in this horrible shooting at 18. You are going to decide - the people in this room pretty much - are going to decide. I would give very serious thought to it."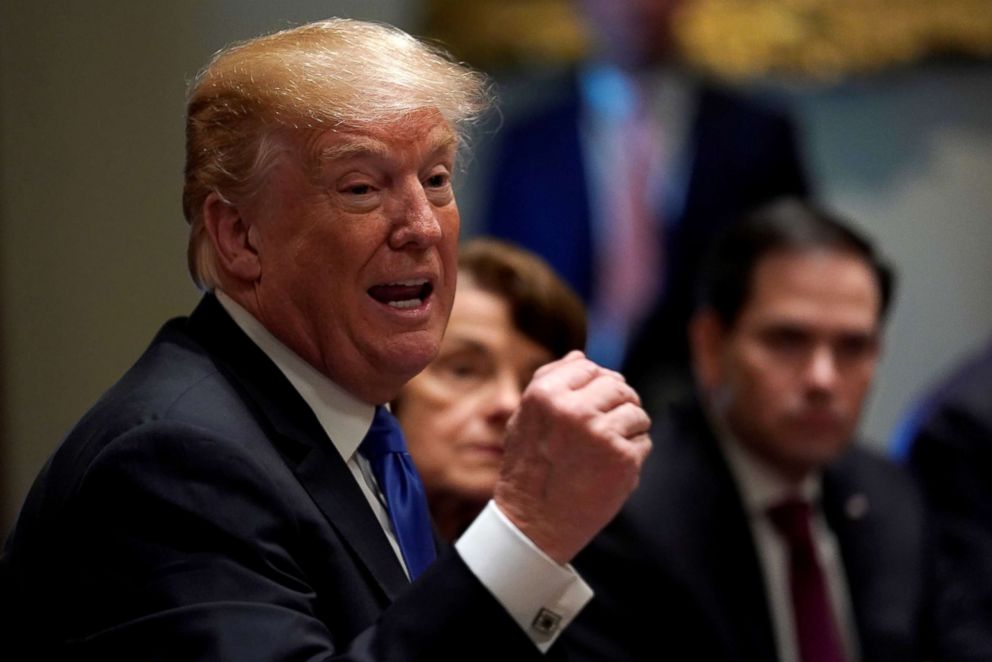 While noting the NRA's opposition to proposals to raise the minimum age to purchase firearms, the president made the case that raising the minimum age is common sense.
"The NRA is opposed to it and I'm a fan of the NRA. No bigger fan. I'm a big fan of the NRA. These are great people. Great patriots. They love our country but that doesn't mean we have to agree on everything," Trump said. "It doesn't make sense that I have to wait till I'm 21 to get a handgun but I can get this."
The president also signaled his support for the Manchin-Toomey proposal that was defeated back in 2013, and is in the process of being reworked, that calls for expanding background checks on guns sales to include firearms sold at gun shows and on the internet.
The president suggested that the measure failed back in 2013 because President Barack Obama was in office at the time, saying "that was your problem," in reference to Obama. But in fact, Obama backed the bill at the time.
He asked Sen. Pat Toomey, a Pennsylvania Republican, if the bill he's sponsoring with Senator Joe Manchin, a West Virginia Democrat, would proposing raising the purchasing age for certain guns.
"We don't address it," Toomey told the president.
"You know why, because you're afraid of the NRA," the president said in reply.
Wednesday evening, the NRA responded to Trump's proposals.
In a statement, spokesperson Jennifer Baker said: ""While today's meeting made for great tv, the gun-control proposals discussed would make for bad policy that would not keep our children safe. Instead of punishing law-abiding gun owners for the acts of a deranged lunatic our leaders should pass meaningful reforms that would actually prevent future tragedies."
"They can start by fixing the broken mental health system," her statement continued, "strengthening background checks to ensure the records of people who are prohibited from possessing firearms are in the NICS system, securing our schools and preventing the dangerously mentally ill from accessing firearms."
At the White House meeting, the president repeatedly expressed his support for legislation to improve the nation's background check system but said such a measure should not also include a provision to expand concealed carry law to allow people with concealed carry licenses to carry their firearms across state line.
"I'm with you but let it be a separate bill," Trump told Louisiana Republican Rep. Steve Scalise, who was gunned down during a congressional baseball practice last year. "You'll never get this passed if you add concealed carry to this, you'll never get it passed. I don't think -- again, you'll never get it passed. We want to get something done."
The president also vowed to ban bump stocks through executive action, telling the lawmakers that the rapid-fire devices are "gone."
"I'm going to write that out. We can do that by executive order," the president said, noting that "the lawyers" are working on the language.
Last week, Trump said he ordered the Justice Department to move to ban the rapid-fire devices that were used in the Las Vegas massacre last year. Bump stocks were not used in the Parkland shooting.