For decades it was seen as too politically risky, but this midterm cycle a growing number of Democratic candidates have begun openly criticizing some of Israel's policies.
Alexandria Ocasio-Cortez, the first-time candidate who upset 10-term incumbent Rep. Joseph Crowley in last month's Democratic primary, incorporated criticism of Israel's actions into her campaign, condemning what she called a recent "massacre" in Gaza and calling on more Democrats to focus on the struggle of Palestinians.
"There is no justification. Palestinian people deserve basic human dignity, as anyone else. Democrats can't be silent about this anymore," Ocasio-Cortez tweeted in May.
In 2018 alone, more than 100 Palestinians have been killed during clashes with Israel's security forces. In May, at least 58 protesters were killed demonstrating against the U.S. opening a new embassy in Jerusalem.
Ocasio-Cortez's tweet drew the type of condemnation and backlash that politicians could expect whenever saying anything negative about Israel. The Republican Jewish Coalition, for instance, immediately took a shot at Ocasio-Cortez, calling her victory "a harbinger of the decline of Democrats' support for Israel."
Still, Ocasio-Cortez won the primary, causing shockwaves throughout the Democratic Party. She is one of several progressives who has increasingly called out Israel's actions -- and the political gamble seems to be paying off.
During the 2016 presidential campaign, Vermont Sen. Bernie Sanders condemned Israel, arguably clearing a path for Democratic candidates to break with party tradition and criticize the U.S. ally.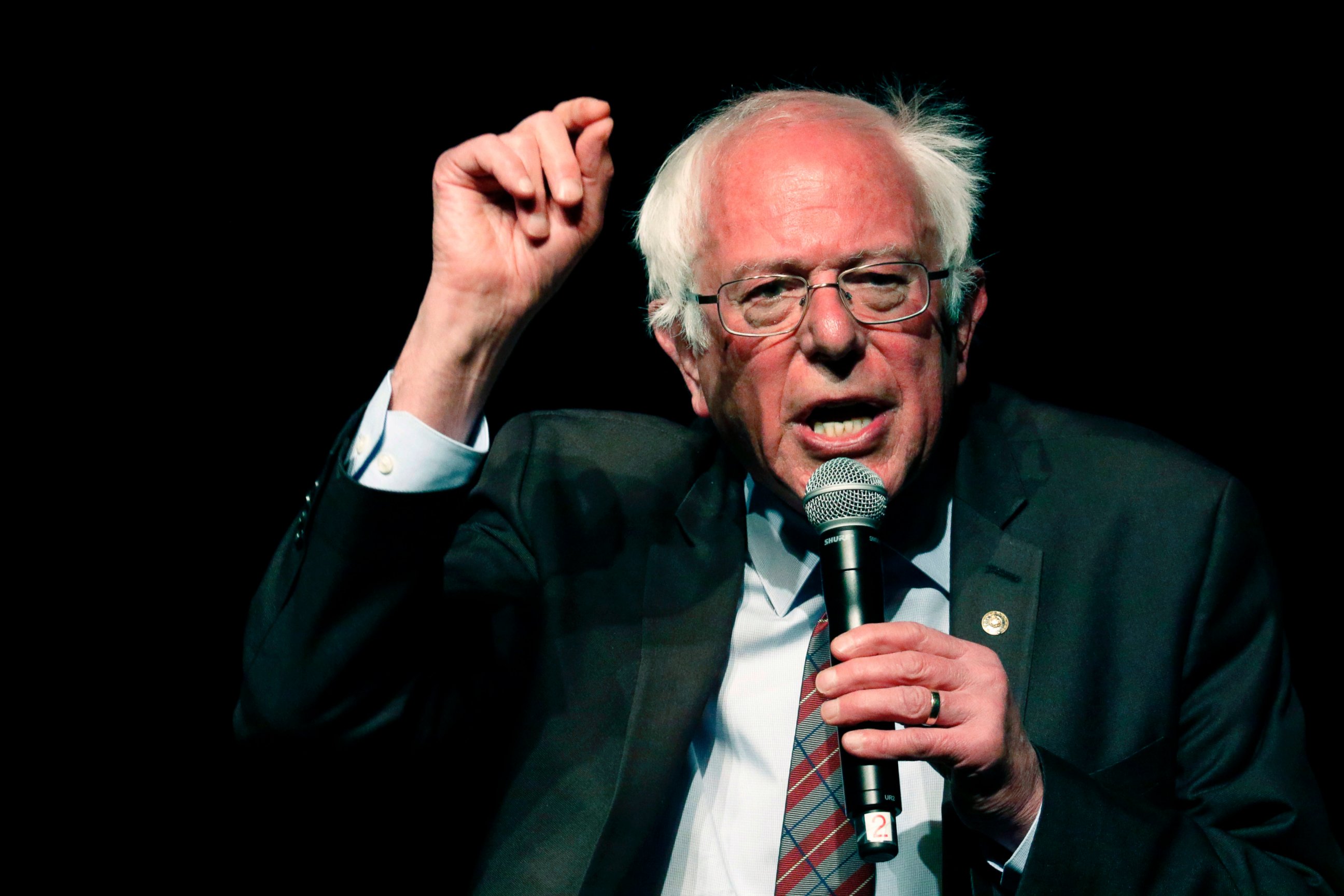 During a debate in New York, Sanders, who is independent, called Israel's intervention in Gaza "disproportionate" and called on the U.S. to "treat Palestinian people with respect and dignity."
This midterm cycle, Sanders' legacy political organization, Our Revolution, backed a Democratic candidate in South Carolina's 7th Congressional District, Mal Hyman, who had spent time working on human rights in Israel, the West Bank and Gaza.
Hyman was an outspoken critic of Israeli actions during his campaign, tweeting that actions from the country's security forces this summer were "unconscionable" and "a massacre."
Hyman, who ultimately lost his party primary in a runoff, said he saw a new trend, driven in response to President Donald Trump's actions in the region.
"More people are seeing the need to speak out and be a bit more frank with their criticisms. We are seeing a surge of response from progressives on this issue," Hyman told ABC News.
Some progressive groups have long championed the Palestinian cause, but they were often perceived as on the fringe of the Democratic Party and its platform. James Zogby, the president of the Arab American Institute and former advisor to Reverend Jesse Jackson's presidential campaigns, has been pushing Democrats to support the Palestinian cause for over 30 years.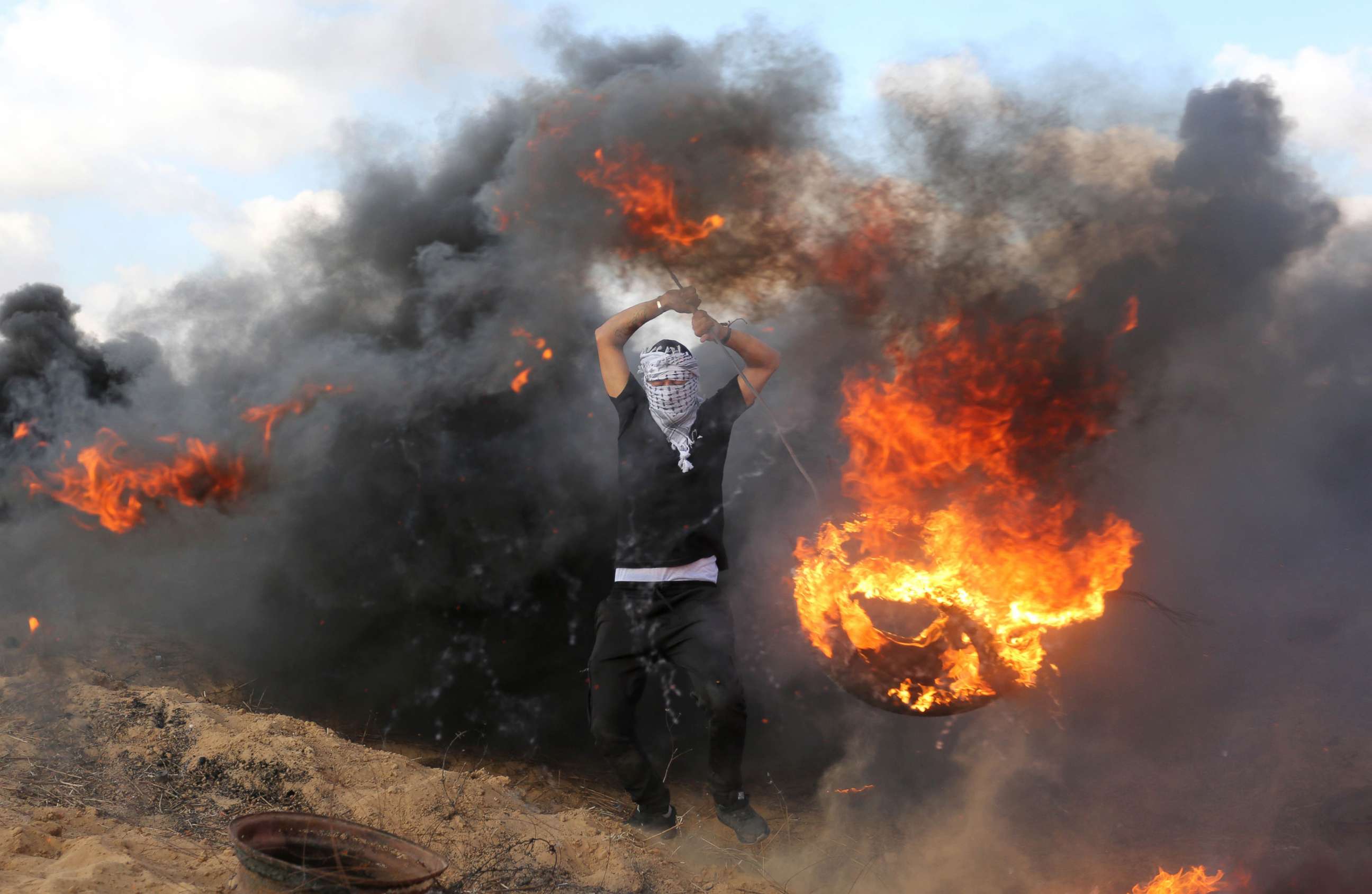 Zogby said recent political developments in both countries have triggered a shift. He credits Sanders for showing that candidates can succeed while embracing grassroots support of the Palestinian cause.
"Bernie's campaign was significant because, not unlike Jackson, he sort of rode a wave and realized that there was actually a wave to ride. It was a clear bell ringer that something was going on out there and that this issue was going to resonate," Zogby said in a phone interview with ABC News.
Sanders himself has continued to press on the issue, highlighting it in his social media messaging. Last month, he released a seven-minute video featuring the voices of Palestinians living in Gaza and describing their conditions.
Israeli Prime Minister Benjamin Netanyahu's government has courted controversy among Democrats, too, by fostering close ties with the Republican Party, actively opposing former President Barack Obama's efforts to negotiate the Iran nuclear deal, and lobbying President Trump to move the U.S. Embassy in Israel to Jerusalem.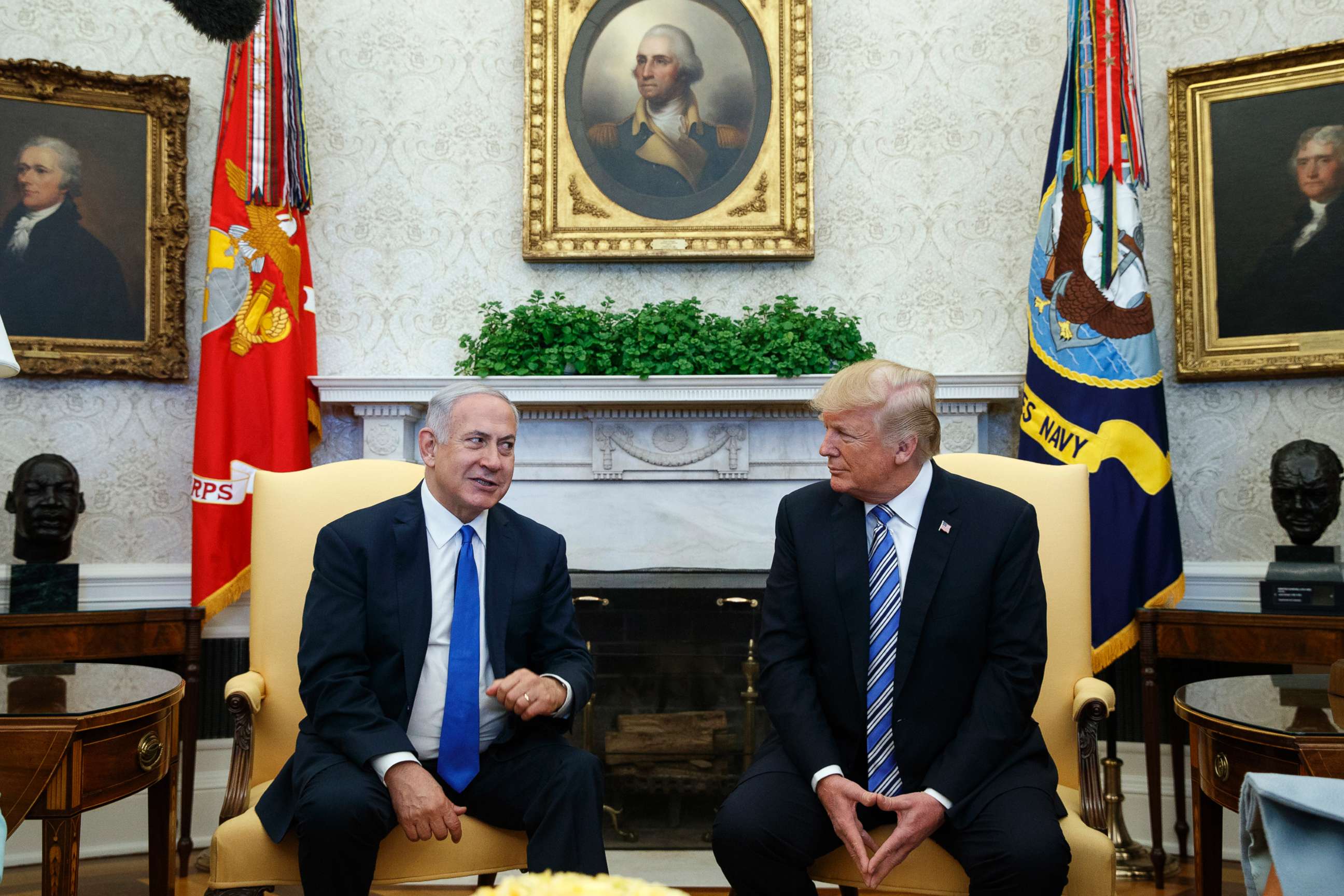 It was during the Obama administration that Democrats' once-united position on Israel began to fragment. The tepid relationship between Netanyahu and Obama led to voters increasingly splitting along party lines on the issue, with Democrats growing unhappy with the connection between Republicans and the Israeli government.
Over the last few decades, a handful of left-leaning Democrats have previously shown open support for Palestinian causes and regularly criticized Israel's political and military actions. Former Rep. Cynthia McKinney of Georgia was arrested by Israeli authorities for her participation in an effort to send a flotilla to provide aid to Palestinians in circumvention of Israel's 2009 Gaza blockade.
Shibley Telhami, a professor at the University of Maryland and a fellow at the Brookings Institution, has polled on American attitudes toward the conflict for over a quarter century. He believes that as public opinion has shifted on the issue, Democratic candidates have responded to their voters and have become less afraid of the repercussions of criticizing the Israeli government.
"Congressional candidates and politicians who embrace Israel or fail to criticize Israel will not be punished by and large by their constituents," Telhami said. "Those candidates who take on the Israeli government's specific policies could be rewarded."
Public opinion polling shows that sentiments have indeed shifted, especially among Democrats. According to a Pew Research poll conducted earlier this year, Democratic voters sympathize about equally with the Israelis as the Palestinians, with sympathy for Israel dropping 16 percentage points in the last two years.
Telhami said Democrats have increasingly seen the conservative Israeli government as one that has an opposing set of values.
"Democrats, even separate from the partisan issue, have basically seen [the Palestinian] issue as part of their value system," Telhami said. "They increasingly see their values as not a part of the values of Israel."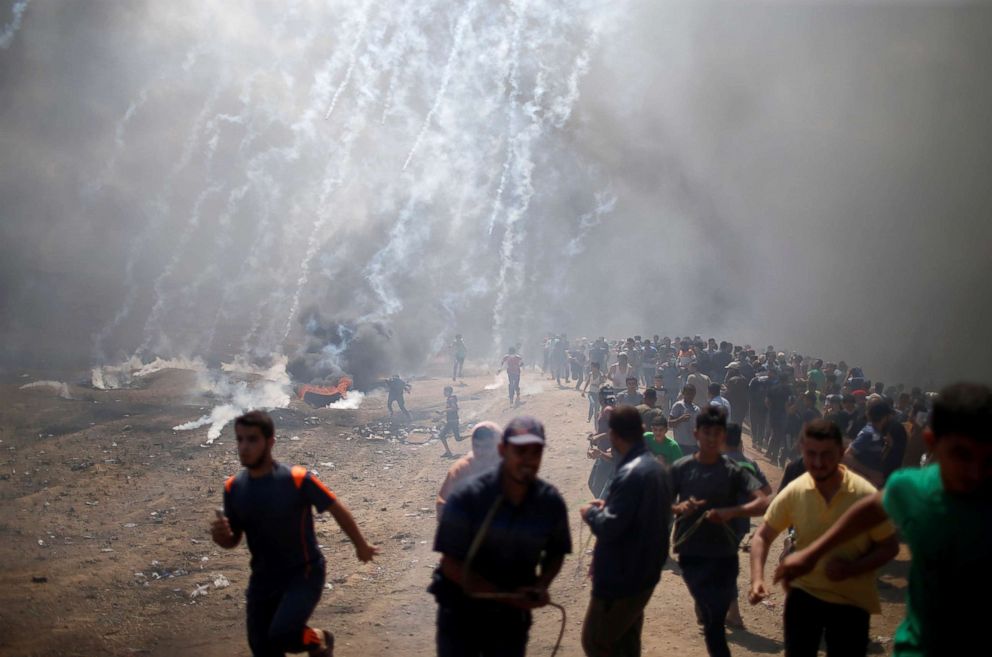 Even as Democratic voters drifted away from their previous steadfast support for Israel, Democrats in elected office have been slower to follow their base. Senate Minority Leader Chuck Schumer has continued to take ardently pro-Israel stances, as he was one of just four Senate Democrats to vote against the Iran Deal in 2015.
Earlier this year, Schumer sponsored legislation that would criminalize boycotts against Israel that he has derided as "an anti-Semitic movement."
Nevertheless, several Democratic candidates with ties to the party's progressive wing have still faced some controversy for associations with causes critics deem "anti-Israel." They have not, however, lost support from prominent Democratic officials and organizations.
Scott Wallace , the Democratic challenger in Pennsylvania's 1st Congressional district, maintains his endorsements from the Bucks County Democratic Committee and the Congressional Progressive Caucus, even after a report last month from the Forward found Wallace's fund donated hundreds of thousands of dollars to causes associated with the controversial Boycott, Divestment and Sanctions (BDS) movement.
Wallace has received an endorsement the Democratic Jewish Outreach Pennsylvania, a local Jewish activist group, after he penned a letter reaffirming his support for Israel and disavowing the BDS movement.
In Virginia, 5th District House candidate Leslie Cockburn faced allegations from local Republicans that she was "virulently anti-Semitic" for a 1991 book she co-wrote that was strongly critical of Israel and its intelligence ties to the United States. Cockburn's campaign has denied that her book was anti-Semitic and since engaged with the local Jewish community.
Nevertheless, Cockburn has not backed down from her criticism of the Israeli government's actions. She still enjoys endorsements from leading Democratic and progressive groups like EMILY's List and the League of Conservation Voters.
Minnesota State Rep. Ilhan Omar, a Democratic candidate for the Minnesota congressional seat vacated by outgoing Rep. Keith Ellison, has gone a step further, defending her 2012 tweet in which she alleged Israel has "hypnotized the world" and committed "evil doings." Omar, a Somali-American Muslim and former refugee, is looking to replace Ellison, the first Muslim-American elected to Congress.
In an interview with ABC News, Omar addressed charges of anti-Semitism from conservative critics.
"These accusations are without merit. They are rooted in bigotry toward a belief about what Muslims are stereotyped to believe," Omar said.
The criticism of Israel's actions from these progressive candidates have drawn the ire of more conservative Jewish advocates. Neil Strauss, a spokesman with the Republican Jewish Coalition, told ABC News that he worries that the rhetoric has already become mainstream by the Democratic Party.
"They've jumped right now from some cautionary-type language to outright hostile language on Israel," Strauss said. "These people are becoming the standard bearers in the Democratic Party and it's unfortunate."
Zogby, of Arab American Institute, though, believes the current political environment and the ties between Israel and the Trump administration will help this recent shift maintain itself in the years ahead.
"I don't think it goes away at this point. If anything, the Netanyahu-Trump marriage has contributed to making it an uncomfortable position for progressives and liberals to feel comfortable with the sort of business as usual on the issue," he said.
Editor's note: An original version of this story reported that Scott Wallace had not received the endorsement of the Democratic Jewish Outreach Pennsylvania. The group has since endorsed him.