— -- Following Donald Trump's rally in Costa Mesa, California, Thursday night, hundreds of protesters lined the streets, blocking cars leaving the OC Fair & Event Center, while others jumped on police cars.
The Orange County Sheriff's Department said about 20 people were arrested, and there were no major injuries. There were nearly 200 officers outside the Trump rally, according to the Sheriff's Department.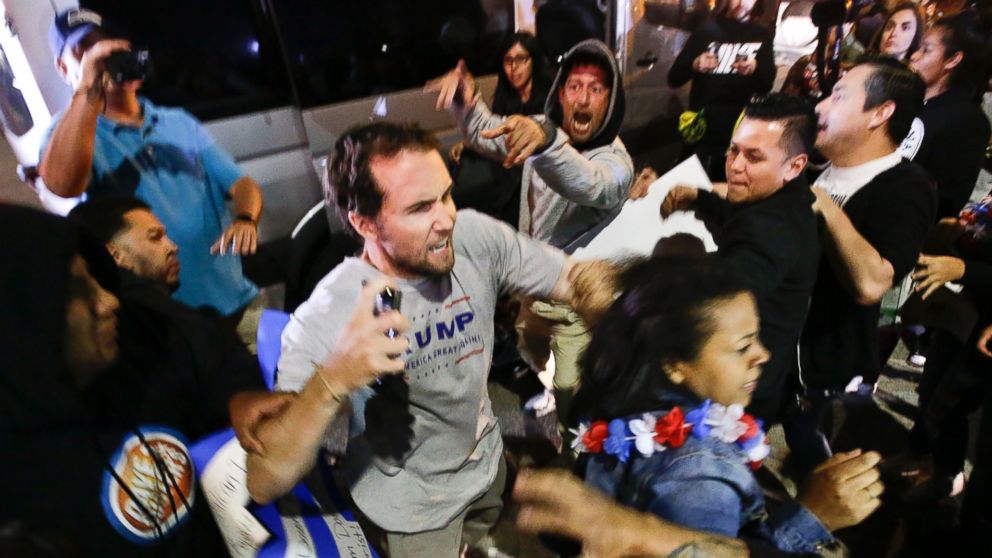 The protesters were met with police in riot gear and others mounted on horseback.
Protesters jumped on police cars and other vehicles, and tossed water bottles and other objects at the police. At least one police car was damaged by the protesters. Protesters were also filmed trying to flip over a police car.
Currently, police officers are working to disperse the crowd.
Rebeca Olguin, a Bernie Sanders supporter who was at the scene and posted a video of the mayhem on Instagram, told ABC News she came to protest Trump and his campaign.
"There were some who were peacefully protesting while others were being more open about sharing their opinions," she wrote in an e-mail to ABC News.
Before the event started, the venue closed once it had reached capacity and individuals were trying to jump the fence to get in. They were escorted outside the gate.
The rally -- which attracted 18,000 supporters and was held in advance of the state's June 7 primary -- opened with families of people killed by undocumented workers from the Remembrance Project. They joined Trump on stage, as they have at previous rallies. "Trump is here to save us all," said Jamiel Shaw, Sr., whose son Jamiel Shaw, Jr., was killed in 2008 when he was 17. Trump in turn took back the microphone and vowed to "Build the Wall."
Trump also took aim at his GOP rival Ted Cruz, and his newly-announced running mate, Carly Fiorina.
"[Cruz] will get an award...for the first time in the history of American politics, a man who is totally mathematically dead, has appointed a Vice President," Trump said, later adding that Senator Cruz is "one lyin' son of a gun."
As for Democratic presidential front-runner Hillary Clinton, Trump said, "She's there shouting all night long with reading from teleprompters. I'm sorta glad she won I wanna beat her more than Sanders."
Trump will attend his first-ever state convention of the cycle Friday in California. His next rally is Sunday in Indiana.