A pair of Iraq war veterans who were dismissed, or soon will be, from the military under the Pentagon's "don't ask, don't tell" policy, were arrested by police officers today after chaining themselves to the front gate of the White House, as part of a protest of that policy.
The pair were identified as Lt. Dan Choi, and former Army Capt. James Pietrangelo, whose appeal of his dismissal was turned down by the Supreme Court last year.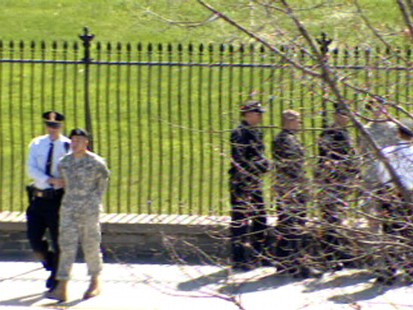 The U.S. Park Police said that the two individuals will be charged with failure to obey a lawful order.
Some 150 protesters were also in front of the White House, chanting "Hey hey ho ho 'don't ask, don't tell' has got to go," which attracted about 30 Washington police officers who lined up in a show of force.
Alexander Nicholson, executive director of advocacy group Servicemembers United, said the White House can and should do more to push for repeal of "don't ask, don't tell."
"It is significant to know that there are a few more things they can do to make sure that we see full legislative repeal in 2010 instead of risking, waiting until after the midterms," Nicholson told ABC News at the White House protest.
"It's not just about Congress, but also the commander in chief," said John Aravosis, a Washington, D.C.-based gay rights activist who writes AMERICAblog. "People think they're moving ahead [with repealing the ban]. It's not moving ahead at all. We may lose the house in November."
While Choi and Pietrangelo were protesting, White House press secretary Robert Gibbs was asked if President Obama had plans to meet with Choi.
"I don't believe there are any meetings scheduled today," Gibbs answered.
He said that he was not aware that the White House was given any heads-up about this beforehand.
The protest appeared to be spontaneous, witnesses said, after a small group of protesters headed off to the White house after a scheduled event in downtown Washington, D.C. featuring Kathy Griffin.
Choi, a 29-year-old West Point graduate, announced he is gay during an appearance in March 2009 on MSNBC's "The Rachel Maddow Show."
Soon after, the Army made plans to fire him, saying he had "negatively affected good order and discipline in the New York Army National Guard."
His discharge under "don't ask, don't tell" is still pending, a decision from the Army hierarchy has still not taken place.
In a letter to Obama last year, Choi described his reaction to receiving the letter as "a slap in the face to me. It is a slap in the face to my soldiers, peers and leaders who have demonstrated that an infantry unit can be professional enough to accept diversity, to accept capable leaders, to accept skilled soldiers. ... My subordinates know I'm gay. They don't care," he said. "They are professional.
"As an infantry officer, I am not accustomed to begging. But I beg you today: Do not fire me," Choi wrote.
'Don't Ask, Don't Tell' Protesters Arrested in Front of White House
Choi told ABC News last May that he had never confided about his sexuality to anyone in the Army. He stayed silent for nearly 10 years. But in 2008, Choi said he found the man he describes as his first love, and that relationship spurred his decision to come out.
"It has been one of the greatest things. I grew as a person. You know, you have the support. You have the encouragement to be a better solider. You have someone to share your very difficult times with," he said. "I was able to experience that and how can I lie and keep quiet because it's so good."
Pietrangelo was in the Vermont National Guard when he was discharged in 2004. The Supreme Court denied his review of an appeal to legally challenge the "don't ask, don't tell' policy.
"I think this decision is an absolute travesty of justice and I think every judge on this court should be ashamed of themselves," Pietrangelo said at the time. The former soldier served six years in the Army, seven years in the Vermont National Guard and fought in Iraq in 1991. "It's nothing short of rubber-stamping legalized discrimination."
As protesters gathered on Pennsylvania Avenue, the Senate Armed Services Committee held a hearing on "don't ask, don't tell" today. Senators heard from a former Marine general who favors keeping the law in place and from two junior officers with compelling stories of how they were forced out of the military they wanted to serve in.
Gen. John Sheehan made the argument that unit cohesion would be affected by having openly gay servicemen serving. Former Air Force Maj. Michael Almy and former Navy Lt. JG Jenny Kopfstein countered that unit cohesion was affected by their discharges, not their presence in the unit.
Almy was outed after his fourth tour in Iraq when a personal e-mail folder was reviewed by his new unit commander. Kopfstein has said that she decided she couldn't live with herself in hiding her sexual orientation from others and found supportive commanding officers who stood up for her when she was being discharged.
ABC News' Luis Martinez contributed to this report.