After racking up thousands of miles on Air Force One, flying all over the country for an unprecedented number of raucous campaign rallies, President Trump is having a quiet Election Day at 1600 Pennsylvania Avenue.
With the future of his presidency and control of Congress at stake, the president was lying low on Tuesday. He would be "making phone calls, monitoring Congressional, Senate and Gubernatorial races across the country and meeting with his political team for real-time updates," press secretary Sarah Sanders told reporters in the early hours of Election Day after the president arrived back at the White House shortly before 2 a.m.
"Later this evening the President and First Lady have invited family and friends to join them in the residence as they watch election returns," Sanders said.
Trump's blitz of 44 "Make America Great Again" rallies took him to 23 states since the primaries began, and culminated in three events that stretched late into the night. The final stretch played out like a rock and roll reunion tour, as the president's advisers. including Sanders and Kellyanne Conway and his favorite Fox News pundits including Sean Hannity and Judge Jeanine Pirro stumped for the president's agenda – and Republicans – on stage to a cheering crowd at his final rally Monday evening in Cape Girardeau, Missouri.
"I had no idea you were going to invite me up here," Hannity said after being called on stage. "And the one thing that has made and defined your presidency more than anything else: Promises made, promises kept."
In a statement Tuesday, Fox News called the appearance of network talent at the president's political rally "an unfortunate distraction." During the rally, Hannity pointed to news reporters there to cover the event calling them "fake news."
"Fox News does not condone any talent participating in campaign events," the news network said in a statement. "We have an extraordinary team of journalists helming our coverage tonight and we are extremely proud of their work. This was an unfortunate distraction and has been addressed."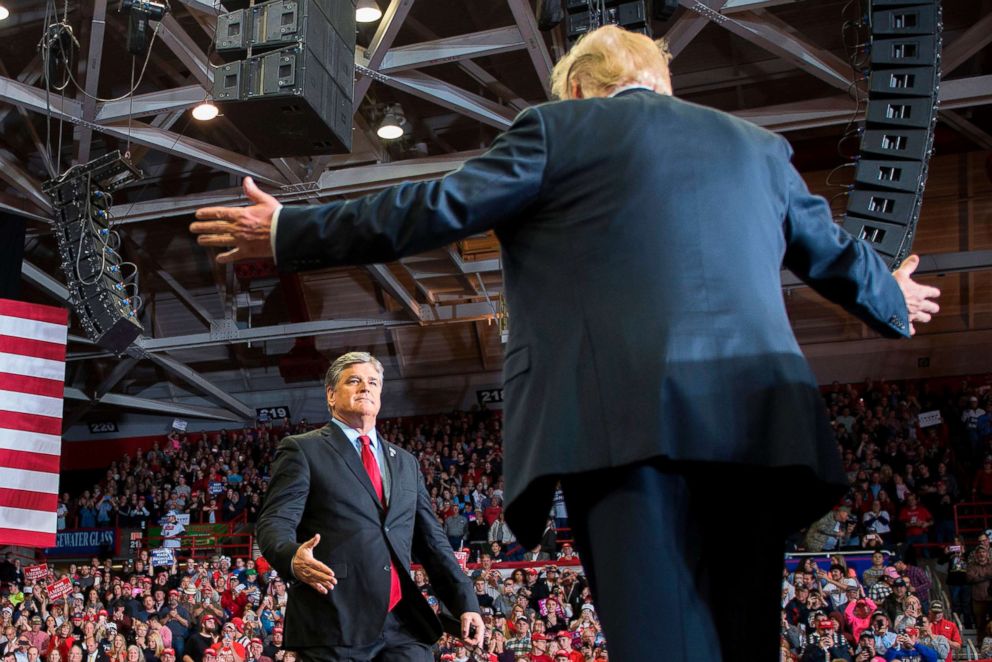 The president was relatively subdued in his Election Day tweets, his first trying to debunk a "rumor" he claimed Democrats were spreading that GOP Senate candidate Josh Hawley, left the Missouri rally early.
While it's unclear what exactly Trump was referring to, it appears host Brian Kilmeade on "Fox & Friends" Tuesday morning alleged Hawley didn't stay the entire time.
"How will that translate down the ticket with people maybe not invited to those rallies and why Josh Hawley didn't stay last night for the Missouri rally is beyond me. What could he have been doing that was so important?" Kilmeade said.
The national crisscrossing and finale in states with tight races like Missouri, Indiana, and Ohio was a calculated plan from Trump's political strategists who studied how former Presidents Obama and Bush traveled in midterm years and planned to top their schedules. Neither Obama nor Bush campaigned as much as Trump in previous election years.
Vice President Mike Pence and his wife Karen Pence plan to visit Walter Reed Military Medical Center in the late afternoon on Election Day. The Pences of Indiana – like the Trumps of New York – voted absentee in their home states.
The president loomed large over the 2018 midterm elections, and he admitted that even though his name isn't on the ballot, this election is also a referendum on him and his administration's policies. But while Republicans are confident in their ability to hold onto the Senate, the House faces an uncertain future.
Days before the election, the president appeared to admit for the first time that Republicans might lose the House. "It could happen," Trump said. "And you know what you do? My whole life, you know what I say? 'Don't worry about it, I'll just figure it out.'" Trump said.
On Saturday at the White House, the president said the difference between the potential House and Senate outcomes is that he wasn't able to stump for all the House candidates on the ticket.
"The difference is I can't campaign for all of those House members. There's so many of them. But I can go out and help Senators and I think I've made a big difference," Trump said.
The president's final pitch for Republicans mostly focused on the red-meat issue of immigration to animate his base. Even in states thousands of miles away from the southern border, the president riled up voters as he described the migrant caravan from Central America as an "invasion," falsely told voters that undocumented immigrants are gang members, and commit crimes, and made the allegation that Democrats are working to bring undocumented immigrants into the country.
"As we speak, Democrats are openly encouraging millions of illegal aliens to break our laws and violate our borders. And they want to sign them up for free welfare, free health care, free education, and most importantly, they want to give them the right to vote," Trump said at his final campaign stop.
Even though the Labor Department reported strong employment numbers days before the election with a low unemployment rate of 3.7 percent, a quarter of a million jobs added to the workforce and wage increases, the president said he bucked the advice of his advisors and focused on other issues.
"They all say 'speak about the economy, speak about the economy.' Well, we have the greatest economy in the history of our country. But sometimes it's not as exciting to talk about the economy, right? 'Cause we have a lot of other things to talk about," Trump said in West Virginia.
Tuesday's election results will test whether the former reality star's messaging -- to make the 2018 midterm elections about an "invasion" of migrants that hasn't happened – is a success. No matter the results, the president signaled he would not take the blame.
"I've seen many of the newspapers saying it's a referendum on what we've done, so I don't know about that, but I can tell you that's the way they're going to play it, and if we don't have a good day, they are going to make it like it's the end of the world," Trump said in a call with the supporters the day before the election.
"The election," Trump said, "is very vital because it really is summing up what we've done, it's going to show confidence for what we've done."
"Even though I'm not on the ballot in a certain way I am on the ballot," Trump said.
Coverage of the 2018 midterms on ABC News Live:
Get full election coverage on ABC News Live beginning today at 4:30 p.m. EST at ABCNews.com/Live, on the ABC News app and on Roku, Hulu and Facebook.