The Republican Jewish Coalition is calling for the resignation of seven Democratic members of Congress whom it claims are "connected" to controversial Nation of Islam leader Louis Farrakhan. The group describes him as a "known anti-Semite."
Farrakhan has routinely spoke disparagingly about Jews over the years, as well as white people, in general. He was thrust into the mainstream spotlight again this week after excerpts from a speech he gave last week on the Nation of Islam's Saviour's Day surfaced online. During the speech, he once again described Jewish people -- who he says "are my enemy" -- in a pejorative manner.
The lobbying group on Tuesday called for the following lawmakers to step down: Reps. Keith Ellison, D-Minn.; Barbara Lee, D-Calif.; Maxine Waters, D-Calif.; Danny Davis, D-Ill.; Andre Carson, D-Ind.; Gregory Meeks, D-N.Y.; and Al Green, D-Texas.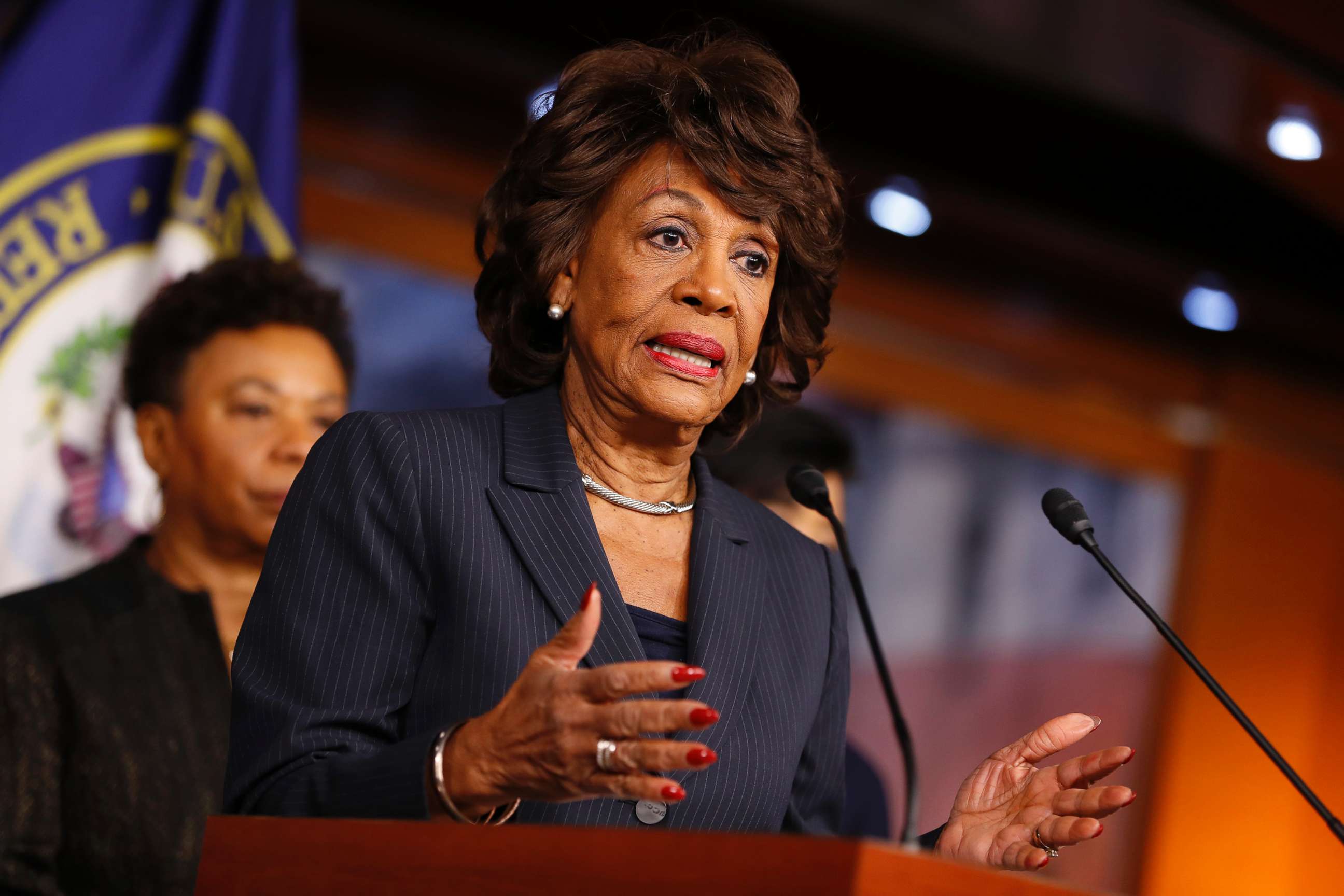 The aforementioned lawmakers have at one point in their careers while in the House -- but not necessarily anytime recently nor with any frequency -- met Farrakhan. In a report it published Tuesday, The Daily Caller outlined the various previous interactions, based on videos and photos.
ABC News has reached out to each of the seven lawmakers for comment on the Republican Jewish Coalition's call for their resignations.
Meeks took to Twitter Thursday morning, writing, "Farrakhan's anti-Semitic messages are upsetting & unacceptable. I always condemn hate speech of any kind. Also upsetting that right-wing blogs suggest otherwise & try making this a black vs. Jewish community issue. Still waiting for those blogs to condemn Trump's racist remarks."
He continued, "Hate is wrong and dangerous wherever it comes from. African-Americans, Jews, and far too many other groups have suffered greatly because of racism and hate in America -- past and present. I will always fight to rid our nation and the world of hateful vitriol. We all should!"
Davis told The Daily Caller in a statement Monday, without specifically addressing Farrakhan, anti-Semitism is "antithetical to everything I believe and everything that I work for on a daily basis." Davis also described Farrakhan as an "outstanding human being."
In a statement to ABC News on Thursday, Davis clarified the omission of Farrakhan from the aforementioned statement, and condemned the Nation of Islam leader's comments about Jews.
"There have been attempts to question my commitment to these principles because I did not specifically single out the views and remarks of Minister Louis Farrakhan in that statement," Davis said. "I make no exceptions to my rejection, condemnation and active opposition of hatred, bigotry and separatism. So let me be clear: I reject, condemn and oppose Minister Farrakhan's views and remarks regarding the Jewish people and the Jewish religion."
Davis continued, "Those who have attempted to defame me either do not know me or my lifetime record or are deceitfully and deceptively attempting to use this as an opportunity to foment division and hatred between the African American and Jewish communities. For my part, I will continue to seek unity, cooperation and solidarity in the struggle for equality, social and economic justice between for all who reside in our great country."
A spokesman for Ellison, the deputy director of the Democratic National Committee, told Fox News on Tuesday that Ellison "has repeatedly disavowed anti-Semitism and bigotry, since his first campaign for Congress in 2006." Ellison in 2007 became the first Muslim member of Congress.
Donald Trump Jr., the president's eldest child, entered the fray late Wednesday night, retweeting a post by Farrakhan and sarcastically adding, "I guess all the denouncing from the Dems who have met with him must be lost in the mail??? I'm sure they'll be all over it someday."
Below, the statement issued by Republican Jewish Coalition executive director Matt Brooks:
Seven long-serving Democrats have close ties with Louis Farrakhan. Each of them should resign.
They include former Nation of Islam employee, Congressman Keith Ellison, who is Deputy Chair of the DNC. Ellison has tried to excuse his 2013 meeting with Farrakhan, while ignoring his more recent meeting with the NOI leader in Farrakhan's hotel room, in 2015. At least six other Democrats are known to have embraced Farrakhan. These members of Congress - Maxine Waters, Barbara Lee, Danny Davis, Andre Carson, Gregory Meeks, and Al Green - have all, while in office, sat down with Farrakhan for personal meetings.
There can be no question about how abhorrent it is for these Democrats to be connected to Louis Farrakhan. Farrakhan is first and foremost a preacher of hate. He preaches about Jewish "control" over the government and media and has claimed to have "pulled a cover off of that Satanic Jew," saying "your time is up, your world is through." And those were just the comments from last week.
Anti-Semitism is unacceptable. Farrakhan is the moral equivalent of a leader of the KKK. If it was discovered that members of Congress had met with the leader of the KKK, they would need to resign. In this case, for meeting with, and embracing, Louis Farrakhan, nothing short of resignation is acceptable from these seven Democrats.