Speaker Kevin McCarthy did not say the House will consider an assault weapons ban when he was asked about the calls for reform, setting up a familiar showdown between President Joe Biden and Republicans in Congress following the tragic mass shooting in Nashville.
The speaker emphasized his conference's commitment to tackling the issue of mass shootings, though he did not mention particular pieces of legislation he would put forth as calls mount for changes to existing gun laws.
"There's not one person in America who doesn't want to try to solve all this," he said when asked at an unrelated press conference on Thursday about his plan to deal with mass shootings. "We want to make sure we're taking all the information."
"I would say to the nation as a whole that the problem that we [have] today, it's not just going to be legislation. We've got to have a severe conversation here with this country. We've got to deal with mental illness," he continued, later adding, "I don't think one piece of legislation solves this. I think a nation together, working together, solves a problem that's much bigger than us."
Asked whether an assault weapons ban or expanded background checks are on the table, McCarthy repeated language he used on Wednesday, saying Republicans will first "get all the facts."
"We will get all the information, how we deal with any subject, and we'll work through it," he said.
McCarthy wasn't clear about which additional facts he was seeking.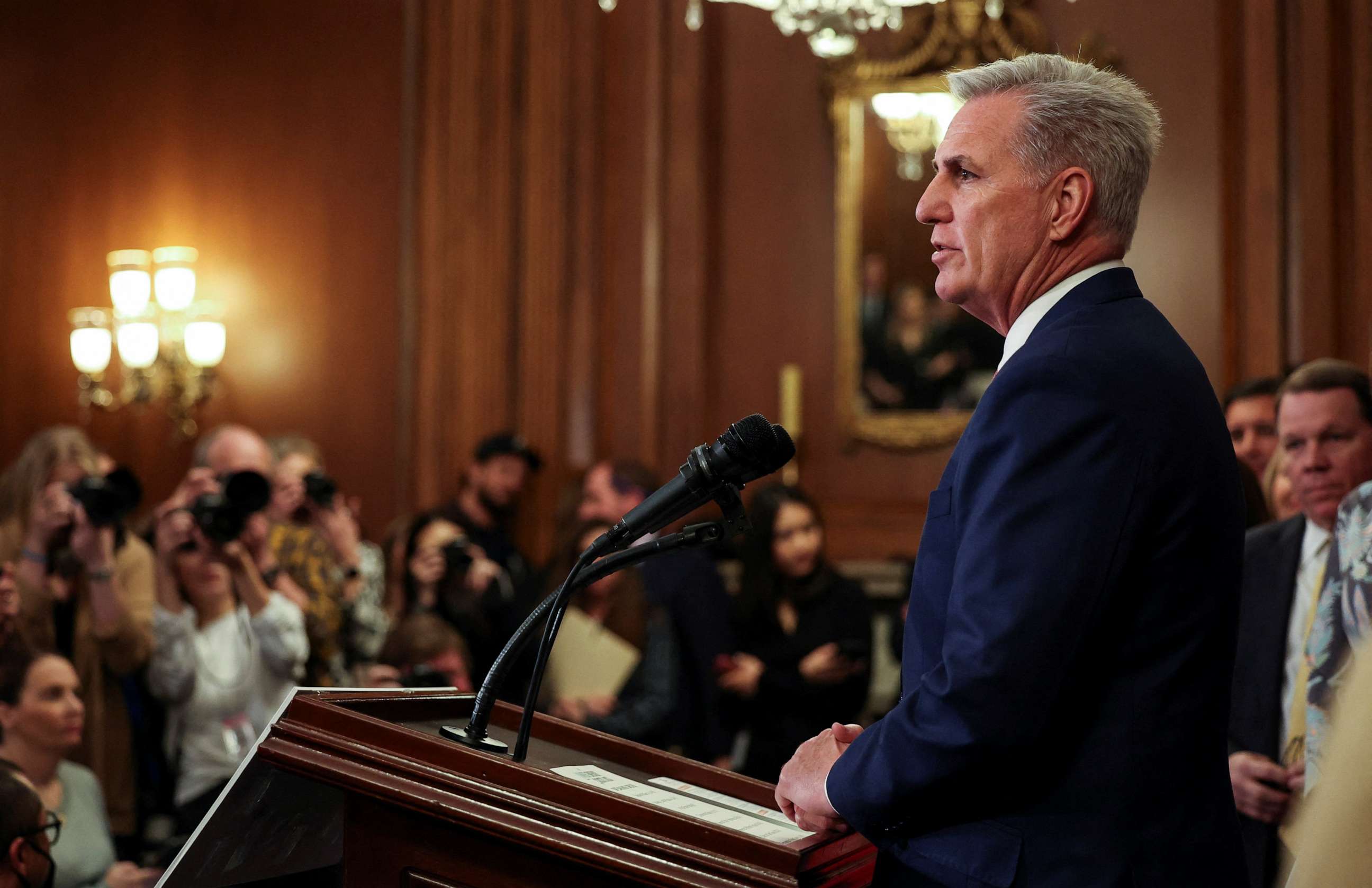 House Minority Leader Hakeem Jeffries, speaking ahead of McCarthy on Thursday, acknowledged Democrats hadn't made any decisions about a particular legislative approach moving forward to reform gun laws but said Republicans should build on the Bipartisan Safer Communities Act passed last year.
"We should be putting kids over guns and act with the fierce urgency of now. And my Republican colleagues need to step forward or step out of the way," Jeffries said.
He later added that House Republicans should bring forward legislation both expanding background checks and banning assault weapons to the House floor for debate -- a move McCarthy is unlikely to oblige.
Biden, meanwhile, has repeated he doesn't have the executive authority to take more action on guns and has instead dispatched White House press secretary Karine Jean-Pierre on a TV campaign to pressure Republicans to act.
"The president has done his part," she told "GMA3" on Wednesday. "We need Congress to do their part."
But the prospect of new legislation seems unlikely.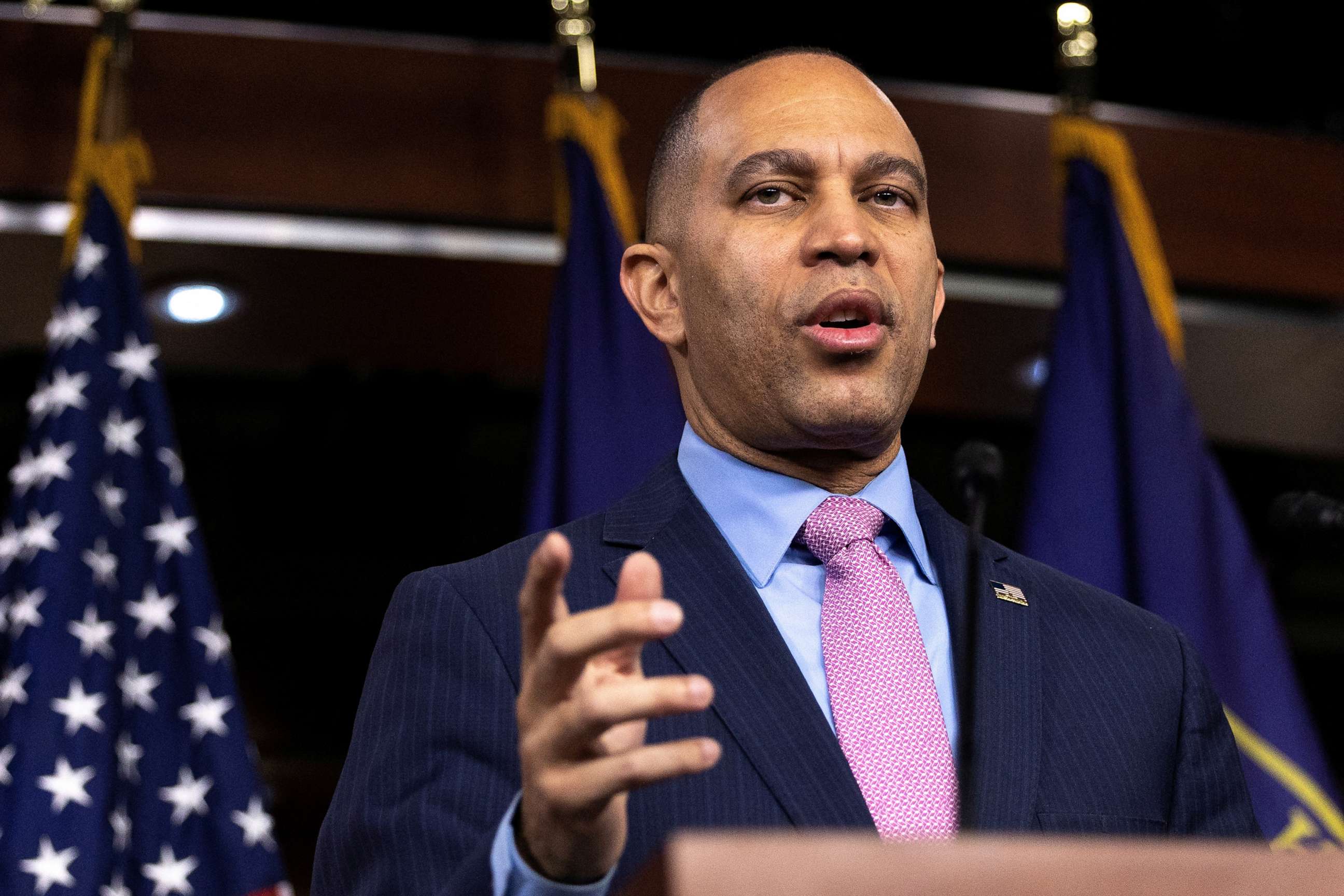 There have been multiple heated exchanges over the issue among lawmakers. In a moment emblematic of the partisanship on Capitol Hill, Rep. Jared Moskowitz, D-Fla., admonished Rep. Marjorie Taylor Greene, R-Ga., Wednesday after she called for heightened protection for schools and praised the "good guy with a gun" response in Nashville.
"Did the good guys with a gun stop six people from getting murdered? No. ... But AR-15s, have you seen what those bullets do to children? You know why you don't hunt with an AR-15 with a deer -- because there's nothing left," the Democrat said.
"You guys are worried about banning books? Dead kids can't read," he added, referencing efforts from some politicians to review materials that appear in classrooms and school libraries.
Also on Wednesday, an explosive conversation about guns led to Rep. Thomas Massie, R-Ky., telling Rep. Jamaal Bowman, D-N.Y. to calm down.
"Calm down? Children are dying! Nine-year-old children!" Bowman responded. "I was screaming before you came and interrupted me."
Rep. Tim Burchett, R-Tenn., told reporters earlier this week he does not see a pathway for Congress to act.
"It's a horrible, horrible situation. And, we're not gonna fix it. Criminals are gonna be criminals," Burchett said Monday. "I don't see any real role that we could do other than mess things up, honestly, because of the situation."
The last major action from Congress on gun reform was last June, just over a month after the deadly school shooting in Uvalde, Texas, that left 19 students and two teachers dead.
Six in 10 Americans support banning high-capacity ammunition clips and 56% support banning the sale of assault weapons, a 2019 ABC News/Washington Post poll found. Support for an assault weapons ban varied greatly along political lines, with 81% of Democrats, 55% of independents and 33% of Republicans in favor.
In 2022, 51 school shootings resulted in injury or death -- the most in a single year since Education Week, an independent news outlet covering K-12 schools, began recording this data in 2018. This number marks an increase from the prior highest number of school shootings, which was the 35 school shootings that occurred in 2021, according to data gathered by Education Week.