Rep. James Comer, R-Ky., said Sunday that Republicans will submit their own budget proposal as they push for spending cuts in exchange for agreeing to raise the $31.4 trillion debt ceiling.
"We're gonna come forward with a plan. We're still debating that plan. We're having robust debate amongst our conference. And that's what democracy is supposed to be about," Comer told ABC "This Week" anchor George Stephanopoulos, lamenting the nation's rising debt. "Somebody's got to be the adult at the table, and House Republicans will hopefully be that."
When pressed on Republicans coalescing around a budget -- as Democrats criticize the lack of a GOP plan so far -- Comer remained bullish.
"We're going to be coming forward with a plan. This doesn't have to come forward before July," he said, referring to the approximate deadline when the federal government will run out of money for its bills because it cannot currently borrow more. "Obviously, I'd like for the plan to come forward next week."
The debate over spending and the national debt is raging on Capitol Hill as, according to the Treasury Department, the government must have its borrowing limit increased by the summer or risk defaulting on its obligations, which would amount to a historic economic failure with far-reaching consequences.
The current debt ceiling was reached last month and the Treasury Department has been relying on "extraordinary measures" since then, according to Secretary Janet Yellen.
While House Republicans, led by Speaker Kevin McCarthy, have said they were elected to the majority in the chamber to push back against "wasteful Washington spending," President Joe Biden and other Democrats insist the debt ceiling, which allows the government to pay for the bills already incurred, must be raised without conditions or negotiations.
Biden and Senate Majority Leader Chuck Schumer have also narrowed in on the absence of a public proposal from Republicans. The White House has said it will make its own budget request in early March.
"Where is your plan, Mr. McCarthy? He says he wants cuts. We ask him which ones," Schumer said in a separate appearance on "This Week" on Sunday. Schumer suggested Republicans were being disingenuous and would seek cuts to Social Security and Medicare
President Joe Biden has also cast Republicans as in favor of cutting or altering the programs, pointing to a proposal from Sen. Rick Scott, R-Fla., that would sunset all U.S. spending every five years.
Comer rejected that criticism on Sunday, telling Stephanopoulos: "It's very disappointing that the president … would continue to try to scare seniors. These are important programs to everyone. There's bipartisan support for Social Security and Medicare. If anything, we need to shore those programs up."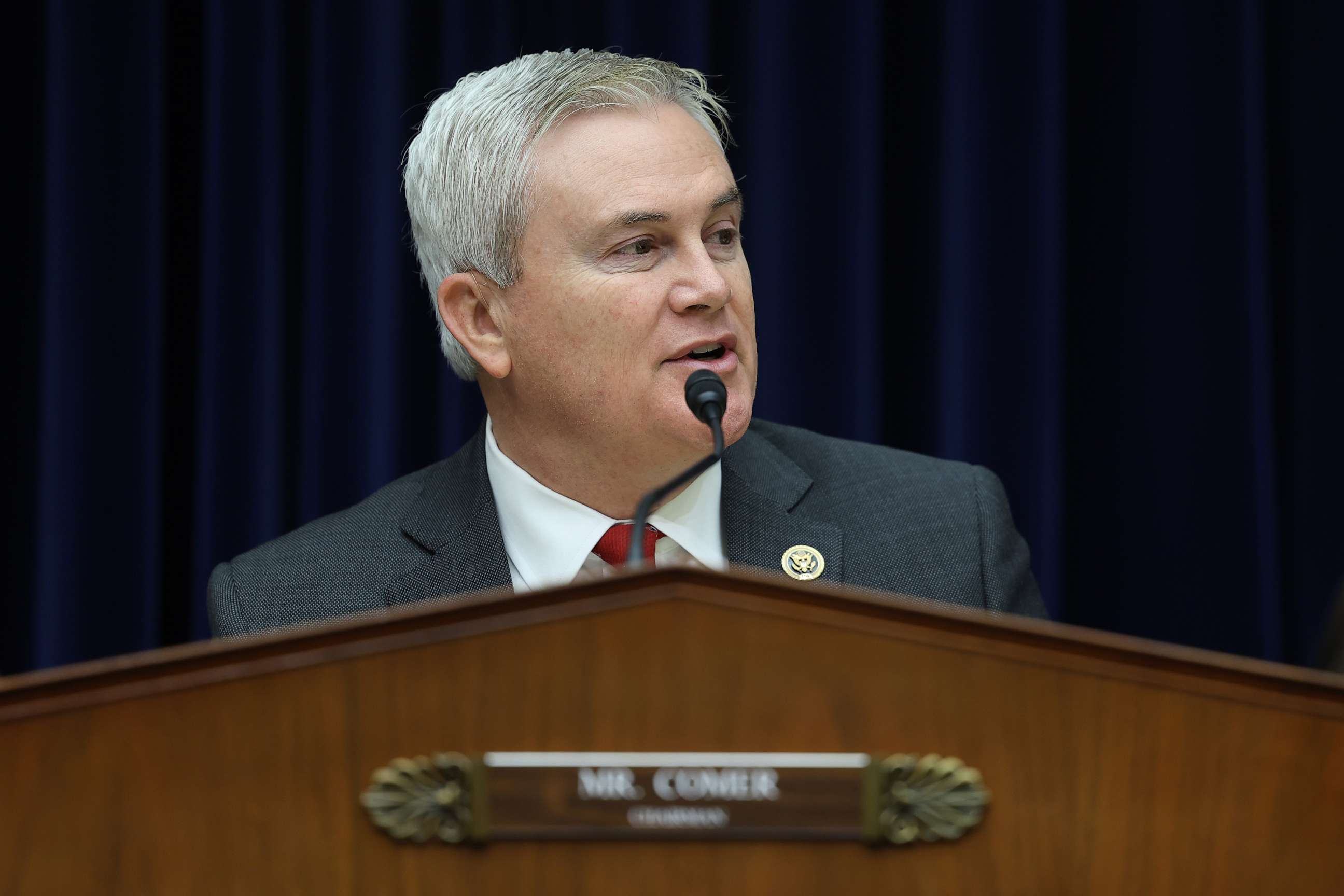 "It's easy to spend money. What unites the Democrats is spending money. Now, when you get to the point to where we are now where we got to make cuts, it's a lot tougher," Comer said. "We're not going to cut Social Security or Medicare. We've been very clear about that."
Beyond the spending debate, Comer, who also chairs the House Committee on Oversight and Accountability, defended investigations into the Biden family's financial relationships -- particularly Hunter Biden -- when asked if he would support probing business dealings with Saudi Arabia by Jared Kushner, former President Donald Trump's son-in-law and former White House adviser.
"We know that Joe Biden said during the presidential campaign that he had no knowledge of his son's business interests, he wasn't involved, he didn't benefit from them. We have evidence that would suggest otherwise. And this is very concerning," Comer said.
"I don't disagree with the Democrats and their criticism of the previous administration. We have a problem here that needs a legislative solution," he added. "That's why this Biden investigation is so important. There's a legislative solution to this, and it can be bipartisan."
"We need to have strict ethics laws," Comer said. "And we need to significantly increase the disclosure laws in America. So I think this investigation is going to be very important to fix a problem before it gets out of hand."
Asked by Stephanopoulos how that view should apply to the Kushners and Trumps, Comer indicated the committee's work looking into the Bidens should be a priority.
"I think that there can be a bipartisan legislation solution," Comer repeated. "But we can't get to that point until we know the extent of what the Biden family influence peddling involved."