Lawmakers who went to the White House for a meeting to discuss trade Wednesday were pulled into the drama of his surprise announcement of an agreement with Europe on tariffs.
Senators who spoke with ABC News after the meeting said they had no idea they were about to walk into a Rose Garden announcement on tariffs with the European Union but they welcomed the news, saying they hoped it would lead to additional deals with other countries locked in a trade war with the U.S.
Sen. James Lankford, R-Okla., said the last-minute stagecraft, in which President Donald Trump announced an agreement in principle on trade along with European Commission president Jean-Claude Junker, was taking shape even as the Republican House and Senate members were arriving at the White House.
"The word that we got from staff was, as it was coming together, [Trump] was saying, 'OK, what's the next meeting?' And they said, 'Mr. President, the next meeting is with senators and House members,' and he said, 'well just bring them on out to hear this because they'll want to hear it.'"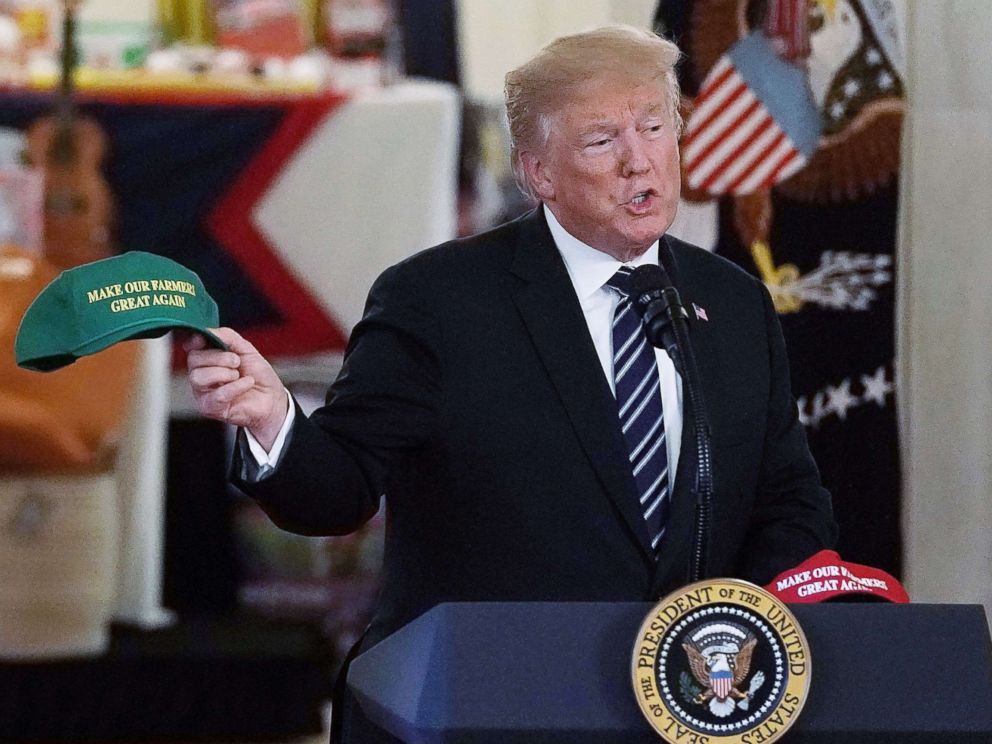 "So we literally stepped outside to the colonnade area to be able to hear it, at the same time a lot of the staff were hearing it because it had just been inked inside," he added.
"We arrived there, and then we became eye candy," Senate Agriculture Committee chairman Pat Roberts, R-Ks., said of the senators joining the impromptu event.
The lawmakers were preparing to warn the president of the consequences of his ongoing aggression on trade.
Many of them, from farm states, were also planning to relay messages from their constituents about how they would prefer markets be reopened than rely on additional government aid, as the White House had recently suggested with an offer of $12 billion for farmers affected by tariffs.
They still delivered that message but they also asked questions about the White House's time frame for completing the trade agreement with Europe and about whether this deal will lead to the completion of other major agreements, like a renegotiated North Atlantic Free Trade Agreement.
"Our sense is the dominoes can't start falling until the first one starts falling, but there are so many deals in the air right now that if you're going to redo trade negotiations, you've got to have a beginning point," Lankford said.
Sen. John Hoeven, R-N.D., said Trump and U.S. Trade Representative Robert Lighthizer said they are still planning to have a reworked NAFTA by early fall, and that Lighthizer pledged to provide the lawmakers with details on several other smaller agreements he said were coming together, including with South Korea and South America.
He also said they pledged that both the U.S. and E.U. would appoint representatives to negotiations on the details on the new agreement "right now."
The lawmakers were particularly pleased that the announcement had a focus on soybeans. The U.S. soybean market took a big hit after China, its biggest customer, imposed reciprocal tariffs on American exports.
"Soybeans is a big deal. And the European Union is going to start almost immediately to buy a lot of soybeans," Trump said during the announcement.
Still, however, the Republicans in the room brought up that farmers are currently feeling significant pain because of shrinking markets, and that the administration needs to finalize and rework trade agreements with foreign partners as soon as possible.
"If you've got to sell your product right now and get it resolved, something that's working towards next year's trade agreement is not going to help you right now," Lankford noted.