— -- The Rev. Billy Graham's casket arrived in a somber processional at the U.S. Capitol on Wednesday as the country's leaders gathered for a historic nod to a man of faith who many of them said impacted them personally.
"Billy Graham carried his message around the world," President Donald Trump said, adding "But his heart was always in America".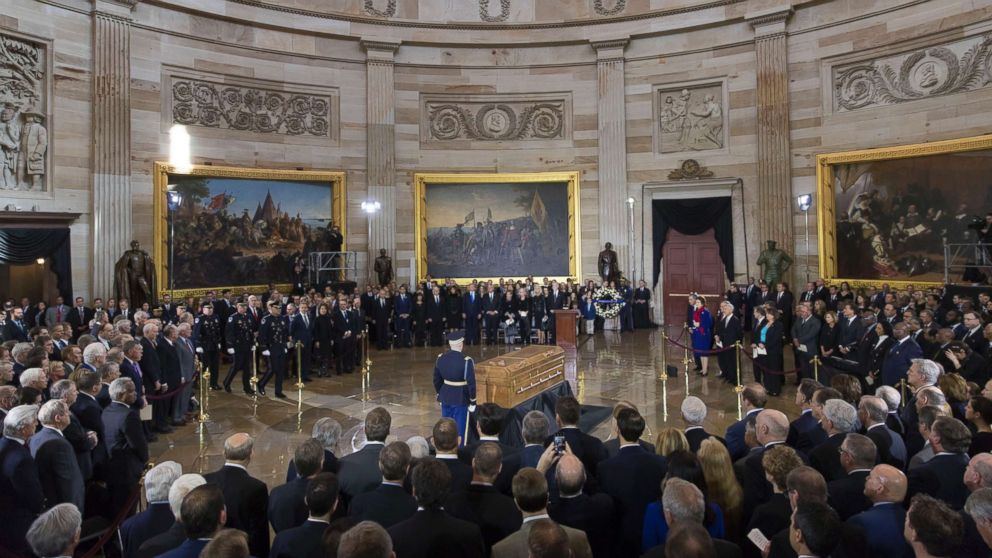 Among those Americans positively impacted by Graham's ministry, Trump said, was his own late father Fred Trump.
"Americans came in droves to hear that great young preacher. Fred Trump was a big fan. Fred trump was my father," Trump said, recalling the time that he went with his father to see Graham preach at Yankee Stadium.
"My father said to me, come on son, and by the way, he said come on mom, let's go see Billy graham at Yankee stadium. It was something very special," Trump said.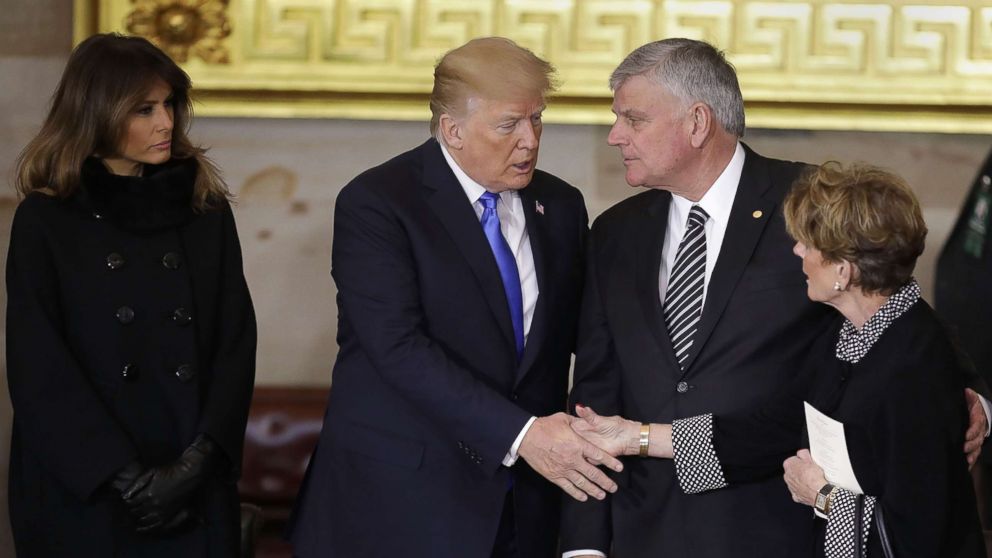 House Speaker Paul Ryan and Senate Majority Leader Mitch McConnell also participated in the remembrance ceremony.
"Here lies America's pastor," Ryan, R-Wisconsin, said. "A made great not by who he was but by who he served."
"We give thanks to God for the life and work of this humble servant - now and forever," Ryan said.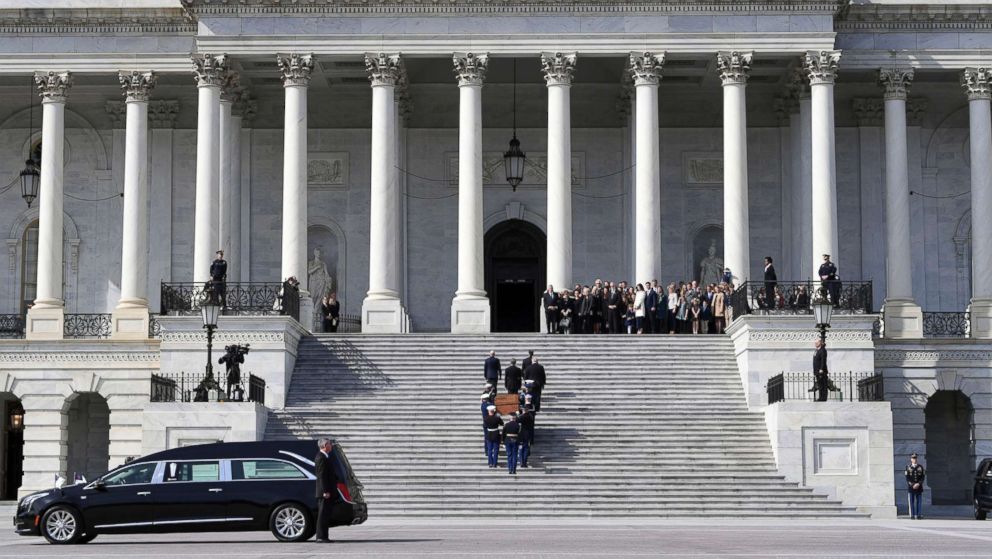 Graham, an internationally famous Christian evangelist, died a week ago. He was 99.
He was a faith leader who ministered to the powerful, including both Republican and Democratic presidents. Earlier in the week, former presidents Bill Clinton and George W. Bush visited Graham's Charlotte-area home, according to the Associated Press.
Graham's family escorted his remains from the East Front of the Capitol into the Rotunda shortly before 11 a.m., where his casket was placed upon the Lincoln Catafalque.
His casket will remain in the building's Rotunda on Wednesday, just the fourth individual to lie in honor there.
Billy Graham through the years
Billy Graham was born Nov. 7, 1918, in Charlotte, North Carolina, and raised on a dairy farm in nearby Montreat. He was known as "America's pastor," Billy Graham was a key figure in the revival of the U.S. evangelical Christian movement. The evangelist brought his "Billy Graham Crusades" around the world, preaching to more than 210 million people in 185 countries and territories. His largest such gathering drew 1 million people in Seoul, South Korea, in the 1970s. Billy Graham seen here in his baby photo from 1919.
Billy Graham Evangelistic Association
Rosa Parks most recently received the rare tribute, joining two U.S. Capitol Police officers killed in the line of duty, officer Jacob Chestnut and detective John Gibson.
Several U.S. presidents, generals and lawmakers have lain in state in the Rotunda, most recently Sen. Daniel Inouye, Hawaii's first U.S. senator and the recipient of the Medal of Honor for his service in World War II.
Scores of people — including members of Congress clad in dark mourning colors — are expected to file past and pay their final respects to Graham. The Rotunda will be open for public viewing from 1 p.m. until 8 p.m. Graham's remains will depart the Capitol on Thursday morning.
A funeral is planned for Friday in North Carolina.