— -- Rex Tillerson, President-elect Donald Trump's pick to be the next U.S. secretary of state, suggested to lawmakers on Capitol Hill today that the United States would enforce a stronger, more assertive role overseas than the Obama administration if he is confirmed.
"To achieve the stability that is foundational to peace and security in the 21st century, American leadership must not only be renewed, it must be asserted," Tillerson said in the opening statement of his confirmation hearing this morning.
You can watch all confirmation hearings here.
In an apparent attempt to ease fears that the incoming administration will ignore any adversarial actions of the Russian regime, Tillerson voiced some firm objections to recent Russian aggression.
Russia is a "danger" to the United States and economic sanctions are a "powerful tool" in the U.S. arsenal, Tillerson said today.
Democratic and Republican senators alike have been challenging the former ExxonMobil chief's policy on Russia all morning.
He said Russia's invasion of Crimea was illegal and that the United States should have responded with "a proportional show of force."
The "absence of a firm and forceful response to Crimea was judged by Russia to be weak," Tillerson said, and paved the way for its later invasion of Ukraine.
Asked how he would have responded at the time, Tillerson said he would have recommended the United States help Ukraine defend itself by providing it with weapons and intelligence, actions the Obama administrations was reluctant to take.
On a different topic, Sen. Marco Rubio, R-Fla., asked Tillerson whether Russian President Vladimir Putin should be considered a war criminal in wake of the bombing campaign his military has conducted in the Syrian city of Aleppo. Tillerson said, "I would not use that term."
Tillerson also said he did not have enough information to validate claims that Putin orders the killing of his political enemies. "I would have to have more information," he told Rubio.
Tillerson appeared to embrace existing U.S. sanctions on Russia, saying, they "are a powerful tool and an important tool in terms of deterring additional action once actors have acted."
The multimillionaire former CEO of ExxonMobil has emerged as one of Trump's more controversial Cabinet picks -- largely because of his close relationship with Putin -- but until today Tillerson had yet to have the opportunity to defend himself in a public forum.
Before delivering his opening remarks, Tillerson was endorsed by three prominent witnesses, including Sens. John Cornyn, R-Texas, and Ted Cruz, R-Texas, as well as former CIA chief and Defense Secretary Robert Gates.
In his opening remarks, Tillerson suggested that he wants to embrace Trump's stated interest in becoming friendlier with Russia, while remaining "clear eyed," as he put it, about the relationship.
"[Russia] has invaded Ukraine, including the taking of Crimea, and supported Syrian forces that brutally violate the laws of war," Tillerson said. "Our NATO allies are right to be alarmed at a resurgent Russia."
But Tillerson blamed the Obama administration for allowing Russia to believe it could behave badly.
"It was in the absence of American leadership that this door was left open and unintended signals were sent," Tillerson said. "We backtracked on commitments we made to allies. We sent weak or mixed signals with "red lines" that turned into green lights."
Officials close to the Trump transition team have high confidence in Tillerson, 64, and say they expected him to impress his critics.
"Someone like Rex Tillerson, I think once the American people and some of the senators at the hearings get to hear him in public, they are going to be unbelievably impressed," incoming White House Press Secretary Sean Spicer told Fox News Tuesday, later adding, "I will tell you this, Rex Tillerson is one tough guy. The same way he fought for Exxon, he will fight for this country."
Trump said in a statement announcing his decision to pick Tillerson last month, "Rex knows how to manage a global enterprise, which is crucial to running a successful State Department, and his relationships with leaders all over the world are second to none. I can think of no one more prepared, and no one more dedicated, to serve as secretary of state at this critical time in our history."
The thing I like best about Rex Tillerson is that he has vast experience at dealing successfully with all types of foreign governments.

— Donald J. Trump (@realDonaldTrump)

December 13, 2016
Tillerson developed a reputation at Exxon as a fierce negotiator capable of making multibillion dollar deals under difficult circumstances, but it's those same deals and relationships he has developed that had Democrats ready to ask tough questions about how he will approach the nation's top diplomatic post.
His relationship with Russia dates back to the 1990s when he assumed responsibility for all of ExxonMobil's holdings there. In 2011, the company forged a deal with Russian oil company Rosneft, which at that time was 75 percent owned by the Russian government.
Putin personally attended the signing ceremony for the deal, which gave ExxonMobil access to Arctic oil deposits. In 2013, the two companies expanded their partnership.
Putin awarded Tillerson the 2013 Order of Friendship, one of the highest Russian government honors given to foreigners.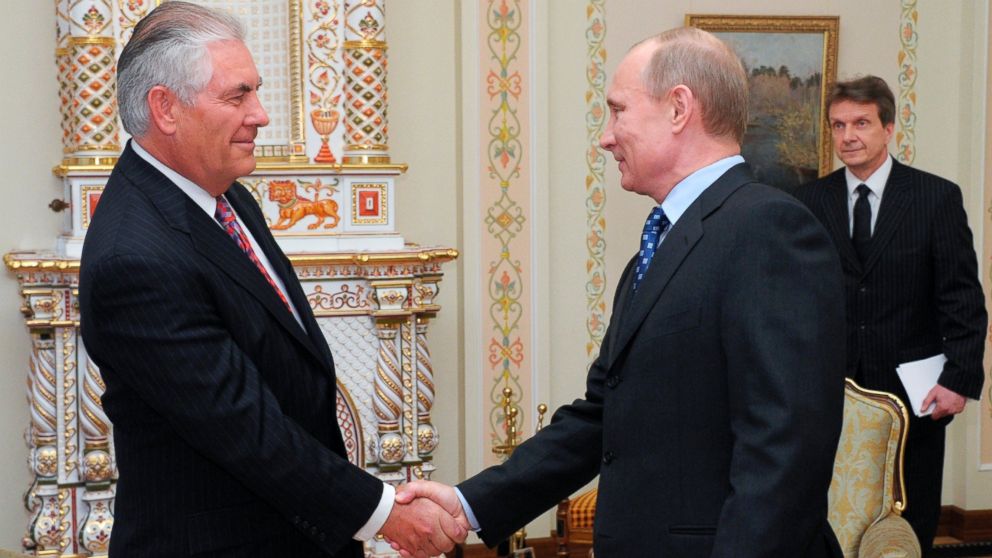 In 2014, after Russia annexed Crimea, Exxon was forced to halt the deal because of U.S. sanctions. Although the company put out a press release saying it was "winding down" its operations after the sanctions, Tillerson reportedly called sanctions "ineffective" at a 2014 shareholders meeting.
"We do not support sanctions, generally, because we don't find them to be effective unless they are very well implemented comprehensively, and that's a very hard thing to do," he said at that meeting, according to The Dallas Business Journal.