A top White House adviser to President Donald Trump declared that Florida Republican candidates for the U.S. Senate and governorship "have won," even as the margins between them and their Democratic counterparts were small enough to trigger a mandatory recount under Florida law.
On Friday and Saturday, the president said in tweets that Democrats were trying to "steal" the elections. Sunday, on "This Week," ABC News Chief Anchor George Stephanopoulos asked counselor to the president Kellyanne Conway if there is any evidence.
"The evidence is that Rick Scott and Ron DeSantis have won," she said.
"They're both underneath the threshold for an automatic recount," Stephanopoulos pressed on "This Week."
"Maybe now they are," Conway said. "But there has been no recount that has ever turned around a total as large as we have now in either of those races."
Florida Secretary of State Ken Detzner, ordered a statewide recount of Florida's Senate, governor and agriculture commissioner on Saturday. All three races are within the .5 percentage point margin or error that requires a recount under Florida law.
Returns from the machine recount are due on Nov. 15th by state law. Nevertheless, outstanding issues, such as potential lawsuits and overseas ballots that are due beyond Nov. 15th may lead the recount fight to draw on for longer.
Trump's repeated allegations of voter fraud and "election theft" have provoked outcry from Republicans, who have cast doubt on the ballot counting process.
On "This Week," Conway cited Broward County Supervisor of Elections Brenda Snipes as a reason to doubt the process. Under her leadership the office has faced bipartisan criticism for its handling of past elections.
"We have Brenda Snipes who obviously has been sued successfully by a primary opponent to Debbie Wasserman Schultz for shenanigans that happened there years ago. She probably shouldn't still be in that position," Conway said.
In May, a judge ruled in favor of Wasserman Schultz's primary challenger Tim Canova that Snipes' office had illegally destroyed ballots too soon after the end of his unsuccessful primary challenge.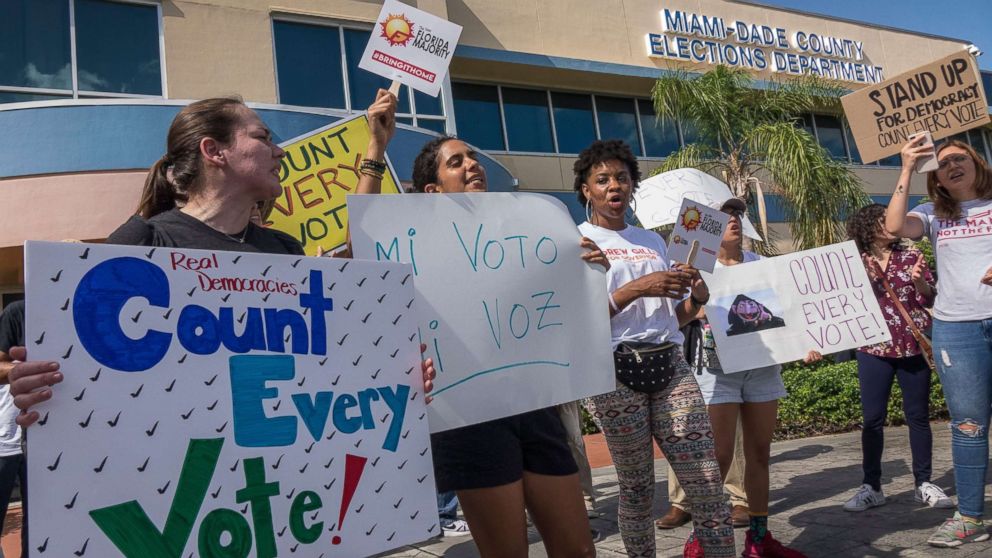 Florida Gov. Rick Scott, also the Republican candidate in the contested U.S. Senate election, echoed Trump's rhetoric accusing left-wing groups of trying to steal an election and alleging the process had "rampant fraud."
"I will not sit idly by while unethical liberals try to steal this election from the great people of Florida," Scott said during a press conference Thursday.
Scott asked the Florida Department of Law Enforcement to investigate the ballot counting process but the department said Friday they were unable to find any evidence of fraud.
Democratic Sen. Bill Nelson, Scott's opponent, released a video Friday accusing Scott of blocking all of the votes from being counted.
"Rick Scott is trying to stop all the votes from being counted and he's impeding the democratic process," Nelson said.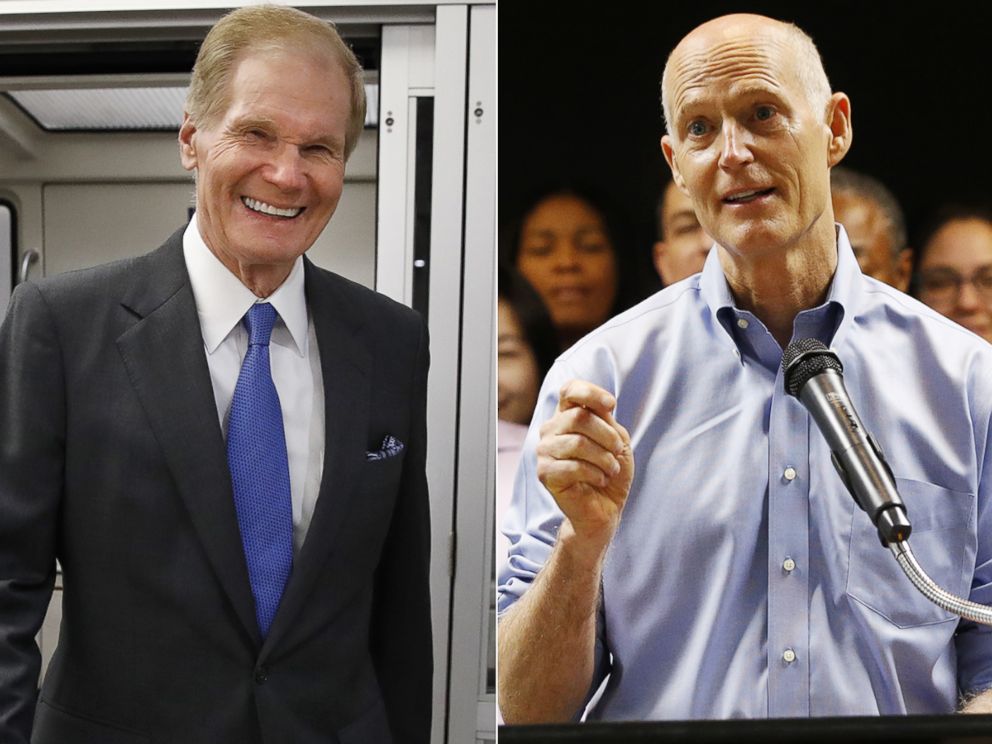 A report by the Brennan Center for Justice indicates voter fraud is virtually nonexistent and can often be traced to machine or human error.
The results of the election will ultimately come down to the recount process, but allegations of fraud notwithstanding, Conway expressed confidence that Republicans Scott and DeSantis would prevail because the odds of changing the outcome are low.
A 2016 analysis by FiveThirtyEight found that the average election recount since 2000 swings the total by a little under 300 votes, with the highest swing in that timeframe coming in the 2000 presidential election recount, also in Florida. Al Gore cut George W. Bush's lead by 1,247 votes, which was not enough to put Gore over the top. Nelson currently trails Scott by 12,562 votes, which would mean he would need a historically large swing in votes to win.
Nevertheless, Broward County may offer a window of opportunity for Nelson to gain. The county, which is home to Fort Lauderdale and heavily Democratic, had an unusually high number of ballots exhibiting "undervoting," which is the term for not voting for all of the races on the ballot.
In total, Broward County had over 26,000 fewer votes cast in the senate race than the governor's race. The reason for the issue is unknown, but if this represents a systematic error, it may ultimately swing the race in Nelson's favor.