Robert Kennedy Jr.'s presidential campaign attracts GOP-friendly donors, few celebs
Just 23% of his top donors exclusively gave to Democrats in the past.
Democratic presidential candidate Robert F. Kennedy Jr. has actually received more support from Republican rather than Democratic donors, among those who gave him the most money in the first months of his 2024 White House bid, according to an ABC News analysis of his most recent financial filing with the Federal Election Commission.
Kennedy on Friday reported a haul of more than $6.3 million in donations, nearly all of which came from individuals.
Of the 104 donors who gave more than $6,000 to Kennedy -- close to the legal maximum donation of $6,600 across the entire cycle -- 39% had histories of donating to Republicans and 30% had only ever donated to Republican candidates and causes.
Just 23% of Kennedy's top donors exclusively gave to Democrats in the past, and 65% had never donated to a Democrat. Only 13% had a history of giving to both parties.
Kennedy -- an attorney and activist and nephew of President John F. Kennedy who has repeatedly spouted conspiracy theories and misinformation on public health issues -- has seen his support base grow among some far-right figures like InfoWars host Alex Jones and former Trump adviser Steve Bannon, both of whom have spread falsehoods about the COVID-19 pandemic and the 2020 election.
Kennedy has also frequently garnered praise from former President Donald Trump, who over the weekend called him "a very smart guy" who has "hit a little bit of a nerve." (Previously asked for his thoughts on Trump, Kennedy has said both "I'm proud that … [he] likes me" and "I'm not going to attack other people personally.")
His campaign is attracting the attention of some prominent Republican donors, the FEC filing shows -- at least seven of whom have given more than $100,000 to GOP candidates and causes.
Those people include Ken Fisher, founder and executive co-chair of Fisher Investments, who has donated millions of dollars to Republicans. Fisher's office did not immediately respond to a request for comment on his support.
Collectively, the seven donors have raised more than $5.4 million for Republicans.
Despite being a member of a famous family and despite being married to actress Cheryl Hines, Kennedy's campaign appears not to have gotten much traction in Hollywood: The FEC filing shows guitarist Eric Clapton among the donors. (Clapton has criticized COVID-19 vaccines and anti-COVID-19 measures; his $5,000 was refunded because he isn't a U.S. citizen.)
A representative for Clapton declined to comment to ABC News.
On the campaign trail, Kennedy has frequently argued he has his ability to bring people together. He launched his long shot bid against President Joe Biden in April.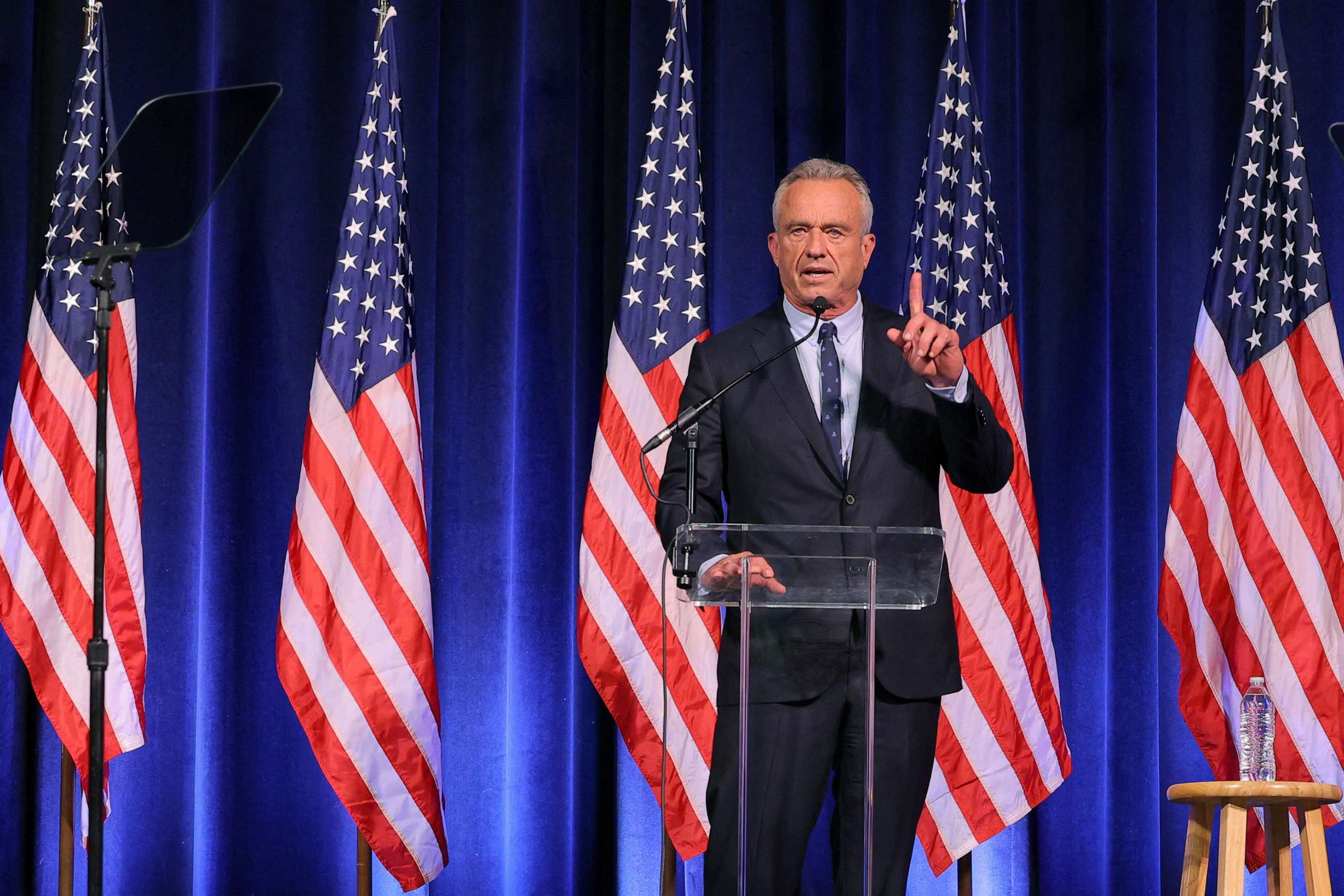 "What I'm trying to do in this race is bring people together, is to try to bridge the divide between Americans," he said during a NewsNation town hall last month.
Kennedy's campaign received just $13,200 from two political action committees: American Values 2024 -- which is backing him -- and Purple Good Government PAC.
The latter, which in 2022 donated $100,000 to a PAC-aligned with Florida Gov. Ron DeSantis, who is now seeking the Republican presidential nomination, has previously received large donations from venture capitalist David Sacks, who held a fundraiser for Kennedy earlier this year.
In an interview with ABC News, American Values Co-Chairman Mark Gorton said that he believes Kennedy can appeal to a broad swath of Americans. (A Kennedy campaign spokesperson did not immediately respond to a request for comment.)
"Bobby, I think he's basically, you know, drawing from people who are … outside the system, or at the very least want to see the system seriously reformed," Gorton said.
According to a spokesperson, American Values has raised $11 million so far from an even split of Republican and Democratic donors.