— -- Former New York City mayor and fierce Donald Trump campaign surrogate Rudy Giuliani has emerged as a contender for secretary of state, a Trump transition team insider told ABC News.
While he has also been under consideration for attorney general, aides told ABC News that he has said he would prefer a position as the nation's top diplomat.
Giuliani has spent most of his career in domestic politics and would be considered an outsider among the foreign service officers who walk the halls of the State Department. But Giuliani's experience as the mayor of New York City during the Sept. 11, 2001, terrorist attacks and his subsequent foray into security politics falls right in line with Trump's most urgent foreign agenda item: combating Islamic extremism and ISIS.
"ISIS, short-term, I believe, is the greatest danger," Giuliani said in an interview with The Wall Street Journal on Monday. "And not because ISIS is in Iraq and in Syria but because ISIS did something al-Qaeda never did — ISIS was able to spread itself around the world."
Defeating ISIS might seem like a job for the Department of Defense, but the top diplomat plays a role in building alliances to defeat terrorist organizations. Secretary of State John Kerry has spent much of the past year meeting with leaders of the many foreign countries with interests in Syria and Iraq, including Arab League nations, European Union members, Russia, Turkey and Iran. Many of those countries have conflicting agendas.
Trump has not revealed his strategy for defeating ISIS on the battlefield, insisting that he doesn't want to tip off the enemy. However, he has said he would be inclined to let Russia and its ally Syrian President Bashar al-Assad lead the fight against ISIS in Syria. That would be a stark contrast from Barack Obama's policy.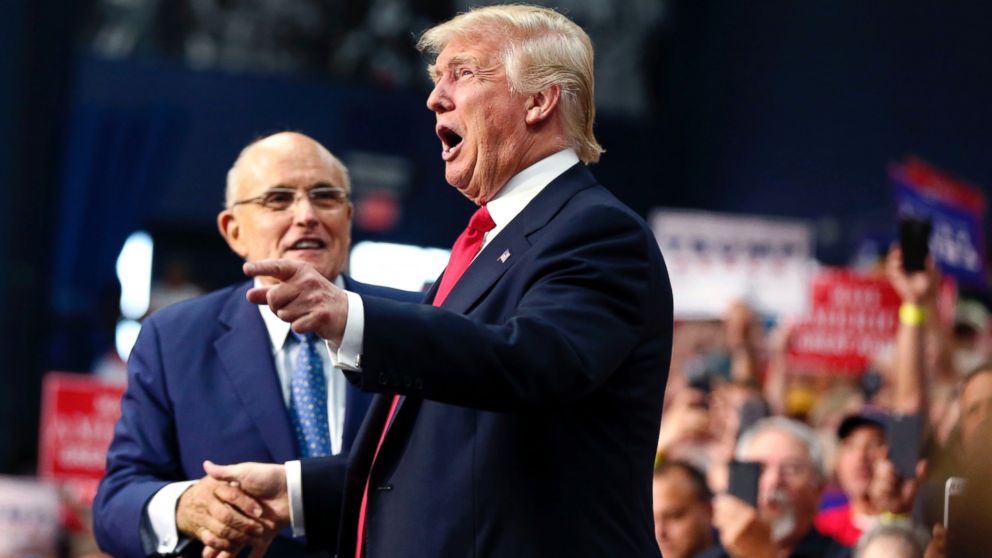 Giuliani also told The Wall Street Journal that while he would be willing to reset relations with Russia and China, a projection of U.S. military force has been missing from the relationship.
"Russia thinks it's a military competitor. It really isn't," Giuliani said. "It's our unwillingness under Obama to even threaten the use of our military that makes Russia so powerful."
A failed attempt to restart relations with Russia worsened with its annexation of Crimea and Russia's bombing campaign in Syria, which often targeted U.S.-backed rebel forces. Trump seems willing to abandon those opposition forces, saying no one really knows who they are.
Giuliani also said Trump could undo the Iran nuclear deal, Kerry's signature policy achievement.
The next president "can disavow it, as a matter of law, like that," Giuliani said, snapping his fingers. In reality, walking away from the deal or renegotiating it with the six nations that signed it would be complicated and time consuming. It is, however, entirely possible to undermine the deal and get Iran to walk away from it, setting up a recipe for a military standoff should Iran continue to pursue a nuclear weapon.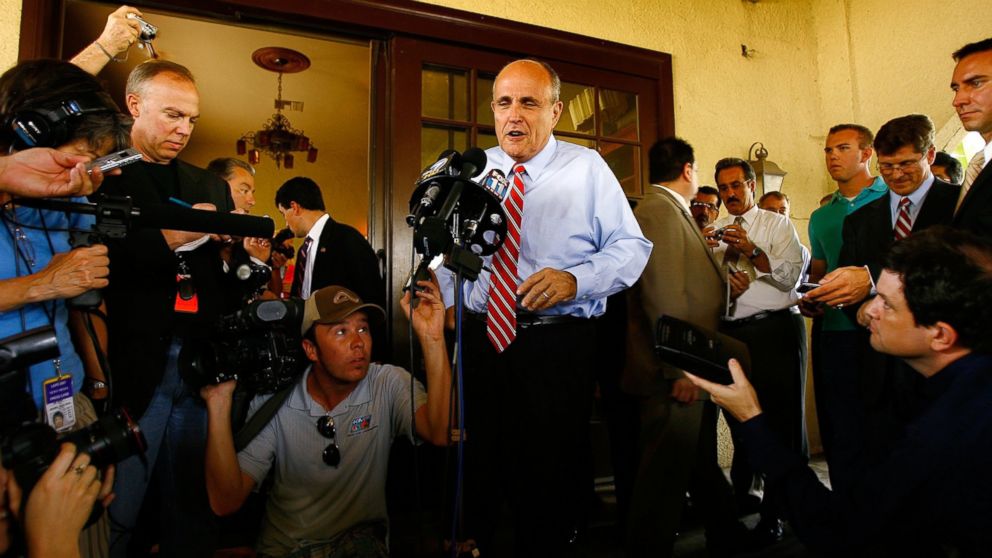 Unqualified?
Not surprisingly, anti-Trump forces are already saying Giuliani is unfit to serve as secretary of state. Correct the Record, a political action committee that supported Hillary Clinton's candidacy, says that Giuliani "has little foreign policy knowledge and almost zero formal diplomatic experience" and that "instead of fighting for American interests, he's spent the past 15 years making money off deadly dictators and sworn enemies of this country."
The website questions some of Giuliani's business dealings with the Mujahadeen-e-Khalq, an anti-Iranian group that was formerly designated a terrorist organization with a complex background and strong lobbying arm in Washington, an oil company owned by Venezuelan dictator Hugo Chavez, a Serbian nationalist party and other organizations.
Early Career
Rudolph William Louis Giuliani (born May 28, 1944, in New York City) graduated from Manhattan College in the Bronx in 1965 before graduating magna cum laude from New York University Law School in 1968.
He stayed in New York to do a clerkship for Judge Lloyd MacMahon, a U.S. district court judge for the Southern District of New York before moving to Washington, D.C., to work for the U.S. Attorney's Office. Giuliani would bounce between New York and D.C. several times — to New York for four years at a private practice, then back to D.C. to launch a political career.
In 1981, Giuliani served as President Ronald Reagan's associate attorney general. Two years later, he was appointed U.S. attorney for the Southern District of New York, where he did his clerkship.
For six years, Giuliani earned a reputation as a tough U.S. attorney fighting drugs, violence and organized crime in the city. He prosecuted a number of high-profile cases, including that of Wall Street trader Ivan Boesky, and indicted 11 heads of organized crime in the Mafia commission trial.
Mayor of New York
Despite a failed run for New York mayor in 1989, Giuliani ran again as the Republican candidate in 1993 and won. He went on to serve two terms and cement his place in the city's history.
Giuliani worked to reform the New York City welfare system by requiring able-bodied people to work or perform community service to receive payments. The welfare-to-work initiative caused welfare rolls to drop more than 50 percent during his eight years in office.
With his appointee Police Commissioner Bill Bratton, Giuliani aggressively tackled the city's crime problem. By the time Giuliani left office, the violent crime rate had fallen 56 percent, according to PolitiFact. Robberies plummeted by 67 percent. Murders fell by nearly two-thirds.
Some critics point to data from the U.S. Justice Department that show New York City crime rates began to drop in the years before his mayoralty, saying the declines were part of a broader trend also seen in Chicago, San Diego, Miami and other cities.
Others have criticized the tactics used to achieve those results — tactics like stop and frisk, which raised concerns about racial profiling but which Giuliani continued to defend as recently as this September.
But Giuliani is best known for his leadership in the aftermath of the attacks against the World Trade Center towers on Sept. 11. He was on the scene minutes after the second plane hit, and he coordinated rescue operations.
"Tomorrow, New York is going to be here, and we are going to rebuild, and we are going to be stronger than we were before," he said in a late-night news conference on the day the towers fell.
His approval rating grew dramatically after the attacks as he worked to restore American confidence, and he became known affectionately by his supporters as America's mayor. But some New York City firefighters and Sept. 11 family members later said they believed Giuliani capitalized on the attacks for political gain.
Giuliani was named Time magazine's 2001 person of the year, with an article titled "Mayor of the World."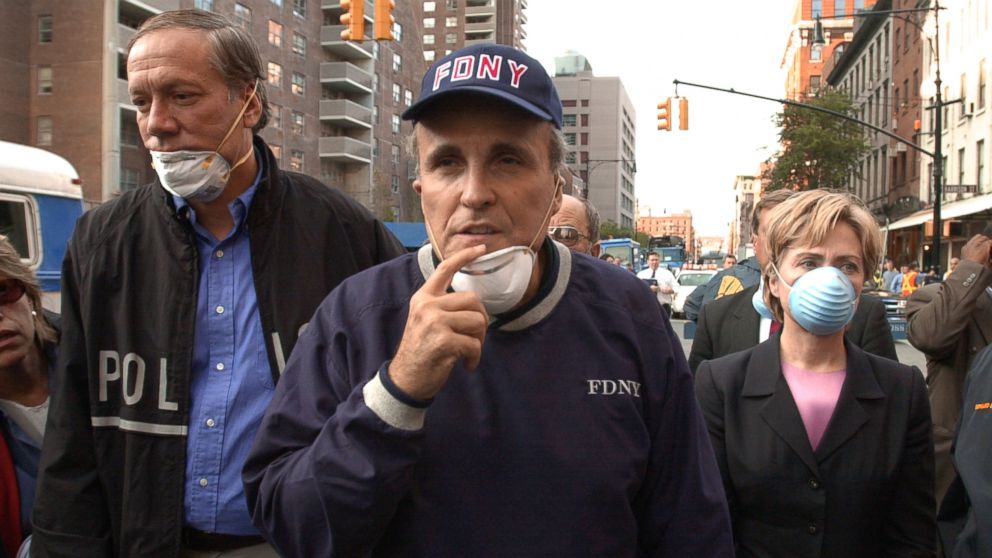 Personal Life
In 2000, Giuliani ran against Hillary Clinton for the U.S. Senate while still serving as mayor. A diagnosis of prostate cancer caused him to withdraw from the race. At the time, his personal life was thrust into the spotlight when his extramarital affair with Judith Nathan became public.
Weeks after he learned of his cancer diagnosis, Giuliani announced he was separating from his second wife, Donna Hanover, with whom he had two children. His first wife, Regina Peruggi, whom he married in 1968, was his second cousin.
Giuliani married Nathan in 2003.