— -- Houston, we have a problem.
That's the message supporters of the Houston Equal Rights Ordinance (HERO) are sending after voters rejected the measure Tuesday by a margin of 61 percent to 39 percent.
The controversial measure would have established nondiscrimination protections for LGBTQ people in the city, among other groups.
"I fear that this will have stained Houston's reputation as a tolerant, welcoming, global city," Houston Mayor Annise Parker said at an election night watch part in downtown Houston. "I absolutely fear that there will be a direct economic backlash as a result of this ordinance going into defeat and that's sad for Houston."
Parker and Houston's city council may now pursue a range of options from "issuing a clear public rhetorical statement about inclusion and accessibility in the city" to "pushing through another ordinance designed similar to HERO," according to Brandon Rottinghaus, a political science professor at the University of Houston.
"We're not going to see issue go away anytime soon because both sides are deeply passionate about it," Rottinghaus told ABC News today. "However, emotions are very high in Houston right now, so we may not see any political action right away."
Houston attorney John LaRue, who ran for the Houston City Council and led a campaign to support HERO, told ABC News today that though supporters were still "in shell shock," there are "rumblings of boycotts" and other next steps.
"The Super Bowl is slated to come in 2017, and there are rumblings of plans to ask the NFL to move and go elsewhere in support of LGBT people and other groups HERO would have protected," LaRue said. "I also talked to some people last night, and we're planning to create a voluntary system and group made of people who, while not obligated by City Hall, will still choose to enforce HERO's protections in their businesses."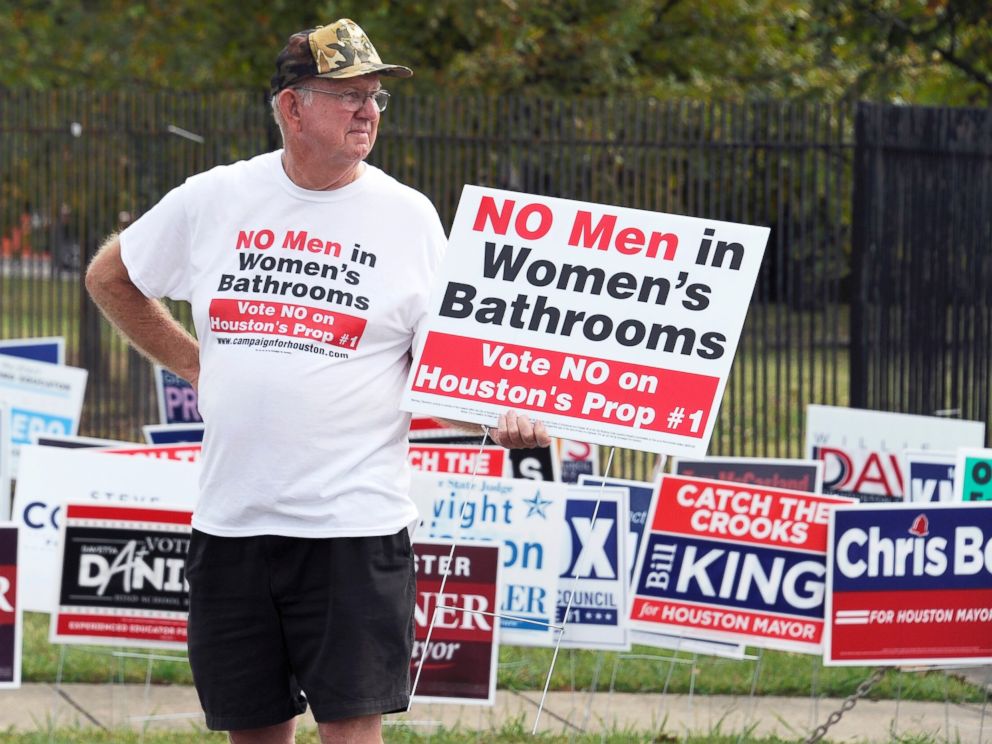 The fight for HERO began last year in May, when a law was first established by the Houston City Council, effectively banning discrimination in housing, employment, public accommodations and city services based on race, religion, age, disability, military status, sexual orientation, gender identity and other characteristics.
Conservative groups, mainly led by religious leaders, launched an effort to force a repeal of the law, mainly through emotional ads under the slogan "No Men in Women's Bathrooms," suggesting that allowing transgender people to use the sex-specific bathroom reflecting their gender identity would allow sexual predators to camp out in women's restrooms.
This past July, the Texas Supreme Court ordered the city to either repeal the law or place it on the ballot.
Anti-HERO activist Jared Woodfill said this is Houstonians' "no" to men in women's bathrooms, Houston Public Media reported.
"This is what the mayor was afraid of," Woodfill said of the ballot referendum. "This is why she tried so hard to keep it from the people, because she knew if the people had an opportunity to exercise their voice on this through their vote, they would overwhelmingly reject it."
Though HERO lost at the ballot box, the fight is far from over, according to supporters and Parker, who is Houston's first openly gay mayor.
"I guarantee that justice in Houston will prevail," she said. "This ordinance, you have not seen the last of. We're united. We will prevail."