— -- In a significant increase to its new military presence in Syria, Russia sent in 24 additional fighter aircraft this past weekend to the airfield in Latakia that U.S. officials say has become a Russian air operations hub in the war-torn country. Meanwhile, the troubled U.S. effort to to train moderate Syrian rebels to fight ISIS continues as a second group of 71 fighters has entered Syria.
U.S. officials said that over the weekend Russia flew in 24 attack aircraft into Latakia, joining four fighter aircraft that arrived last Friday. That initial group of fighter aircraft are now believed to be SU-30 "Flanker" air-to-ground attack aircraft.
Twelve SU-25 "Frogfeet" and 12 SU-24 "Fencer" attack aircraft flew surreptitiously into Syria accompanying the now daily Condor cargo flights arriving in Latakia, according to a U.S. official.
In addition, unarmed Russian drones began flying reconnaissance missions over Syria this weekend.
The flow of additional Russian military equipment continues at the airfield in the Mediterranean city that is located in a stronghold of support for Syrian President Bashar al-Assad.
The number of Mi-17 and Mi-24 attack helicopters has grown to 15, nearly double the number of helicopters at the base last week, the U.S. official said.
Russia now has 36 armored personnel carriers, nine tanks and two air-defense missile systems at the airfield in Latakia, according to U.S. officials. The ground vehicles and helicopters are consistent with the type of equipment that would presumably be needed to defend the new operations hub. It is believed that there are now more than 500 Russian military personnel operating at the airfield.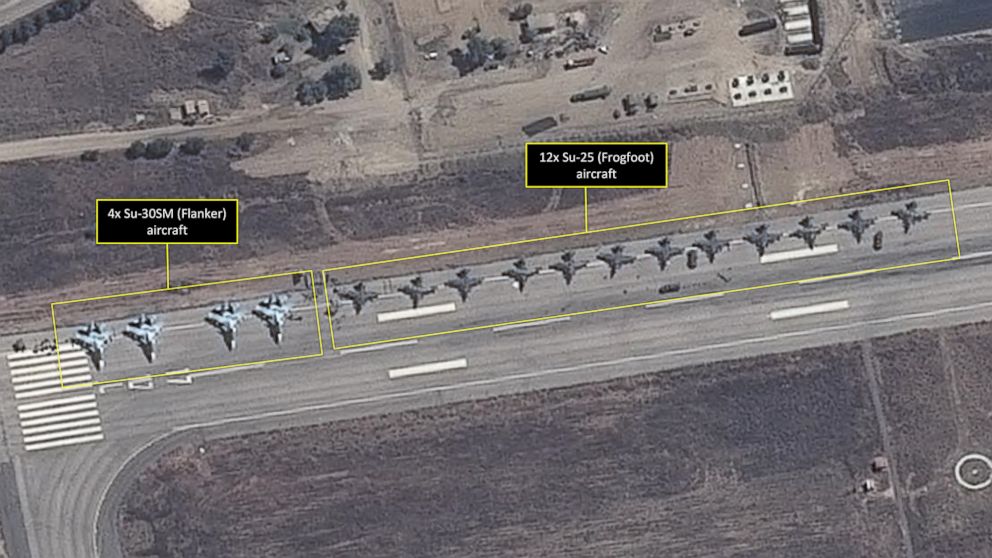 But American officials are still unclear about Russian intentions.
In his first conversation with his Russian counterpart since taking over as defense secretary in February, Ash Carter spoke with Russian Defense Minister Sergei Shoygu last week about the Russian build-up. Shoygu told Carter that the build-up was "defensive" and met prior commitments to Syria, according to a senior Defense Department official.
Both Carter and Shoygu agreed to continue military engagements to defuse any potential misunderstandings with the new Russian presence in Syria. The precise details for maintaining those contacts remain to be worked out, U.S. officials said today.
Meanwhile, a U.S. official confirmed to ABC News that 71 U.S.-trained rebels have been returned into Syria and are attached to their main fighting unit.
They are the second class of rebels to graduate from the U.S. military program to train and equip moderate Syrian rebel forces to fight the militant group ISIS. Last week, Gen. Lloyd Austin, the commander of U.S. Central Command told a congressional panel that "maybe four or five" of the first class of 54 fighters remained in the fight against ISIS.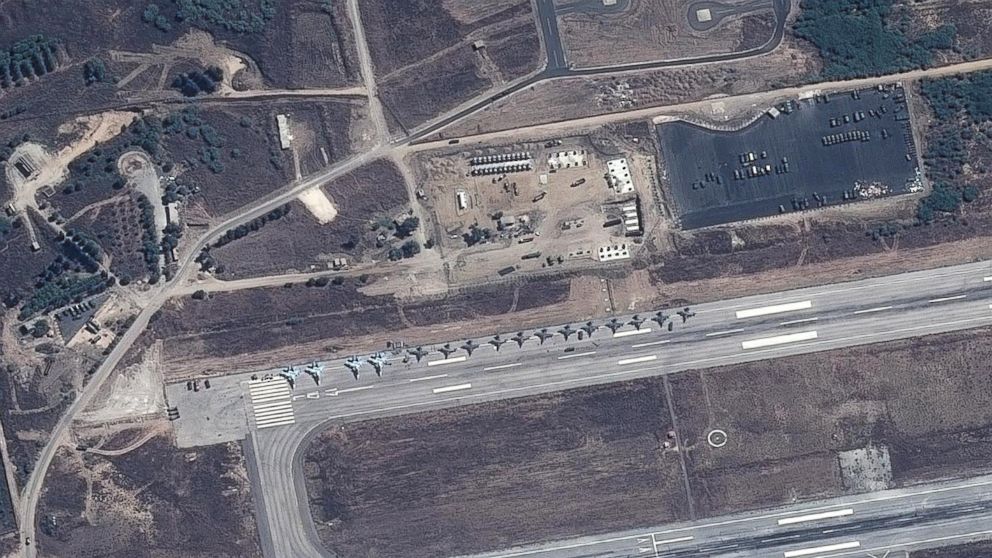 Pentagon officials have blamed a stringent vetting process for potential recruits that has significantly slowed a training program that had once been expected to train 5,400 fighters in its first year.
U.S. officials indicate the program will soon be revamped, with the White House considering options that include embedding fighters with established fighting groups to provide intelligence, command and control and assistance with coalition airstrikes. Original plans called for trained rebels to return to Syria as cohesive fighting units that would build support by defending their home areas against ISIS.
Last week, a senior Pentagon official told Congress there were 100 to 120 Syrian rebels currently receiving training. U.S. officials said those numbers represented the number of fighters in the third and fourth class of trainees and did not include the 71 who had graduated from the second class who have just returned to Syria.
On Friday, Centcom said that since Gen. Austin's comments, an additional four fighters had joined the five that were still fighting ISIS. Including an additional 11 trained fighters stuck in Turkey, Centcom said there were 20 fighters still involved in the program to fight ISIS.