Newly released calendars for one of the most controversial trips of Environmental Protection Agency Administrator Scott Pruitt's tenure were largely blacked out before being shared with ABC News.
The 47-hour journey in Morocco was already drawing congressional scrutiny and criticism from outside groups because of the lack transparency over why Pruitt was in the country and what he was doing while he was there.
In Morocco, he spent at least a portion of his time promoting exports for U.S. energy firms. Conservative congressional estimates put the cost of the trip at more than $40,000, and because of travel snags, Pruitt and his aides spent two days in Paris at high-end hotels.
Pruitt did not publicly announce he was going ahead of time, did not bring reporters along, and when he finally released copies of his itinerary in response to Freedom of Information requests from ABC News and other news organizations, the bulk of the schedule was blacked out.
"The substantial redaction of calendars from his trip to Morocco, in which he apparently spent substantial taxpayer money to work on an issue that could benefit donors and those with ties to him, seems like just the latest example of the inappropriate secrecy he has brought to every aspect of his job.," Noah Bookbinder, the executive director of the nonpartisan watchdog Citizens for Responsible Ethics in Washington, said in a statement.
What is known about Pruitt's trip to Morocco last December comes from a press statement he released as he departed to fly back to D.C. According to the EPA press release, he discussed U.S. environmental priorities and the U.S.-Morocco Free Trade Agreement with Moroccan leaders and, to the surprise of some, promoted benefit of liquid natural gas imports in Morocco.
At the time of the trip, the only U.S. company that exported liquid natural gas was represented by a top Washington lobbyist who arranged $50-a-night housing for Pruitt when he first moved to town. The company, Cheniere, and the lobbyist, Steven Hart, both told ABC News they did not ask Pruitt to promote the exports in Morocco.
A spokesman for Hart told ABC News that he did not lobby the EPA in 2017, but federal lobbying records show that he was registered as a lobbyist for Cheniere at the time Pruitt lived in the condo co-owned by his wife, also a prominent DC lobbyist.
The EPA's inspector general is looking into Pruitt's travel as part of its audit of whether all the agency's travel decisions followed the proper procedure. That inquiry was expanded to include the Morocco trip after a letter from Sen. Tom Carper, D-Del., the ranking member of the Senate committee with oversight of EPA, expressed concern about the cost. Pruitt's first-class flight alone cost $17,000 and at least one of his aides and members of his security detail also flew first class.
Most agency heads are authorized to travel first class on trans Atlantic flights, but the cost of the trip concerned members of Congress who were already looking at his high domestic and international travel costs.
The time Pruitt spent discussing Liquid Natural Gas raised the most questions about the trip.
Carper specifically noted that gas exports are not part of EPA's mission.
Sen. Sheldon Whitehouse, D-R.I., also wrote to Pruitt directly about the trip earlier this month. Whitehouse voiced concern that Pruitt's decision to visit Morocco was influenced by companies and lobbying groups that have business interests in natural gas exports.
"For a trip The Washington Post estimated cost $17,000 for you, and that included at least 10 EPA staff, your official business consisted of one full working day, and two days each with one, one-hour meeting," Whitehouse wrote in the letter.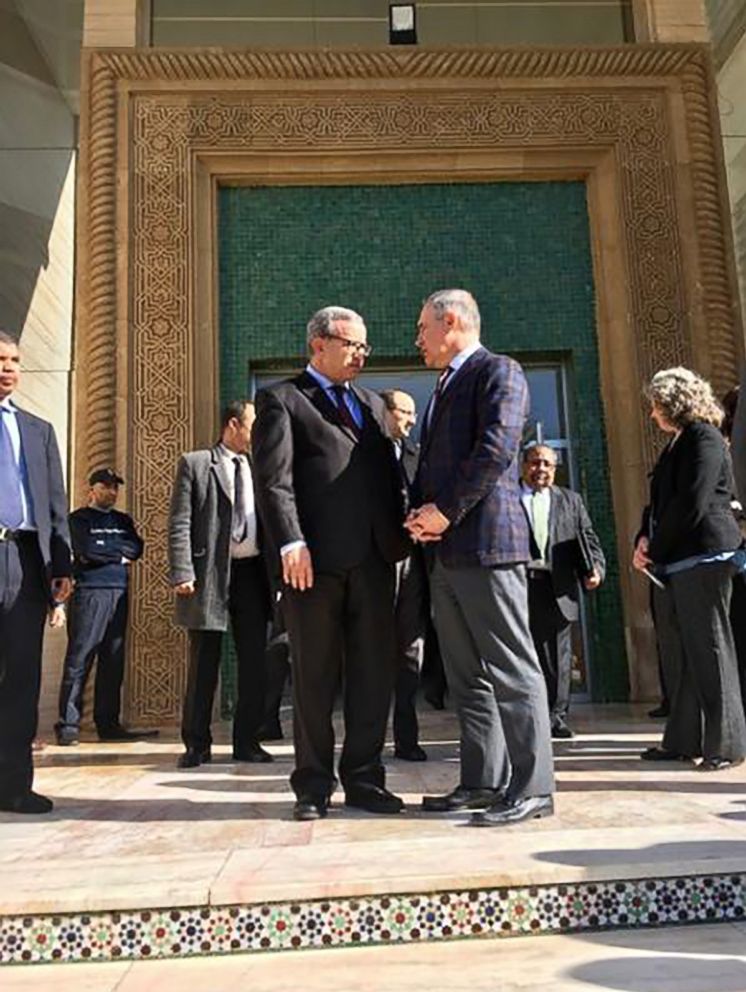 Multiple Democrats have asked the EPA to provide information on the trip, including members of committees with oversight of EPA. Spokespeople for one of the representatives who have written and ranking member on the Senate Environment and Public Works Committee Sen. Tom Carper, D-Del., said they have not received any response from the agency.
A copy of Pruitt's schedule during the trip obtained by ABC News through a Freedom of Information Act request confirms that Pruitt met with Moroccan government officials on environmental matters, toured a green energy facility and met with the chairman of Morocco's state-owned mining company, all meetings that were also listed on his public schedule.
But four pages of the of the six-page schedule are redacted in the publicly released documents. Other than Pruitt's meeting with the Moroccan Agency for Sustainable Energy CEO Mustapha Bakkoury on December 11, no other events from that day are identified. A large block of the schedule is redacted citing the "deliberative process privilege" allowed under the Freedom of Information Act.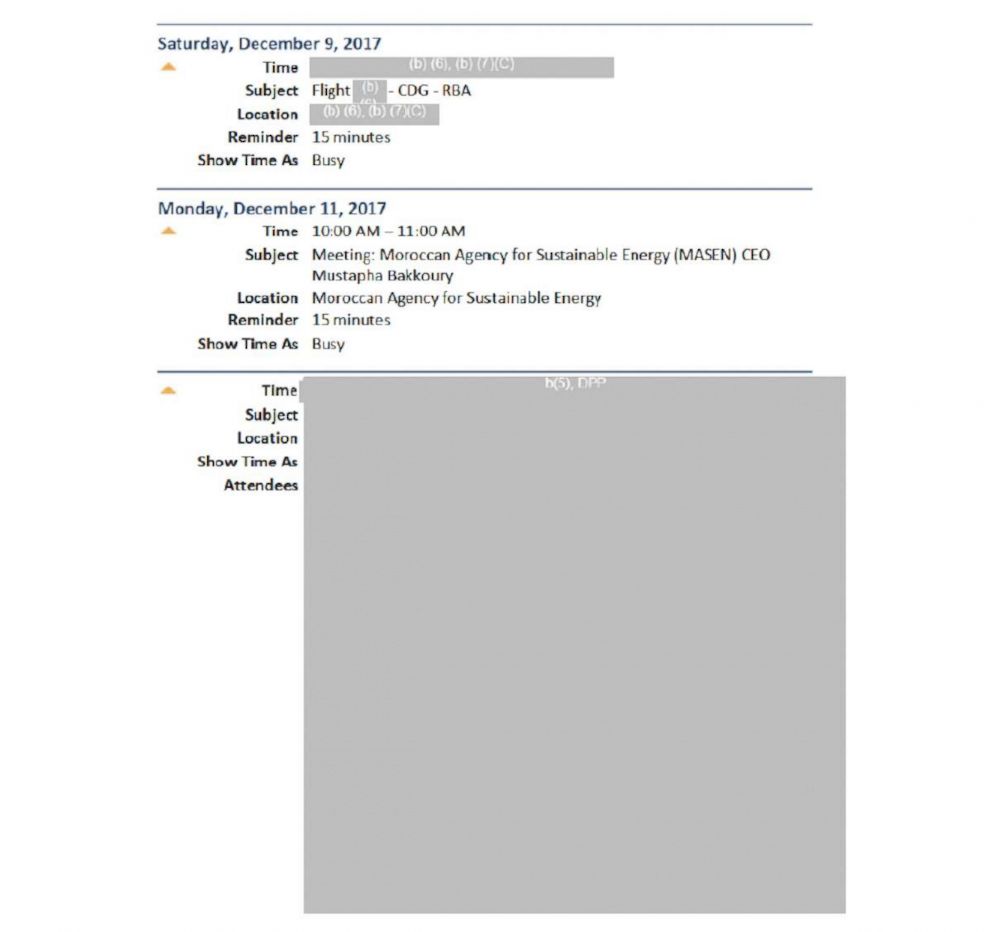 Typically, that's an exception used to avoid releasing the details of internal policy discussions before they are finalized, so as to prevent confusing the public, according to the Reporters Committee for the Freedom of the Press website.
The EPA cites the exemption repeatedly to justify deletions throughout the 350 pages of schedules the EPA released this week, including his activities on New Year's Day.
Whitehouse wrote in a letter earlier this month that he has reviewed copies of Pruitt's schedule that show he traveled with his family to the Rose Bowl and Disneyland during that time.
Adam Marshall, an attorney with the Reporters Committee for the Freedom of the Press, said the use of the Deliberative Process Privilege is problematic in this case because previous court cases have said it can't be used to redact purely factual information like the date, time, or who attended a meeting.
Marshall called it the "withhold it because you want to" exemption because agencies routinely overuse it.
"We know from past experiences that [the exemption is] used to withhold embarrassing and politically inconvenient information from the public," he said in an interview with ABC News.
Bookbinder said EPA has for months, systematically withheld records about Pruitt's meetings and work at the agency that are necessary for basic oversight. Multiple news organizations and watchdog groups have sued EPA for documents related to Pruitt's schedule, which the EPA refuses to release in advance of his events citing security reasons.
Marshall also said that agencies should proactively release calendars and other documents that they know reporters and members of the public will be interested in.
"I think the public interest in agency heads in general and the EPA, in particular, is enormous. It's obvious that there's an incredible amount of desire for this information and the agencies in general and EPA, in particular, should be proactively releasing this information," he said.
The EPA has not yet responded to questions about redactions in his calendar.