White House Press Secretary Sean Spicer Says 'Our Intention Is Never to Lie'
Comes two days after he blasted the media's reporting on inauguration crowds.
January 23, 2017, 3:16 PM
— -- White House press secretary Sean Spicer said Monday that he believes that his job is to be honest with the public but said "sometimes we can disagree with the facts but our intention is never to lie."
"There are certain things that we may — we may not fully understand when we come out, but our intention is never to lie to you," he added.
Monday's news conference is the first time Spicer took reporters' questions since the inauguration Friday. On Saturday he appeared in the briefing room and read a statement to the press but did not take any questions afterward.
Spicer Again Addresses Media's Coverage of Inauguration Crowds
On Monday, Spicer defended Saturday's statement when he said "this was the largest audience to ever witness an inauguration — period — both in person and around the globe," citing audiences who watched the inauguration online and through streaming services, even though those audience numbers have not been confirmed.
When asked by ABC News' Jonathan Karl about whether Trump's inauguration had a larger audience than those of President Ronald Reagan's, Spicer said, "I'm pretty sure that Reagan didn't have YouTube, Facebook or the internet."
In Saturday's statement, Spicer also said "some members of the media were engaged in deliberately false reporting," citing the use of photos from the inauguration on Friday that he said were "intentionally framed in a way ... to minimize the enormous support that had gathered on the National Mall."
On Monday, Spicer defended his decision not to take any questions after making his statement on Saturday.
"Look, I came out to read a statement. I did it. We're here today. I'm going to stay as long as you want," Spicer said.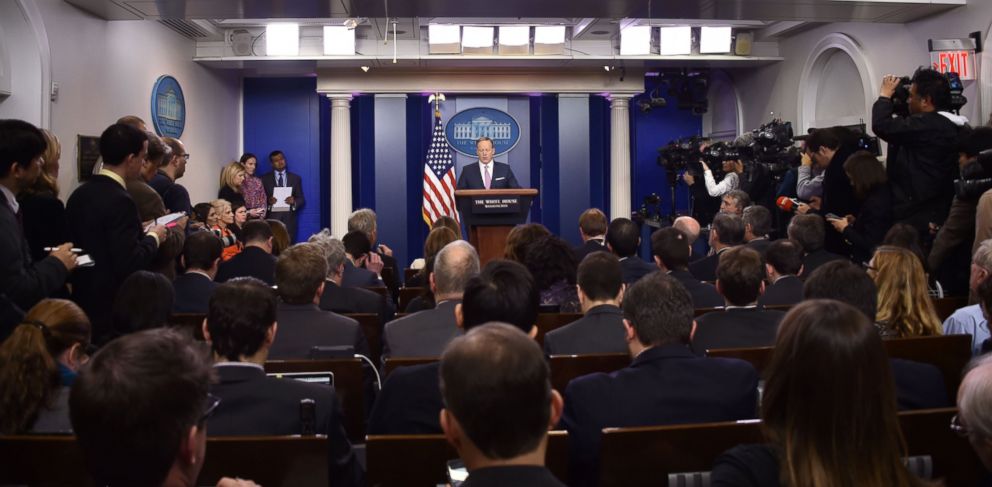 He also said that the numbers that he released on Saturday about Washington Metropolitan Area Transit Authority ridership, which differed from the accurate figures that were released by WMATA later that day, were provided to him by the Presidential Inaugural Committee.
"At the time the information that I was provided by the Inaugural Committee came from an outside agency that we reported on. And I think, knowing what we know now, we can tell that WMATA's numbers are different, but we were trying to provide numbers we had been provided. That wasn't like we made them up out of thin air," he said.
Spicer Complains About Tone of News Coverage
Spicer said that it has been "demoralizing" to see the "constant theme" of news coverage taking what he perceives as a negative tone against Trump during the inauguration and the campaign.
"Over and over again, there's this constant attempt to undermine his credibility and the movement that he represents. It's frustrating for not just him but for so many of us trying to work to get this message out," he said.
"I will tell you it's not about crowd size ... There is this constant theme to undercut the enormous support that he has. It's unbelievably frustrating when you are continually told it isn't big enough, not good enough, you can't win," he continued.
Spicer: Trump Has Severed Ties to His Companies, but Documents Are Not Public
At first, Spicer said, "I believe we have" released documents showing that Trump has removed himself from his businesses, but the White House's director of strategic communications, Hope Hicks, who was off to the side at the front of the room, quickly corrected him and said, "They're not public at this time."
"He [Trump] has resigned from the company, as he said he would before he took office. Don and Eric [the president's sons] are fully in charge of the company. He has taken extraordinary steps to ensure that that's happened," Spicer said.
Spicer Gives Rundown of Day's Business
Spicer said that the three memorandums that Trump signed this morning were the last the president would isse today, even though Trump previously listed more issues that would be addressed on the first working day of the administration.
"I think part of it is making sure we don't spend an entire day signing executive orders. I think part of it is doing it in a way that doesn't jam them out in a firehose, ensuring that we sequence these that gives the issue the proper attention they deserve," he said.
Earlier in the news conference, Spicer ran through Trump's discussions this morning, which included a meeting with business leaders, lunch with Vice President Mike Pence and a call with Egyptian President Abdel-Fattah el-Sissi.
He criticized Democrats, saying they were holding up Trump's "unquestionably qualified" candidates who need Senate confirmation.
Asked about when the White House's Spanish site would be reinstated, and Spicer said, "We've got the IT guys working overtime."
"We're working piece by piece to get that done," he said.