Sen. Chris Coons, a close ally of Joe Biden, on Sunday insisted there was a key difference between the current president and former President Donald Trump's handling of classified documents while out of office.
"I have some confidence that, because he is fully cooperating, we will get to the bottom of this," Coons told ABC "This Week" co-anchor Martha Raddatz of Biden, in "sharp contrast" with Biden's predecessor, whom the government suspects was less forthcoming in returning classified records.
On Saturday, Biden's personal attorney said the Department of Justice had searched his Wilmington, Delaware, home the day before and found six items consisting of documents with classification markings, some from his time in the Senate in addition to his tenure as vice president.
The search was voluntary, according to federal authorities, and Biden's attorney stressed his cooperation.
"There is one important document that distinguishes former President Trump from President Biden: That's a warrant," Coons, D-Del., said on "This Week."
He was pressed by Raddatz over the latest developments and potential political consequences surrounding the discovery of multiple batches of documents with classified markings at an old office Biden used in Washington D.C. and at his Wilmington residence. This all unfolding just months after the Department of Justice separately recovered -- via a court-authorized FBI search -- a trove of classified materials from Trump's Mar-a-Lago resort.
Coons contended that the controversy wasn't "keeping Americans up at night," but Raddatz pointed to a new ABC News/Ipsos poll showing 64% of people say Biden acted inappropriately in his handling of classified materials.
"You don't think there will be any political fallout from this? You don't think Americans look at this and say, 'Look, they both had classified documents?'" Raddatz asked.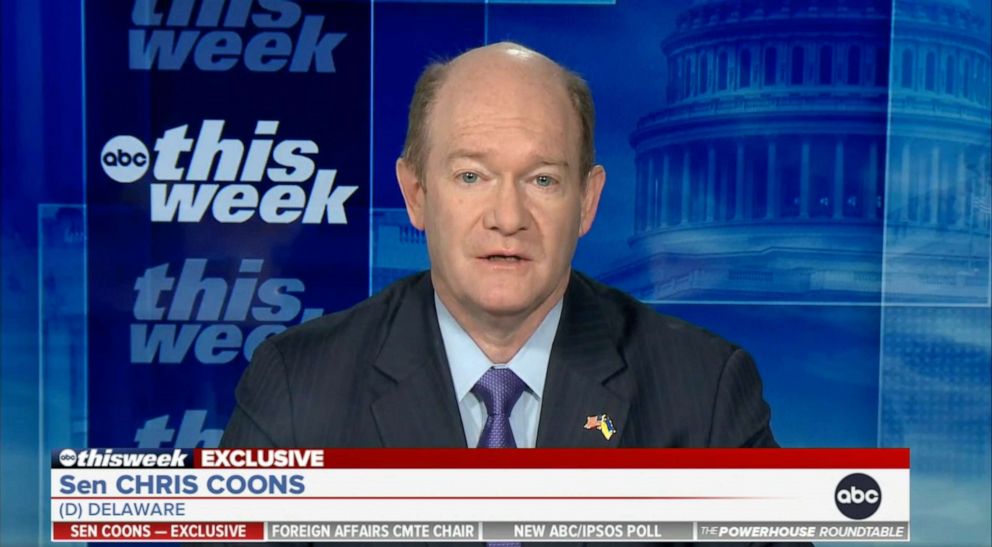 "I think the fallout is right now," Coons said. "We're talking about this, instead of President Biden's leadership on confronting Russian aggression in Ukraine or talking about something I do think is on people's minds -- the potential of a debt ceiling fight and a default."
"At a time when our president has done such a strong job, where we've got the wind at our back because of the big pieces of legislation that he just signed into law in the last few months, the fact that this will take up time and be a distraction -- yes, that has a political impact," Coons said.
But, he said, he didn't think the controversy would become crucial for voters: "I do not think, in the end, Martha, that when we get to the next election, this will be the deciding issue."
A first set of classified documents from Biden's time as vice president was discovered at his old office by his personal attorneys just ahead of the 2022 midterm elections, though the discovery wasn't revealed to the public until news reports in early January.
Biden's attorneys have since said that more documents were found at his Wilmington residence in December and in January. On Jan. 12, Attorney General Merrick Garland announced he was naming a special counsel to handle the investigation.
On "This Week," Raddatz repeatedly asked Coons on if he thought Biden had made a "mistake" in not publicly disclosing the matter before reporters did.
"I think we'll let the public decide that and I think once we get to the end of the special counsel's investigation, the American people will have a chance to make a judgment on that question," Coons replied.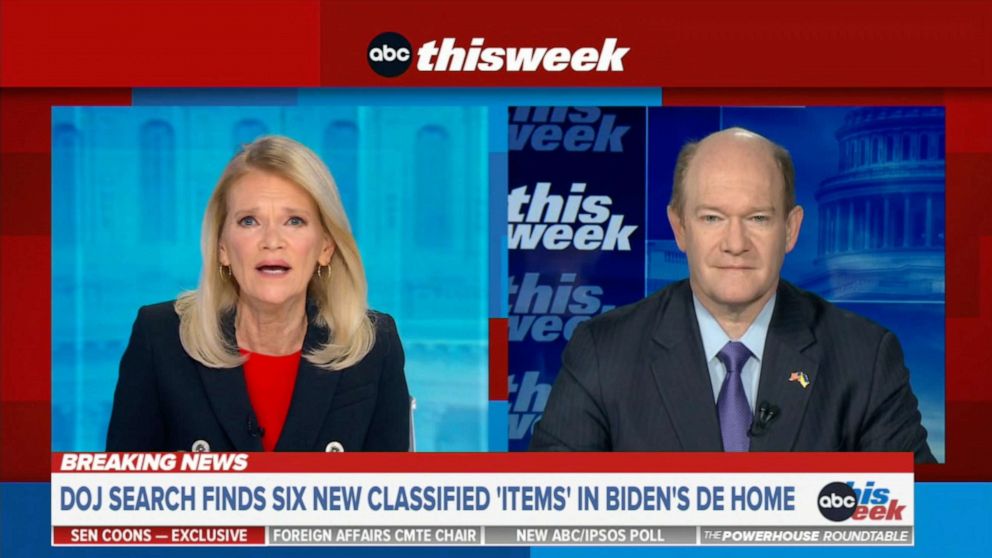 While it remains unclear how the documents ended up at Biden's office or his home in the years while he was out of office, Coons said Biden "had no idea. ... I do think this was inadvertent. The whole point of having special counsel is to insure that and to give the American people confidence."
Rep. Michael McCaul, R-Texas, took another view in his own "This Week" appearance. He said there were "a lot of unanswered questions" and criticized what he called a lack of transparency: "This broke a week before the midterm elections and they swept [it] under the rug."
McCaul said the FBI search was "significant" and called both Biden and Trump "guilty of the same sin" in improperly retaining classified materials.
"Why are they taking these documents home? I don't understand. I've lived in a classified world for a long time," he said.
Coons, a Senate Foreign Relations Committee member who led the American congressional delegation in Davos, Switzerland, last week during the World Economic Forum, was also asked by Raddatz about the future of U.S. military aid for Ukraine to defend against Russia's invasion. In Davos, German Chancellor Olaf Scholz reportedly told Coons and others that Germany would only send its advanced Leopard 2 battle tanks along with the U.S. sending M1 Abrams vehicles.
"I am concerned that Russia is re-arming and preparing for a spring offensive. If it requires our sending some Abrams tanks in order to unlock getting the Leopard tanks from Germany, from Poland, from other allies, I would support that," Coons said on "This Week."