Sen. Tammy Duckworth becomes first sitting senator to give birth while in office
The Illinois Democrat gave birth to a baby girl Monday.
Sen. Tammy Duckworth has added a new "first" to her resume.
The Democratic senator from Illinois became the first sitting senator to give birth while in office. She announced the happy news on Twitter today. This is her second child.
"Bryan, Abigail and I couldn't be happier to welcome little Maile Pearl as the newest addition to our family and we're deeply honored that our good friend Senator Akaka was able to bless her name for us—his help in naming both of our daughters means he will always be with us," Duckworth wrote on Twitter.
"Pearl Bowlsbey Johnson was Bryan's great Aunt, an Army Officer & a nurse who served during the Second World War. He spent many summer months with her while growing up, we feel her presence still and are grateful for her service to our nation during the most challenging of times," she wrote in another post.
She went on, "We're also so grateful for the love and support of our friends and family, as well as our wonderful medical teams for everything they've done to help us in our decades-long journey to complete our family."
While Duckworth, 50, is the first senator to give birth while holding that title, this isn't her first time doing so while serving in public office. She gave birth to her first daughter, Abigail, in 2014 when she was a congresswoman.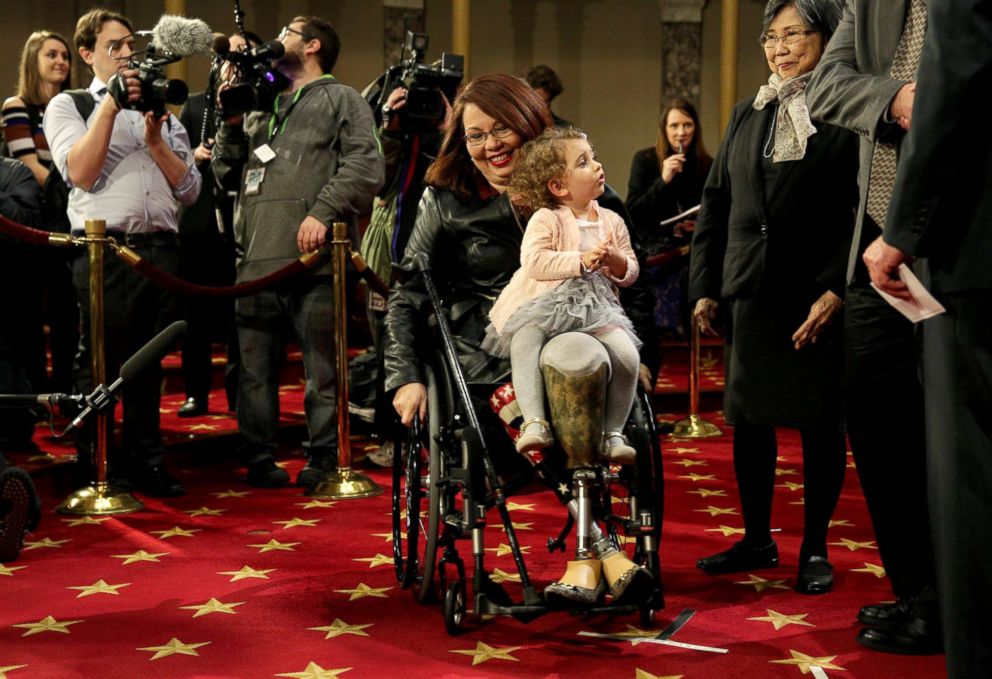 Duckworth used her daughter's birth Monday to make a political statement.
"Parenthood isn't just a women's issue, it's an economic issue and one that affects all parents—men and women alike," Duckworth said. "As tough as juggling the demands of motherhood and being a Senator can be, I'm hardly alone or unique as a working parent, and my children only make me more committed to doing my job and standing up for hardworking families everywhere."
A combat veteran of the Iraq war, who lost both legs in 2004 when the Black Hawk helicopter she was piloting was struck by a rocket-propelled grenade, Duckworth has served in the Senate since January 2017.