Senate Republicans unveil latest counteroffer to Biden on infrastructure spending
They want to spend $928 billion, still far short of Biden's $1.7 trillion plan.
A group of Senate Republicans on Thursday announced a $928 billion counteroffer to President Joe Biden's plan on infrastructure spending, the latest attempt to make progress toward a bipartisan compromise just days before the president's informal Memorial Day deadline.
Biden said he would meet again with the Republicans next week but said "we have to finish this very soon."
The offer presented by Republicans Thursday nearly doubles their initial $568 billion framework unveiled in April, but it still leaves the Republicans hundreds of billions of dollars short of Biden's most recent pitch. The package includes $506 billion for roads, bridges and major projects, $98 billion for public transit, $46 billion for freight rail, and funding for ports, airports, water storage, broadband, and infrastructure financing.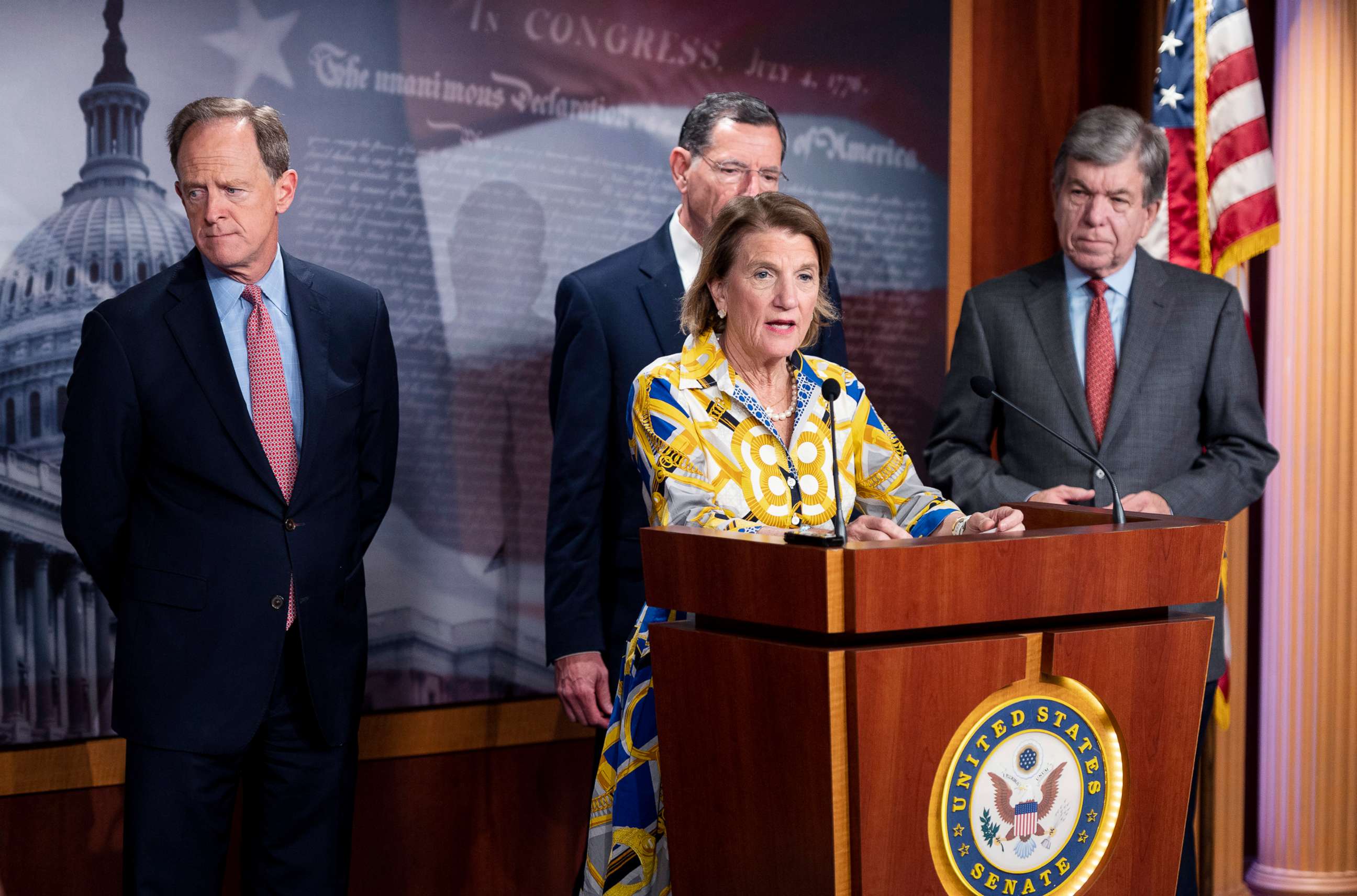 Sen. Shelley Moore Capito, R-W.Va., leading the group of GOP senators working on the counteroffer, announced their proposal on Capitol Hill Thursday morning, casting the Republican proposal as "a serious effort to try to reach a bipartisan agreement."
She said their counteroffer delivers on Biden's priorities, reaching near $1 trillion in spending over an eight-year period.
"We have achieved that goal with this counteroffer, but we've also, I think, done something that has stayed true to what our beliefs are, when we very first started this endeavor and that is sticking to the core, physical infrastructure," Capito said.
Republicans have argued Biden's plan includes spending outside physical infrastructure to include what the White House calls "human infrastructure" items like job training, home care and child care. Republicans have been clear from the onset that they don't support such items being included in an infrastructure package and have advanced multiple proposals that target items more traditionally considered infrastructure like roads, bridges and waterways.
"We have stayed within the boundaries of our original plan. I think that's what the American people think of when they think of infrastructure and that's certainly what we do, too," she said.
"We believe that the alternative, which is a partisan reconciliation process, would be destructive to our future bipartisan attempts, but also doesn't serve the American public," she added.
As he left the White House for a trip to Cleveland, Biden told reporters he would meet again with the Republican negotiators.
"I haven't had a chance yet to go over the detail of the counter-offer made by Capito. We're gonna meet sometime next week, and we'll see if we can move that. And I'll have more to say about that at the time," Biden said.
"I had a good conversation, very brief, but a good conversation with Capito, senator. And I told her we would, she's gonna contact me next week. I told her we have to finish this very soon. And there's another Republican group that also wants to talk. And -- but we're gonna have to close this down," Biden said.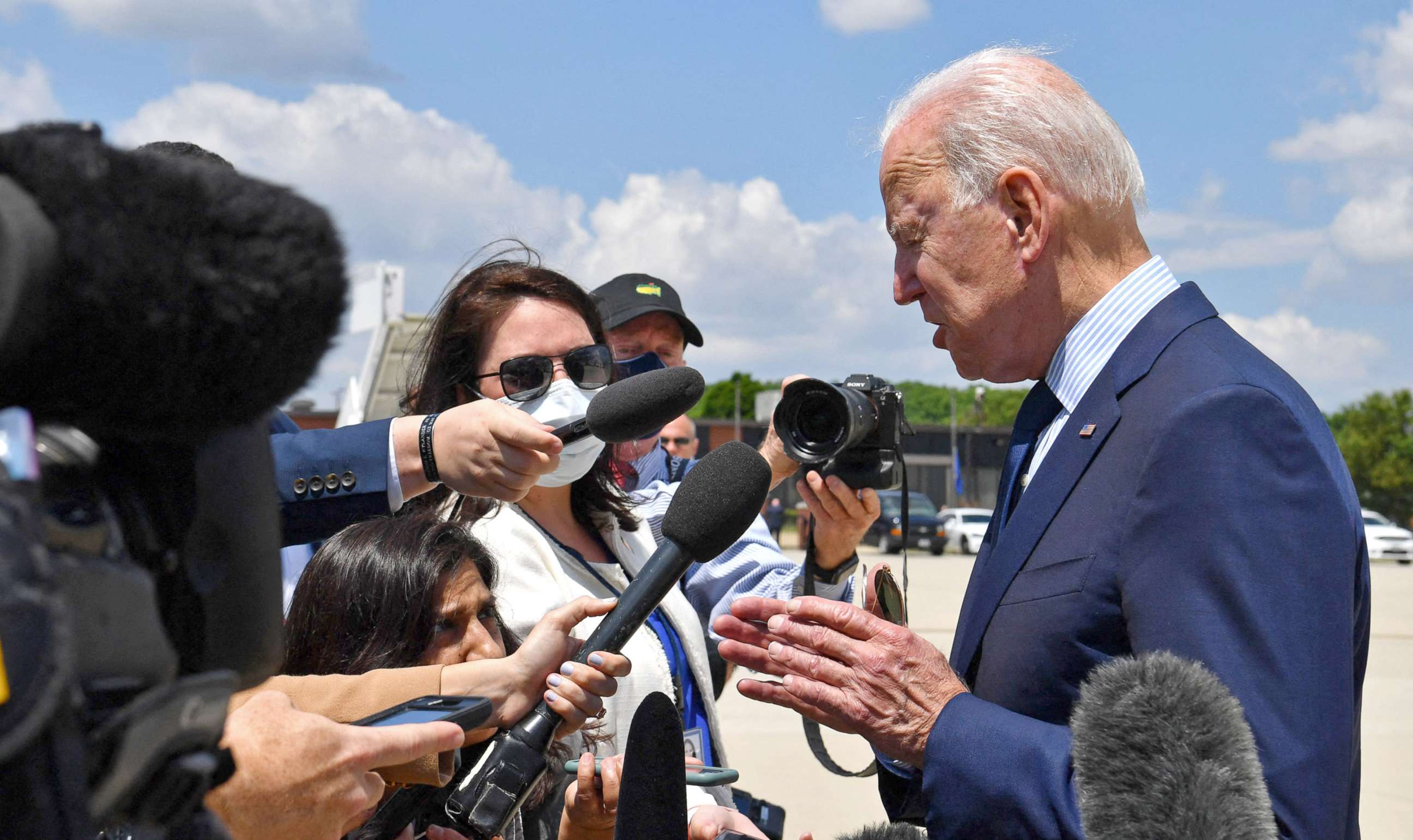 Shortly after the president's remarks, White House press secretary Jen Psaki issued a statement, saying the White House was "grateful" for their work, and that it was "encouraging" to see them increase their funding substantially with the proposal just under $1 trillion.
But Psaki made it clear there were still areas of disagreements that exist between the groups as they await more details from Capito's group later Thursday -- particularly how to pay for it, making it clear they are not keen on using COVID funds to help pay for infrastructure.
"[W]e remain concerned that their plan still provides no substantial new funds for critical job-creating needs, such as fixing our veterans' hospitals, building modern rail systems, repairing our transit systems, removing dangerous lead pipes, and powering America's leadership in a job-creating clean energy economy, among other things," she said. "Lastly, we are concerned that the proposal on how to pay for the plan remains unclear: we are worried that major cuts in COVID relief funds could imperil pending aid to small businesses, restaurants and rural hospitals using this money to get back on their feet after the crush of the pandemic."
Infrastructure talks stalled Friday after Republicans flatly rejected a $1.7 trillion offer from the White House, a pared-down version of Biden's American Jobs Plan, initially valued at $2.2 trillion. Republicans opposed the overall price of the White House package, but also rejected the proposed White House funding mechanism.
While the GOP offer is higher now than ever before, the overall figure takes into account billions already approved in a water infrastructure bill earlier this year, and considers a not-yet-passed bipartisan highway spending reauthorization worth over $300 billion as the "anchor" of their package.
Negotiators have sparred for weeks over how to fund the massive package, with Republicans refusing tax hikes on corporations, which they say as a referendum on the 2017 tax bill, and Democrats refusing to consider using user fees, such as tolls or a gas tax, to pay for the package.
The new GOP offer looks to side-step one of the most persistent sticking points drawn out in previous negotiations by proposing that, instead of altering corporate taxes or charging citizens user fees, the federal government repurpose already allocated but unspent funds from previous COVID-19 relief bills.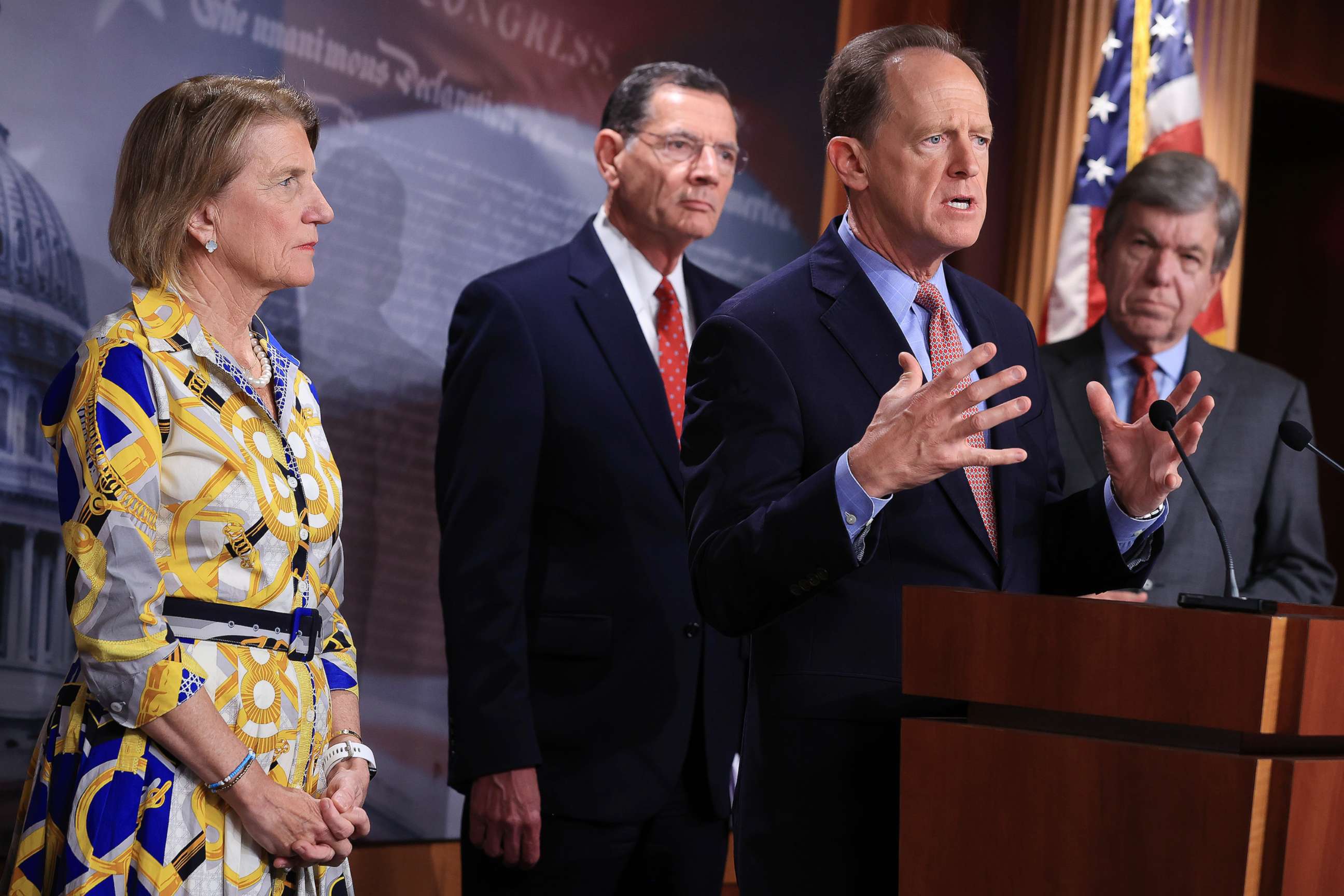 Republicans argue that billions of dollars remain on the table from these bills to be spent on infrastructure.
"We believe that repurposing these bills needs to be a really important part of how we fill this gap," Sen. Pat Toomey, R-Penn., who has been a part of the negotiations, said Thursday.
While the new Republican proposition doesn't cross either party's red line, White House principal deputy press secretary Karine Jean-Pierre called into question the feasibility of such a funding mechanism on Wednesday.
"We should also be clear that there are simply not hundreds of billions of dollars in COVID relief funds available to repurpose," she said.
But Toomey said Thursday that the White House needs to prove the funds aren't available.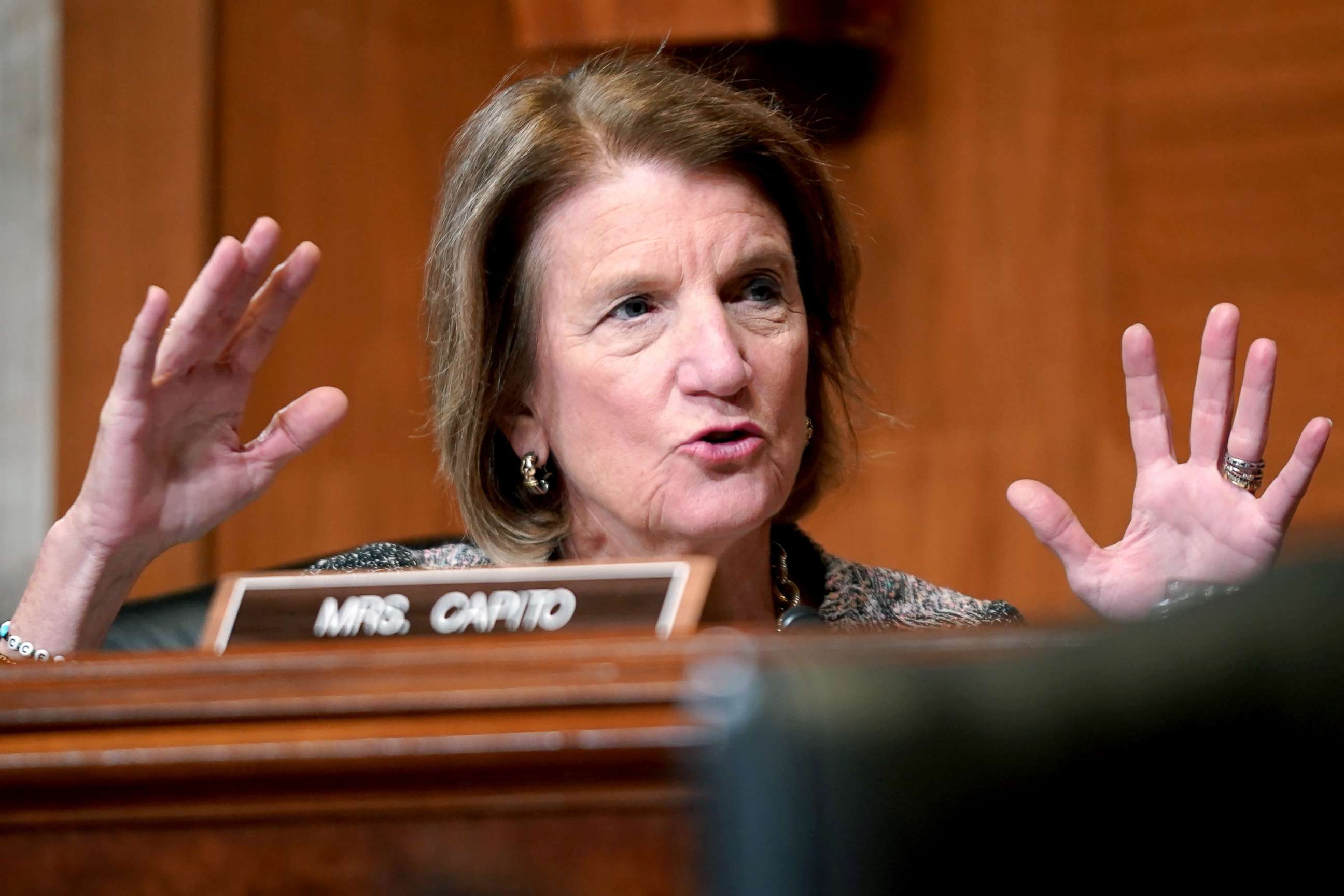 "If the White House is saying that that money has been spent then they need to show us that, we have not seen the numbers to suggest that," Toomey said Thursday. "We do believe that this money is available and if they've got a different theory, they need to show us the numbers.
Sen. Roy Blunt, R-Mo., said Thursday that Biden told the Republicans in an Oval Office meeting that if human infrastructure elements of the plan were stripped from the package, he'd attempt a go-it-alone approach.
"The president was very upfront in our meeting with him you know if we divide this up he said, 'I'll try to get the rest of it some other way' and we totally understand that," Blunt said. "As a matter of fact, we don't mind debating things in the other bill and seeing if that's what the American people want to do but lets not do it under the guise of infrastructure."
Blunt also sent a warning to Democratic leadership.
"My concerns are with Nancy Pelosi and Chuck Schumer, and what is basically socialism, camouflaged as infrastructure," he said, telling Democrats not to propose a tax increase. "They're not going to have even a single Republican support for that approach."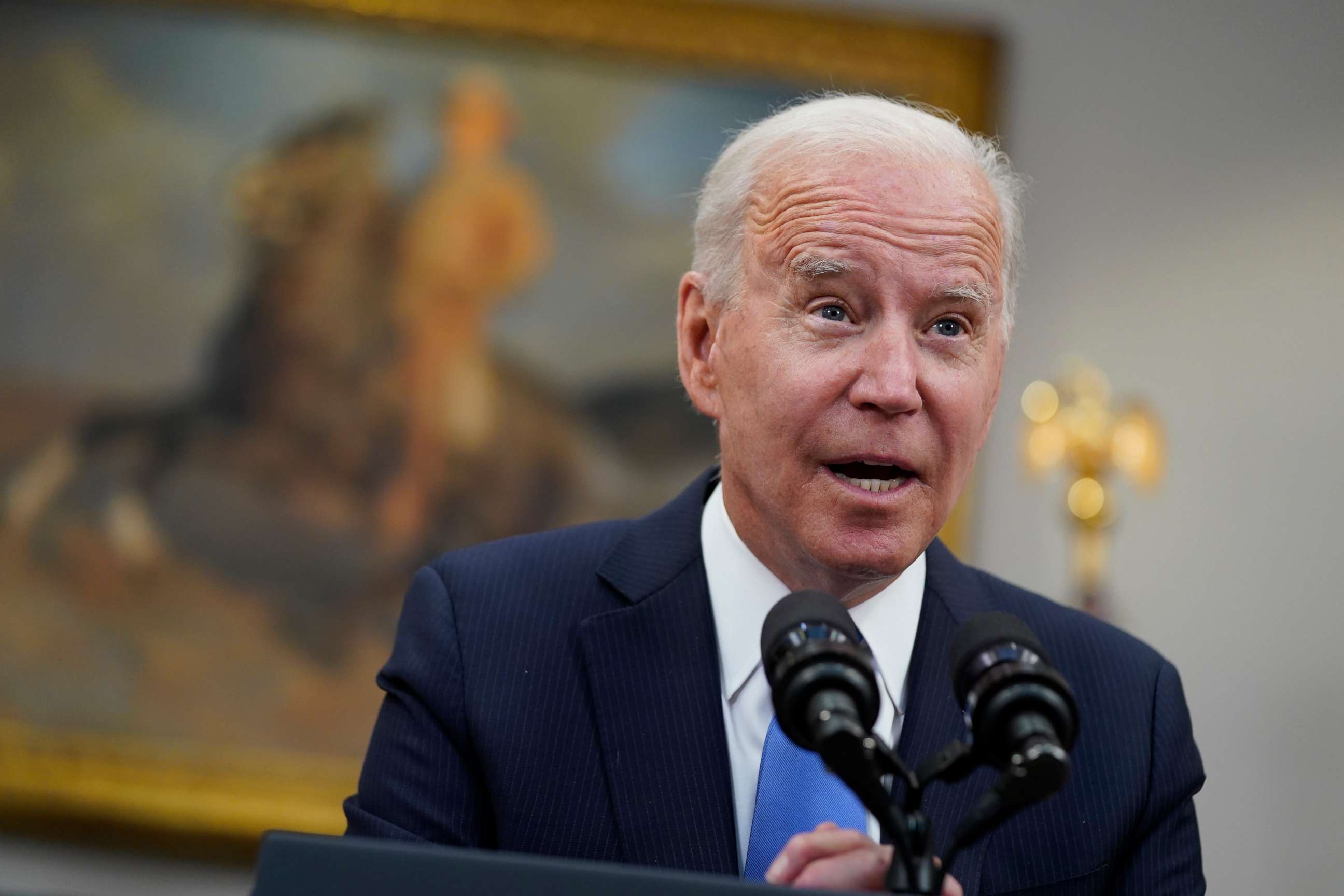 While the GOP offer is higher now than ever, the overall figure takes into account billions already approved in a water infrastructure bill earlier this year, and considers a not-yet-passed bipartisan highway spending reauthorization worth over $300 billion as the "anchor" of their package.
In total, the GOP offer proposes about $250 billion in new spending.
The Thursday offer comes in just under Biden's deadline for "significant progress" on a bipartisan infrastructure compromise by Memorial Day and the Senate goes into recess.
The ball is now back in the White House's court, and it's unclear whether the offer will spark continued bipartisan talks or serve as a dead-end on negotiations.
At the White House Wednesday, Jean-Pierre told ABC News Senior White House Correspondent Mary Bruce that the White House would chart a path forward only after receiving the GOP offer.
"This is a process. We understand that this is a town that hasn't seen a whole lot of bipartisanship over the last few years, the last four years to be exact, but this President is committed to trying to end that, which is why you have seen us continue to negotiate in good faith," Jean-Pierre said.
ABC News' Molly Nagle contributed to this report.