'Significant number' of US crew still stuck on cruise ships, State Dept. says
"As an American citizen I should have the freedom to go home," an employee said.
Twenty-seven-year-old Matthew Gordon is a performer on Holland America's Volendam, whose passengers have disembarked, but where he remains stuck.
Gordon is one of a "fairly significant number of U.S. citizen crew members" still stranded on cruise ships around the world, Ian Brownlee, the head of the State Department's repatriation task force, told ABC News on Thursday.
Due to restrictions amid the COVID-19 pandemic local governments "are simply refusing to allow the ships to come in and dock," Brownlee said.
The Volendam is currently off the coast of the Bahamas, and Gordon said the captain told employees this week it is likely the crew will be on board for up to another month.
"As an American citizen, I should have the freedom to go home and spend this quarantine in my own home," Gordon told ABC News.
Despite the State Department's unprecedented repatriation effort across six continents, there are still thousands of Americans trapped by border closures or grounded flights as countries try to step the spread of the novel coronavirus. Two lawmakers announced Friday they are introducing legislation to assist them by expanding the department's services, hiring more officials for consular task forces, and waiving the cost to evacuees for government-arranged repatriation flights.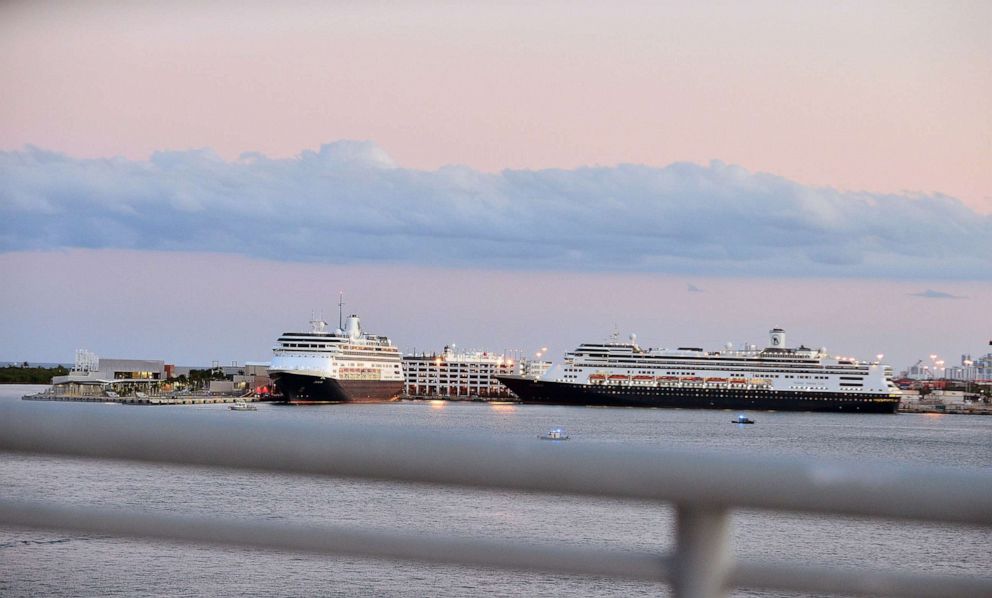 For Gordon and other crew members, life aboard the Volendam has been "eerie" without guests, he said. The casino, theater, and dining room are now all virtually empty. His contract only entitled him pay through April 16.
"A lot of people seem to think we're on vacation, but this is not a fun, frivolous thing," Gordon told ABC News.
Since guests disembarked from its last cruise almost a month ago, the Volendam's crew has not been able to disembark in the Bahamas, nor has it been given permission in Port Everglades, Florida, according to a Holland America spokesperson.
"We believe the ship will be able to come into Port Everglades this weekend for normal ship operations and provisioning," the spokesperson told ABC News. "We are working to obtain permission to repatriate as many crewmembers as possible when the ship is in, and we will keep crew updated on board as to the status of this request."
The State Department is working with governments where these ships are trying to dock so that U.S. citizens and others can get home, according to Brownlee.
"We're continuing to press to let these folks get off the ships," Brownlee said. "In the meantime, they're on board the ship where they're being fed and taken care of by the cruise lines themselves."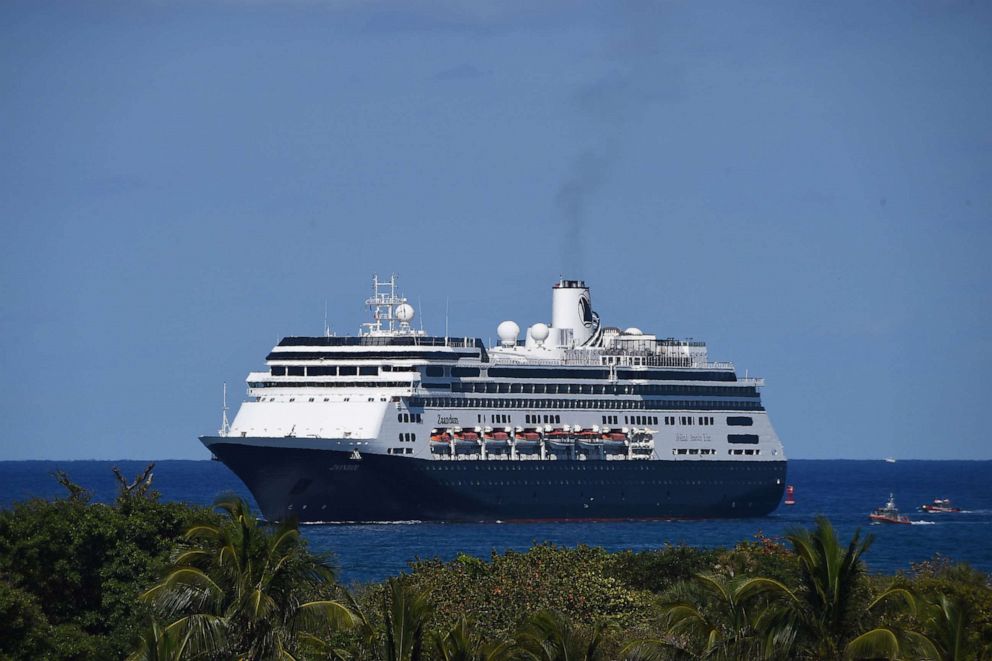 Starting with Wuhan, China, where the outbreak first exploded, and the Diamond Princess cruise ship docked in Yokohama, Japan, the State Department has now repatriated nearly 63,000 Americans from over 105 countries.
But some Americans were angry with what seemed to be a initially slow response or unclear messages from local U.S. embassies overwhelmed with the sudden need. Two lawmakers gave ABC News an exclusive look at legislation they're unveiling Friday to make sure that doesn't happen again.
"During this crisis, my office has assisted hundreds of constituents stranded in more than 30 countries around the globe, and we continue to get requests every day," said Sen. Ed Markey, D-Mass., who is joining Rep. Joaquin Castro, D-Texas, on the bill. "The brave men and women of the State Department are often risking their own lives in order to help Americans overseas, and we must ensure that they have all the tools and protection they need."
Their legislation would urge U.S. missions to press the local government to authorize Americans to travel to airports during a lockdown so that they could fly back to the U.S. It would also require the department to review safety protocol and stockpiles of personal protective equipment at all U.S. posts overseas.
But for Americans brought home on U.S. government-arranged flights, perhaps the most important feature is that they would no longer have to pay to be repatriated. Under U.S. law, the department is required to seek reimbursement "to the maximum extent practicable" for evacuation flights. While the law requires the ticket be no more than what a commercial airfare would cost, in some cases it can still cost thousands of dollars -- with Americans required to sign a promissory note before they board that legally requires them to pay the sum down the road.
Castro and Markey's bill would make those promissory notes null and void and require the department to reimburse anyone who already paid for their ticket home.
Getting home may not mean from a foreign country, with thousands stuck on cruise ships already in U.S. waters but unable to dock. On Friday, the U.S. Coast Guard told ABC News it is monitoring 46 cruise ships anchored in U.S. waters with 33,800 crew members on board, 36 cruise ships moored in U.S. ports with 24,300 crew members on board, and 42 cruise ships underway in U.S. waters with 36,500 crew members on board.
Julia Melim from New York was one of seven U.S. citizens allowed to disembark Celebrity's Infinity in Miami on Monday. Melim said they called themselves "the lucky seven."
Less than a month ago her fellow crewmember died after being medically evacuated from the Infinity. The U.S. Coast Guard said the employee was exhibiting COVID-19-like symptoms.
"it just really feels like being in a prison," Melim said when asked about being quarantined on the ship. "We don't have the full ability to communicate with the outside world, even with each other, because we're all isolated in our cabins."
Melim is the first U.S. citizen to join a class-action lawsuit against Celebrity filed Tuesday on behalf of over a thousand Celebrity Cruises employees alleging the company failed to protect its crew members working aboard ships amid the novel coronavirus outbreak.
"Celebrity egregiously failed to take even the most basic steps to protect its crew members from the rampant spread of coronavirus," Michael Winkleman, a Miami-based maritime attorney, said in an interview with ABC News.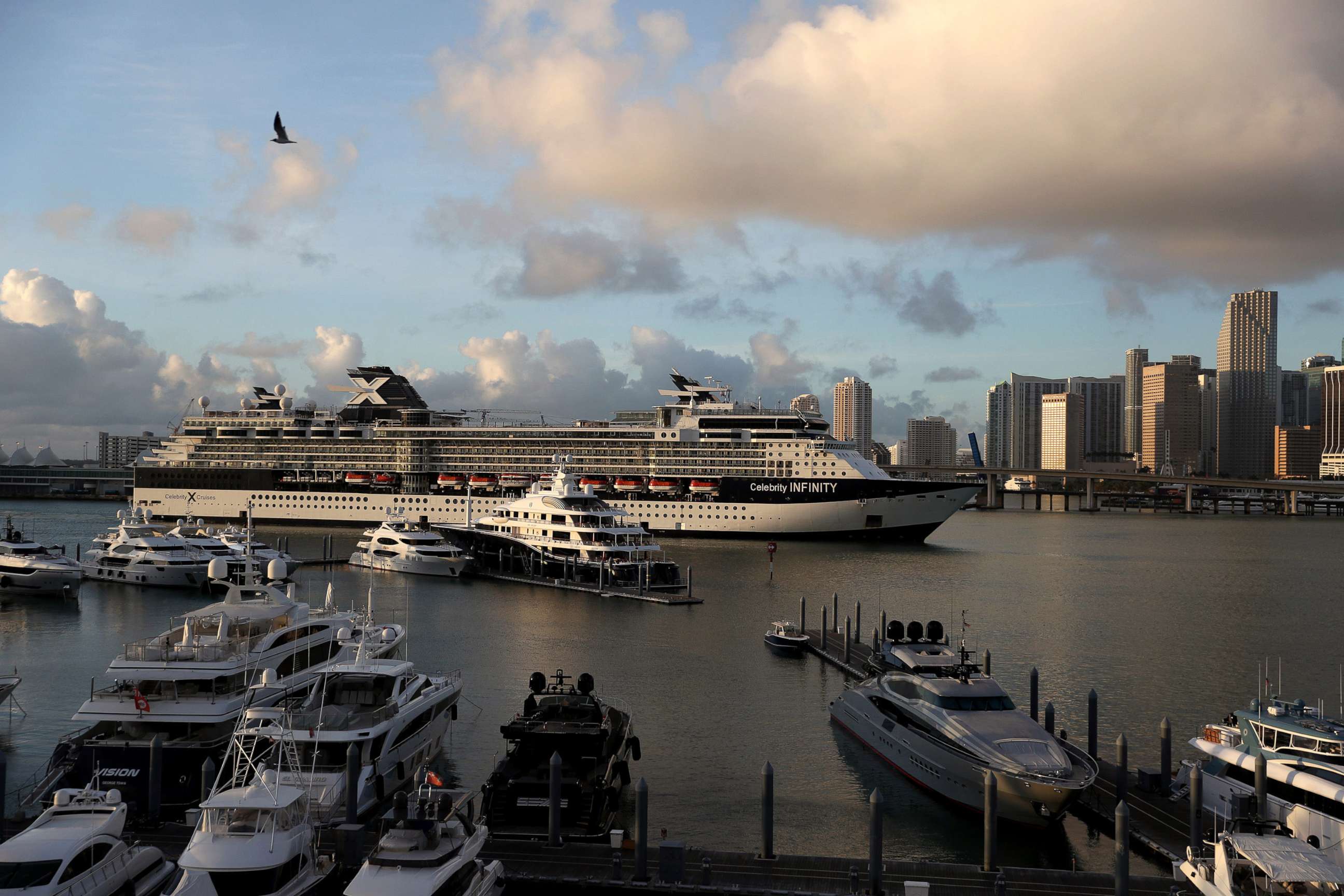 The lawsuit claims that the cruise industry received an "early warning of how easily COVID-19 could spread on massive ocean liners" when the first cases were reported on Princess Cruises' Diamond Princess.
From Feb. 7 to Feb. 23, the largest cluster of COVID-19 cases outside mainland China were on the Diamond Princess cruise ship, according to the Centers for Disease Control and Prevention. The ship was placed under quarantine for more than two weeks in Yokohama, Japan.
"Despite having notice that COVID-19 was and/or likely was present aboard the vessels," the complaint alleges the company allowed its employees to attend crew parties aboard the ships, eat in buffet settings and mandated their participation in shipboard drills.
When asked for comment, Celebrity Cruises said it does not comment on pending litigation.
According to the CDC, over the last two months outbreaks on three cruise ships have caused more than 800 confirmed cases of coronavirus in the United States among passengers and crew, including 10 deaths.
"COVID-19 on cruise ships poses a risk for rapid spread of disease, causing outbreaks in a vulnerable population, and aggressive efforts are required to contain spread," the agency said.
The CDC recommends that everyone should defer all cruise travel worldwide during the COVID-19 pandemic.
What to know about coronavirus: