South Carolina GOP votes to move back their 2024 primary: Sources
Party leaders hope change brings more exposure to state in days before primary
The South Carolina Republican Party voted unanimously on Saturday to hold their 2024 GOP presidential primary on February 24 next year, sources close to the process told ABC News.
The potential move would lengthen the time candidates have to focus on campaigning across the pivotal Palmetto State compared to the 2016 GOP election cycle.
The designation, if approved by the Republican National Committee, would upend the usual cadence of the Republican nominating calendar by placing South Carolina after Nevada for the first time in cycles. It would also make South Carolina Republicans vote 18 days after Nevada's scheduled primary, putting the first-in-the-South presidential primary state front and center in the race for more than two full weeks.
In 2016, South Carolina's Republican primary came three days before Nevada held its caucuses-- when campaigns were pinballing between the two early states in an effort to sway each electorate.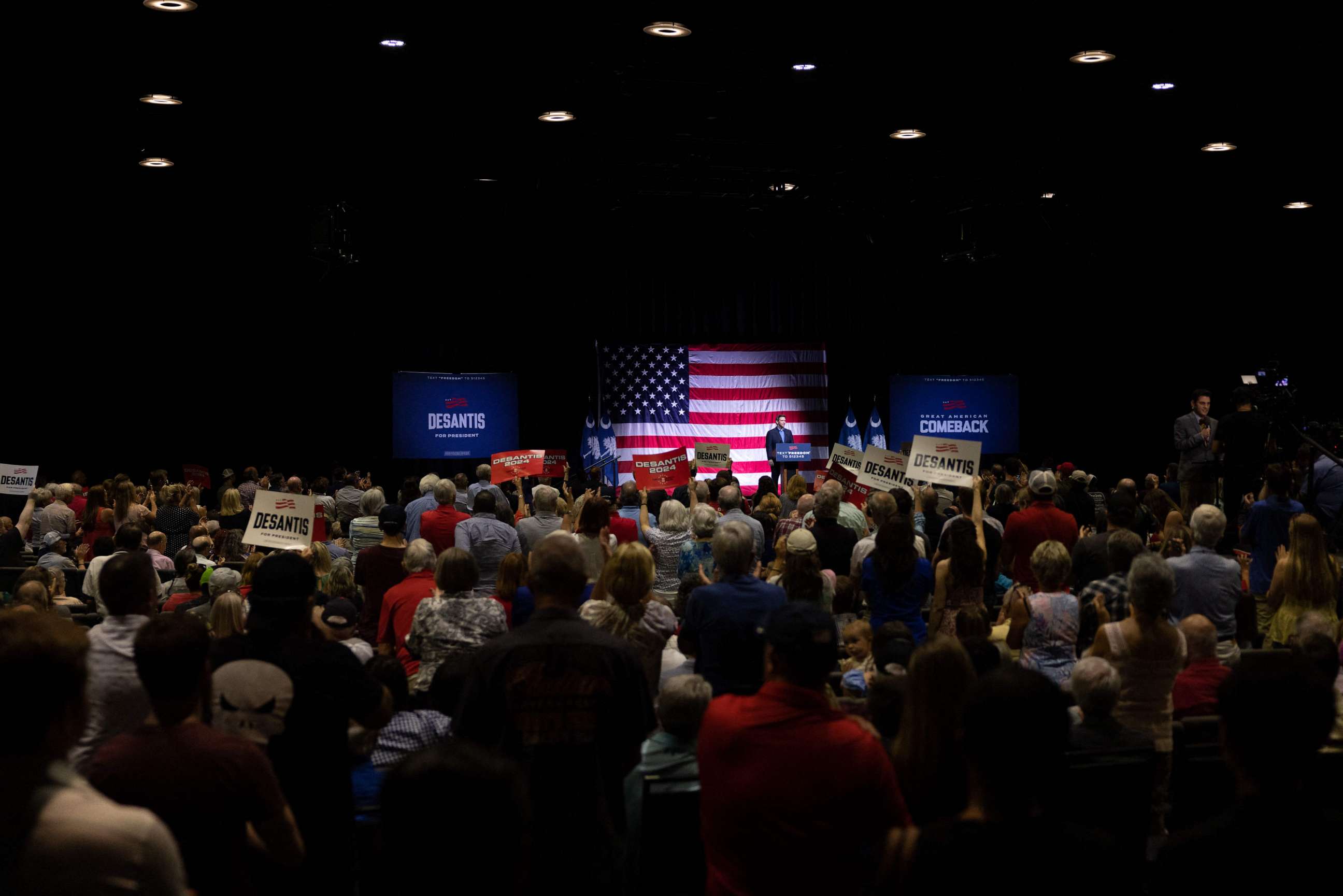 A February 24 primary next year would give candidates far more time than in previous cycles to concentrate on winning South Carolina.
"This gives South Carolina the most exposure to candidates to come campaign in our state," a source close to the process told ABC News.
The proposal earned applause from at least one presidential campaign: that of Ron DeSantis, whose team is bullish on the Florida governor's chances in South Carolina.
"This could not have shaken out any better for us. We were happy to support this decision and look forward to competing to win in all four early states," Andrew Romeo, a spokesman for the DeSantis campaign, told ABC News in a statement.
"Governor DeSantis has the strongest political operation and footprint of any of the announced candidates, including Biden," he added.
Chris Murphy, a Republican member of the South Carolina House of Representatives who is involved in the DeSantis campaign's operations in the state, told ABC News that the governor's past military service and his wife's ties to the state – she graduated from the College of Charleston and her parents live in Aiken – should attract South Carolina Republican voters.
"I think he's going to win, just based on everything I'm seeing on the ground," he said.
A spokesman for former President Donald Trump's campaign did not comment directly on the South Carolina GOP vote when reached by ABC News but accused DeSantis of attempting to "claim any victory he can, even if it's completely detached from reality."
Representatives for multiple other presidential campaigns did not immediately respond to requests for comment.
The proposed date would set South Carolina behind Nevada in the GOP nominating calendar for the first time since 2008, when South Carolina voted on Jan. 19, the same day Nevada held its caucus. In 2016, the Republican primary date was Feb. 20, which was three days ahead of Nevada's caucus on Feb. 23. In 2012, South Carolina Republicans voted in the primaries on Jan. 21, two weeks before Nevada Republicans caucused.
The South Carolina GOP also voted on Saturday to approve participation thresholds for presidential candidates: a filing fee of $50,000 per candidate and a filing deadline of October 31, 2023, according to one source close to the process.
In South Carolina, primary dates are chosen by state party officials, which are then approved by the RNC. Every state has until October 1, 2023, to submit to the RNC their plans for electing or awarding delegates.
"Every state has until October 1st to let the RNC know what their plan is for electing, selecting, allocating, and binding delegates. We look forward to reviewing each state and territory's plans," Emma Vaughn, an RNC spokesperson, said of South Carolina's Saturday vote.
The Democratic National Committee voted in February to make South Carolina the first state on their presidential primary calendar--on Feb. 3, 2024.
"This calendar reflects who we are as a nation," DNC Party Chair Jamie Harrison said at the time.
In Nevada, the presidential primary for both parties is already scheduled by the Secretary of State's office to be held on February 6. However, the Nevada Republican Party is suing the state to allow the party to hold a caucus – the method both major parties in Nevada have used for decades in presidential election years.
"We look forward to holding [a caucus] in Feb 2024," Alida Benson, the Nevada Republican Party's executive director, told ABC News.
If the party's legal challenge is successful, Benson said a caucus would likely be held in early February 2024.
ABC News' Gabriella Abdul-Hakim, Soo Rin Kim, Hannah Demissie and Abby Cruz contributed to this story.