— -- White House Press Secretary Sean Spicer defended President Donald Trump's tweet against Nordstrom in a briefing today, saying Trump has "every right" to stand up for his daughter, whose clothing line was pulled from the department store.
Spicer said he believes Trump's daughter was "targeted" and that there are clear efforts to "undermine" her name due to Trump's policies.
"This is a direct attack on his policies and her name, so there's clearly an attempt for him to stand up for her because she's being maligned because they have a problem with his policies," Spicer said.
Nordstorm fired back Wednesday afternoon, saying that the decision to pull Ivanka Trump's clothing line from the store was based on "performance."
"Over the past year, and particularly in the last half of 2016, sales of the brand have steadily declined to the point where it didn't make good business sense for us to continue with the line for now," Nordstrom said in a statement. "We've had a great relationship with the Ivanka Trump team. We've had open conversations with them over the past year to share what we've seen and Ivanka was personally informed of our decision in early January."
From his personal twitter account, Trump today tweeted that Nordstrom treated his daughter "unfairly." Ivanka Trump said in an earlier statement that she was no longer going to be "involved with the management or operations of" her brand or the Trump Organization.
The tweet was then retweeted by the official POTUS account. Spicer did not directly respond to a question from reporters about the appropriateness of doing so.
A former White House ethics lawyer, Norm Eisen, who worked under Barack Obama, criticized the president today for his tweet about Nordstrom.
"He's using the power of the presidency to financially benefit one business and to harm another...to benefit his daughter," Eisen told ABC News. "He's sending a signal to the rest of the world, hey don't mess with me or my family. It's mafia-like."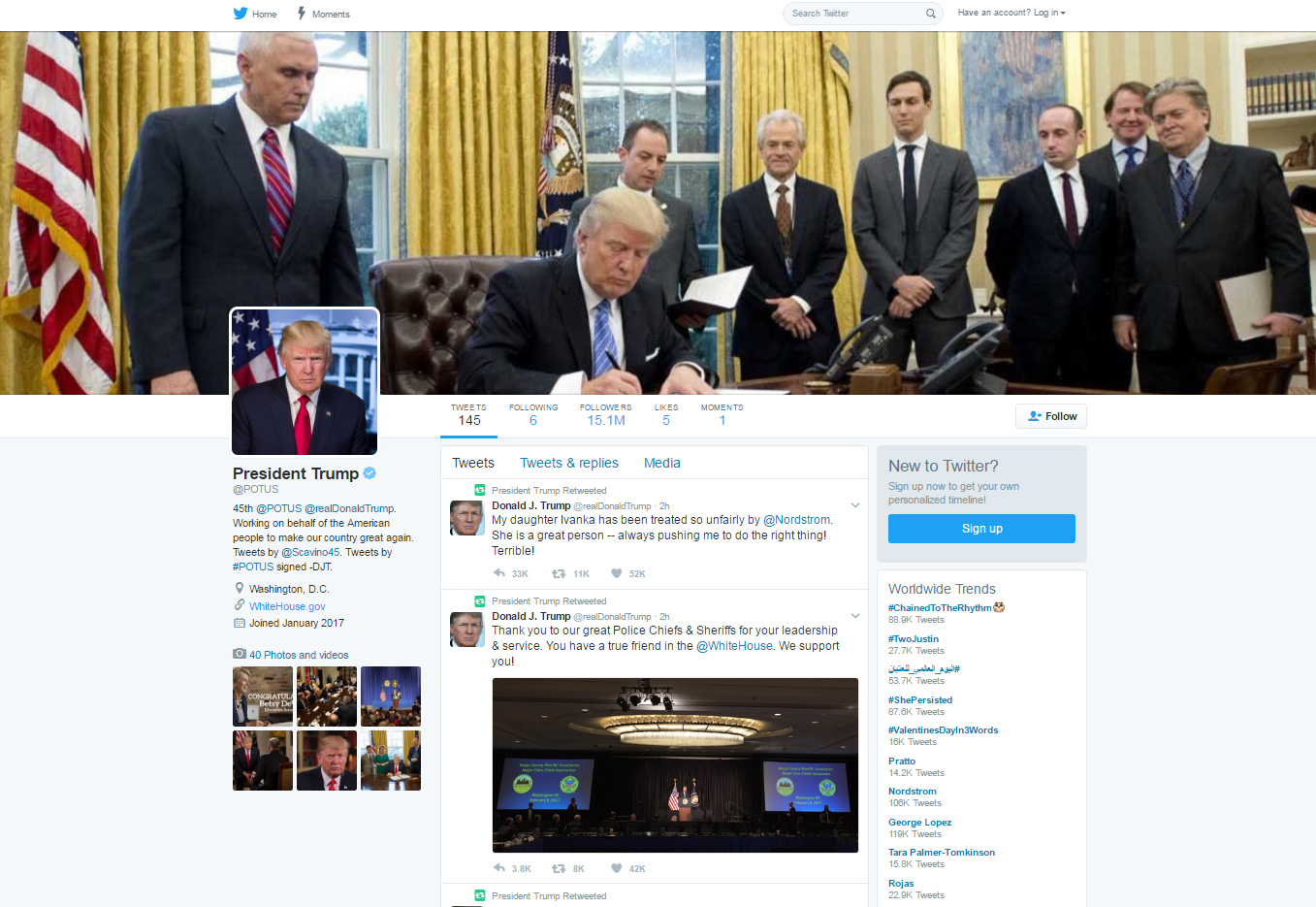 Eisen suggested that Nordstrom should sue under unfair competition laws that prohibit the type of behavior displayed in Trump's tweet.
"I do believe Nordstrom has a colorful claim," he said. "This will be another place where the courts will remind him he's not above the law."
On Twitter, Eisen even offered to help Nordstrom should they decide to file suit. Eisen is an outspoken legal critic of the president and is already leading another lawsuit against him over the Emoluments Clause.
Nordstrom said last Thursday that it would no longer carry Ivanka Trump's clothing and accessories line.
"We've got thousands of brands –- more than 2,000 offered on the site alone," said a spokesperson for the Nordstrom, which has nearly 350 stores under various banners across North America. "Reviewing their merit and making edits is part of the regular rhythm of our business. Each year we cut about 10 percent and refresh our assortment with about the same amount. In this case, based on the brand's performance we've decided not to buy it for this season."
Neiman Marcus followed suit Friday, announcing that it had made the decision to cut an Ivanka Trump jewelry line, citing "productivity" for discontinuing the brand.
"Neiman Marcus has a very small Ivanka Trump precious jewelry business which is comprised 100 percent of consigned merchandise (merchandise owned by the vendor). Based on productivity we continuously assess whether our brands are carried in stores, on our website, or both," a Neiman Marcus spokesperson said in a statement to ABC News.
T.J. Maxx and Marshalls may also be attempting to distance themselves from the Ivanka Trump brand. TJX Companies released a statement in response to reports that T.J. Maxx/ Marshalls told employees not to display Ivanka Trump products and to throw her signs in the trash.
"At TJX, we deliver great value on a rapidly changing selection of brand name and high quality apparel and home fashions. We aim to offer a merchandise mix that gives our customers a choice in what they may want to purchase. At this time, we continue to offer this line of merchandise. From time to time, we communicate with our stores about how to handle merchandise. The communication we sent instructed stores to mix this line of merchandise into our racks, not to remove it from the sales floor." a TJX spokesperson said.
The Ivanka Trump brand said it continues to "expand" despite the action from the stores.
"The Ivanka Trump brand continues to expand across categories and distribution with increased customer support, leading us to experience significant year-over-year revenue growth in 2016," Rosemary K. Young, Senior Director of Marketing at Ivanka Trump said in a statement to ABC News. "We believe that the strength of a brand is measured not only by the profits it generates, but the integrity it maintains. The women behind the brand represent a diverse group of professionals and we are proud to say that the Ivanka Trump brand continues to embody the principles upon which it was founded. It is a company built to inspire women with solution-oriented offerings, created to celebrate and service the many aspects of their lives."
A spokesperson for the Ivanka Trump brand declined comment on the president's tweet in defense of his daughter's brand this morning.