After two early state polls propelled businessman Tom Steyer from the sidelines to the stage, six Democratic candidates -- all of whom are white -- are set to face off in Tuesday's primary debate in Des Moines, Iowa., the Democratic National Committee announced Saturday.
The first debate of the year -- hosted by CNN and the Des Moines Register at Drake University at 9 p.m. ET -- will feature, in podium order: Steyer, Massachusetts Sen. Elizabeth Warren, former Vice President Joe Biden, Vermont Sen. Bernie Sanders, former South Bend, Indiana, mayor Pete Buttigieg and Minnesota Sen. Amy Klobuchar.
By getting 12% support among Democratic caucus-goers in a Fox News Nevada poll and 15% support among Democratic primary voters in a Fox News South Carolina poll, Steyer hit the early state polling threshold the night before Friday's 11:59 p.m. deadline.
"These polls actually don't surprise me," Steyer said in New Hampshire on Thursday night. "This is what I thought was going on. We have seen very positive reaction and real momentum as a result of what I'm saying."
Steyer's campaign had previously announced that he hit the grassroots fundraising threshold -- at least 225,000 individual donors with a minimum of 1,000 unique donors per state in at least 20 U.S. states, U.S. territories or the District of Columbia.
Candidates had to meet both this threshold, and a polling threshold to qualify.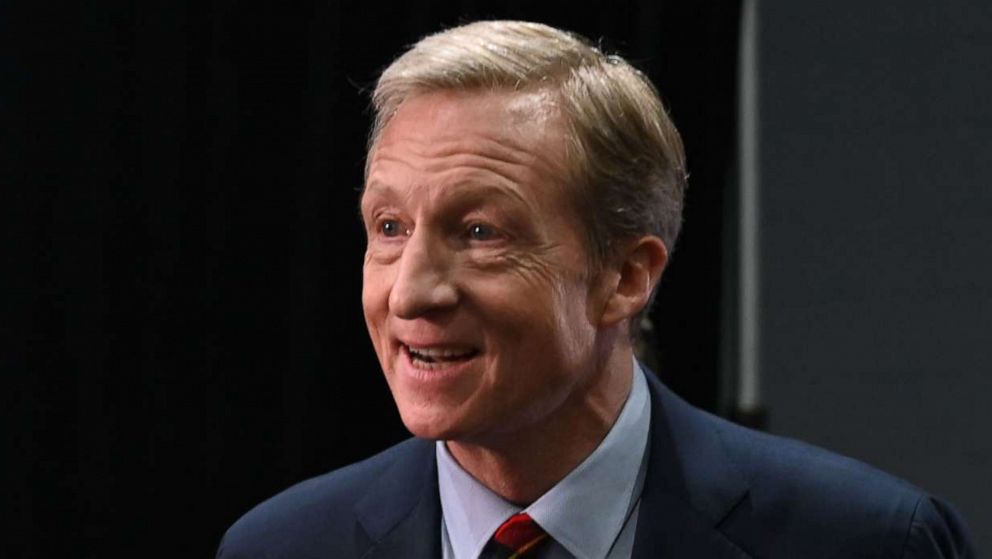 Steyer has spent nearly $119 million on television advertising since entering the race in July, second only to the other billionaire in the race, former New York City Mayor Mike Bloomberg, according to ad data analysis from CMAG. In Nevada alone, between the Las Vegas and Reno markets, he's spent $10.2 million on past and future TV ad buys. In South Carolina, across four markets, he's spent $11.3 million.
By comparison, Sanders, the Democratic candidate who has spent the third most on TV advertising during the 2020 campaign, has spent $15.7 million on past and future TV ad buys total, according to CMAG's data.
With only six candidates qualifying, the last debate before the Iowa caucuses will have the fewest number of candidates on stage since the debates began in June, and will not include the four remaining candidates of color.
Several candidates -- both current and former -- have taken issue with this year's primary process, including the debate qualifications set by the DNC, arguing that a historically diverse primary field has been unnecessarily dwindled down.
Entrepreneur Andrew Yang, who is Asian American, hit the individual donor threshold, according to his campaign, and while he got 5% support in a CNN/The Des Moines Register/Mediacom Iowa poll Friday night, he was still two polls shy of hitting the four-poll threshold, according to ABC News' analysis.
The four-poll threshold required candidates get at least 5% support in four national or early state polls out of Iowa, New Hampshire, Nevada and/or South Carolina. The path Steyer achieved, the early state polling threshold, required candidates get at least 7% support in the polls out of the same four states.
On the campaign trail Friday -- before it was made official that he wouldn't be joining his competitors on stage next week -- Yang said he wasn't surprised by Steyer's poll surge because he "has had the resources to put his message out in Nevada and South Carolina."
"I texted Tom congratulations," he told ABC News. "He and I are friends and both want to see what's right for the country, so I was happy for him."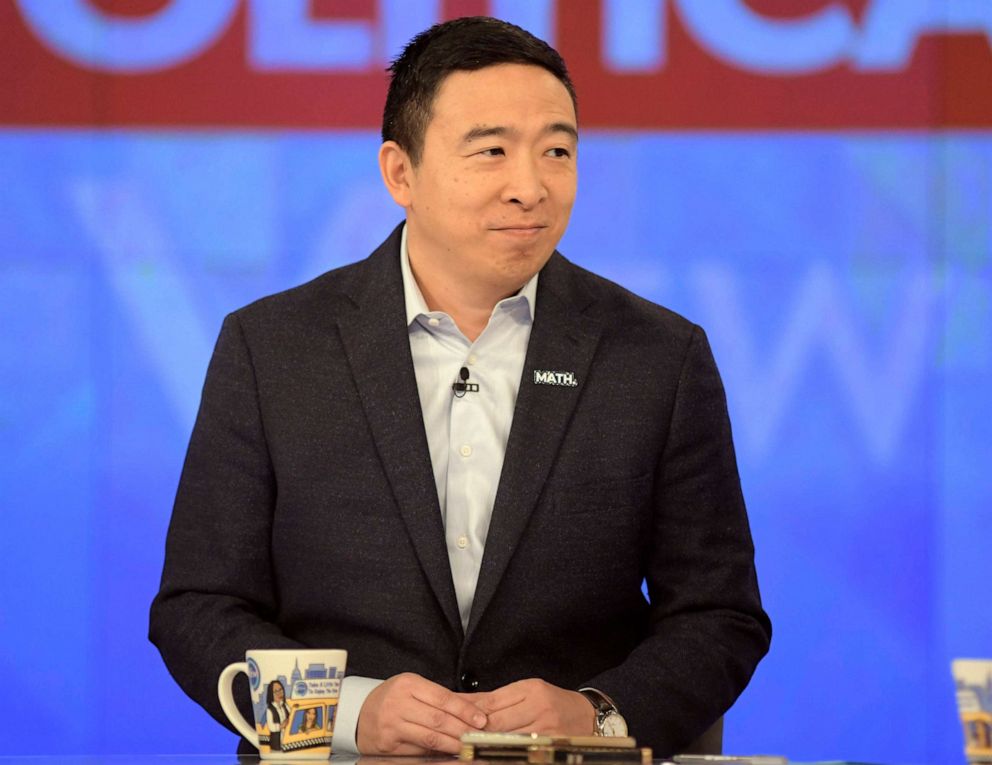 But while Yang was happy for Steyer, on Saturday, his campaign chief, Nick Ryan, had harsh words for the DNC.
"If the DNC had only done their due diligence and commissioned polls in the early states, Andrew Yang would certainly be on the debate stage next week," Ryan said in a statement. "We are not going to allow the DNC to dictate who they wish to see as the nominee and deny the will of the people The issues that will decide this election, and the future of our country, are too important to ignore for the sake of staged political bickering."
Ryan said the DNC tried to run the same play in 2016 and paid for it with "a loss in the general."
In December, before the holidays, Yang sent a letter to the DNC requesting it commission four qualifying polls in Iowa, New Hampshire, Nevada and South Carolina. The DNC rejected his request, but six early state qualifying polls were released after he sent the letter -- two in Iowa, two in New Hampshire, one in Nevada and one in South Carolina.
In a fundraising email Saturday morning, presidential hopeful Cory Booker also took aim at the DNC's qualifying rules.
"Of all of the people who've qualified for the next Democratic debate stage, not one is a person of color. For a party as diverse as ours, in an election where communities of color will decide the outcome, that's wrong." Booker wrote. "I don't doubt that the rules our party set were well-intentioned, but the outcomes are undeniable: These thresholds have effectively kept people of color from the national stage."
He added, "Meanwhile, the billionaires in this race have been able to spend literally hundreds of millions on ads. This shouldn't be about who has the most money."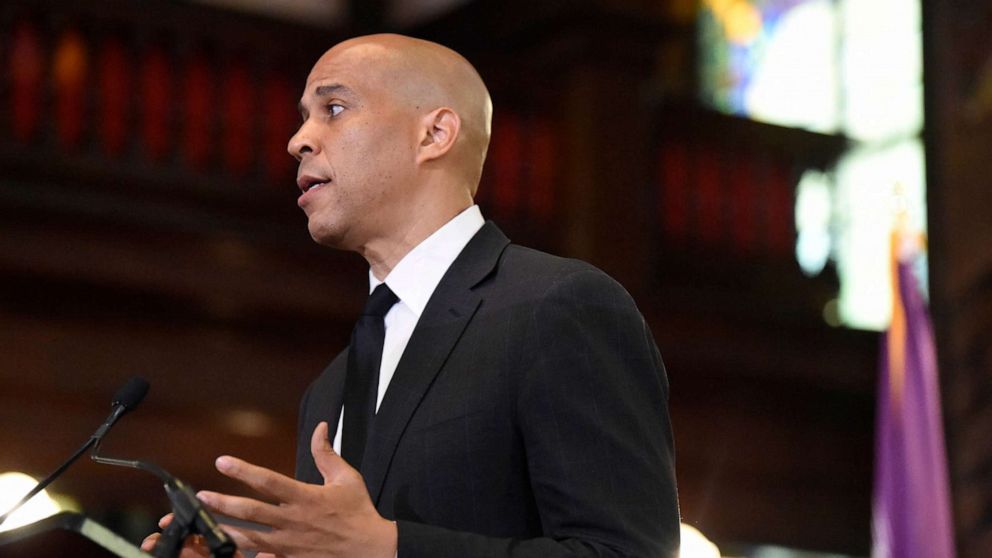 Booker, who is African American, hit the grassroots fundraising threshold, according to his campaign, but had no qualifying polls towards either polling threshold, according to ABC News' analysis.
The other two non-white candidates in the race, Hawaii Rep. Tulsi Gabbard, who is of Southeast Asian, Polynesian and Caucasian descent, and former Massachusetts Gov. Deval Patrick, who is African American, also had no qualifying polls. Neither campaign announced hitting the donor threshold either.
Former Maryland Rep. John Delaney, Colorado Sen. Michael Bennet and Bloomberg also didn't qualify for the debate.
According to an ABC News analysis, Bloomberg did hit the polling threshold, but he's choosing to self-fund his campaign and isn't taking donations from supporters.
"If the DNC has rules that would let me get on the stage, I'd be happy to go and debate," Bloomberg said in December. "I'm not gonna change my policies. I feel very strongly. I have the wherewithal to run a campaign without having any conflicts, so we're not gonna take money from anybody else."