The diplomatic exchange of potatoes lives on.
There was an interesting exchange of gifts prior to U.S. Secretary of State John Kerry's meeting with Russian Foreign Minister Sergei Lavrov in Sochi, Russia.
Lavrov presented Kerry with a Victory Day t-shirt and two gift bags of tomatoes and potatoes.
The t-shirt kind of made sense as it was emblazoned with the Russian word for "Victory" in commemoration of the 70th anniversary of V-E Day last weekend. Russia celebrated the day with a spectacular parade in Red Square, but the U.S. did not send a high-ranking delegation.
But there's a history about the potatoes.
A Russian Foreign Ministry spokesperson posted on her Facebook page that Lavrov's gifts were in the spirit of ones Kerry had once given Lavrov last year.
Maria Zakharova labeled the tomatoes and potatoes as "distant relatives to those which were brought by his American counterpart last year."
In January,2014, during a meeting between the two diplomats in Paris Kerry presented Lavrov with two large Idaho potatoes.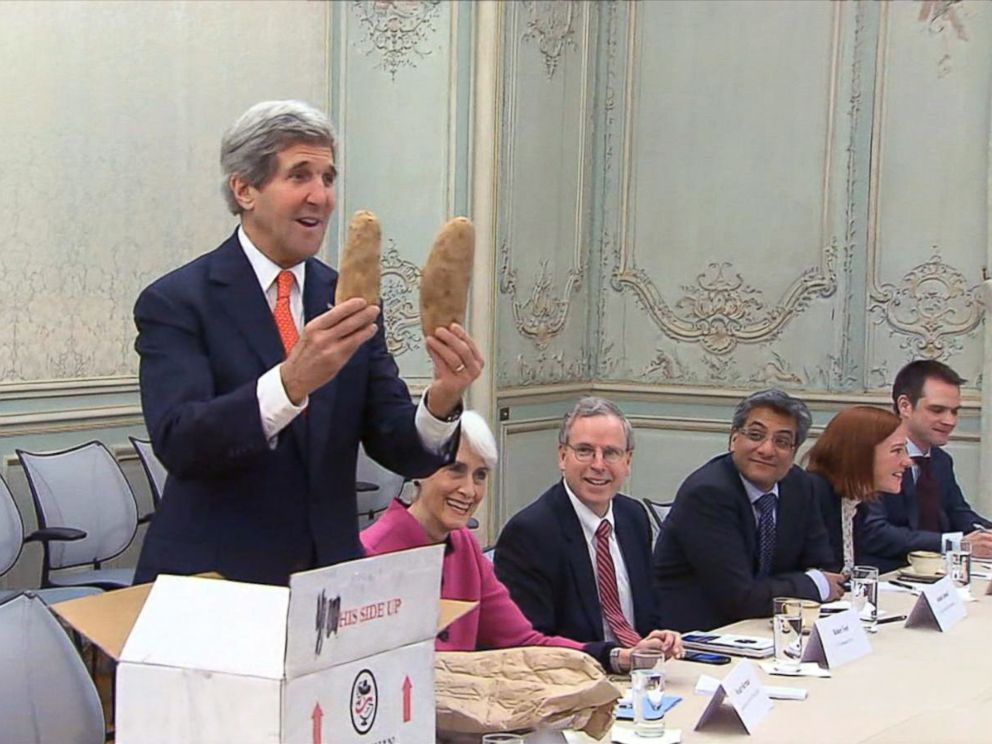 Kerry had just spent the Christmas break skiing in Idaho and apparently Lavrov had mentioned the fame of Idaho potatoes. So Kerry brought two of them along to Paris to give to Lavrov.
They were, in Lavrov's words, "impressive."
What did Kerry give Lavrov this time?
U.S. embassy spokesman Will Stevens tweeted out a photo of Kerry giving Lavrov a briefcase.
And in doing so, he corrected Zakharova, who had said in her Facebook post that Kerry had presented "a list of Russian media quotes, which, according to him, do not reflect the real potential of large-scale US-Russian relations. To his opinion they have to be improved."