— -- Students from the Washington, D.C. area protested outside the White House Monday, calling for lawmakers to reform gun laws after the shooting at a high school in Parkland, Fla. last week.
"The most important thing is that the government knows that kids in our generation are getting involved with this issue," said Hollis Cutler, 17, a Washington, D.C.-area high school junior.
During the protest, organized by a group called Teens for Gun Reform, 17 students laid on the ground for three minutes in front of the White House to symbolize the 17 people killed last week and how long it takes to purchase a firearm, according to one of the student organizers, high school junior Eleanor Nuechterlein.
"My friend Whitney and I decided that we wanted to take action because politicians haven't done anything really since ten years ago. There's been so many school shootings since then and nothing's really been done and we wanted to intact change and because we're under 18, we can't vote," said Nuechterlein.
Last Friday, Nuechterlein, 16, and her classmate and friend, Whitney Bowen, 16, began organizing the White House protest and formed "Teens for Gun Reform" with the premise that it would be students speaking out for other students.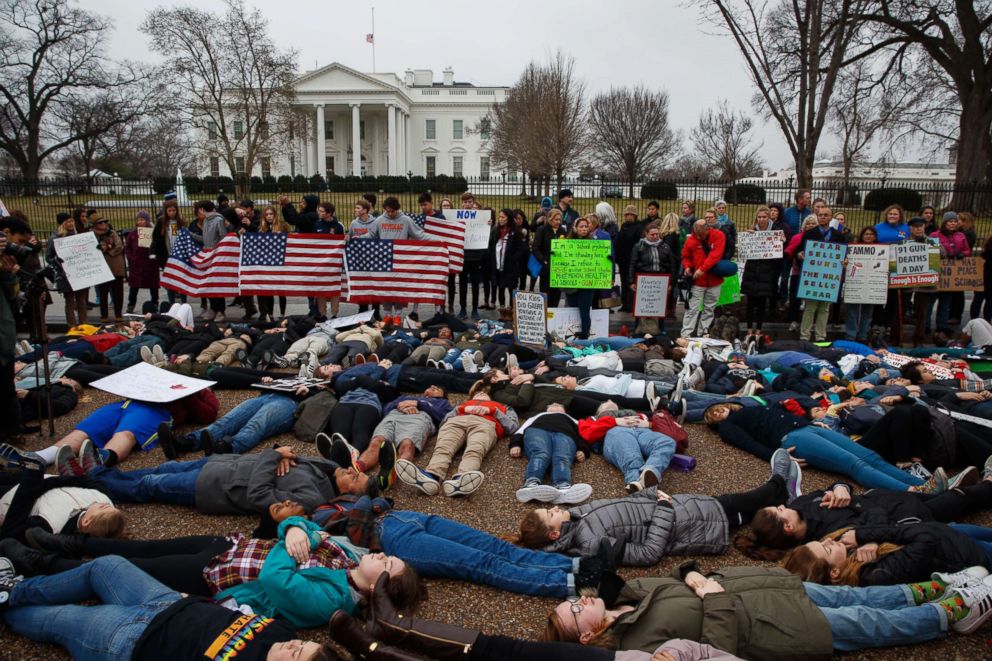 "We as teenagers want something to be done. It's not our parents, it's not adults. It's something that we truly believe needs to change," said Nuechterlein.
The student organizers felt that a protest was the best way to have their voices heard.
Students from Marjory Stoneman Douglas High School, where 17 people were shot and killed by a former student last week, have called for a national march on Washington, D.C. on March 24 to call on lawmakers to take action to prevent future mass shootings.
Nuechterlein said she would like to see background checks required for all gun sales. She said that the students weren't partisan, but rather asking lawmakers on both sides of the aisle to listen.
"Both political parties should come together and change something because at the end of the day there are kids in school that are worried about their safety and that's not okay," she said.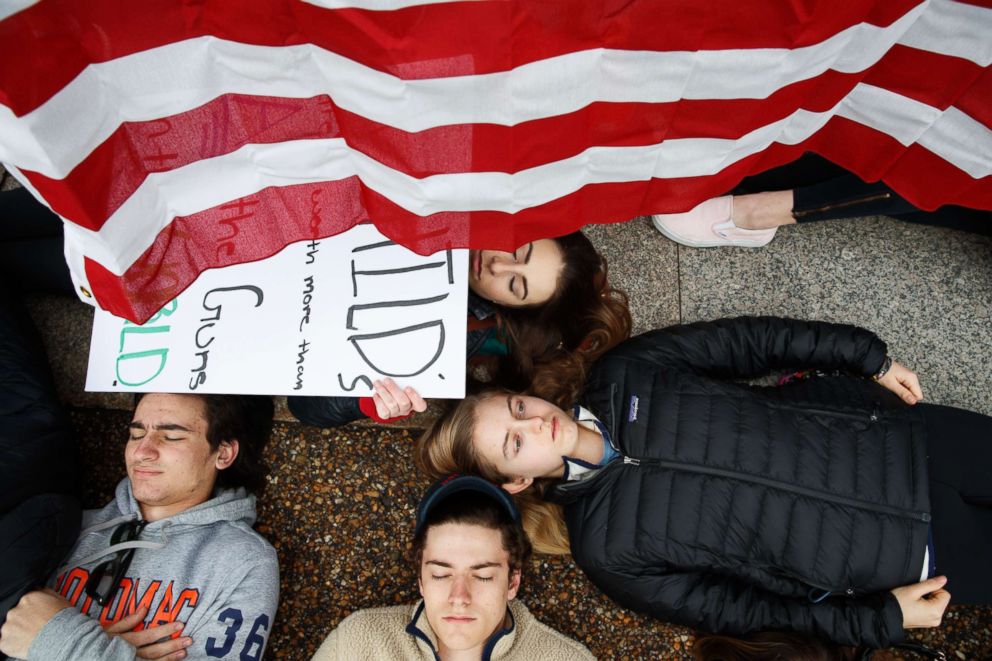 Congressman Don Beyer, D-Va., who joined the protest Monday, said he hoped these young people would "finally" give Congress the motivation it needs to address gun violence.
"When I was growing up, sometimes we had to hide under our desk in case there was a nuclear attack, but these guys have to hide under their desks all the time -- school shooting after school shooting," he said.
Beyer said he would like Congress to pass federal laws that allow families and law enforcement to put mentally ill people on the background check list, but acknowledged that it might not get done this year.
Protesters on Monday held signs that read "Protect Kids, Not Guns" and "How about our children's rights?" while someone read the names of a decade's worth of school shooting victims over a bullhorn.
The 17 students who laid on the ground - arms crossed on their chests and American flags across their bodies - were joined by what appeared to be nearly 100 other young people and supporters on the ground with them.
"I was sitting there and thinking about all of the families and all of the friends and all of the people who have been so hurt or killed by school shootings and the politicians are the voice of the people and we are the people," said Bowen about what went through her mind during the "lie-in."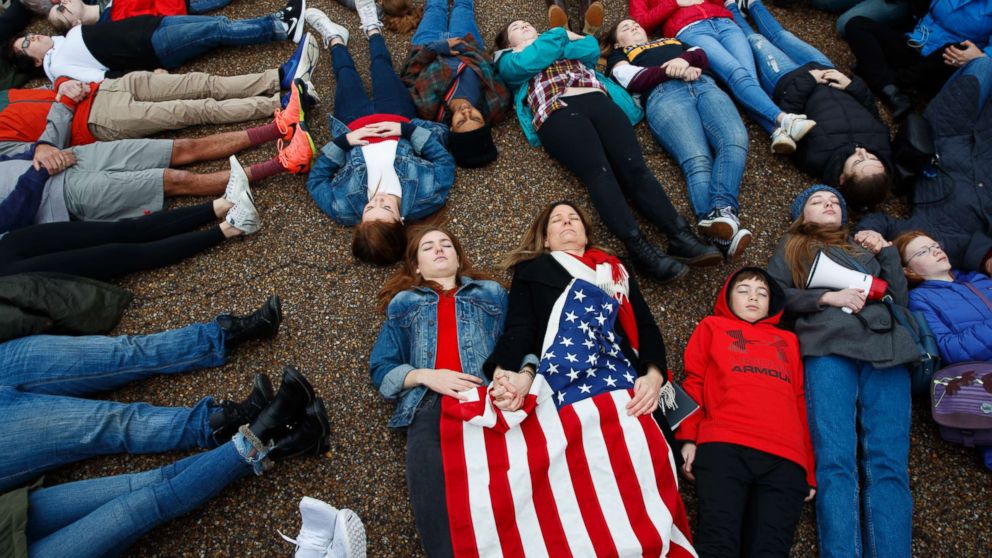 After getting up, Bowen and Nuechterlein said they wanted people to recognize that there are young voices calling for change and although they aren't old enough to vote, "we are the ones in the classrooms" and "we're not okay with what's happening around us."
After most of the young people stood up, a crowd clashed with what appeared to be the lone counter-protester, who was holding a sign that read, "Many armed staff behind us here, why not schools." People yelled and circled around the counter-protester.
At one point a Secret Service officer stepped in and reminded people that everyone had the right to protest and not to touch each other.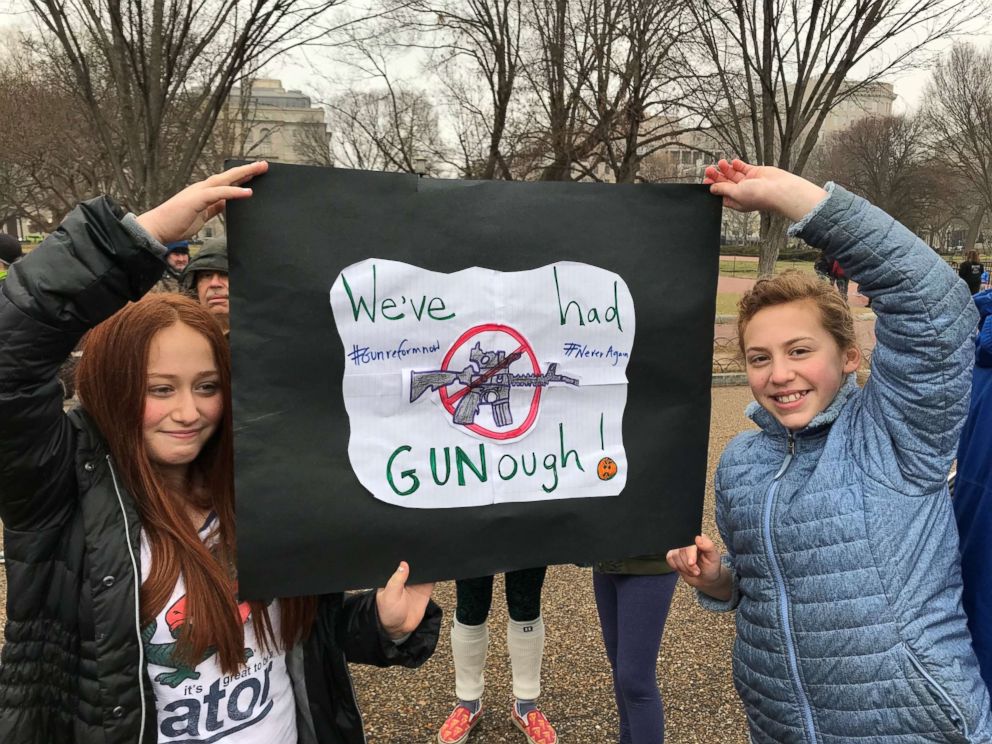 Parker, 12, and Pepper, 11, Margulis, who attended the protest with their mom, said that they had camp friends that went to school in Florida and have been scared to go to school since they learned of the shooting last week.
"When I heard a sounds the day after - there was a loud noise in the cafeteria, because of the speakers - I honestly thought it was a gun shot, and people were scared, it was so scary," said Parker.
"I was just scared to go to school, thinking, 'could this happen to me?'" said Pepper.
ABC News' Nick Greiner contributed to this story.