— -- Sharing her own #MeToo experience, 84-year-old U.S. Supreme Court Justice Ruth Bader Ginsburg told a crowd at the Sundance Film Festival on Sunday that "it's about time" women speak up about sexual harassment.
Speaking at a Park City, Utah forum, in advance of the premiere of a documentary about her titled "RBG" by filmmakers Betsy West and Julie Cohen, Ginsburg said she was encouraged that women have been speaking out about sexual harassment and marching in the streets of America.
"Well, I think it's about time," she said to rousing applause. "For so long, women were silent, thinking there was nothing you could do about it. But now the law is on the side of women, or men, who encounter harassment and that's a good thing."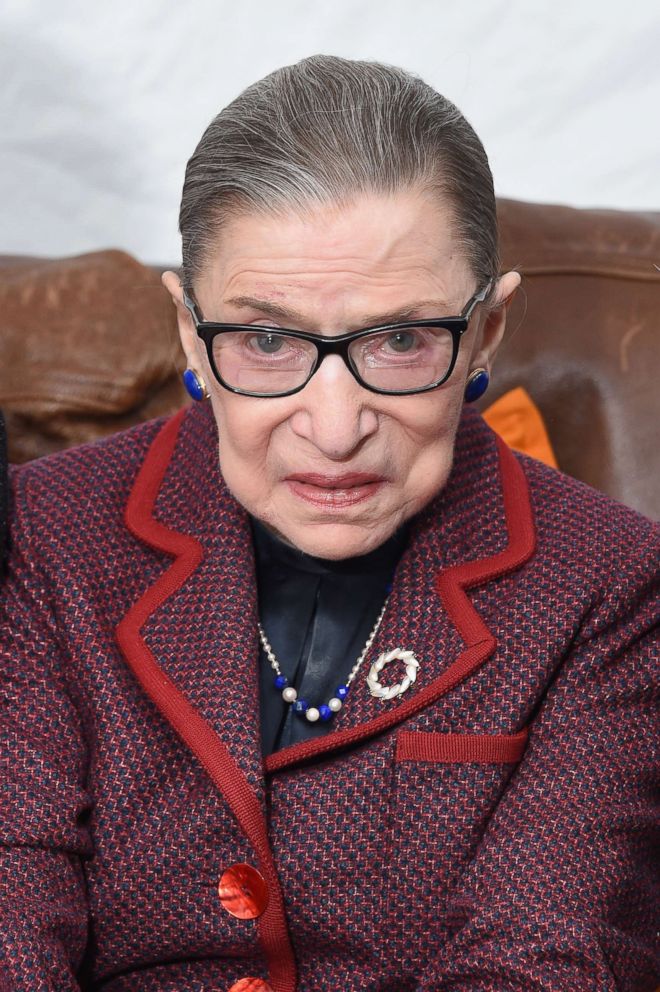 She surprised the audience by speaking of her own experience with sexual harassment back when she was a student at Cornell University in the 1950s. She said her chemistry professor tried to make an inappropriate pass at her.
"Every woman of my vintage knows what sexual harassment is, although we didn't have a name for it," she said. "I'm taking a chemistry course at Cornell and my instructor said, because I was uncertain about my ability in that field, 'I'll give you a practice exam.' So he gave me a practice exam. The next day on the test, the test is the practice exam and I knew exactly what he wanted in return. And that's just one of many examples."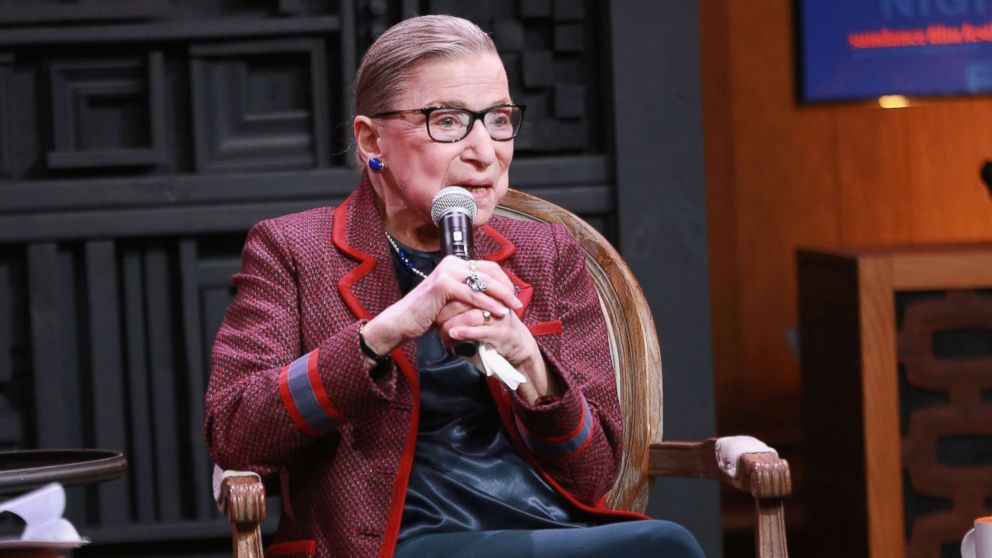 But Ginsburg said she didn't let the instructor get away with his overture.
"I went to [the instructor's] office and said, 'How dare you! How dare you do this!' And that was the end of that," she said. Laughing, she added that when she took the actual test, "I deliberately made two mistakes."
Ginsburg, who will turn 85 in March, said she was encouraged by what she saw at the Women's Marches across the country and globe this past weekend. Asked by interviewer Nina Totenberg, the award-winning NPR legal correspondent, if she feared there will be a backlash, she said, "Let's see where it goes. So far, it's been great. When I see women appearing every place in numbers, I'm less worried about a backlash than I might have been 20 years ago," she said.
In the interview, Ginsburg tackled a wide range of subjects from her fight for equal pay to her favorite movies.
She recounted being a member of the faculty at Rutgers Law School from 1963 to 1972 and fighting for the same pay as men.
"The dean, who was a very kindly man, said, 'Ruth you're going to have to take a cut in salary.' And I said, 'I understand that, state universities don't pay so well.' But when he told how much of a cut, I was astonished. So I asked, 'Well, how much do you pay so-and-so?' a man who was out of law school about the same amount of time I was was? And the dean replied, 'Ruth, he has a wife and two children to support. You have a husband with a good paying job in New York.' That was the very year the Equal Pay Act was passed.'"
Instead of accepting the pay cut, she said she and other women at Rutgers took action.
"What the women at Rutgers did, they didn't make a big fuss. They got together and they filed an equal pay complaint," she said. "So, the suit was filed in 1964. The university settled. The lowest increase was $6,000, which in those days is a lot more than it is today."
When she joined the faculty at Columbia Law School, she continued her battle for women's rights in the workplace when the university tried to lay off all its women janitors and none of the men.
"I went to the university vice president for business and told him that the university if violating Title VII" of the Civil Rights Act, which prohibits employment discrimination based on race, color, religion, sex and national origin, she said. "He said, 'Professor Ginsburg, Columbia has excellent Wall Street lawyers representing them. Would you like a cup of tea?'"
Instead, she filed an injunction motion to halt the layoffs and garnered the support of famed feminists of the day, including Bella Abzug, Gloria Steinem and Susan Sontag. The university back down from laying off the female janitors.
"These were women who really didn't care that they were paid less. They expected that, but they wanted jobs. They didn't want to be on welfare," Ginsburg said of the janitors. "In the course of that litigation, those women grew in self-esteem and two of them ended up being shop stewards."
Besides her legal career, Ginsburg also shared her personal tastes in movies, art and music, saying that she dreamed since the age of 11 of being an operatic diva.
"That's a recurring dream. I'm on stage at the Metropolitan Opera and I'm about to sing 'Tosca' and then I remember, I'm a monotone," she said to laughter.
She said her favorite movie of all-time is the classic "Gone With the Wind" -- a film she has seen five times. As far as current films go, she said "Three Billboards Outside Ebbing, Missouri" -- a film about a small town mother seeking justice for her murdered daughter -- was "fantastic."
Mentioning that Ginsburg is considered a "rock star" to countless fans and that her face appears on T-shirts and coffee mugs, Totenberg asked how her colleagues on the Supreme Court react to her fame.
"My colleagues are judiciously silent about the 'Notorious RBG,'" she said.
She revealed she only recently saw the "Saturday Night Live" sketch in which she was spoofed by cast member Kate McKinnon.
"I like the actress who portrayed me," she said, "and I would like to say 'Gins-burn' to my colleagues."
Speaking of her husband of 56 years, Marty Ginsburg, who died in 2010 after a battle with cancer, the Supreme Court justice said, "He cared that I had a brain."
"I certainly wouldn't be here today were it not for Marty because he made me feel that I was better than I thought I was," she said. "He had a great sense of humor and another very important strength, he was a wonderful cook."