The Supreme Court handed President Donald Trump a major defeat Thursday, blocking his 2017 decision to immediately end the Deferred Action for Childhood Arrivals program, or DACA.
The majority opinion, written by Chief Justice John Roberts, rejects Trump's rationale for canceling the program as "arbitrary and capricious" in violation of federal law.
Roberts said there's no question the president has the power to end DACA, but that the issue was with how he did it -- leaving the door open for the administration to make another attempt at cancelling the program.
"We do not decide whether DACA or its rescission are sound policies," Roberts wrote. "We address only whether the agency complied with the procedural requirement that it provide a reasoned explanation for its action. Here the agency failed."
By a 5-4 vote, Roberts joined the court's liberals in faulting the Department of Homeland Security for ignoring "conspicuous issues" of "hardship" that ending DACA would have on recipients, especially those serving in the U.S. military, undergoing medical treatments or studying in school.
"Today's decision is completely monumental," said Krissia Rivera, a 27-year-old DACA recipient and fourth-year medical school student at Brown University. "This decision means that I will be able to apply to residency programs and hopefully achieve my dream of becoming a surgeon"
DACA began under President Barack Obama in 2012 and allows young people who were brought to the U.S. illegally as children to stay in the country and work without being deported on a two-year, renewable term. As of March 31, 2020, 640,000 people have active DACA status, and since 2012, more than 825,000 people have utilized the program.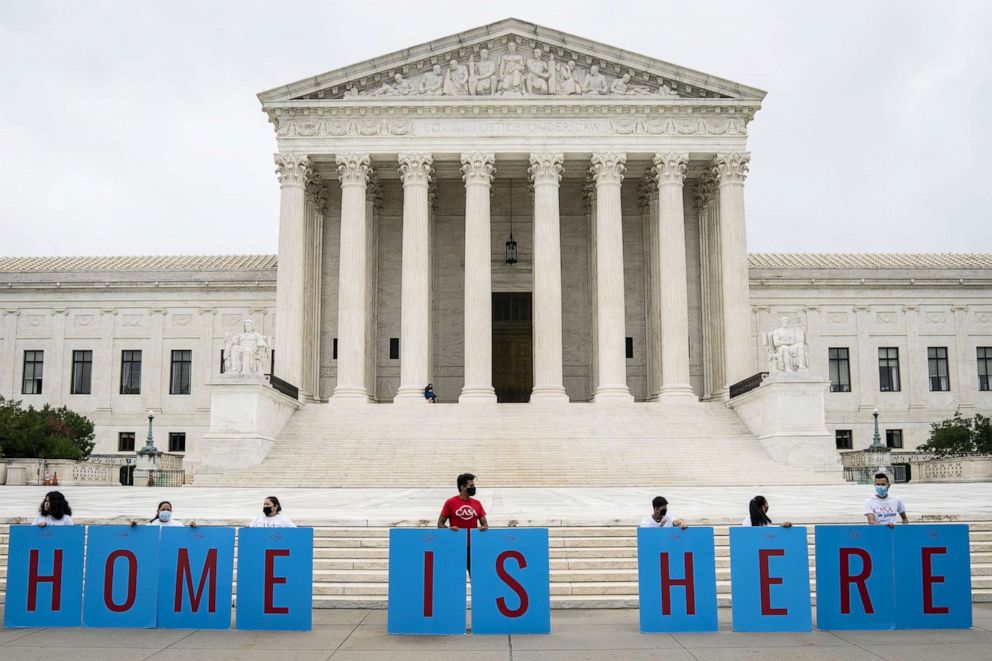 In dissent, Justice Clarence Thomas said the court was making a huge mistake. "The Trump administration rescinded DACA the same way that the Obama administration created it," he wrote, "unilaterally and through a mere memorandum."
Thomas wrote that Congress, not the courts, should enact a solution for the so-called "Dreamers," named after the DREAM Act that would have provided similar protections but never passed Congress.
"DACA was always meant to be a temporary solution; lasting protection for 'Dreamers' really would require legislation," said ABC News Supreme Court contributor Kate Shaw. "The administration and the dissenting justices basically said this is something that the Trump administration had the power to do."
Congress has tried and failed more than a dozen times to enact protections for "Dreamers," despite strong public support for initiatives aimed at extending legal status to young immigrants.
President Donald Trump, who once said he had "great heart" for "Dreamers," blasted the Supreme Court for a "horrible and politically charged" opinion and vowing to try again at ending the program his predecessor created.
"Now we have to start this process all over again," Trump wrote on Twitter.
Legal and immigration experts said any effort to end the program now would be unlikely to take effect before the November election.
Chief Justice Roberts, a conservative who sometimes sides with the liberal justices in cases with major political consequences for the nation and the court, was joined in the opinion by Justices Ruth Bader Ginsburg, Stephen Breyer and Elena Kagan. Justice Sonia Sotomayor joined the majority in all but one part, and filed an opinion as well.
Political conservatives lashed out at Roberts, who for the second time this week joined with the liberals on a major decision. "Chief Justice Roberts once again has failed to stand up for the institutional interests of the Court by allowing it to be weaponized for partisan ends," said Carrie Severino, president of the Judicial Crisis Network, a conservative advocacy group.
Republican Sen. Ted Cruz attacked the court in a speech on the Senate floor, calling the decision "lawless." "It was gamesmanship. It was contrary to the judicial oath," he said.
Justice Clarence Thomas' dissent was joined in part by Justices Samuel Alito and Neil Gorsuch. Additionally, Justice Brett Kavanaugh filed an opinion concurring and dissenting in part.
"We know that this is a temporary victory," said Greisa Martinez, a 30-year-old DACA recipient and deputy executive director of United We Dream, an advocacy group. "Everyone that can vote needs to vote this November to make sure that Donald Trump doesn't get to make the decision of taking DACA away again."
Presumptive Democratic presidential nominee Joe Biden in a statement pledged to "immediately work to make [protections for Dreamers] permanent by sending a bill to Congress on day one" if he wins the White House.
Senate Democratic Leader Chuck Schumer told DACA recipients celebrating outside the Supreme Court that he wants them to have citizenship. "This is just the beginning," Schumer said. "You are going to become American citizens and great American citizens at that."
Former President Barack Obama tweeted in support of the young immigrants. "Eight years ago this week, we protected young people who were raised as part of our American family from deportation. Today, I'm happy for them, their families, and all of us. We may look different and come from everywhere, but what makes us American are our shared ideals," Obama posted on Twitter.
Trump made cracking down on immigration and terminating DACA a central campaign issue when he ran for president starting in 2015. Over the course of his campaign, Trump specifically targeted Mexican people, infamously referring to Mexicans who come to the United States, saying, "They're bringing drugs. They're bringing crime. They're rapists."
Sotomayor quoted that line in her concurring opinion, in which she took issue with the majority opinion finding that Trump's decision to end DACA was not "motivated by animus."
"But the impact of the policy decision must be viewed in the context of the President's public statements on and off the campaign trail," Sotomayor argues. "At the motion-to-dismiss stage, I would not so readily dismiss the allegation that an executive decision disproportionately harms the same racial group that the President branded as less desirable mere months earlier."
Many DACA recipients said they are breathing a sigh of relief after a tense, years-long legal battle.
"I was quite relieved knowing that I won't receive an order for deportation in the mail anytime soon," said Eduardo Zarate, 20, a junior at Wyoming University in Jackson. "More importantly, I was very relieved knowing that I'm able to continue my education without worrying about deportation."
Luis Zuluaga, a 23-year-old DACA recipient from Colombia and recent college graduate, said the fight for "Dreamers" is once again a political one.
"This country hasn't gone anywhere near solving its immigration problem. This is just another Band-Aid, which is nice for the moment but it's not enough," he said.