Brett Kavanaugh's Supreme Court confirmation saga reached a dramatic turning point Friday as his nomination advanced out of the Senate Judiciary Committee, but with a surprise caveat, orchestrated by Republican Sen. Jeff Flake, that he wouldn't support Kavanaugh in a final Senate vote unless the FBI was given one week to investigate the allegations of sexual assault against the judge.
Though Kavanaugh formally took one step forward toward a lifetime appointment to the highest court in the nation, a reopened background probe could further muddle an already complicated case of he said, she said, and further deepen the partisan divide that has been on display during confirmation deliberations.
Late Friday afternoon, President Trump ordered the FBI to re-open its background investigation for "less than one week" and Kavanaugh issued a statement saying he would cooperate.
Here's a look at five key takeaways from Friday's developments:
Flake won't go quietly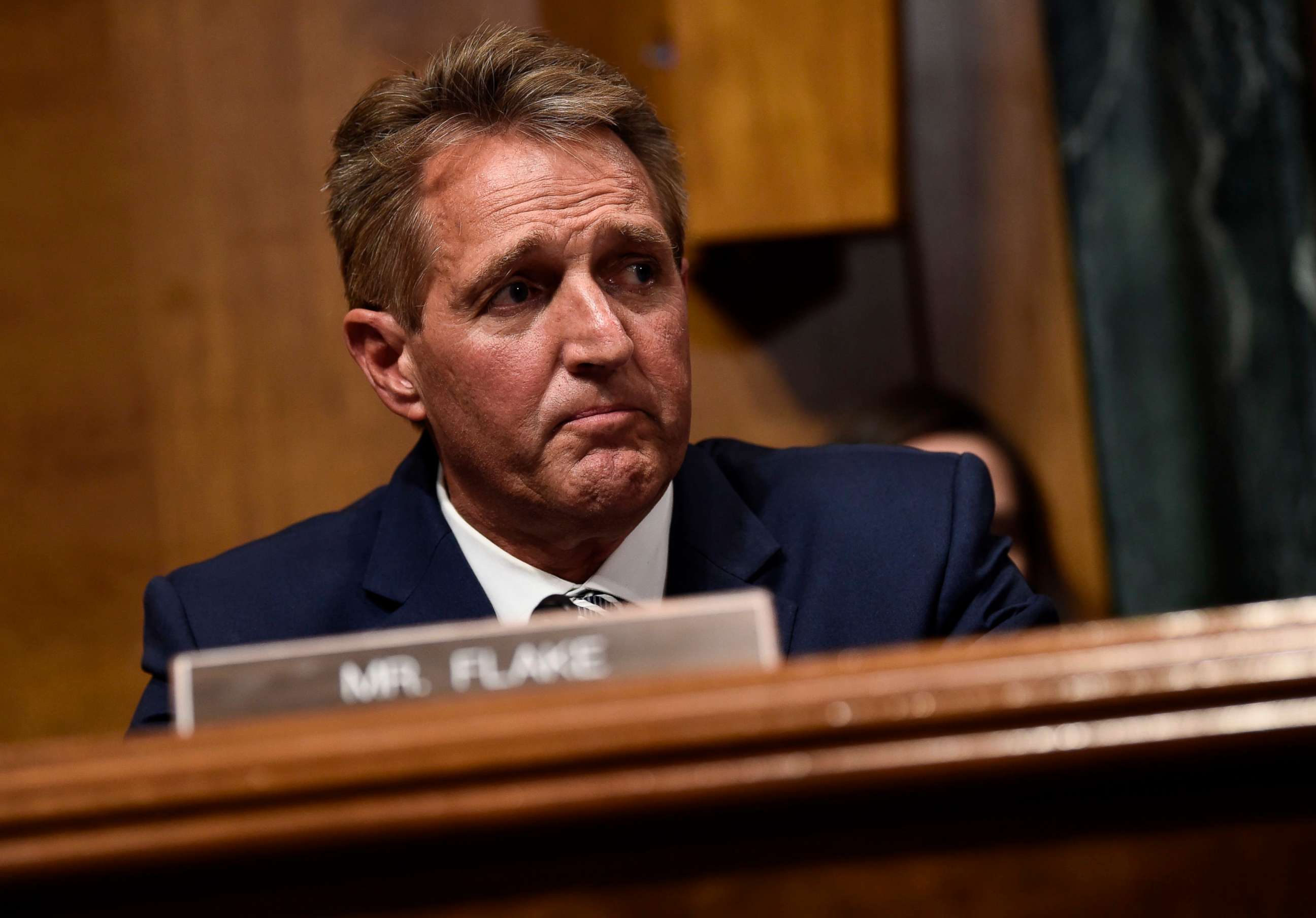 Long an adversary of President Trump, Flake assumed captaincy of the news cycle Friday. After first putting out a statement Friday morning that he would vote to advance Kavanaugh out of the Senate Judiciary Committee, the senator became the subject of a viral moment when a protester saying she was a sexual assault victim confronted him as he got in a Capitol elevator. Then, his position that his support for the judge in a final Senate floor vote would depend on whether the FBI did a week-long investigation into the assault allegations prevented Republicans from immediately moving forward with confirmation.
Though his announcement 11 months ago that he would not run for re-election -- an impassioned plea for civility and stability in government -- was sharply critical of Trump, some commentators largely wrote Flake off as all-rhetoric and someone who nevertheless sided with his party on a vast majority of issues. The subsequent Arizona election to replace him features two candidates seeking to be an active check on Trump and more loyal Republican senator, respectively, symbolizing Flake's current lame-duck purgatory.
But his action Friday, which still included his vote for Kavanaugh in committee, showcased that he still holds power in his remaining three months in office and may yet find one final way to disrupt the administration to blame for driving him from office.
Holdouts given a reprieve
The clock was ticking on the small group of senators whose votes would ultimately determine Kavanaugh's fate on the Senate floor, and in the morning hours, a few of them made it more difficult for the rest.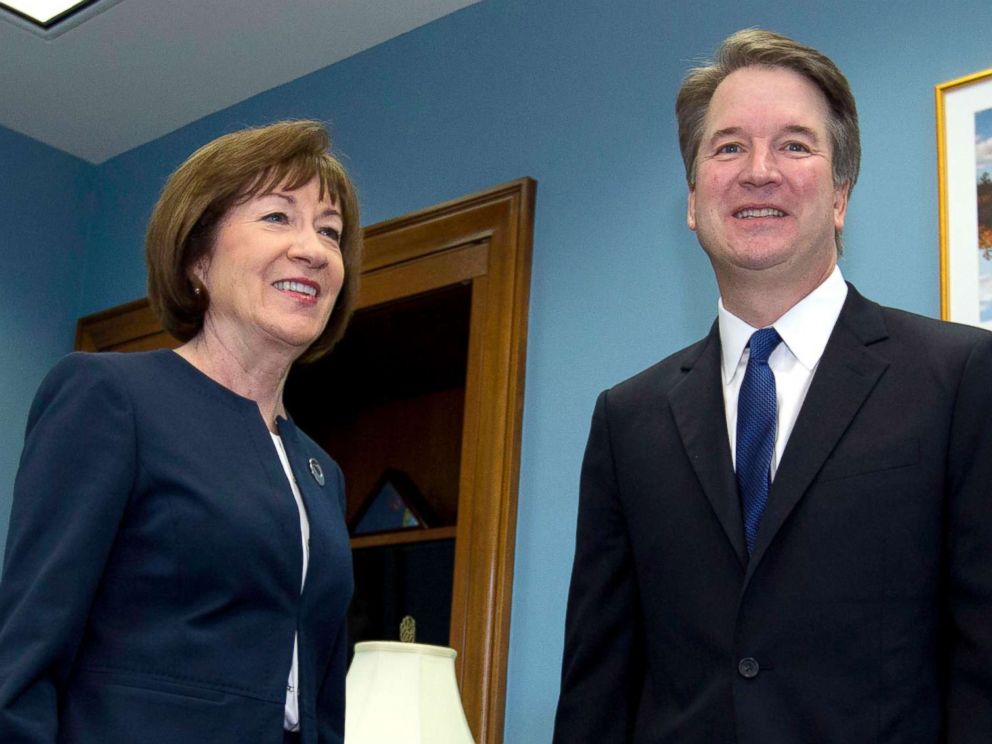 After Flake first indicated his support Friday morning, both Sens. Joe Donnelly, D-Ind., and Jon Tester, D-Mont., risking the trouble it would give them in their ongoing re-election campaigns, said they would vote against Kavanaugh's confirmation. That left Sens. Susan Collins, R-Maine; Heidi Heitkamp, D-S.D.; Joe Manchin, D-W.V.; and Lisa Murkowski, R-Alaska, as the remaining undecided votes in whip counts across Washington. Just one senator from the group would be needed to ensure Kavanaugh's confirmation.
Flake's later request for a reopened FBI investigation provided a reprieve for the key voting bloc, and one that was almost immediately embraced by a few of its members.
On her way into the office of Senate Majority Leader Mitch McConnell, R-Ky., Friday afternoon -- where Judiciary Committee Republicans were already huddled -- Murkowski told reporters Friday afternoon that she supported the Arizona senator's delay move. And in a statement, Manchin applauded Flake for his "courage to take a stand."
"This has been a partisan and divisive process," Manchin continued. "The American people have been pulled apart by this entire spectacle and we need to take time to address these claims independently, so that our country can have confidence in the outcome of this vote."
Later Friday, Collins said she, too, supported the idea of a delay to let the FBI investigate. "This is an important development and I believe this will let us move forward," she told reporters. Heitkamp then said she supported Flake as well.
But Collins, Manchin, Murkowski and Heitkamp have not let on how they would vote on Kavanaugh on the Senate floor.
Trump demonstrates restraint
Speaking from the Oval Office, where he was meeting with Chilean President Sebastián Piñera, Friday afternoon, shortly after the Judiciary Committee vote, Trump gave his impression of Thursday's faceoff testimony from Kavanaugh and Christine Blasey Ford.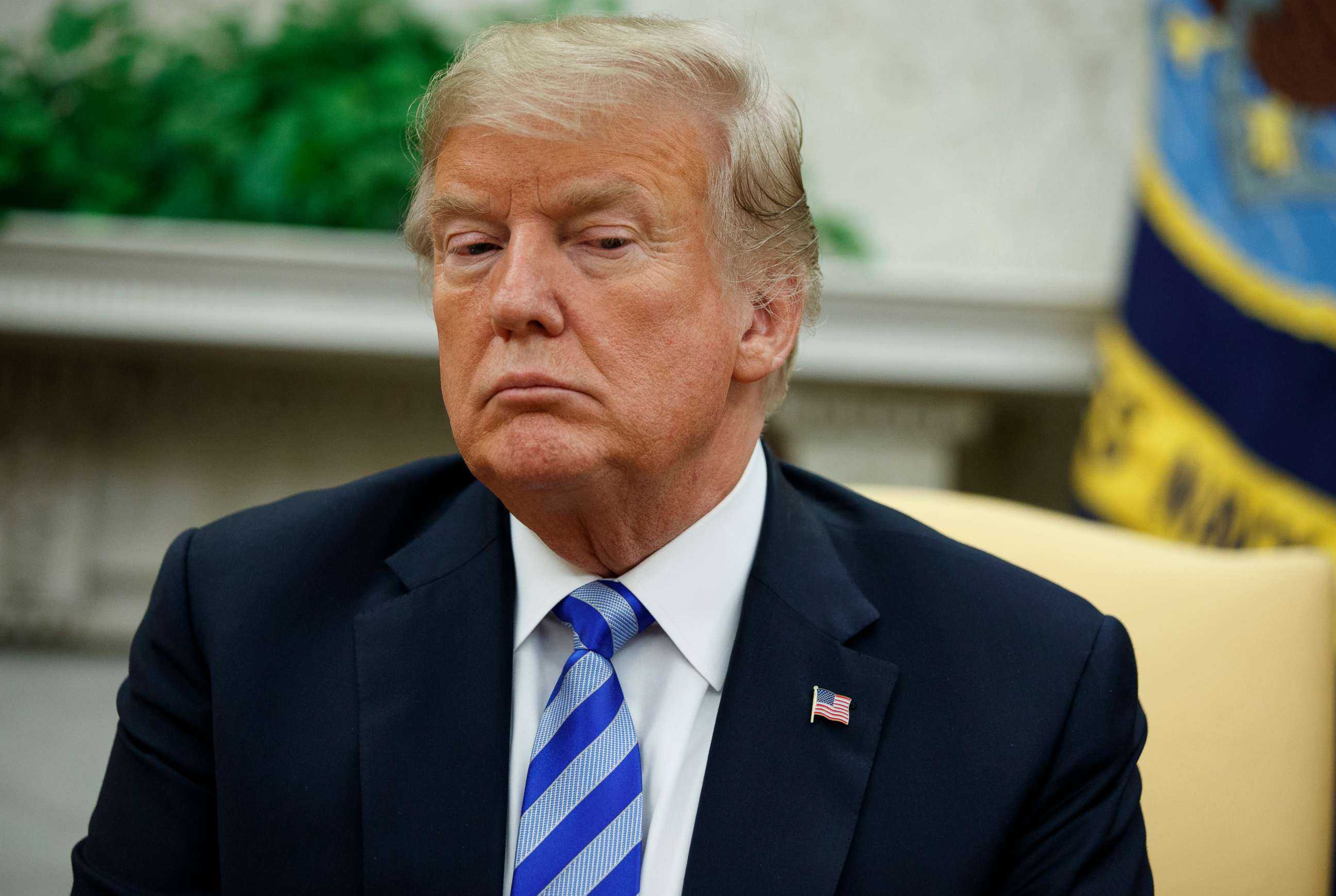 "I thought her testimony was very compelling and she looks like a very fine woman to me, very fine woman," Trump said. "And I thought that Brett likewise was really something that I hadn't seen before. It was an incredible moment I think in the history of our country. But certainly, she was a very credible witness."
Though he said he would defer to the Senate on the Flake development as it occurred only moments earlier across town, Trump's comments on Ford were a stark departure from the president's previous postures towards alleged victims of sexual assault.
Trump's appearance with Bill Clinton-accusers Juanita Broaddrick, Paula Jones and Kathleen Willey before a campaign debate with Hillary Clinton in 2016 was widely criticized as exploitative, and he repeatedly framed the numerous claims made against him as politically-motivated.
Speaking in measured terms, Trump even opined on the difficult positions that Collins and Murkowski found themselves in.
"They have to do what they think is right and be comfortable with themselves and I think that's what they are," he said.
The FBI returns to the spotlight
After facing months of attacks from the White House and Capitol Hill over its handling of the Russia investigation, the FBI now finds itself in the middle of another politicized investigation with perhaps as little as a week to do its due diligence. However, Flake's request did not immediately set the Kavanaugh background probe back into motion.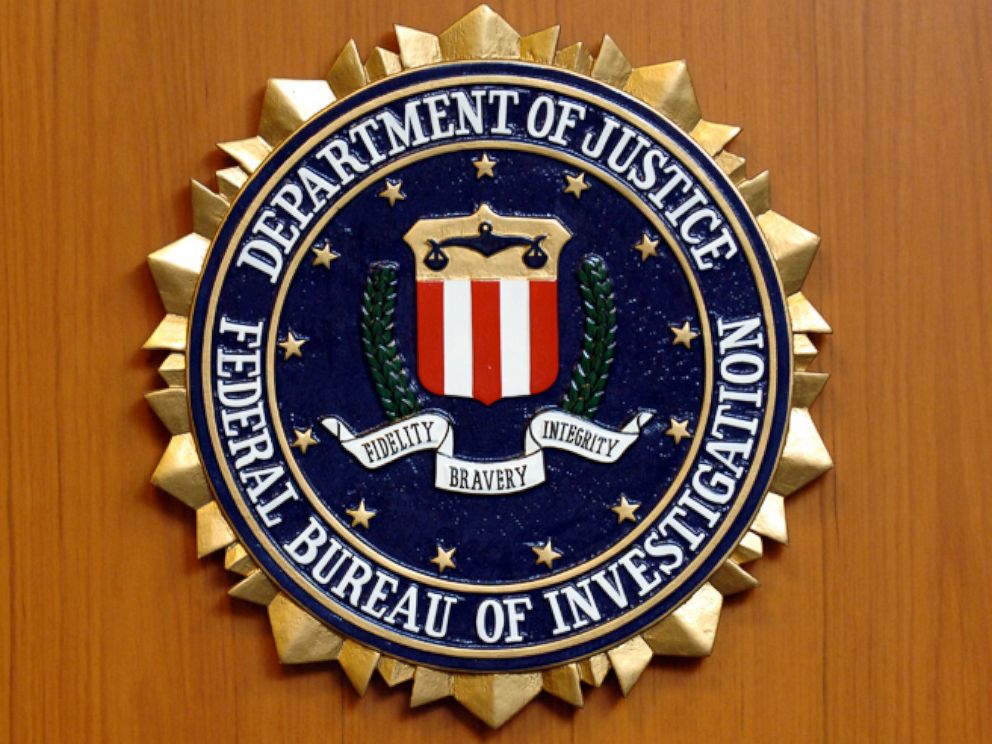 From the Oval Office Friday, Trump told reporters that he would wait on others, including Sen. Grassley, to reach a conclusion on the matter and that he will be "reliant on what they decide to do."
The Senate Judiciary Committee ultimately announced that it would "request that the administration instruct the FBI to conduct a supplemental... background investigation" to proceed "no later than one week."
Not long after came the White House announcement that the president had agreed.
McConnell will have to wait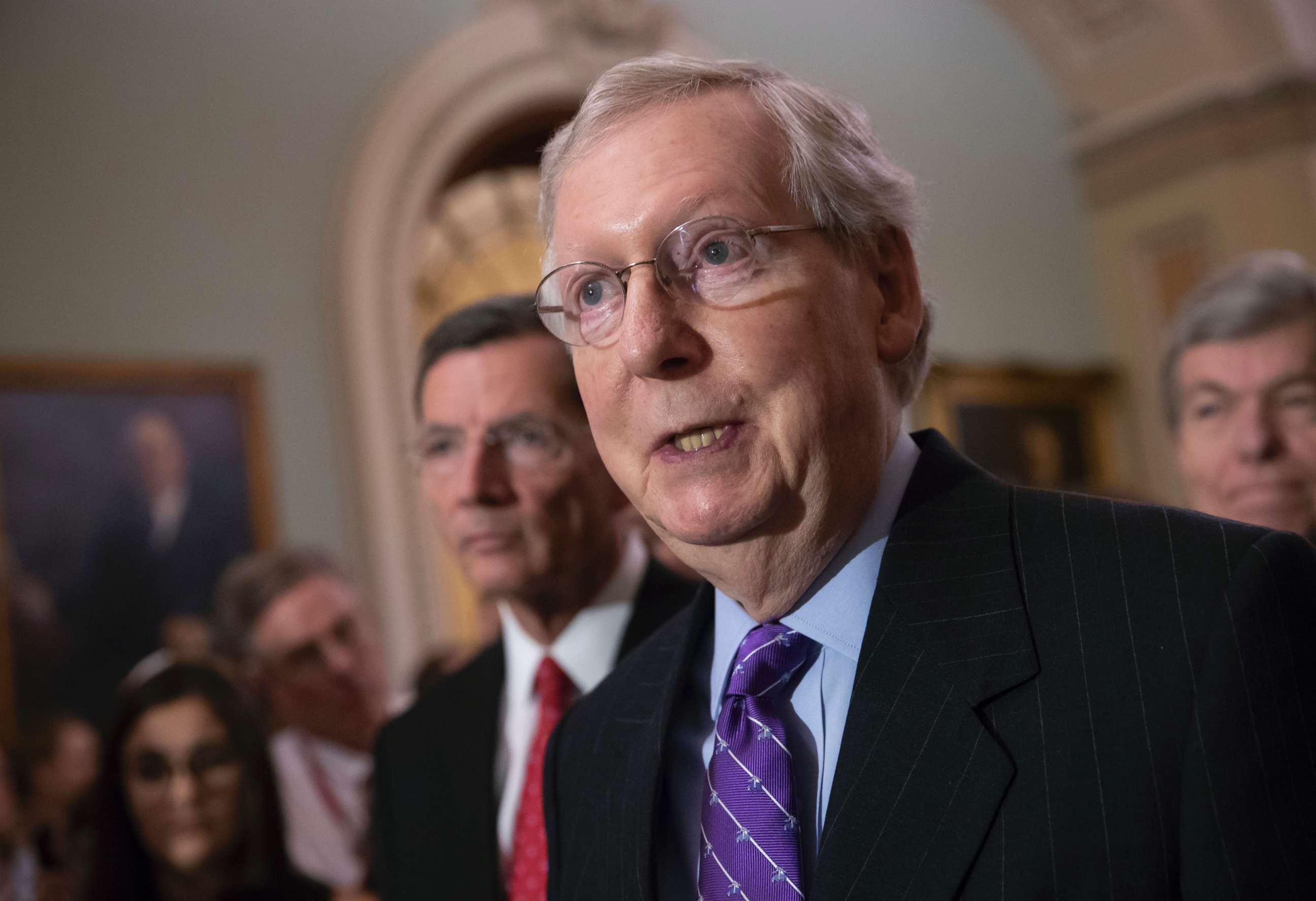 McConnell's legacy as Senate Majority Leader, already so intertwined with the saga of Merrick Garland's nomination to the Supreme Court, may now find itself similarly tied to the fate of Kavanaugh.
Though Flake voiced his interest in an additional look into the Kavanaugh allegations, McConnell still could have proceeded with a floor vote following the committee's tally. Such a move would have been banked upon a belief that he could have won over at least two of Collins, Heitkamp, Manchin or Murkowski when it came time to make a final decision.
But the Republican leader appeared unwilling to take that chance. Shortly after the Judiciary Committee's vote, its Republican members, including Flake, gathered in McConnell's office where the decision to formally request the week-long investigation was made.
ABC News' Mary Bruce, Jack Date and Sarah Kolinovsky contributed to this report.