— -- Whoever is targeted in the first charges sought by the special counsel's Russia investigation likely already knows, said New Jersey Gov. Chris Christie, a former federal prosecutor.
"Believe me, if you're the person, you know," Christie, a former U.S. attorney, told ABC News Chief Anchor George Stephanopoulos on "This Week" Sunday. "If you've been told you're a target, believe me, you're not sleeping well anyway."
The team of special counsel Robert Mueller investigating Russia's alleged meddling in the 2016 election and possible links to the campaign of President Donald Trump has sought charges against at least one unidentified target, ABC News has learned.
Sources tell ABC News an indictment announcement and arrest could possibly come as soon as Monday.
CNN first reported Friday night that a federal grand jury approved the first charges in the investigation.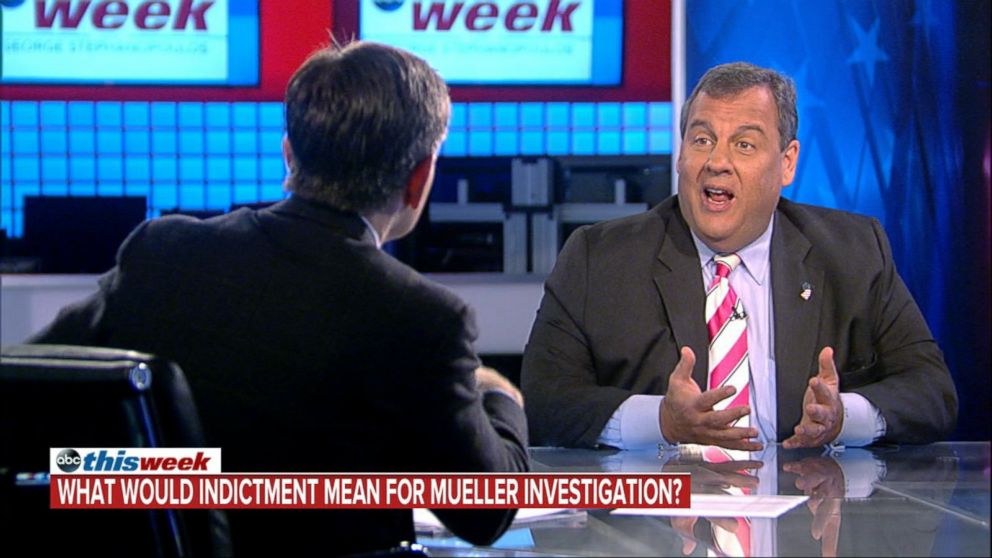 "Depending on who disclosed this to CNN, it could be a crime," Christie told Stephanopoulos on Sunday, noting that grand jury proceedings are supposed to be secret. "It would be a crime if prosecutors or agents leaked it."
Christie said that when he was the chief federal prosecutor in New Jersey he emphasized to his staff the importance of keeping quiet about a grand jury's work.
"'We will prosecute you if we find out you leaked this stuff because we need to have the public have confidence that the grand jury system is secret and, as a result, fair,'" Christie said he warned his staff as U.S. attorney.
The Republican governor and Trump ally also addressed the question of whether the president might issue pardons of anyone who could potentially be convicted in the Russia investigation.
"I've never seen the president talk about" the possibility of such pardons, Christie said, adding that no one should count on a presidential pardon, which he said would be "a big step."
"Quite frankly, I think to have those kind of conversations about pardons, if anybody is sitting around and saying, 'I don't have to worry about anything because the president will ultimately pardon me,' they should talk to Scooter Libby," he said.
I. Lewis "Scooter" Libby, a chief of staff to Vice President Dick Cheney in the George W. Bush administration, was convicted in 2007 of lying to the FBI and obstruction of justice in a CIA leak case. Then-President Bush commuted Libby's 30-month sentence, sparing him prison time, but didn't pardon him.
Christie added of any who may be counting on possible pardons by President Trump, "They should talk to others who thought they were going to be pardoned and all the people involved in Watergate, and the pardons they thought they might be getting from President Nixon. They're still waiting."