A teacher at Sidwell Friends school confronted Environmental Protection Agency Administrator Scott Pruitt on Monday, telling him to resign, in the most recent of a series of public clashes between D.C. residents and Trump administration officials.
When she spotted Pruitt at Teaism Penn Quarter, Kristin Mink said she decided to confront the Trump appointee. Referring to her young son, she told Pruitt, "he loves animals. He loves clean air. He loves clean water. Meanwhile, you're slashing strong fuel standards for cars and trucks, for the benefit of big corporations."
Mink told ABC News that she felt compelled to speak up, in part, because Pruitt's push for corporate deregulation felt "personal."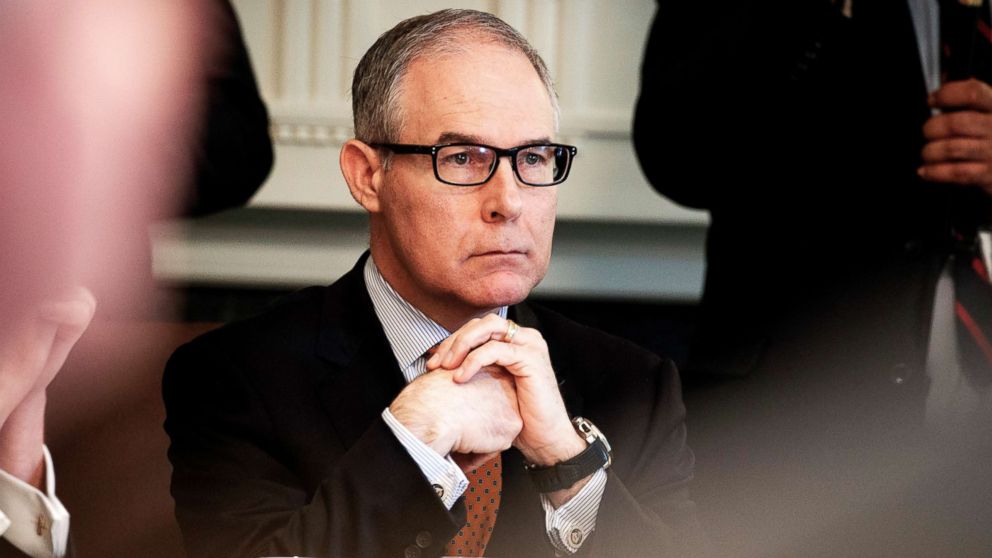 "He's sacrificing my child's future, the future of all of our children," Mink told ABC, pointing out that Pruitt has children of his own. "He can give his own kids all kinds of financial benefits and different privileges," she said, "but you can't create clean air and clean water, and rebuild the natural resources that he's working to destroy."
In the video, Mink urges Pruitt to resign "before your scandals push you out," referring to multiple ongoing investigations including a private deal on a $50-a-day condominium arranged with the wife of an energy lobbyist, reports that Pruitt enlisted top aides to run personal errands and high spending on a round-the-clock security detail.
"There are a lot of really pressing social justice issues right now that need attention," Mink told ABC News, "but the environment is one that, if it's not solved, [means] nothing else is relevant. This has to do with the future of humanity."
Mink is a 6th-grade teacher at Sidwell Friends, the prestigious Quaker school where President Barack Obama sent his daughters.
"Administrator Pruitt always welcomes input from Americans," Lincoln Ferguson, an EPA Spokesman, told ABC News in a statement. "This is evident by him listening to her comments and going on to thank her, which is not shown in the video. His leaving had nothing to do with the confrontation, he had simply finished his meal and needed to get back to EPA for a briefing."
This incident comes as the latest in a series of public confrontations between Trump administration officials and outraged citizens.
On June 19, Homeland Security Secretary Kirstjen Nielsen was widely criticized for her handling of the migrant crisis at the border and was confronted by activists chanting "shame" while dining at a Mexican restaurant.
Three days later, White House Press Secretary Sarah Sanders was asked by the owner of the Red Hen restaurant in Lexington, Virginia because of her work for the Trump administration.
In response, Sanders' father, Former Arkansas Gov. Mike Huckabee, tweeted: "Bigotry. On the menu at Red Hen Restaurant in Lexington VA. Or you can ask for the "Hate Plate"."
Senior White House advisor Stephen Miller has also been confronted by protesters, including being called a "fascist" while dining at a Mexican restaurant and, most recently, facing a crowd of demonstrators outside his home in D.C. who gathered to denounce the zero immigration policy, USA Today reported.
Rep. Maxine Waters recently made comments encouraging her supporters to publicly confront members of the President's Cabinet, sparking a debate over whether heckling is a permissible political tactic.
"If you see anybody from that Cabinet in a restaurant, in a department store, at a gasoline station, you get out and you create a crowd and you push back on them and you tell them they're not welcome anymore, anywhere," Waters said in a speech in Los Angeles.
Democrats and the left are divided over the question, with some describing the GOP's call for "civility" as hypocritical.
Meanwhile, Vermont Sen. Bernie Sanders came to the defense of the White House press secretary, saying on MSNBC that he prefers critics take out their anger in a "constructive way."
"I'm not a great fan of shouting down people or being rude to people," Sanders said.
Mink weighed in on the debate, telling ABC News that Democrats should not find fault with "how civil or uncivil someone's tone is."
"Honestly, I think the whole civility debate is a waste of time, and I wish the Democrats would stop engaging in it. It's a tool that the right wing is using to take attention off of the issues," she told ABC News.