On Thanksgiving morning, President Donald Trump expressed his gratitude for American troops but also aired some of his political grievances.
Sitting at a desk at his Mar-a-Lago resort in Florida, Trump spoke to leaders from all branches of the military in locations around the world.
"Melania and I want to express our gratitude for the sacrifices you make to defend your nation while you are away from your family and loved ones. I hope you will take solace in knowing that all of the American families that you hold close to your heart are all doing well," Trump said.
"The nation is doing well economically, better than anybody in the world. We are the hot nation of the world. Nice to know you are fighting for something that's doing well, and that's our country."
The president teased a potential visit to Afghanistan during his call with troops there now and touted the work of troops deployed at the U.S. border with Mexico -- a deployment that has been criticized.
"We have the military at the border for the first time. I don't know if it's ever or certainly there's never been a presence like this, but we have a very powerful border right now. We have the fencing and things people don't even believe. We took old broken wall and we wrapped it with barb wire," Trump said. "I guess you could really call it barb wire plus. This is the ultimate. Nobody is getting through these walls."
While still on the phone with the troops in Afghanistan, the president called the 9th Circuit Court of Appeals a "thorn in our side" for blocking his administration's efforts to deny migrants if they seek asylum after entering from outside formal points of entry.
"It's a terrible thing when judges take over your protective services, when they tell you how to protect your border. It's a disgrace," Trump said.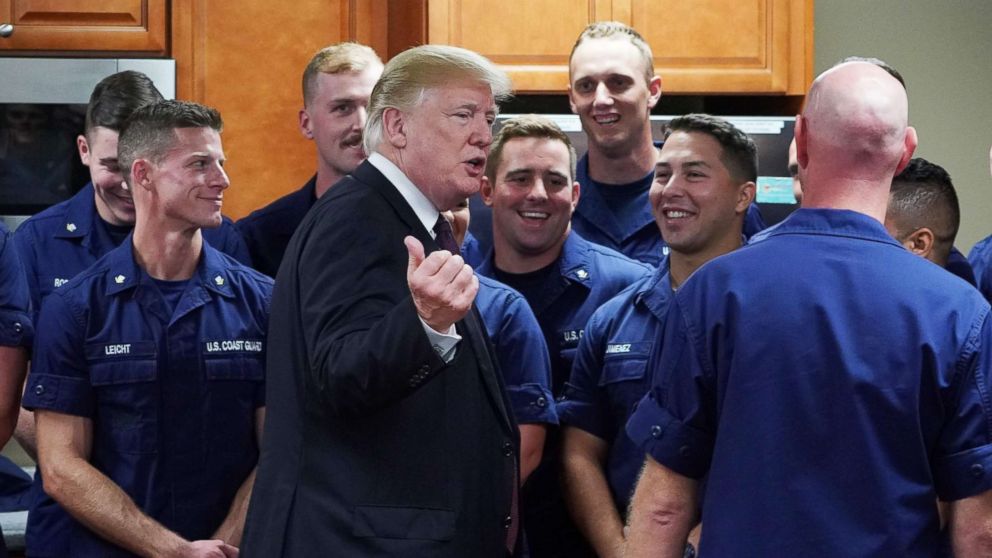 Later, Trump told reporters he has a lot of respect for Chief Justice John Roberts, who criticized the president over his comments about the judiciary and faced a string of angry tweets from the president about the 9th circuit, but added "we have to use some common sense."
After his calls, the president took questions from reporters on several topics, including Saudi Arabia and the killing of Washington Post journalist Jamal Khashoggi.
Just days after releasing a statement in support of Saudi Arabia in the wake of Khashoggi's death, the president continued to call Saudi Arabia a "strong ally" and said the CIA did not make any conclusions about whether or not Crown Prince Mohammed bin Salman ordered the journalist's murder.
"Nobody has concluded. I don't know if anybody is going to be able to conclude that the crown prince did it. But I will say this. I don't know. I don't know. But whether he did or whether he didn't, he denies it vehemently. His father denies it, the king, vehemently. The CIA doesn't say they did it. They do point out certain things. And in pointing out those things, you can conclude that maybe he did or didn't," Trump said.
The president said he's not concerned with the message his arms deal with Saudi Arabia sends in the wake of Khashoggi's death and pointed to oil and the potential defense contracting jobs created by the deal.
"Do people really want me to give up hundreds of thousands of jobs? And frankly, if we went by this standard, we wouldn't be able to have anybody as an ally because look at what happens all over the world," Trump said. "I hate what's done. I hate the cover-up. And I will tell you this. The crown prince hates it more than I do. And they have vehemently denied it. The CIA points it both ways. And as I said, maybe he did, maybe he didn't. I will say very strongly that it's a very important ally. And if we go by a certain standard, we won't be able to have allies with almost any country."
Congress is demanding his administration provides an answer.
On Tuesday, the top Republican and Democrat on the Senate Foreign Relations Committee, Sen. Bob Corker, R-Tennessee, and Sen. Bob Menendez, D-New Jersey, sent a letter to the White House Tuesday evening to officially trigger an investigation into whether the young crown prince ordered the plot.
The move sets up a showdown between Capitol Hill and the White House as members of both parties in Congress call on Trump to be tougher on Saudi Arabia.