Women's March brings out hundreds of thousands across US as Trump tweets in response
As protesters filled streets around US, the president tweeted a response.
January 20, 2018, 4:14 PM
— -- As hundreds of thousands of Women's March participants filled the streets in dozens of cities, many carrying anti-Trump signs, the president took to Twitter to comment on the protests Saturday.
With apparent sarcasm, Trump tweeted, "Beautiful weather all over our great country, a perfect day for all women to march. Get out there now to celebrate the historic milestones and unprecedented economic success and wealth creation that has taken place over the last 12 months. Lowest female unemployment in 18 years!"
From New York City to Los Angeles and many cities in between, thousands of women and their allies took to the streets Saturday, vowing to show up at the polls this year for midterm elections amid outrage over President Donald Trump's agenda.
The president's tweet came after women and their allies poured out for the marches that marked one year since Trump took office.
One of the main events for the 2018 Women's March, entitled "Power to the Polls," will take place Sunday in Las Vegas, where organizers will launch a national voter registration and mobilization initiative. Hundreds of other anniversary marches and events will be held elsewhere in the nation -- and around the world -- on both Saturday and Sunday.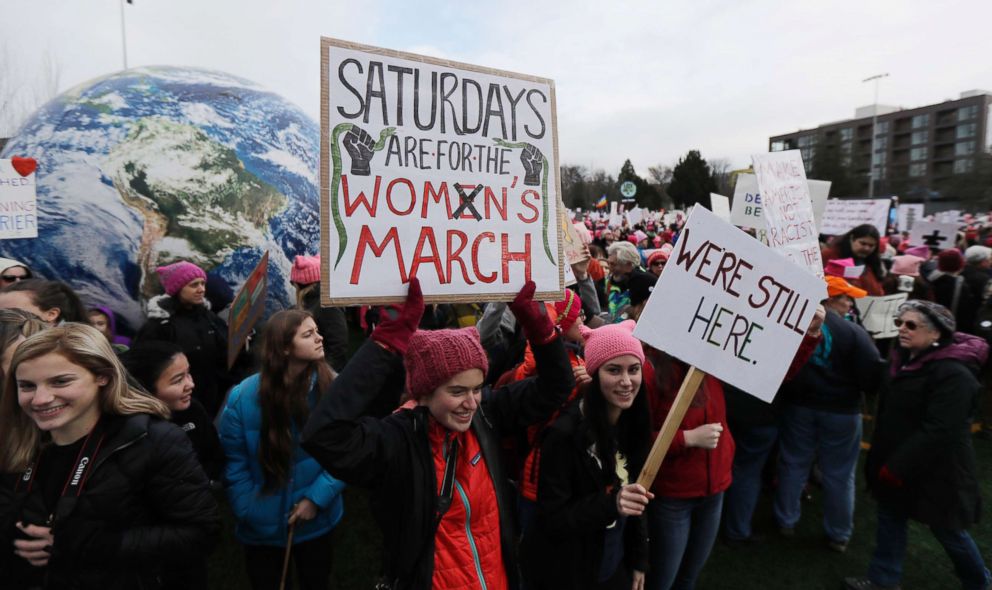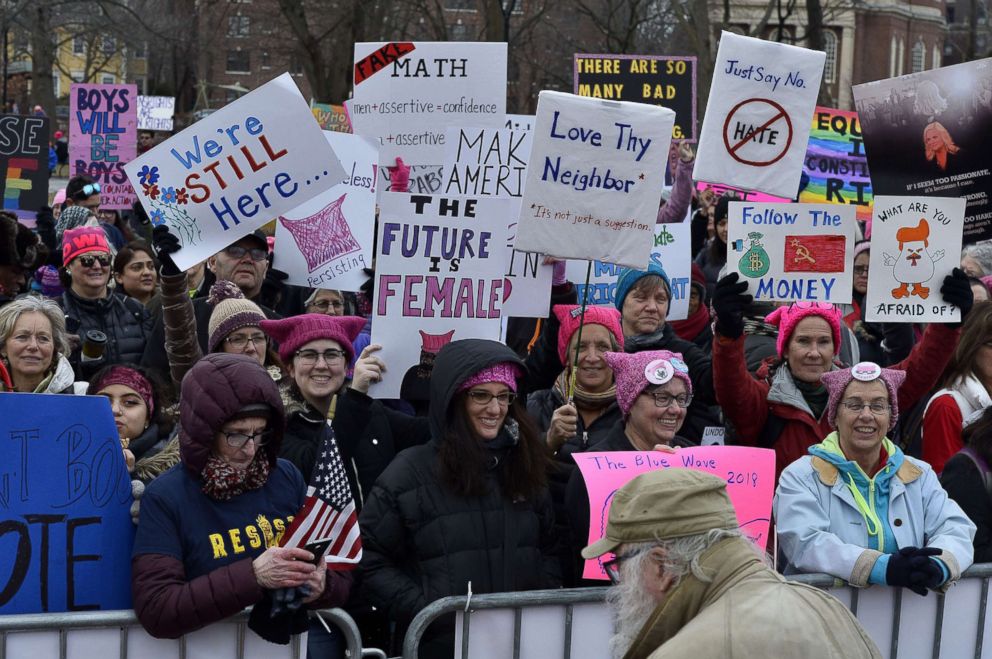 Joyce Pleva and her two adult daughters, Elizabeth and Jamie, were among those marching in New York City. The family participated in the Women's March last year in Washington, D.C., where a sea of women wearing pink "pussy hats" gathered to protest a day after Trump was inaugurated as the 45th president of the United States.
"Last year, there was a feeling of fear and objection to the election," Elizabeth Pleva told ABC News, while waiting for the march to commence on Manhattan's Upper West Side. "This year, there are so many more reasons we are here. DACA, the ACA, the environment and [President Trump's] inability to govern."
Throughout his first year in office, Trump has tried to unravel the ACA, or the Affordable Care Act, which was his predecessor's signature health care reform law.
Obamacare, as it's also known, was critical to the Pleva family while Elizabeth and Jamie's other sister battled breast cancer. She recently died from the illness.
"We are especially concerned about the ACA ... I have the gene that leads to breast cancer," Jamie Pleva said. "What would I do without the preexisting condition [coverage]?"
Jamie Williams, originally from Alabama, brought her 7-year-old son, James, to march with her in Manhattan.
"I want him to be exposed to this," Williams told ABC News. "I also bring him with me every time I vote, so the vote counts for both of us."
Williams said she participated in the Women's March in Birmingham, Alabama, last year.
"I think it's really important to march last year and this year," she said. "We're not backing down after Trump was elected."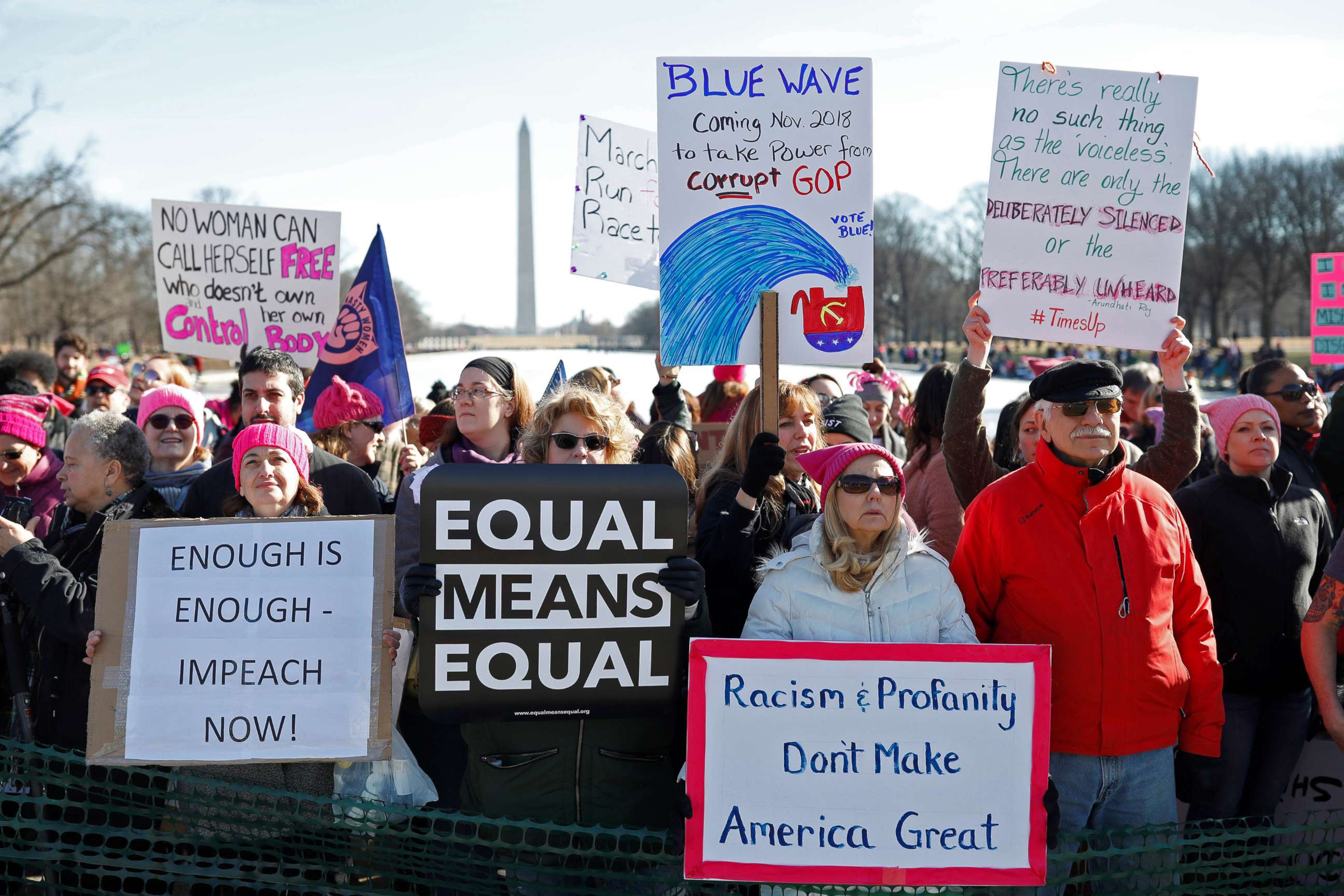 Organizers chose Nevada to host the main event this year because it "was rocked by the deadliest mass shooting in modern U.S. history, recent sexual assault allegations against elected officials and has become a battleground state that will shape the Senate in 2018," according to the Women's March website.
"Women's March has created a powerful movement that has ignited thousands of activists and new leaders," Tamika Mallory, co-president of Women's March, said in a statement ahead of Sunday. "In 2018, we must turn our work into action ahead of the midterms. This new initiative will address voter registration and voter suppression head on. We marched for justice in D.C., we created our plan in Detroit and now we're bringing the power of the polls to Nevada."
The anniversary marches in New York City and Washington, D.C., were expected to be among the largest Saturday.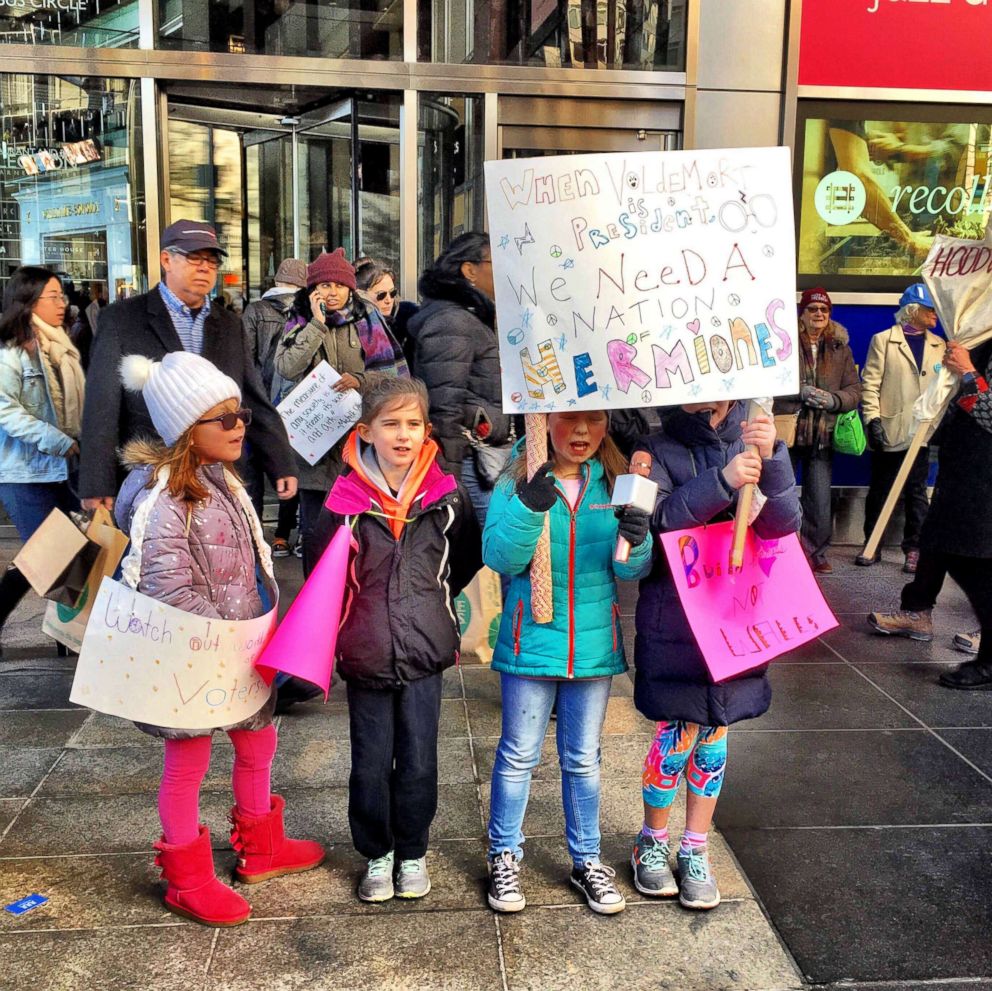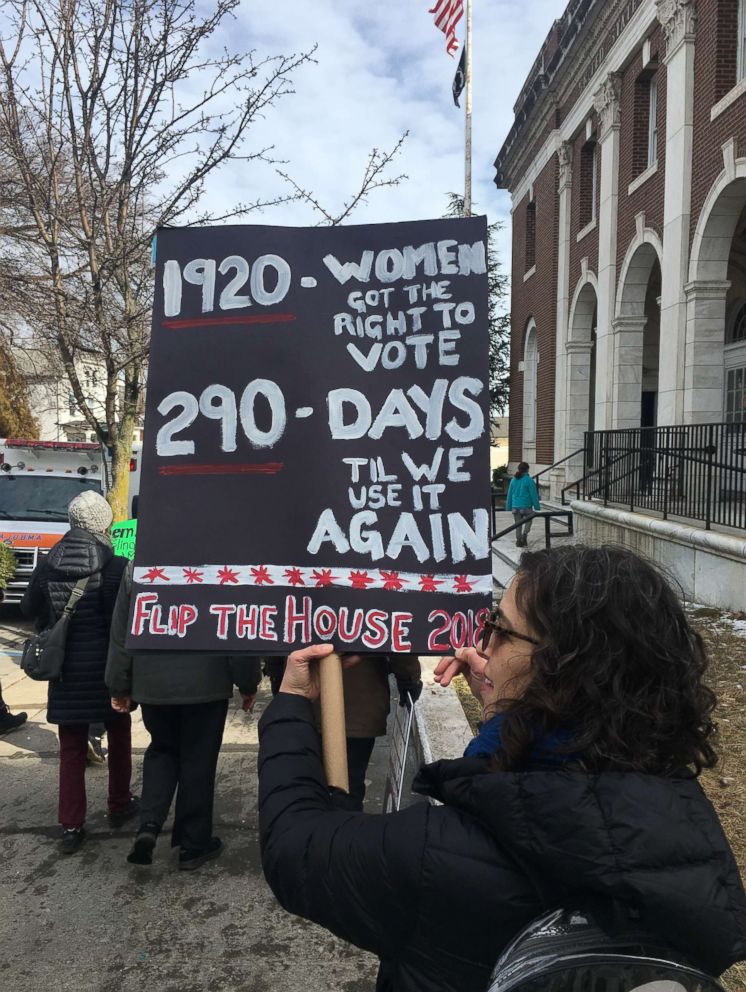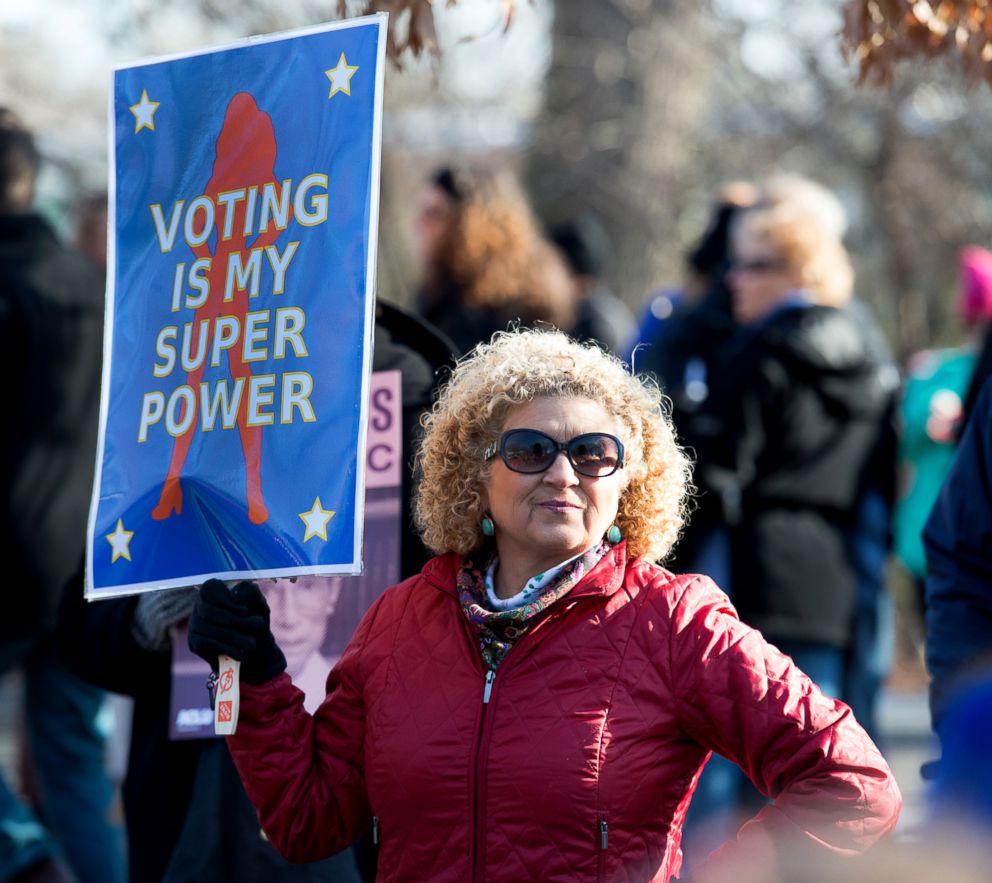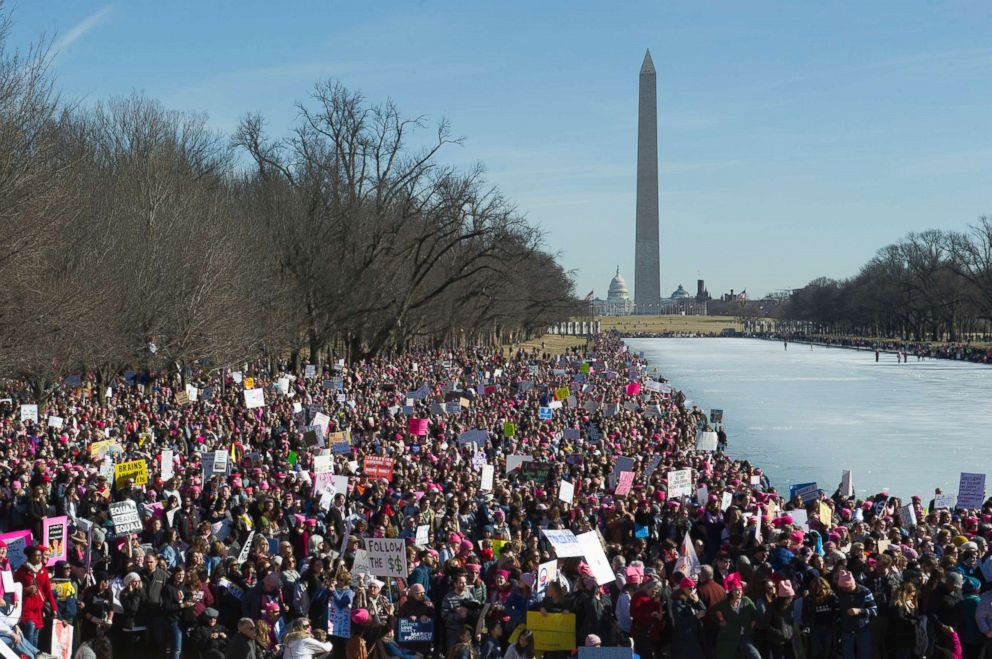 There are also marches and events planned in dozens of cities abroad, including Buenos Aires, Kampala, London, Bangkok, Beijing and Sydney.
Saturday's march in Rome focused on denouncing violence against women and supporting the #MeToo movement against sexual assault and harassment. Among the crowd of marchers was Italian actress and director Asia Argento, who made headlines after alleging in an article published by The New Yorker in October 2017 that she had been sexually assaulted by Hollywood movie magnate Harvey Weinstein in the 1990s.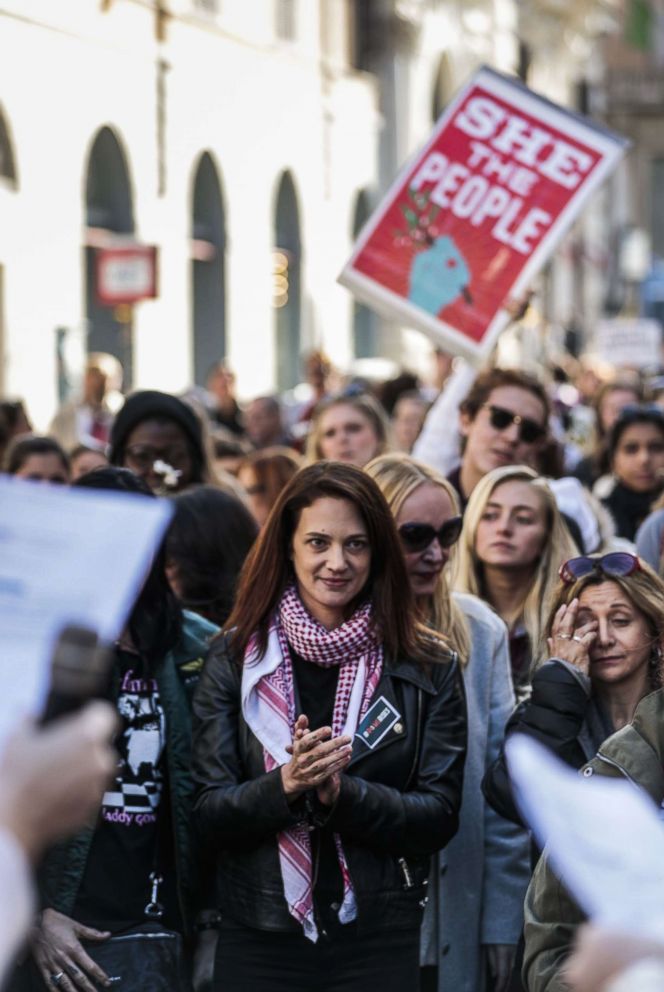 "Women are scared to speak and because I was vilified by everything I said, I was called a prostitute for being raped," Argento told The Associated Press in Rome on Saturday. "I wonder how women who received such violence would find the courage to come out as I did, when they saw what happened to me, so I am here to assess the necessity of women to speak out and change things."
Weinstein gave The New York Times a statement after its reporting in which he apologized for "the way I've behaved with colleagues in the past (that) has caused a lot of pain." But he has denied any allegations of nonconsensual sex.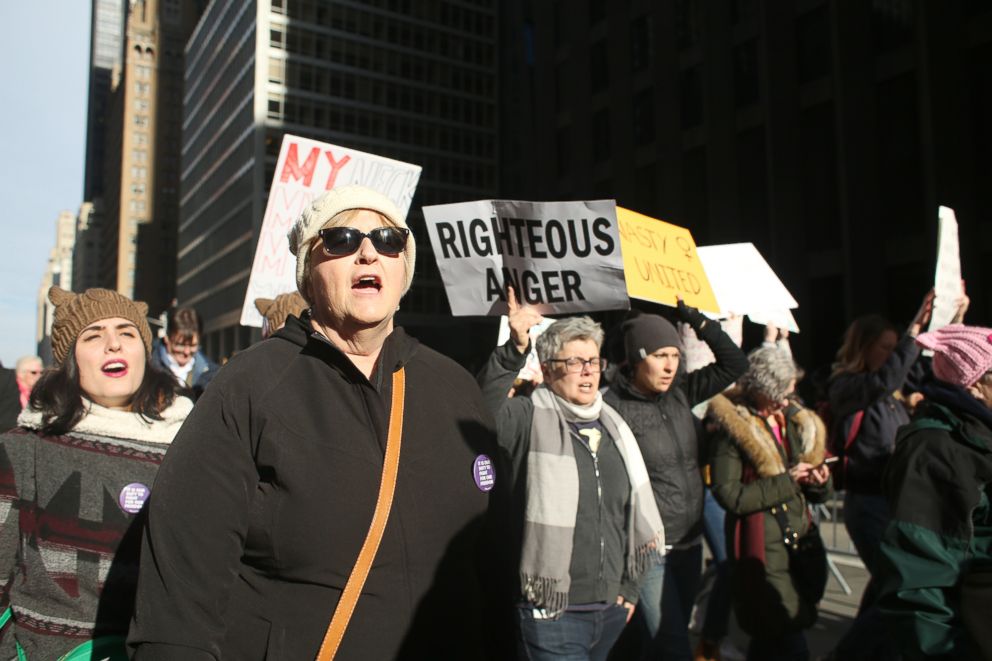 "Any allegations of nonconsensual sex are unequivocally denied by Mr. Weinstein. Mr. Weinstein has further confirmed that there were never any acts of retaliation against any women for refusing his advances," his spokesman previously said.