Many of the nation's top intelligence officials made a surprise appearance at the White House press briefing Thursday to send a message from the podium that President Donald Trump and the rest of the U.S. government are prepared to take on foreign election interference, including from Russia.
"Our democracy itself is in the crosshairs," Department of Homeland Security Secretary Kristen Nielsen said in language much stronger than the president himself has used.
Director of National Intelligence Dan Coats, National Security Adviser John Bolton, DHS Secretary Nielsen and FBI Director Chris Wray each took turns describing how each of their agencies is working to combat the threat.
It was the first time the agency leaders had stood side-by-side to address election interference and their appearance at the White House comes as the president has faced criticism about his handling and messaging about election interference.
Coats said that the "president himself" had told his agency heads to make securing the election process a "top priority."
"The president has made it clear that his administration will not tolerate foreign interference in our elections from any nation-state or other dangerous actors," Sanders said at the beginning of the briefing.
Only weeks ago in Helsinki, Finland, Trump did not confront Russian President Vladimir Putin about election interference and said Putin gave strong denials of interference, which he believed.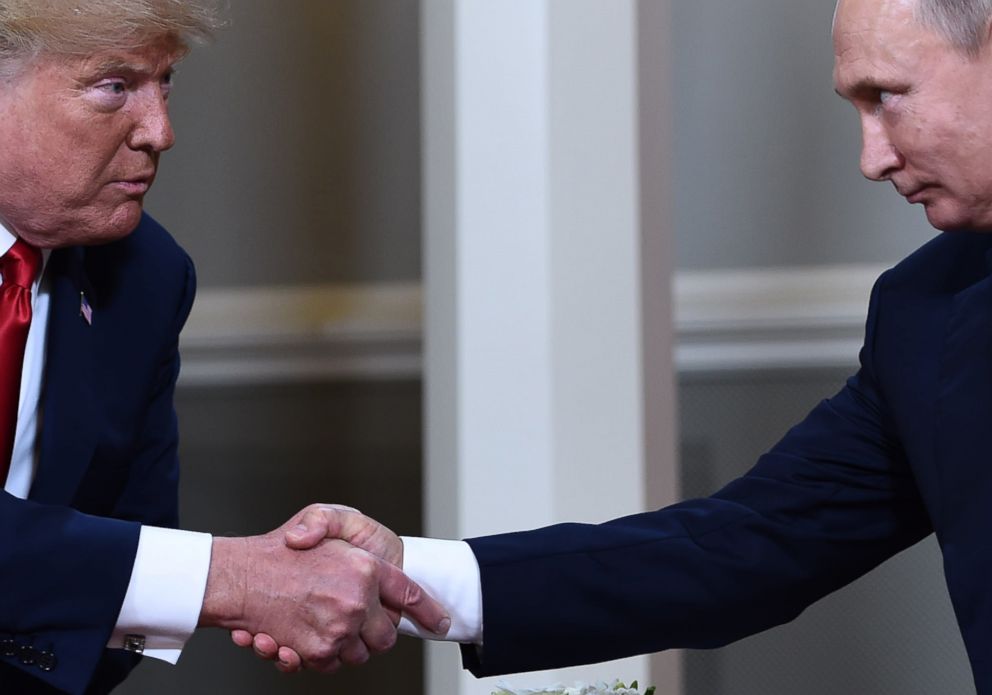 Right before the briefing began, the White House released a letter Bolton sent to Senate Democrats about election interference.
"President Trump has not and will not tolerate interference in America's system of representative government," the letter read.
Democratic Sens. Chuck Schumer of New York, Dick Durbin of Illinois, Dianne Feinstein of California, Amy Klobuchar of Minnesota and Chris Van Hollen of Maryland responded to Bolton's letter with a letter of their own.
"Our letter to Ambassador Bolton urged him and the Trump administration to fully implement the sanctions on Russia that Congress already passed, extradite the 12 Russian government officials indicted by Special Counsel Mueller, and commit to protecting diplomats and other US personnel – both past and present," a Thursday statement from the senators read.
"Ambassador Bolton's response does not address any of this and failed to urge Republicans in the Senate to reconsider their position blocking critical funding requested by 21 states to bolster election security ahead of the midterms. We implore the administration to take this very real and imminent threat to our elections and our democracy more seriously," the letter said.
The intelligence officials at the White House raised the alarm about election interference without directly undermining the president.
"Free and fair elections are the cornerstone of our democracy, and it has become clear that they are the target of our adversaries who seek, as the DNI just said, to sow discord and undermine our way of life," Nielsen said.
Democrats and Republicans have lobbed criticisms at the Trump administration over their response to election interference. Last Friday, the National Security Council, chaired by Trump, met to discuss the ongoing threats. But there are still unanswered questions.
At one moment in the briefing, DNI Coats was forced to defer a question about the president's meeting in Helsinki because he said he didn't "fully understand" what happened. The meeting was 17 days ago.
"I'm not in a position to either understand fully or talk about what happened in Helsinki," Coats said.
After the news conference with Trump and Putin, Coats issued a statement saying that Russia meddled in the 2016 election. Then later that week, Coats said he wished Trump had made a "different statement" standing next to Putin.
Bolton stepped in and said that the first thing Trump brought up during his meeting with Putin was election interference, but that was according to Putin.
ABC's Jonathan Karl repeatedly pressed Sanders on election security.
"The president has said other people also may have been involved in the efforts to interfere with the 2016 election," Karl said. "Has there been any evidence from the intelligence community that there were others besides Russia that were involved in election meddling?"
Sanders responded: "Certainly we know there are others ... I can't get into specific details, but our intelligence shows that there are a number of others that are looking at and considering engaging, particularly in 2018."
Karl also pointed to President Trump's claims that the Russians would attempt to boost Democrats in the midterms and questioned if there "has been any evidence whatsoever that ... Russians are trying to help Democrats in the 2018 elections."
"I know Director Wray wasn't at liberty to speak about the specifics, and I can't get into a lot of them, but I can tell you that a number of them were anti-President Trump, and that certainly isn't helping Republicans," Sanders said.
ABC News' Elizabeth Brown-Kaiser contributed to this report.